I am sharing another great blueberry recipe with you today, Blueberry Crunch! This recipe came from my Aunt Martha. I make this awesome recipe every summer with fresh blueberries when they are in season and on sale at the grocery store.
This recipe has become one of our family favorites, and it disappears quickly. The first time I made this recipe, within 3 days my boys (including Mr. DD) made it disappear. I did at least get to eat the one in the picture above. This is the benefit of photographing the recipe, I am the first to sample the goods. I love taking this recipe to summer potluck gatherings because it is so easy to make and it is delicious. I am all about easy dessert recipes. You just have to layer all the ingredients and bake, how simple is that.
Easy Blueberry Crunch Recipe!
Prep Time: 10 minutes

Cook Time: 1 hour

Total Time: 1 hour 10 minutes

Super easy blueberry crunch recipe, loaded with blueberries and great taste.
Ingredients
1 can crushed pineapple
3 cups fresh blueberries
1/4 cup white sugar
1 box yellow cake mix
3/4 cup butter(melted)
1/4 cup white sugar
1 cup pecans(chopped)
Instructions
Layer each ingredient in a 9 x 13 baking pan. Bake 1 hour at 350.
Recommended Products
As an Amazon Associate and member of other affiliate programs, I earn from qualifying purchases.

You could substitute any type of berries in place of the blueberries. I have not tried any substitutions with this recipe, so please let me know how yours turns out with different berries. Blueberries are the one fruit that I like to include in any fruit desserts because we all like blueberries and agree that we like them when baking in a dessert. I like to serve this fruit dessert warmed and with vanilla bean ice cream. I also think this blueberry crunch recipe would be great topped with a homemade blueberry spread along with the ice cream. I also buy blueberries in bulk every time they are on sale at the grocery store. Since blueberries are great in smoothies, desserts or just topping dry cereal in the mornings, I stock up on them so we can have them year around.
This post contains affiliate links. Please see my full disclosure policy.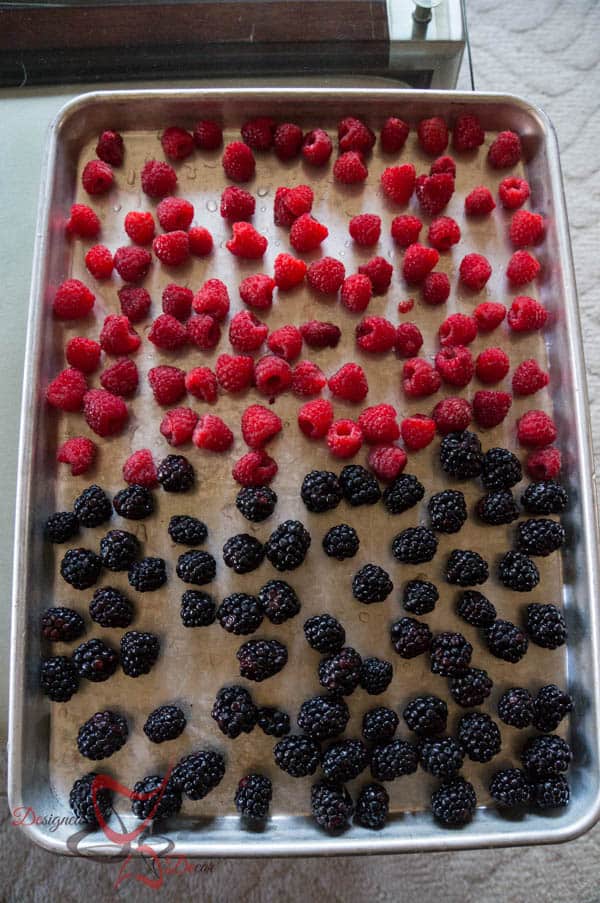 If I am not going to use the blueberries right away, I will freeze them in small batches for easy access to use year around. I clean my berries and let them dry completely and spread onto a shallow baking sheet like above. I place the berries in the freezer until hard and then transfer while frozen into small freezer safe bags. Label each bag with the date so you make sure to use the oldest berries first to prevent freezer burn. Freezing your berries individually allows you to use what is needed from the bag easily. I have found if you throw the berries into a bag when fresh, they clump together and freeze in a mass of berries. Trust me on this, this will save you frustration in the future when you only need a portion of the frozen berries.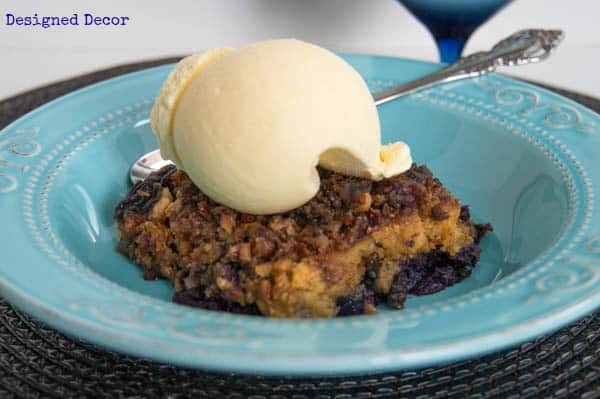 Last week I shared a healthy blueberry muffin recipe and next week I will share an old-fashioned blueberry crumble recipe.


What are your families favorite fruit dessert recipes?
I have gotten a few inquiries about the dishes used in this post, so I have found similar items for your shopping convenience.

Join the DD Community!
Join the Designed Decor Community and receive weekly free tips on DIY home projects, painted furniture, decorating, and much more.