Today I am sharing another project that I completed with the help of Cameron, my Silhouette Cameo. I am sharing how to make your own disposable stencil and how to stencil fabric. Yes, you can stencil on fabric and just about any surface you want.
First step is to purchase your design from the Silhouette store or import a design. You can read how to import a design from my post about How to Make a Large Furniture Stencil. Size your design, cut your design. I like to use[affiliate link] Con-Tact Self-Adhesive Shelf and Drawer Liner
paper for my disposable stencils, it is more cost effective than using Vinyl.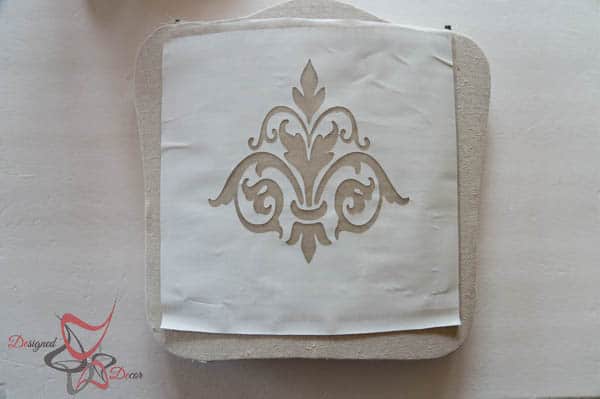 Once my image is cut and still on the cutting mat, I remove the inside of the design which leaves the stencil. I place a clear piece of contact paper over the design to trasnfer it to my fabric surface. The picture from above is the stencil with the adhesive side up, I do this so I can center the stencil and make a mark with straight pins so I know where to place the stencil once I turn it over.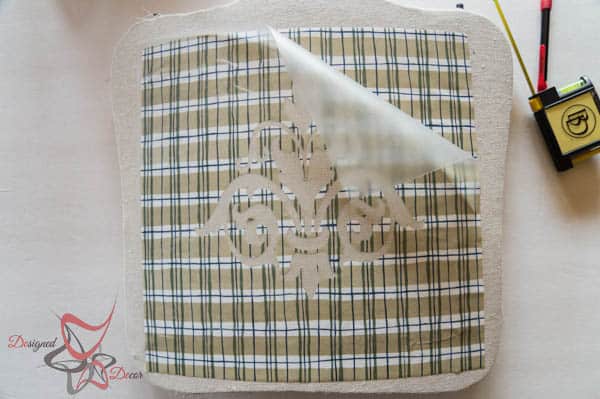 Flip the adhesive stencil over and remove the clear contact paper that was used as the transfer. Using the transfer material makes it so much easier to move the stencil from the cutting mat to your surface, trust me on this!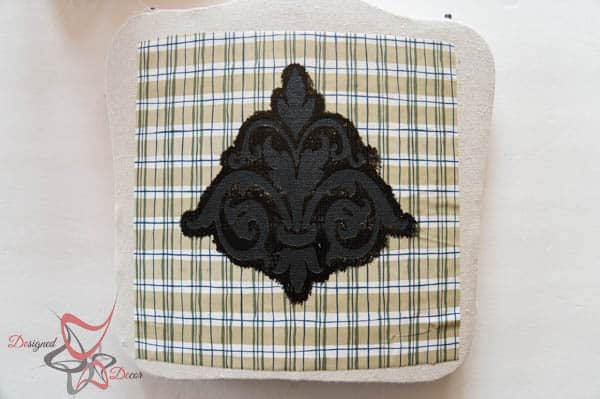 Stencil in the design using paint and a stencil brush. I like to use a dab method to apply the paint. You can use a variety of differnt paints to stencil. I like to use a Chalk base paint, just make sure the paint you are using states that it can be used for fabric.
Since I was using this stencil for the other chairs, I wipped off the excess paint before removing the stecnil with the clear transfer paper.
Let dry completely before using the fabric.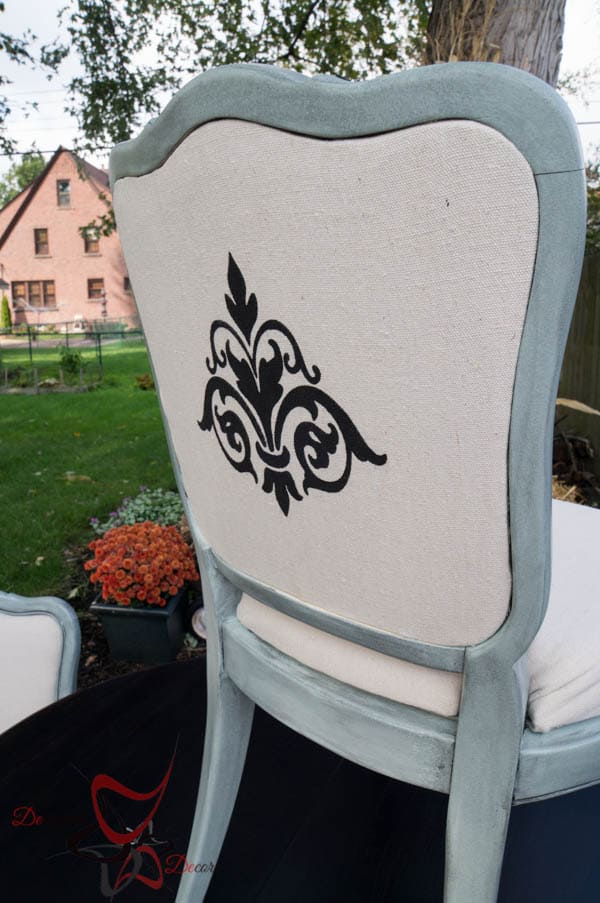 This simple and yet elegant Fleur de lis was a great addition to this French Provential Dining Table. The possibilties are endless on what you can stencil, what is your next stenciling project?
You may also love these great DIY projects:

Join the DD Community!
Join the Designed Decor Community and receive weekly free tips on DIY home projects, painted furniture, decorating, and much more.