I think I have found my favorite snack, homemade Granola Bars!  I found various recipes for homemade granola bars online and I finally adopted my own version.  
This recipe has an all my favorite snacks loaded together in one bar.  You can also adapt this recipe to include some of your favorites too.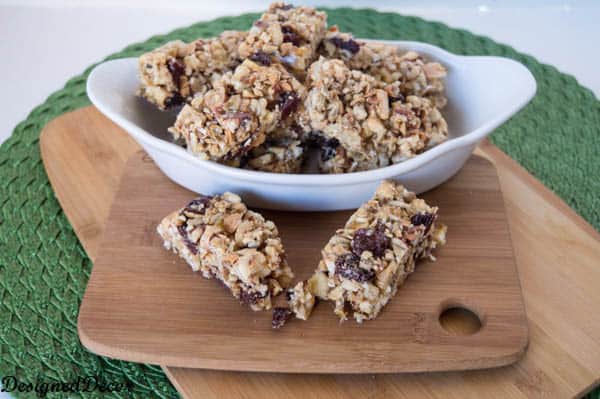 Homemade Granola Bars
Ingredients
1/2 cup peanuts, chopped
1/2 cup pecans, chopped
1/2 cup cashews, chopped
1/2 cup walnuts, chopped
1/4 cup sunflower seeds
1/4 cup raisins
1/4 cup dried cranberries
1/4 cup banana chips
1/2 cup light corn syrup
Instructions
Preheat oven to 325. Line a baking tray with parchment paper and spray with a non-stick cooking spray. Mix together the chopped nuts and dried fruit into a mixing bowl. Add the light corn syrup to the granola mixture and mix well. Pour the granola mixture onto the baking tray and form it into a 6-inch rectangle. Bake for 15 - 20 minutes, remove from oven and let cool for 20 minutes. Slice into bars. Store in a sealed container.
I have found with experience that the corn syrup will melt at the edges and not hold the bar shape.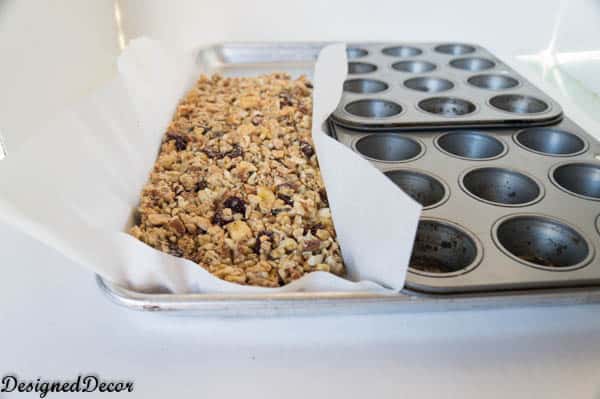 My baking tip is to place another pan on your baking tray to hold the shape of the granola bars while they bake. My mini muffin tray was the perfect size to place on the baking tray. I know, it looked crazy, but it worked perfectly for the job! You could also bake the granola in a square pan, but I found it much easier to lift the parchment paper off the baking tray to cut into bars.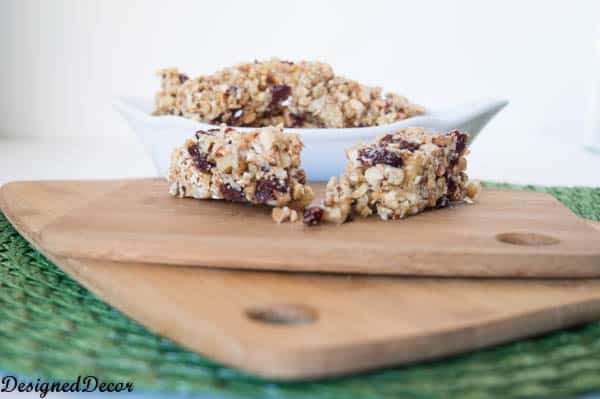 I have made this recipe twice now, and this will now be my go-to snack recipe.  It is also a perfect snack to make for traveling.  You can place it in a sandwich baggie and take it with you anywhere.   It does not last long! 

Join the DD Community!
Join the Designed Decor Community and receive weekly free tips on DIY home projects, painted furniture, decorating, and much more.