It's Blueberry season in Ohio! I have baked some really great recipes using all the blueberries I purchased. I found a great healthy blueberry muffin recipe to try.
Healthy Blueberry Muffins
Author:
Prep time:
Cook time:
Total time:
Ingredients
1 1/2 cups whole-wheat flour
1 cup all-purpose flour
1 1/2 teaspoons baking powder
1 teaspoon ground cinnamon
1/2 teaspoon baking soda
1/4 teaspoon salt
2 large eggs
1 cup nonfat buttermilk
2/3 cup brown sugar
2 tablespoons butter, melted
2 tablespoons canola oil
1 teaspoon vanilla extract
1/2 teaspoon almond extract
2 cups fresh or frozen blueberries
1/2 cup chopped toasted sliced almonds
Instructions
Preheat oven to 400°F Coat pan with cooking spray.
Mix whole-wheat flour, all-purpose flour, baking powder, cinnamon, baking soda and salt in a large bowl.
Beat eggs, buttermilk, brown sugar, butter, oil, vanilla and almond extract in another large bowl until well combined.
Make a well in the center of the dry ingredients, pour in the wet ingredients and stir until just combined. Add berries and almonds. Stir just to combine; do not overmix. Transfer batter to the prepared pan. Top with additional almonds, if desired.
Bake until golden brown and a wooden skewer inserted into the center comes out clean, 22 to 25 minutes. Let cool in the pan for 10 minutes, then turn out onto a wire rack. Let cool for 5 minutes more.
I would recommend that you store the muffins in a sealed container and keep in the refrigerator. If you are like me and like warm muffins, you can heat them for 30 seconds before serving.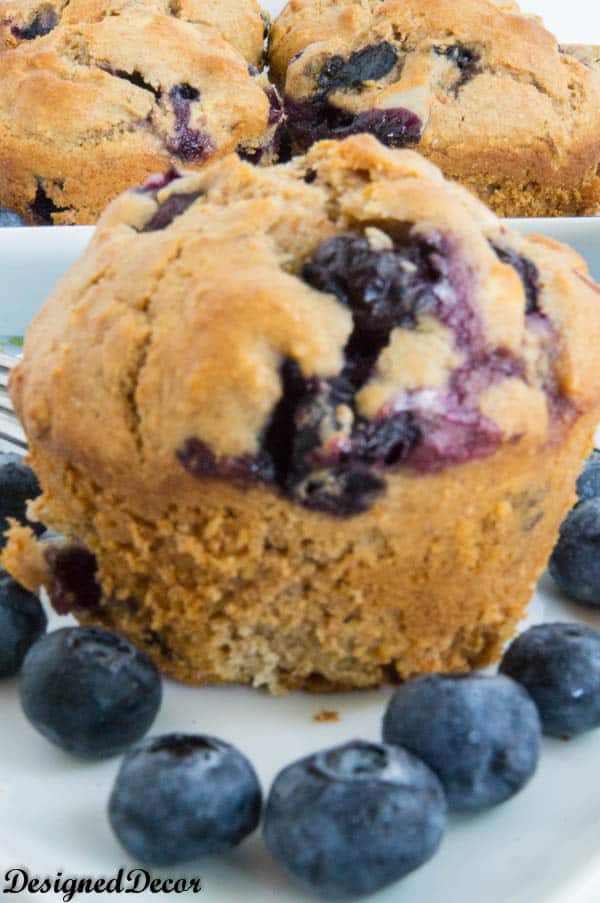 I will be sharing a few more of the blueberry recipes I made in the next few weeks.
recipe adapted from: Eating Well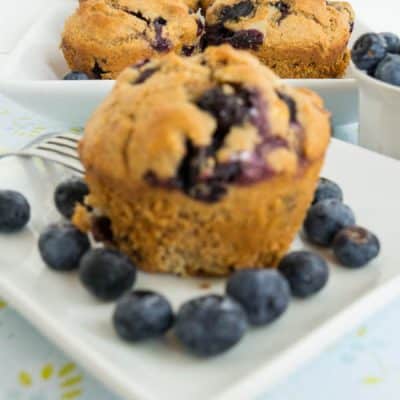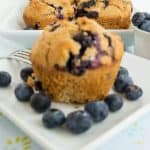 Join the DD Community!
Join the Designed Decor Community and receive weekly free tips on DIY home projects, painted furniture, decorating, and much more.