Kitchen deep cleaning can be super intimidating. You know it needs to be done, but you feel overwhelmed just thinking about the supplies and elbow grease you'll need to get your kitchen sparkling clean. Not to mention the extra worry that comes with not wanting to use harsh chemicals in your home.
But fear not! I am here to tell you that deep cleaning your kitchen is totally doable – and relatively easy at that – without relying on toxic products. Read on for our top tips and some simple DIY solutions so you can have a refreshed and immaculate-looking space right away.
Do not stress about grimy dishes, greasy cabinets, and sticky floors in your kitchen. Also, I want you to realize you do not need those chemicals to remove all the grease. It may take a little bit of work at first but you will be doing the right thing for your family and the environment.
Who is with me on reducing the number of chemicals we use in and around our house? Not only are these cleaners bad for your body, but they are also hurting the environment. Toxic overload is everywhere from the food we eat, the products we use, and the electronics we are surrounded by.
This post contains affiliate links. Click here to see my full disclosure policy.
How to clean without chemicals
Yes, it is as simple as a few E-cloths and water and you will have a clean kitchen. I use my E-cloths for everyday cleaning and it has saved me time and frustration. E-cloth products offer significant cost and time savings and real health and environmental benefits versus ordinary cleaning. The cloth is also proven to remove over 99% of bacteria from a hard surface.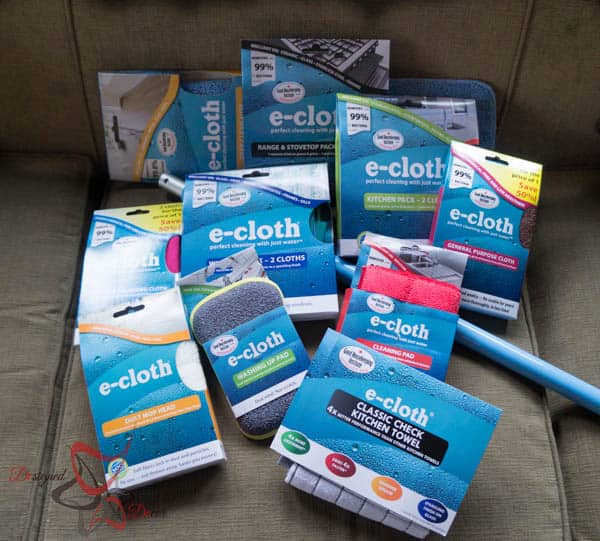 These cloths don't kill bacteria, they collect bacteria from surfaces. This is another benefit of all of those fibers – they literally scrape the surface clean at a microbial level. The best part is when you run this cloth under hot water in your sink, all but .01% of that bacteria, dirt, oil, and grease is released from the cloth down the sink. So, there is almost no transfer back onto clean surfaces.
Another great way for natural cleaning hacks is to make your own chemical-free cleaners. Some cleaners are as simple as vinegar and water. Other DIY non-toxic cleaners have ingredients such as lemon, baking soda, castile soap, essential oils, and borax.
Chemical FREE Cleaning Guide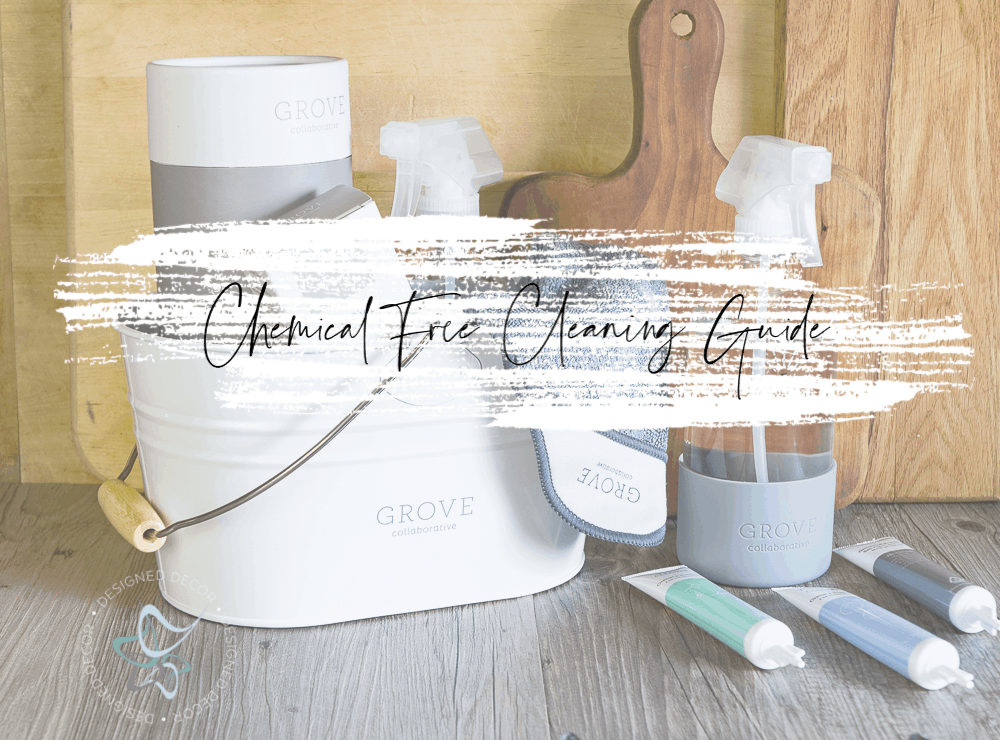 Learn how to easily remove harsh chemicals from your home
Discover DIY cleaning recipes
List of favorite natural cleaning products
Chemical-Free Deep Cleaning Routine
In order to begin a deep clean you will need to make sure the kitchen is orderly and clear of clutter on all countertops, the sink, and the table. It also would be best if you removed all small appliances to another area before deep cleaning the kitchen.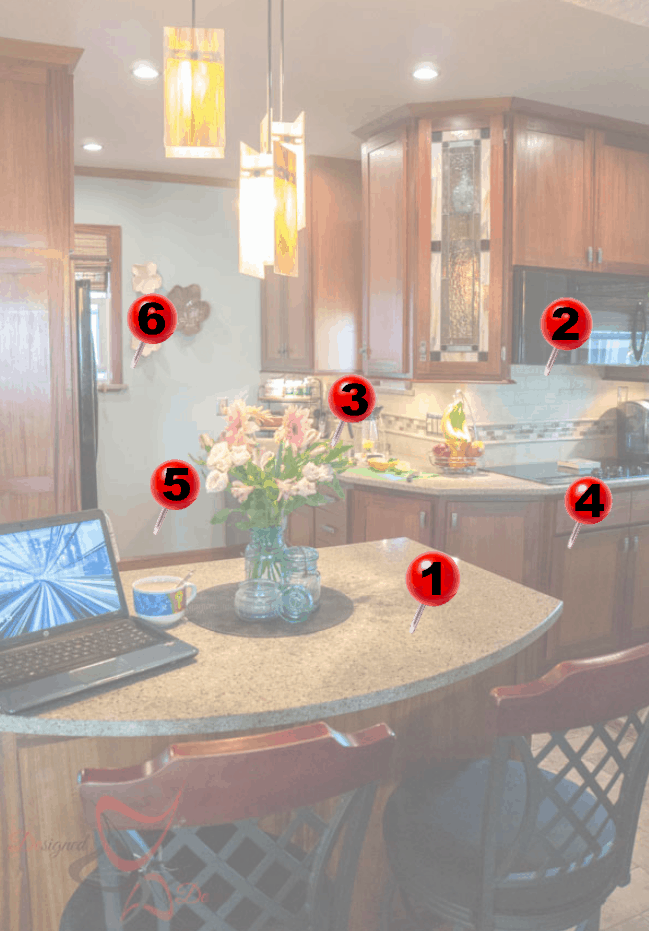 Step 1: Counter Tops
As mentioned above, remove all clutter from the countertops. Wipe down all countertops with this microfiber cloth with a scrubbing corner. This is my favorite for removing all the dried food. Once the countertop is clean, follow up by wiping it down with the polishing cloth to leave a nice streak-free finish.
I swear by using the polishing cloth. I can tell when the others in my house do not use it.
It is very hard to photograph a quartz countertop, but I think you can see the difference between the before and after. I use the kitchen pack from E-cloth to clean my countertops every day.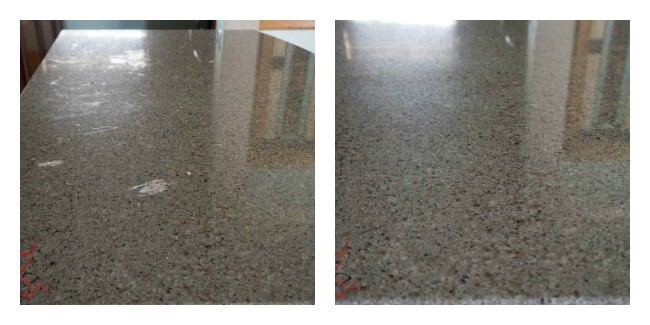 Step 2: Clean the appliances
Start by deep cleaning the inside of the appliances and working your way to the outside. Throw out old and expired food from the refrigerator and wipe down all the shelves using an E-cloth.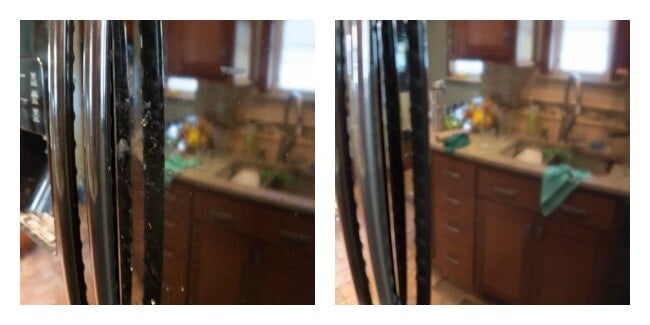 The places in your kitchen that show constant fingerprints and grime are the microwave, oven, dishwasher, and refrigerator. No matter what I used on the refrigerator, it would always show streaks. I no longer have that problem with my kitchen pack.
Make sure you read this post on my NO-fail method for cleaning the inside of a microwave without scrubbing and chemicals.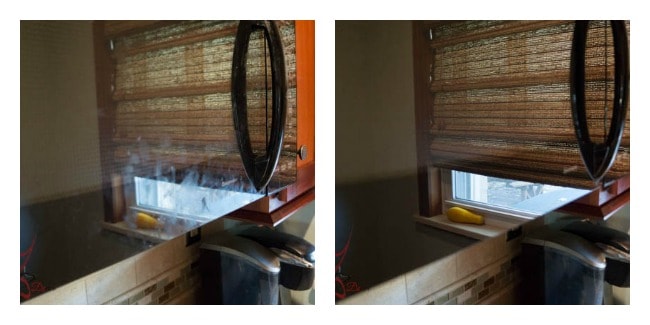 The most frustrating thing to clean in the kitchen is the ceramic cooking tops. I never had enough elbow grease to remove the backed-on liquids that would spill over when cooking. I would even use those cooktops cleaners and never had much success or I had major streaking.
In the past, I would ask Mr. DD. to scrub the cooktop. Now, for the baked-on food, it is so simple to clean up the cooktop using universal stone. Dampen a wash-up pad and place some of the universal stone creams on the pad and scrub the cooktop. Clean up the cleaner using the E-cloth kitchen pack followed by the finishing cloth for a streak-free cooktop.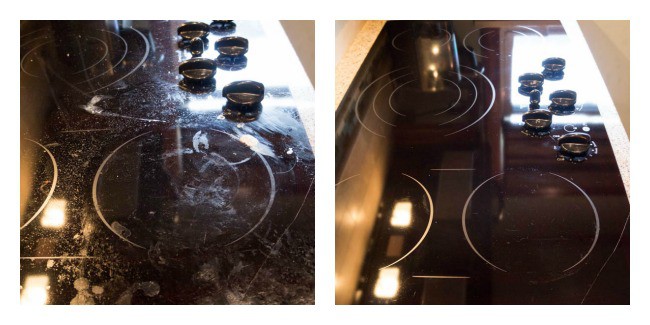 Step 3: Cleaning the sink
When I need a little more than e-cloth and water I use the Universal stone on the kitchen sink just as I do the cooktop. I love this product, it does a fabulous job cleaning the cooktop and sink.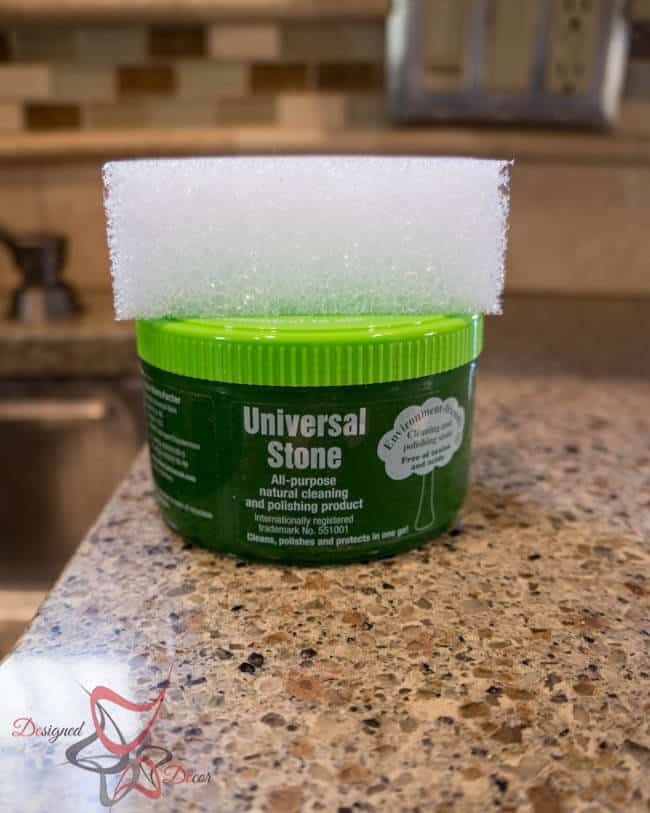 It is so easy to foam up the sponge with Universal stone, clean the sink and rinse. Do not forget to clean the underside of the rubber disposal traps. So many moldy food particles stick to the underside that creates smells. I use the same scrubbing sponge after I have cleaned the sink.
Pour baking soda down the clean sink to help with any food orders as this freshens up the drains.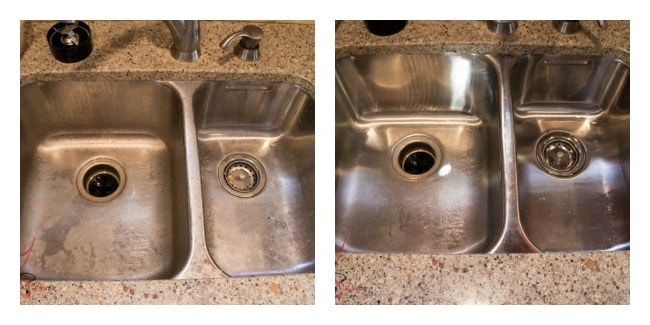 Step 4: Cleaning the cabinets
I usually only deep clean the kitchen cabinets every 6 months. Start by removing any dried-on grease and food with the scrubbing cloth, followed up by polishing.
I make my own furniture polish using olive oil and lemon. I use 2 parts of olive oil to 1 part of fresh lemon juice. It is important to use an oil cleanser to put some moisture back into your wood cabinets, especially under the sink area where you have a lot of water dripping down.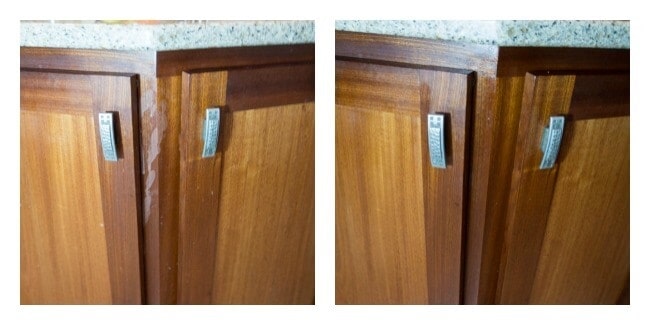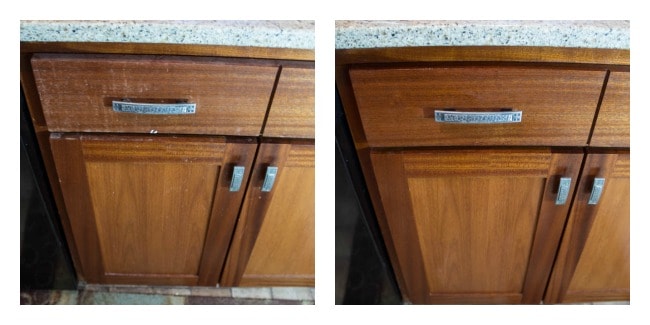 Step 5: Cleaning the floors
Mopping the floors has become an easy task in my home. No more buckets, messy mops, or chemicals. It is easy to use the floor cleaning set from E-cloth. 1 cloth does the daily dusting and the other does the deep cleaning with water.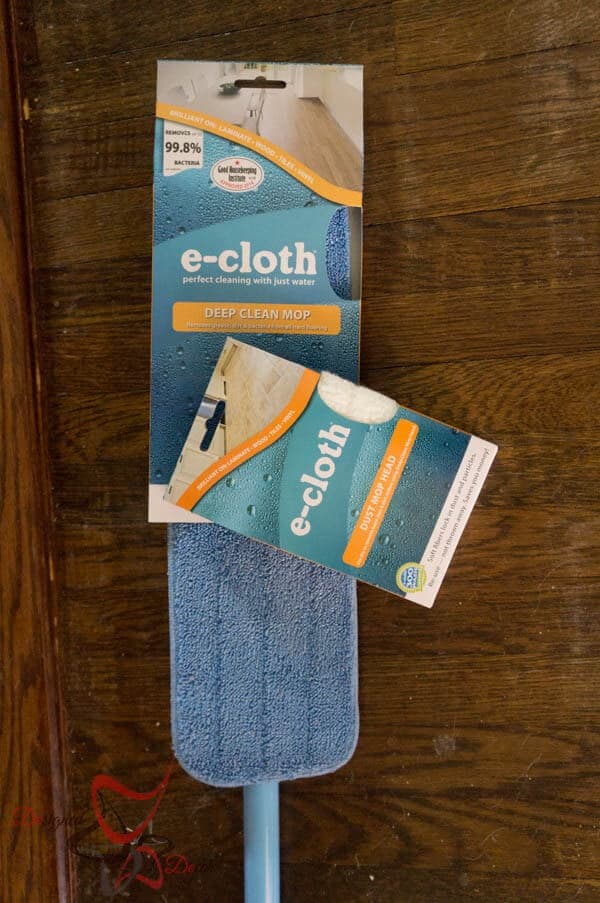 Step 6: Cleaning the windows
I have a 2 step process to clean the windows. The first step is to use a 50/50 mix of vinegar and water to clean all the dirt and grime. I follow that up by using the Window Pack, to have streak-free windows without all the fuss.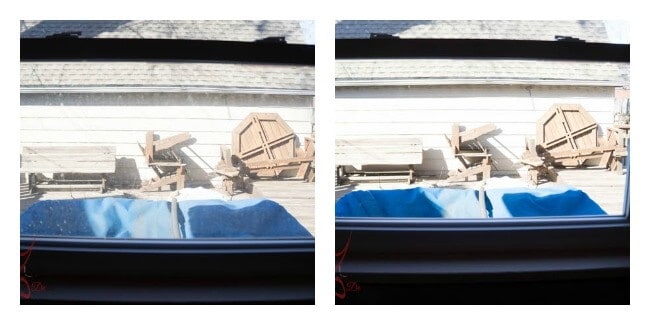 kitchen deep-cleaning doesn't have to be a chore. By taking a few preventative measures and setting aside time for regular cleanings, you can avoid the need for harsh chemicals altogether. And, when it comes time to break out the big guns, there are plenty of natural options that will get your kitchen squeaky clean without posing any risk to your family. What are your favorite tips for keeping your kitchen clean? Do you use non-toxic cleaning methods in your home?
Check out these helpful cleaning posts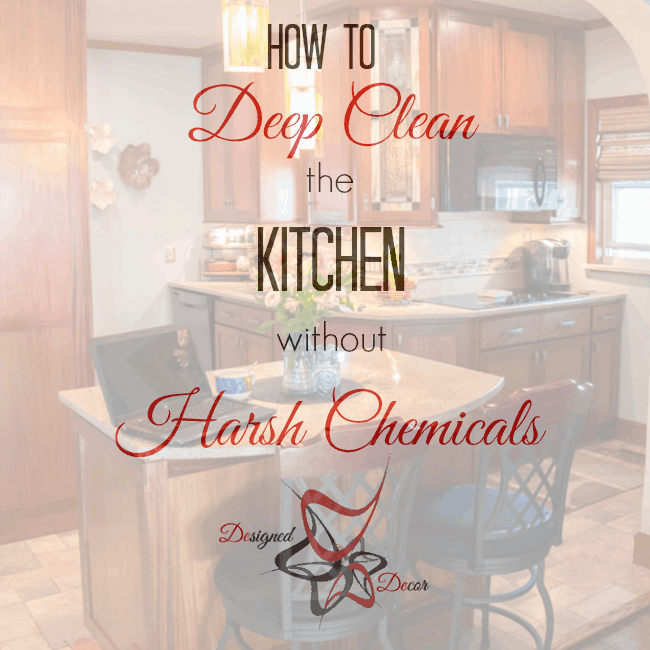 Join the DD Community!
Join the Designed Decor Community and receive weekly free tips on DIY home projects, painted furniture, decorating, and much more.