I started to work on my guest bedroom and started with the headboard makeover.  I am excited about this, because I finally get to have a guest bedroom.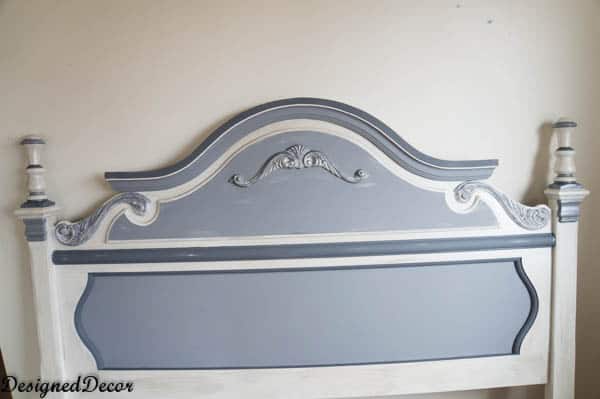 I have researched the different types of chalk-based paints and I came across this new company called Shabby Paints.  This company is less than a year old and the best thing about the products is their products are completely non-toxic.  hypoallergenic, and 100% VOC-free.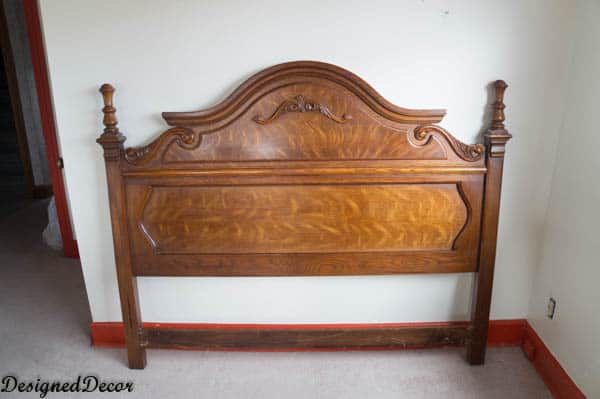 I found a complete 5 piece bedroom set on Craigslist.  Once I saw the set and the price, I knew this was the set for my guest bedroom.  Here is the headboard before painting.   The furniture is solid wood and is in really great shape.  Oh course, Mr. DD asks why do you have to paint completely fine wood furniture.  My response is, because this is what I do!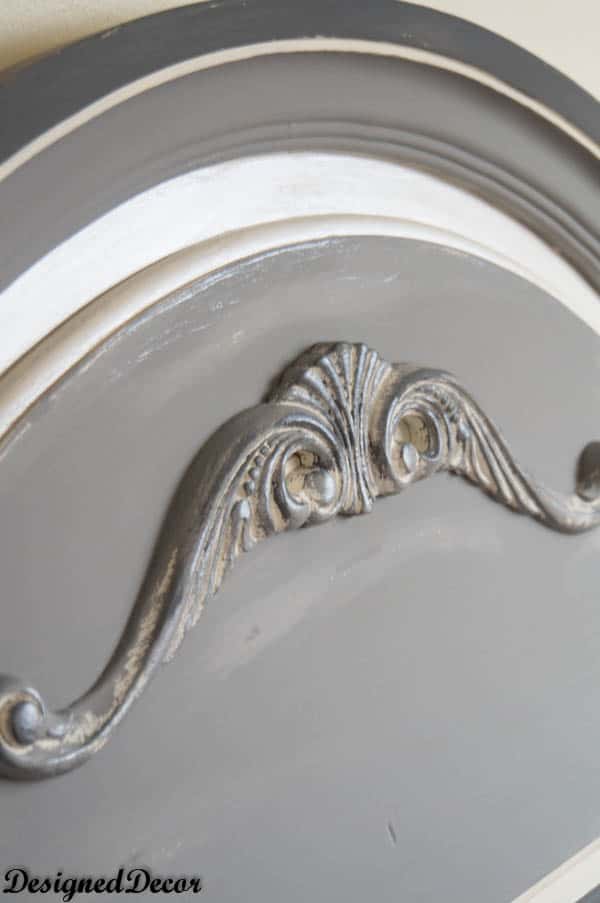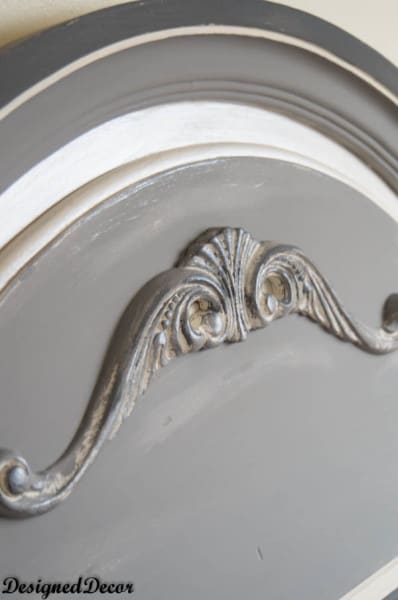 I love all the details in the headboard.  I can't wait to finish the other pieces so I can show you how pretty the furniture is or will be!  Now, let me share more about the paint and what I used to complete my headboard makeover.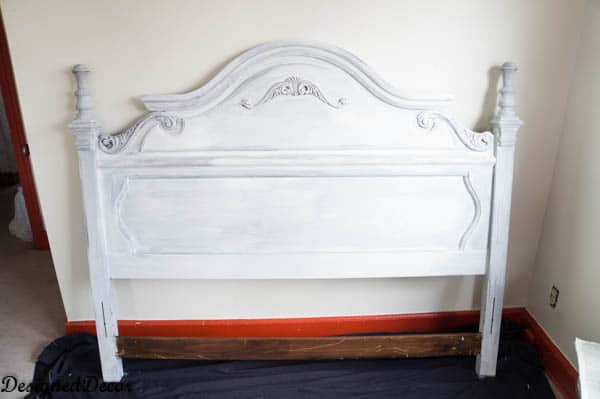 I started with 2 coats of Alamo white.  This paint is very thick and needs watered down.  I used a 5 to 1 ratio, 5 parts paint to 1 part water.  This is a positive thing about this paint, if you are watering the Shabby Paint down, you are getting more paint than a quart.  I applied  Lillian Grey(light grey) and Garfield Grey for the accents on the headboard.   I distressed a few areas on the head-board and then used the Silver Shimmer glaze over the white sections of the headboard.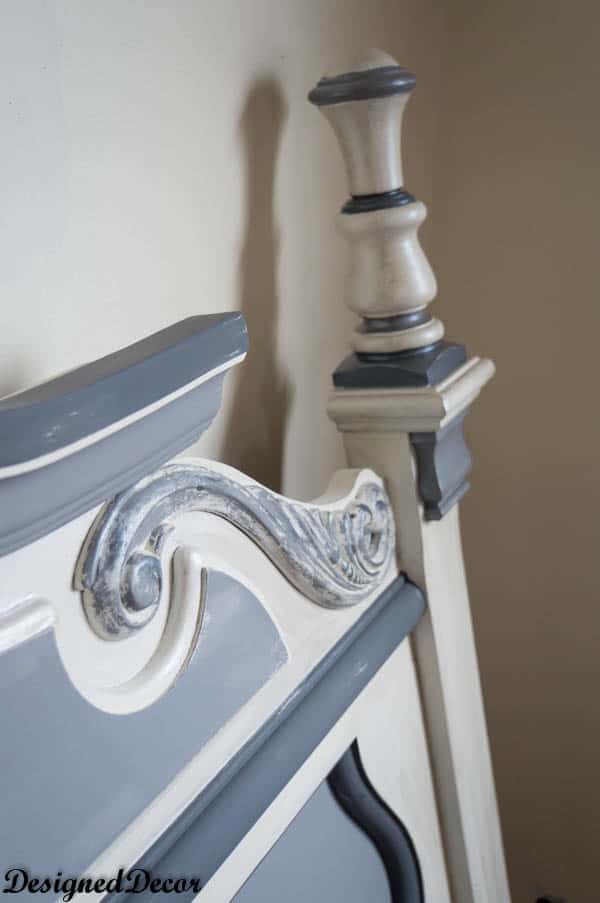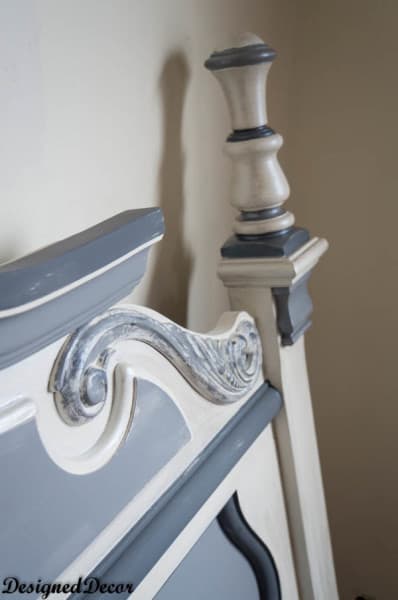 A few tips to keep in mind when working with Shabby Paints.  You must water down the paints as well as with the shimmer glazes.  You must also use a wet brush when applying the glazes and the Vax.  Speaking of Vax, you need to hope over and read about this revolutionary protective finish, combing the style of wax with the durability of varnish.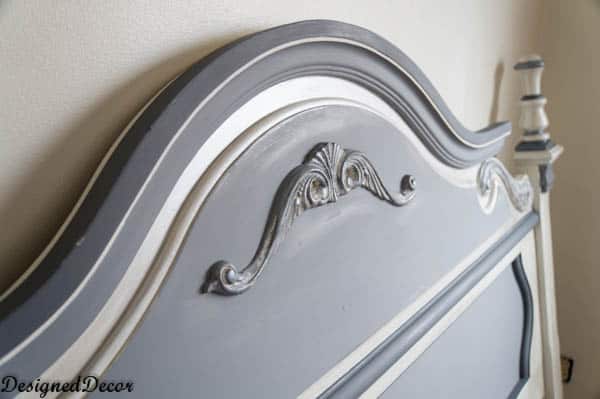 Check out these other headboard makeovers

Join the DD Community!
Join the Designed Decor Community and receive weekly free tips on DIY home projects, painted furniture, decorating, and much more.