Are you looking for an extra special touch to finish off your homemade food gifts for the holidays? With a little creativity and some simple supplies, you can transform that freshly baked loaf of banana bread or jar of jam into a memorable present. Here at Designed Decor, we will be giving you some of our best food gift wrapping ideas and delicious recipes for DIY edible presents! From jellies and jams to classic cookies, we've got something perfect for your loved ones this season. So let's get started on crafting those beautiful presents together!
Food Gift Wrapping Ideas
When it comes to food gift wrapping, don't feel like you have to go for elaborate and expensive options. Instead, consider looking around your home for boxes, containers, or jars that can be repurposed. Get creative and DIY some of these containers to transform them into the perfect food-wrapping presents. This not only adds a personal touch but also helps reduce waste and makes your gift more eco-friendly. So, before you head out to buy fancy wrapping paper, take a moment to explore the possibilities right in your own home.
This post contains affiliate links. Click here to see my full disclosure policy.
Wow, your loved ones with this simple and festive way to wrap treats or a hot chocolate gift! Using a stylish holiday mug, a cellophane bag, a gift tag, and a beautiful ribbon, you can create a stunning presentation in no time.
This gorgeous seasonal coffee mug, which was given to me as a gift and never used, serves as the perfect vessel for your thoughtful present. By using printed cellophane paper that I snagged on closeout after the holiday season, I filled it with my favorite holiday tradition – a delicious white chocolate party mix. To add the finishing touches, I closed the cellophane bag with a lovely curling ribbon and created a personalized tag using scrapbook paper from my stash. Bonus points – I had all of these supplies on hand!
You won't have to break the bank to recreate this idea – snowman mugs like this one can easily be found at dollar stores or thrift shops.
I approached this food gift wrapping with the same ideas as the coffee mug, simply embellishing with a candy cane. These baskets I kept for years, remnants from my time at JCP. Finally, I've discovered the ideal purpose for them. And the best part? All the supplies were already at my fingertips. I stumbled upon these red wire egg baskets, a great alternative for any food gift presentation.
For this next wrapping idea, I had to get a little more creative. I started with plain glass jars that I have had waiting to use one day, just like the red wire metal baskets! It was easy to use winter stencils on the outside of the jars to make them more festive.
I used glass paint pens to trace the design from the stencil. For the snowflake glass I then used gold glitter glue, because the white dried clear. I forgot to take a picture of the jars after the glass paint dried. Oops! Sometimes I get so into the project that I forget to take pictures!
Learn how to paint glass jars.

For the poinsettia jar, I just wrapped it in printed poinsettia cellophane, curling ribbon, and made the gift tag. The snowflake jar looks really cute being empty, but I forgot to take the picture! I cut a fabric square and tied the fabric around the mouth of the jar with a gold ribbon. All items I had on hand!
For the mason jar food gift, I had a long moment with the jar! My mind was talking out loud about how to get creative with this one. I could paint it, no! I could make a label for the sides and use fabric to cover the top, no! What can I do with you? Then it hit me – BAM!
Do you ever have those Aha moments, well I did with this one. A Santa hat, I could top the jar with a Santa hat. The rest of the ideas just kept flowing on how I was going to finish the body of the jar.
On the first mason jar, I used an old Santa hat I had in my Christmas stash.
On the second mason jar, I made my own Santa hat using leftover red felt. I began by cutting and then stitching the red felt together to form the shape of the hat. I then stitched the fuzzy ball on top. The felt fabric was perfect, it held up the weight of the ball. I had the ruffle material left over from an Olive Ole costume I made 2 years ago, so I used that to make the ruffle on the bottom of the hat.

I glued on black buttons and a strip of black felt and used my gold glitter glue to make a belt buckle. It is great when an AHA moment turns out to be so darn cute!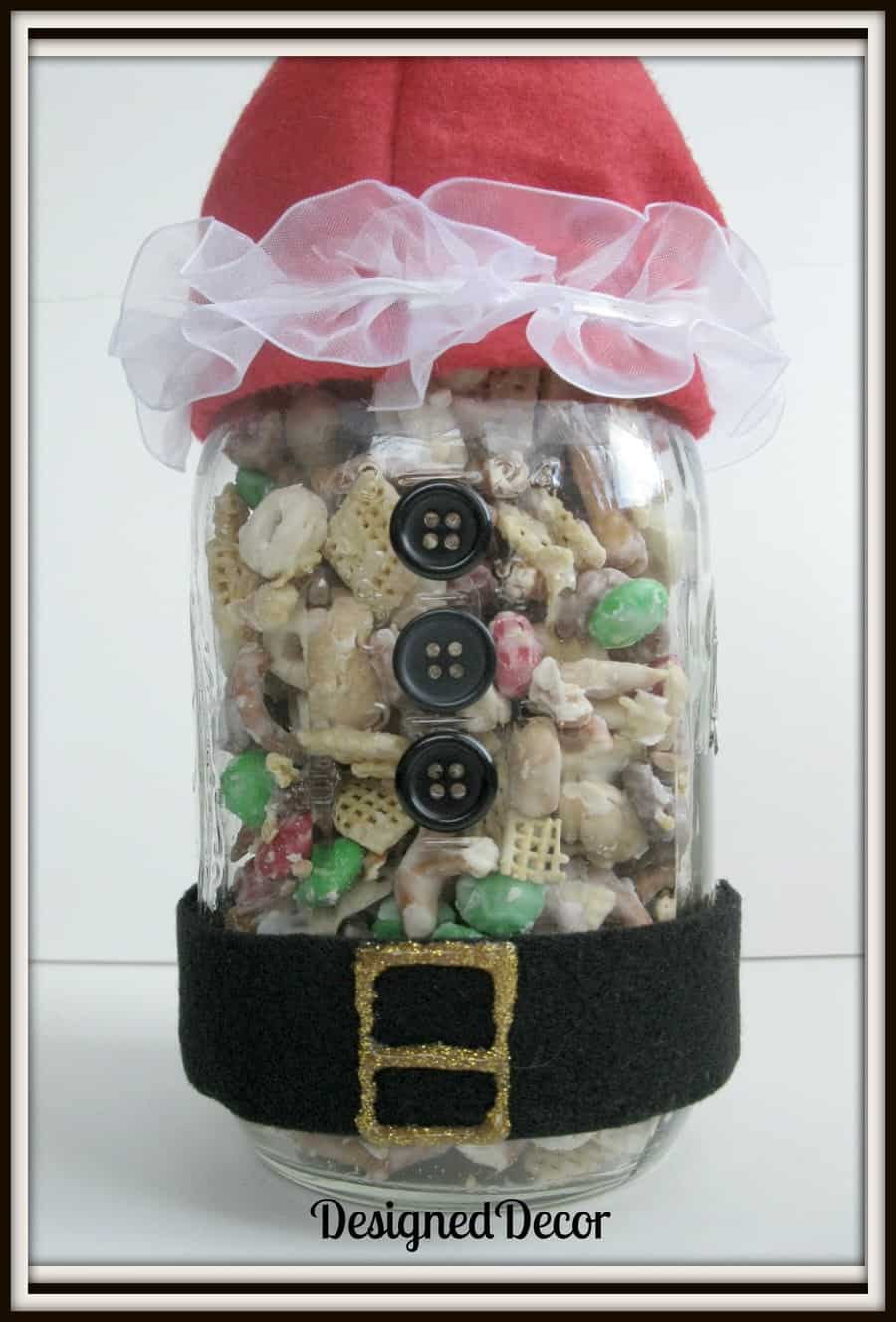 Here are a few other food gift wrap ideas:
Easy homemade food gift ideas
Creating a thoughtful gift for a loved one doesn't have to be difficult or time-consuming. With a little bit of creativity and a handful of ingredients, you can put together a homemade food gift that your recipient will cherish. Imagine giving a jar of homemade flavored popcorn or a personalized hot chocolate mix. Not only will these gifts suit any occasion, but they will also add a personal touch to any celebration. For those who love baking, don't forget to include a handwritten recipe card with your gift. From simple snacks to delicate baked goods, there are countless ways to show your love through food gifts. Give it a try and you'll be amazed at what you can achieve with a little bit of effort and love.
Here is a list of my favorite homemade food gift ideas:
Overall, gifting food presents is a great way to give a unique and thoughtful gift without spending too much money. By incorporating creative food wrapping ideas like fabric, gift baskets or cellophane bags, and combining them with easy homemade food gifts such as baking mixes in jars or jam on wooden spoons you can create gifts that your friends and family will remember for years to come.
If you're looking for an aesthetically pleasing yet delicious present, look no further than these easy food gift-wrapping ideas and homemade food gifts! Start off today by getting inspired by these awesome gift ideas, upcycle some cool items into wrapped gifts, and make sure to get creative when it comes to wrapping up perfect edible presents. So what are you waiting for? Get baking and wrapping for that someone special.
---
DeDe Bailey
DeDe Bailey is the artistic mastermind behind Designed Décor and The Puzzle Table.  With a rich background in home décor retail, she has transformed her website into a platform driven by a profound passion for helping individuals craft spaces they adore. As a self-taught furniture painting artist and thrift decorator, she loves sharing her knowledge and empowering others to beautify their homes through furniture painting and thrifting. When she isn't sharing her wisdom on the Designed Décor blog, DeDe is occupied with showcasing her ingenious jigsaw puzzle table design and expanding her short-term rental located in NE Ohio.
Get your FREE ELIMINATE BRUSH MARKS GUIDE => How to Eliminate paint brush marks
---





Join the DD Community!
Join the Designed Decor Community and receive weekly free tips on DIY home projects, painted furniture, decorating, and much more.