It is hard to believe that "1" more week and it will be Christmas Eve. Christmas Eve is when we get together with my husband's family. The evening starts with the family service at church and then all come to our house for a meal and to exchange and open gifts. This is such a fun family time because my sister-in-law still has young children. Being entertained by the little ones is always such a blessing. Here is my dining room before all the family arrives.
I like to keep my table simple. I don't set up place settings and all the decorating fluff. We use this table everyday to eat dinner, so no fluff here.

My favorite feature in my dining room is this mirror. It was an outside window, so all the trim is original to the home. I love changing the ledge for the change of seasons.

I made the red table runner that is on the buffet table. I used some left over deco mesh from my sons "graduation party table decorations" and purchased some gold fabric and fringe. Sewing the deco mesh was not an easy task. I am not very good at sewing so why on earth did I decide to use the most difficult of materials. Here is the picture of the materials I used. I was going to do a tutorial and decided it best that I not share this project since the stitch lines were not the best. It looks really pretty with the gold fabric showing through the deco mesh, but it was a "B" bear.

The ornaments hanging from the Joy stocking holders were a last-minute addition. I used a glass heart ornament from my "pretty tree," and made the "Zipper Christmas Tree Ornaments." You can click on each of them to read more about them.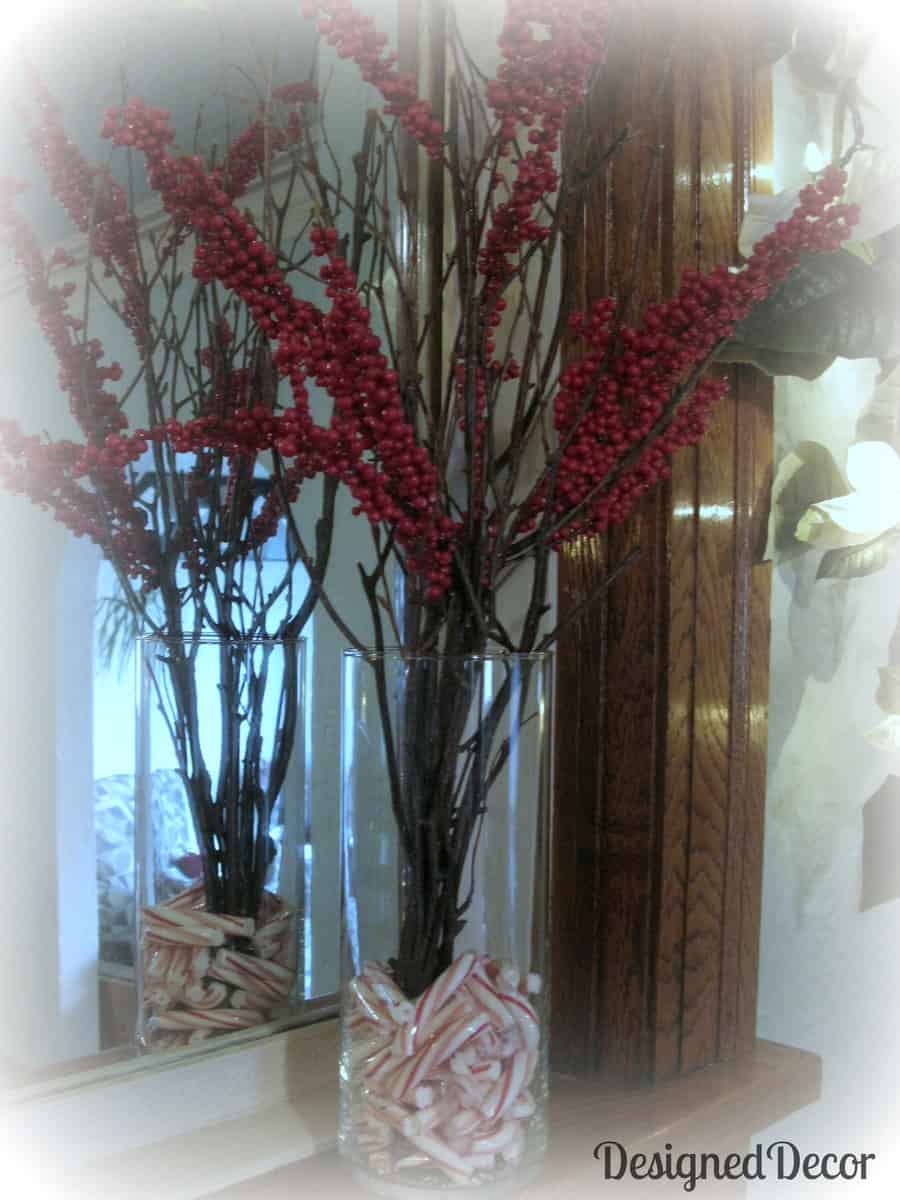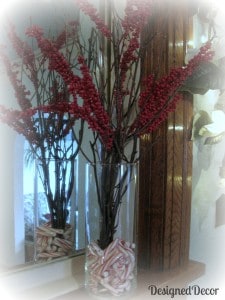 The vases on the mirror ledge I filled with broken candy canes, branches from my yard and some red berry stalks that I had from a previous mantel decoration. I love when you can use resources that are inexpensive, like candy canes or you already own.

Since I was going for the red and white theme on my buffet table. I needed to make a few small purchases. This year I purchased the 2 smaller tress at a goodwill store knowing that I had the larger one. I love how the three of them look together with the varying sizes. I purchased the mints and the red and white glitter ornaments form Wal-Mart. The candle center piece and the red stack boxes were all items that I had from a previous year.
Join the DD Community!
Join the Designed Decor Community and receive weekly free tips on DIY home projects, painted furniture, decorating, and much more.