Need a last-minute gift for that unexpected guest?  Why not give a gift of food?  One of my Holiday traditions is to make and share this White Chocolate Party Mix.  In the many things that need to be done before the holidays, this is a must in my house. A very good friend of my mother's shared this recipe with me many years ago. I have made it to give as food gifts for the many great people who worked for me at JC Penney. It was a hit and then it became a tradition. I have since, made this to give to co-workers, friends, neighbors, and family.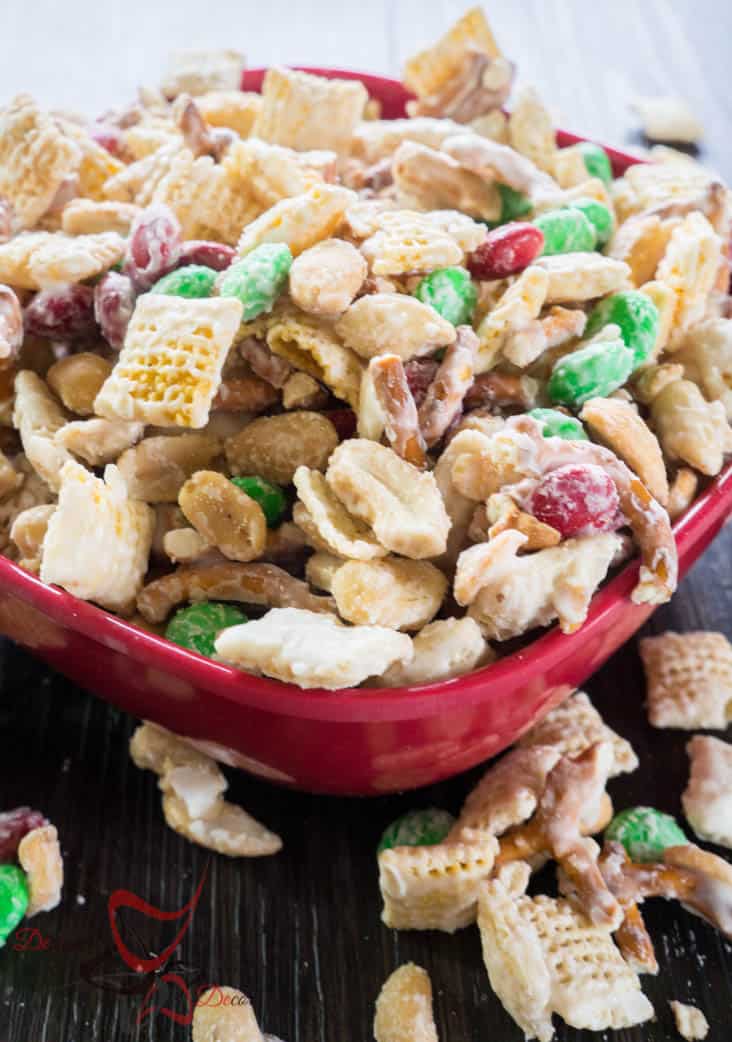 White Chocolate Party Mix
Additional Time:
10 minutes
Ingredients
2 cups crushed mini pretzels
2 cups Cheerios
2 cups chocolate Cheerios
4 cups corn chex
2 cups salted peanuts
2 cups cashews
2 cups M & M's
2 packages white chocolate chips
3 Tablespoons oil
Instructions
In a large Huge bowl, combine the first 7 ingredients; set them aside. Make sure you have a 6 to 7-quart bowl.
In a microwave-safe bowl, heat chips and oil on medium-high for 2 minutes.
Stir chips until smooth, microwave again for 10 to 20 seconds, stir again.
Pour over the cereal mixture and mix well.
Spread mixture onto waxed paper.
Cool completely, break apart into bite-sized pieces.
Store in an airtight container. Yield 5 quarts.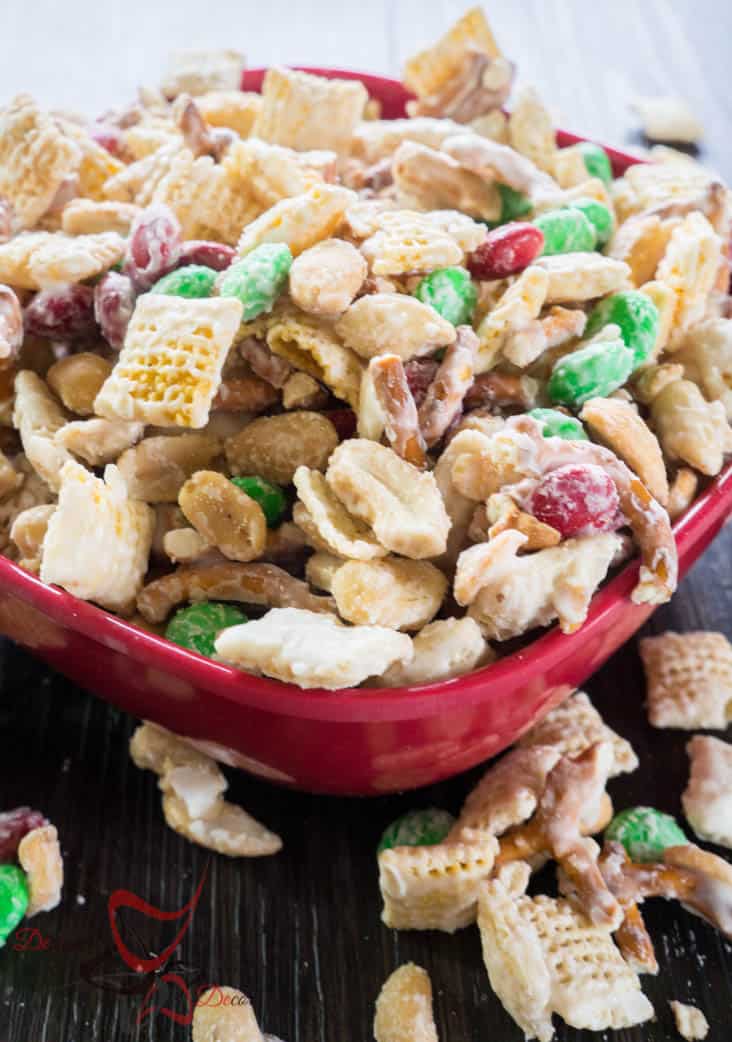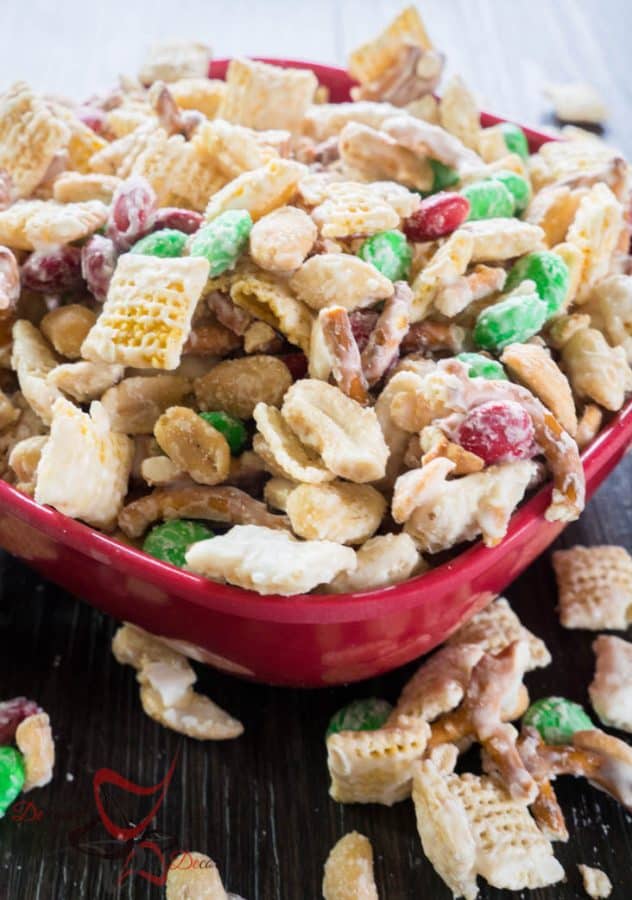 I use fewer pretzels because that is the way I like it and I also crush them into smaller pieces. If you keep the pretzels whole, the mixture will stick to the pretzel and make a large piece that is sometimes hard to break apart. I add cashews because that is what my family likes. You can substitute as many things as you like with this recipe. The possibilities are endless.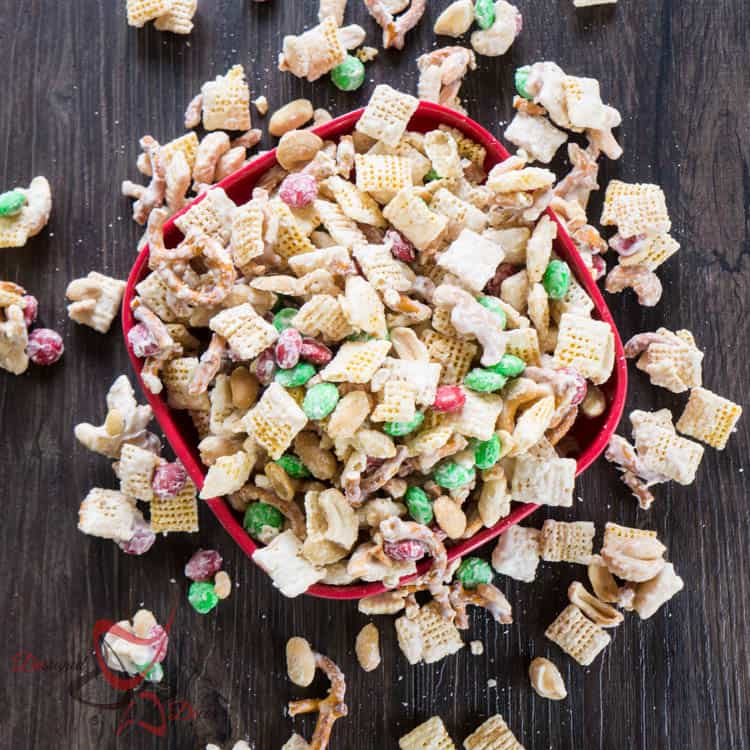 This makes a perfect recipe to share with others.  You can purchase festive containers or get creative and make your own containers.   What a perfect way to give a gift that is made with love.  And who doesn't love yummy treats as a gift?  

;
Join the DD Community!
Join the Designed Decor Community and receive weekly free tips on DIY home projects, painted furniture, decorating, and much more.