I am showing you how I created these aged layered painted candlesticks. I love to find aged layered painted items like doors, windows, and other small treasures. Sometimes you can't find the pieces you want so you have to create that aged, layered painted look. I have been collecting candlesticks from thrift stores and garage sales I finally have enough to make the collection I have been wanting above my antique armoire.
You all know how much I love a good thrift project! These turned out amazing and this is one of my favorite thrift projects. I have been searching for a collection of candlesticks for awhile now and every one of these was purchased for under $5 and some of them were under a $1.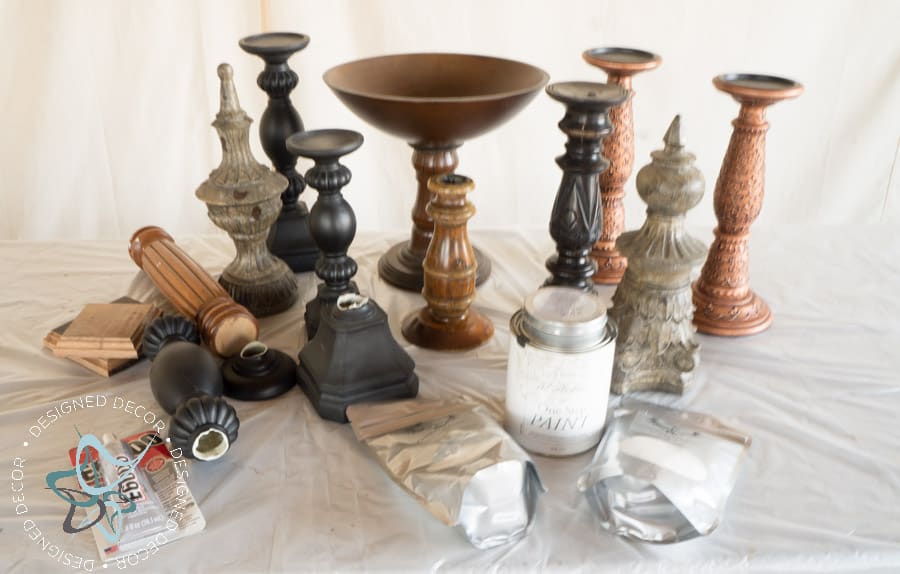 This post contains some affiliate links. Click here for my full disclosure policy.
One of the black candlesticks broke before I got it home and I glued it back together using E6000
. I have 2 favorite types of glue that I use for projects the other one is Gorilla Super Glue
. I also made a candlestick out of a table leg and I will share a post on how I made the candlestick on another post.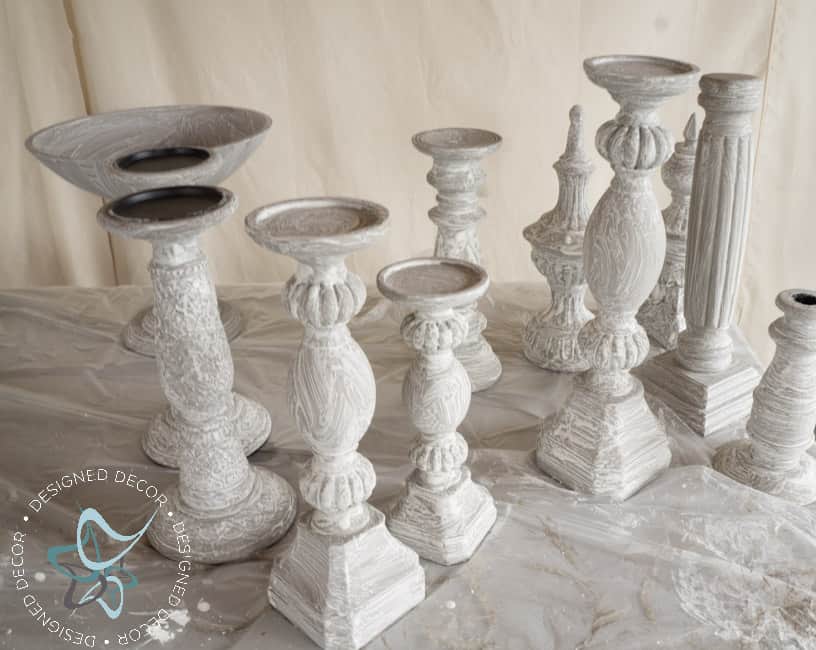 Step 1: Repair and Clean – After the broken candlestick was dry, I cleaned all the candlesticks using an orange plus cleaner
, remember I use natural cleaning products.
Step 2: Paint – I used Amy Howard's One Step Paint in Selznick Gray. Apply one coat and let dry. I applied a good first coat and that is all I needed to get complete coverage. In some cases, you may need a light second coat. This is my first time using this paint on a project and so far I am really liking the coverage.
Step 3: Apply Gesso – I used Amy Howard's Cracked Gesso. I mixed according to the package directions going easy on the water until I had the consistency that I wanted. I applied a generous amount of the Gesso on the gray paint layer and let dry. This gesso layer is what gives your item the extra texture to make it look like layers of paint build-up.
Step 4: Apply Milk Paint – I used Amy Howard's Toscana White Milk Paint in Stroudsburg White for the next layer. Mixing milk paint can be difficult to get all the grit from the mix. I think I will be doing a video soon on how to mix milk paint to get the best results. Stay tuned or subscribe to my You Tube channel so you don't miss it.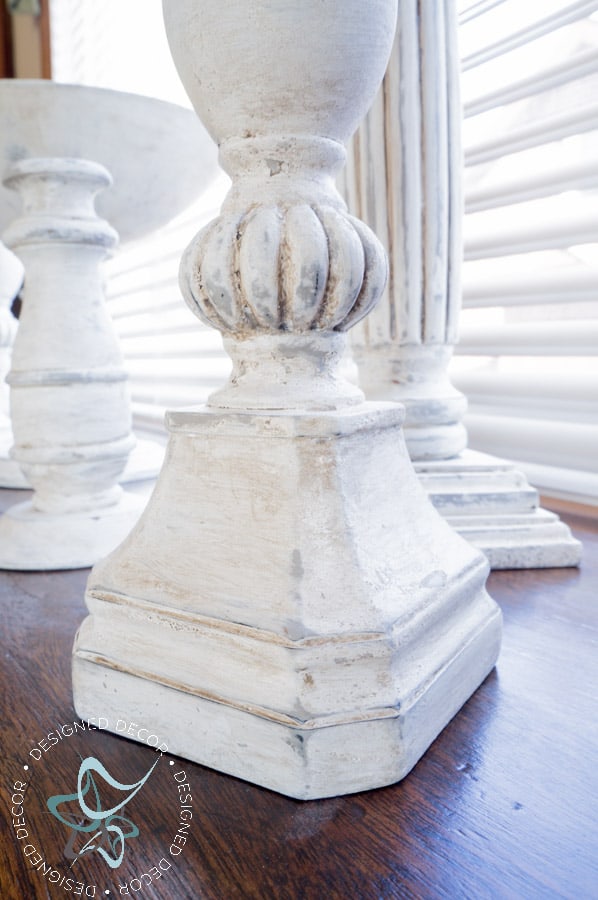 Step 5: Sanding/Distressing – I like to sand large pieces of furniture so I can use my finishing sander doing this all by hand takes some work and can be hard on your hands. Once you have the surface distressed to your liking clean off with a dry bristle brush to remove all the dust and grit.
Step 6: Apply Antiquing Glaze – I used Amy Howards Antiquing Glaze. Apply the glaze with a chip brush or sponge making sure to get in the cracks of your piece and wipe off with a clean lint-free towel.
Here is a video on the aged layered paint technique that I used on a repurposed chair shelf.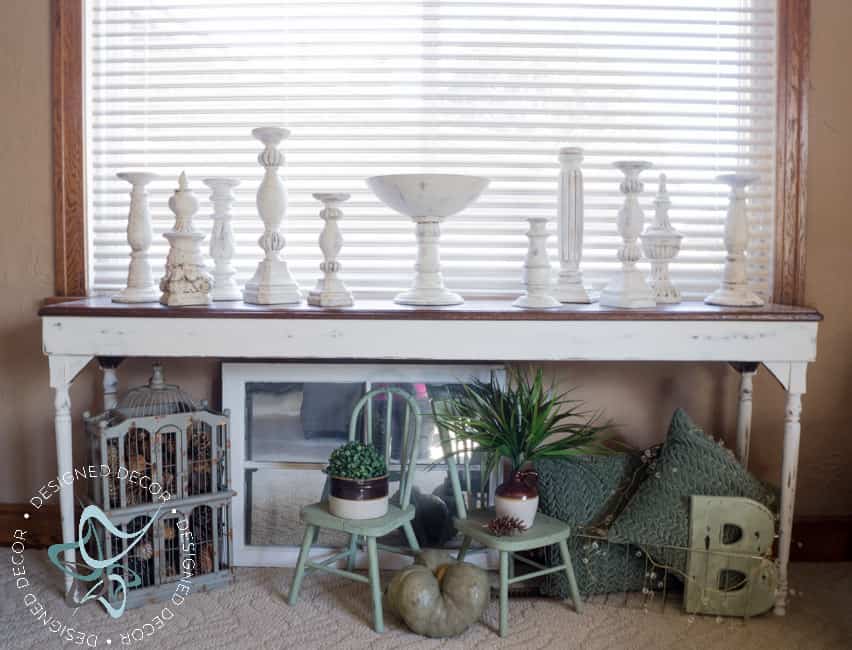 I first photographed the candlesticks on my sofa table so I could get some good photography light. I think these will be moving around my house quite a bit in my "always moving my decor accessories" mode.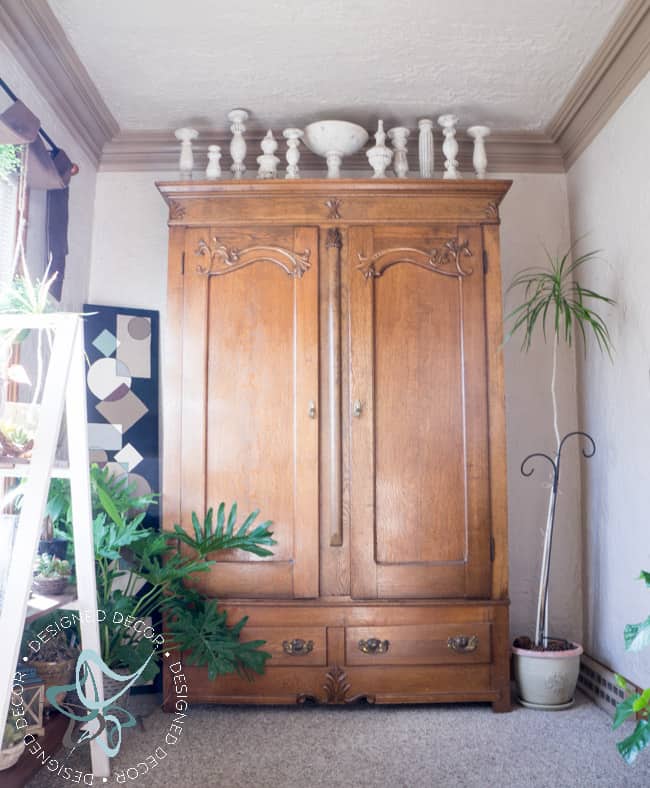 This is where they currently reside.  I can't wait to decorate the top of this cabinet for Christmas by adding garland with lights and some bling to make that top pop.  I am slowly working on this space and hope to have it all done before Christmas.  I am removing the carpet to expose the hardwood floors, painting, and turning an old record player into a coffee bar.  I can't wait to share it with you and I just picked the paint color from Amy Howard to paint the coffee bar. I am excited to use the color Rugo in the One Step Paint.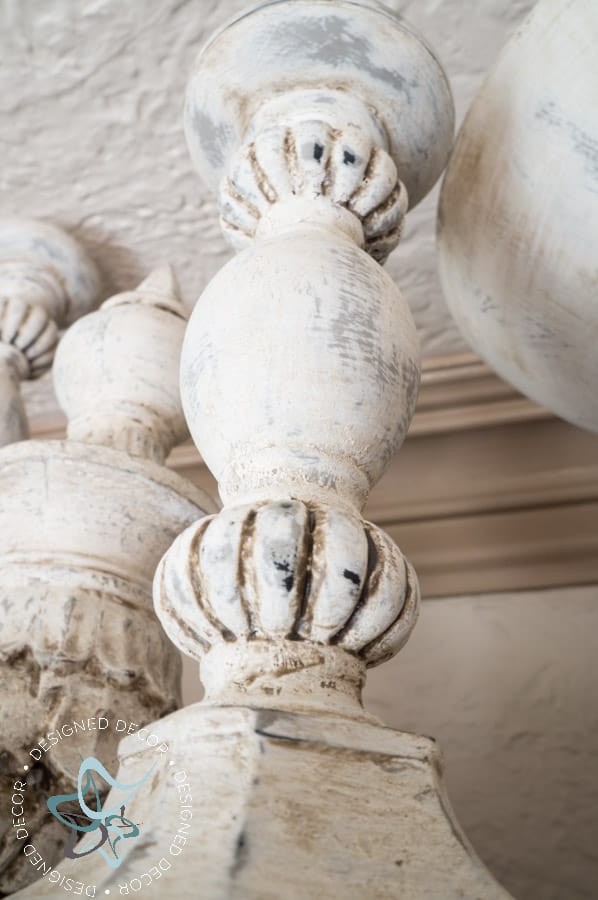 Join the DD Community!
Join the Designed Decor Community and receive weekly free tips on DIY home projects, painted furniture, decorating, and much more.