I am teaming up with my Power Tool Challenge Group and this month's theme was $10 and under.  I can't wait to share all the great projects that The PTC Team made for under $10.  We are also hosting a Reader Challenge for you to enter a $10 and under the project to win some Ryobi Power Tools.  Thanks to our generous sponsor, Ryobi.  Stay tuned at the end of the post for the details on how to enter.  I love a great thrift project and mine was FREE.  Yup, I made some DIY wood slices and the cost was $0 except for a little time and sanding.  
I have been wanting to make my own wood slices since last year.  I was going to make the small coaster-sized ones but I found this cool-shaped log and decided to make a larger one for a home decor accent and not just as coasters.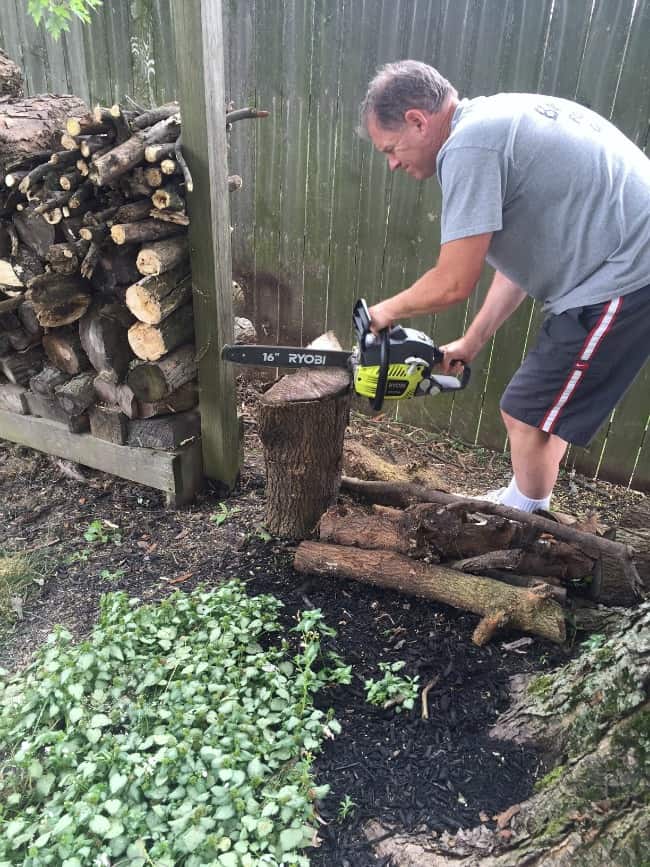 We were out cleaning up all the large wood pieces that have fallen from our trees and we always just toss them in a stack behind our wood pile until we have a large stack or until Mr. DD can't stand to hear me ask again. Make sure you wear safety glasses at all times when you are using a power tool. I am constantly placing a pair on Mr. DD after he starts his work. I took the photo before I placed them on, sometimes you have to get the picture.
This post contains some affiliate links. Click here for my full disclosure policy.
We used our Ryobi chainsaw to slice the wood about 2 inches.  If you don't have a chainsaw, you can always ask a neighbor or a co-worker to do this part for you.  My wood logs were well-seasoned before we sliced them, they were a couple of years old.  If you are using a fresh piece of wood, you need to slowly dry out the wood.  There are many tutorials on how to dry out wood, just google the term.  I also read about a product called Polyethylene Glycol
that you can use to help slow the drying process so you don't get large cracks that can potentially crack the log into pieces.  This product needs to be used right away after slicing the wood.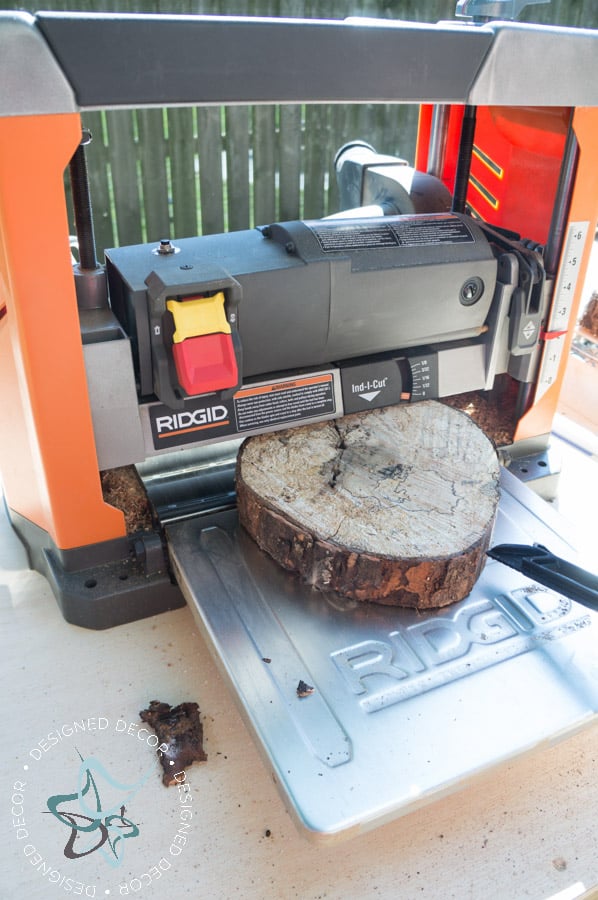 I ran the wood slices through my Ridgid planner to get them even and smooth. I know most people do not have a planner but you can use a hand sander. It takes more elbow grease, but the job will get done.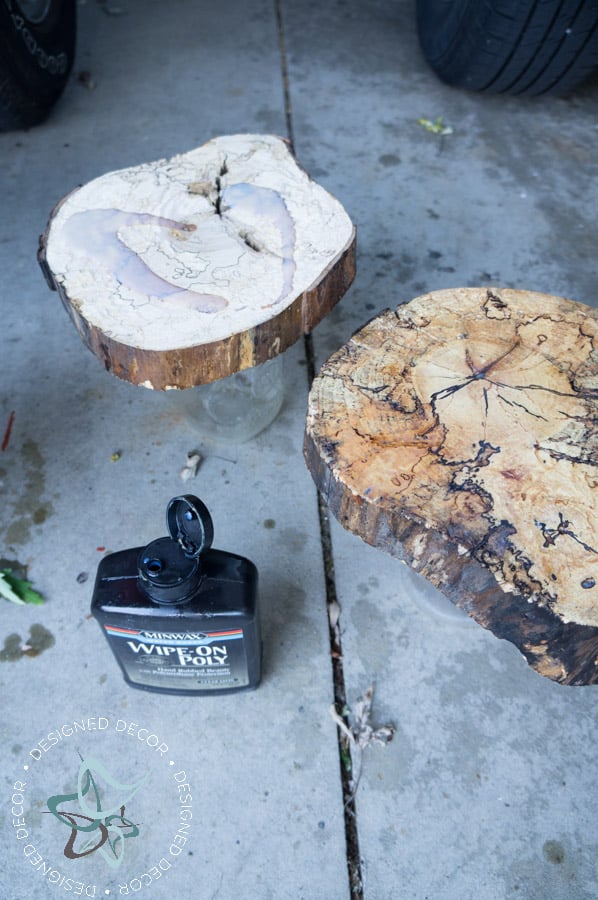 I sealed my wood slices using wipe-on poly
from Minwax.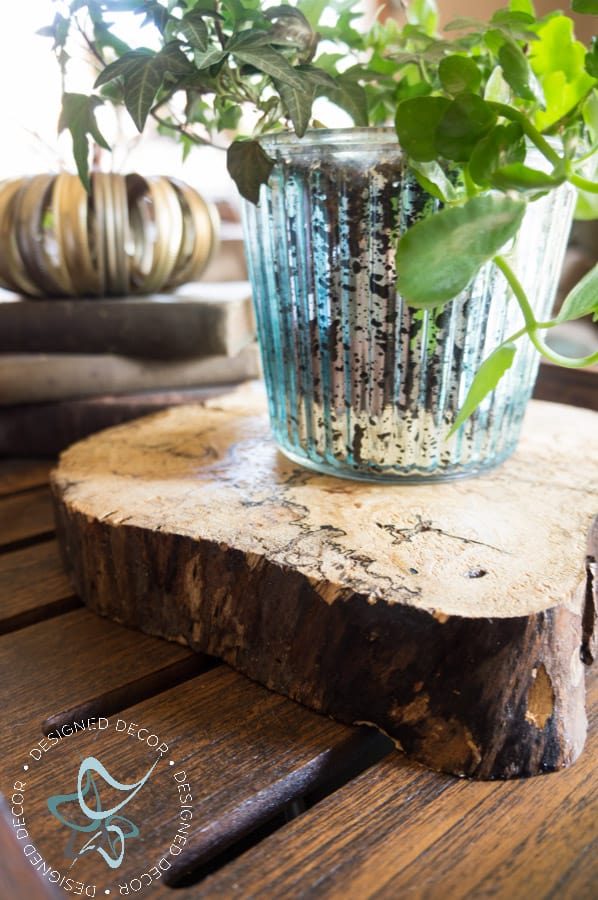 This was the perfect log to use for my DIY wood slice project. It did have a large crack in it but that gave the slice so much more character and I love all the dark lines that are running through it and the shape of it as well.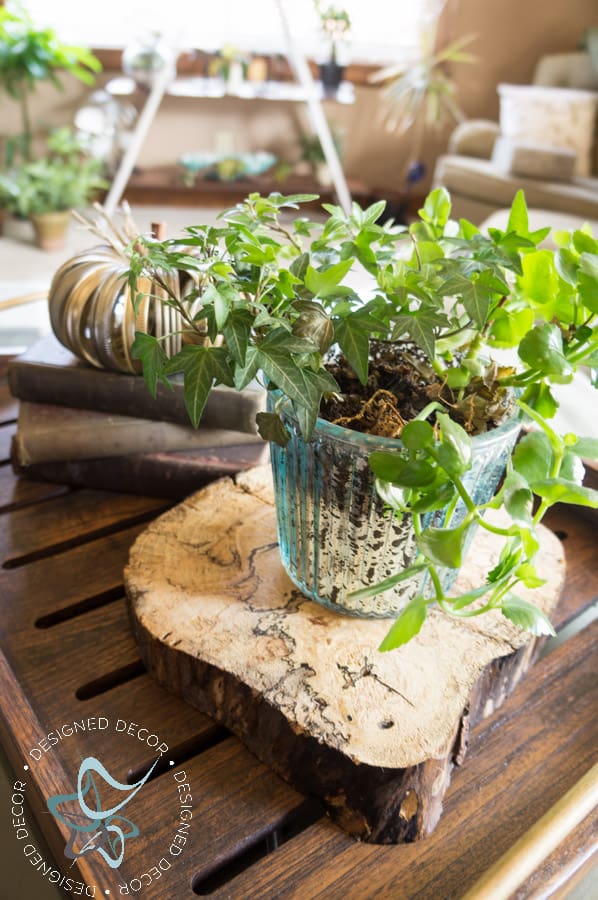 If you are not the DIY type and are looking for a wood slice, I did the shopping for you. You can find them on Amazon. I have the ones from World Market and use them as charger plates for my dining room table.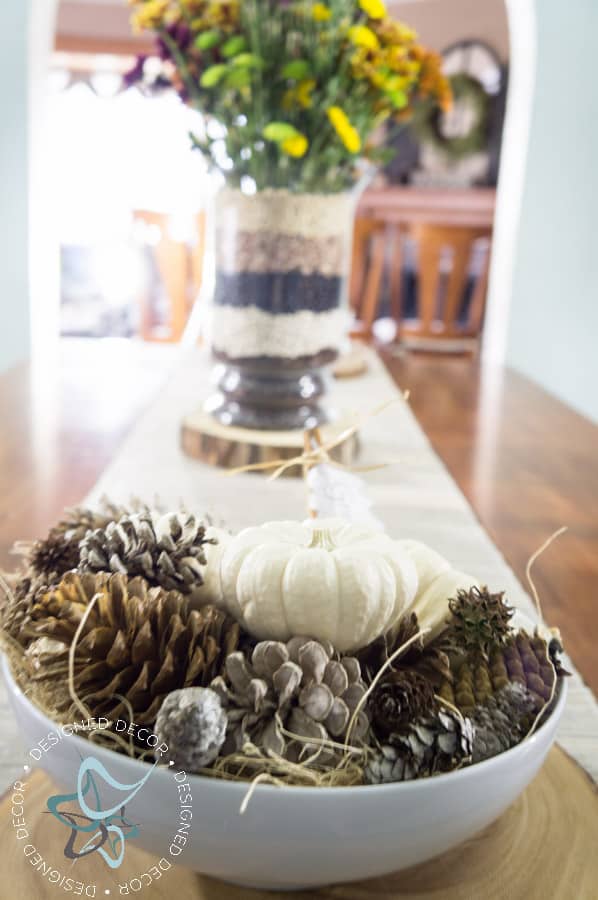 Please enjoy this quick video on how to create a fall tablescape using wood slices.
Make sure you visit these other great bloggers that are part of the Power Tool Challenge Team to see the awesome projects they completed for under $10.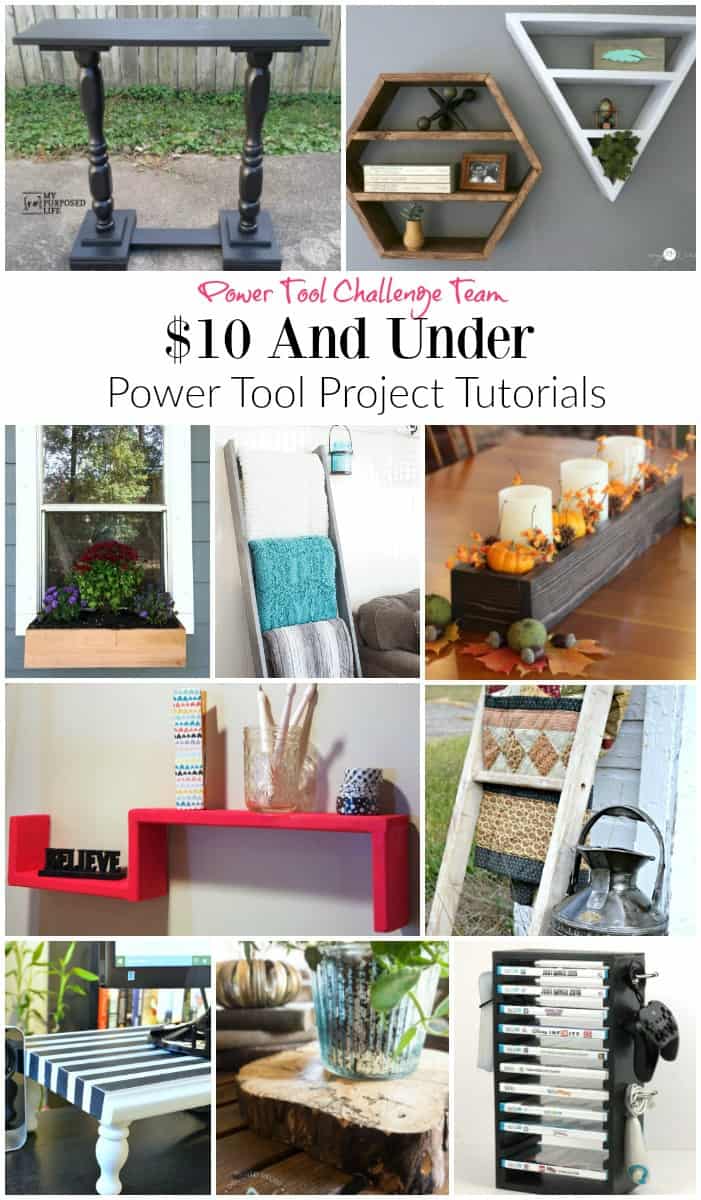 Double Pedestal Scrap Wood Table by My Repurposed Life
Hexagon and Triangle Shelves by My Love 2 Create
Window Box by Dogs Don't Eat Pizza
Blanket Ladder by Domestically Speaking
DIY Wood Centerpiece Box by Virginia Sweet Pea
Easy DIY Shelves by Create and Babble
Vintage Peg Blanket Ladder by H2OBungalow
Computer Monitor Stand by Interior Frugalista
Wood Slice Plant Stand by Designed Decor
DIY Video Game Organization Station Holder by Kim Six Fix
Reader Challenge: Now here is where you can enter to win.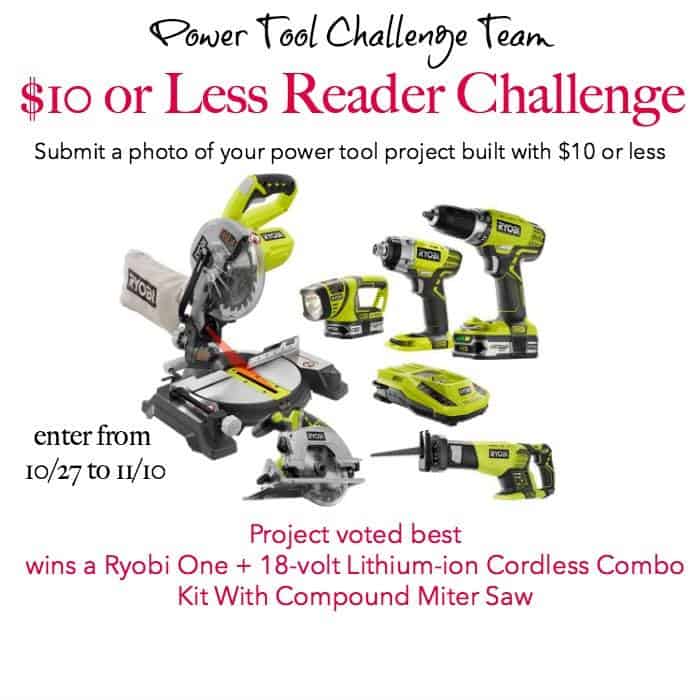 hashtag #readerchallenge
The project can be made from a free item, reclaimed wood, anything as long as less than $10 was spent on it including hardware.
At least 1 power tool has to be used to build it.
The $10 Power Tool Project Challenge is open for entries from 10/27/16 through 11/10/16 using the link entry below. Upload a picture of your project.
4. If you need help uploading your project photo, send an email to (dede(at)designeddecor.com) and I will upload it for you
🙂
5. Submit an old or new project as long as it was under $10 to make or repurpose.
6. Anyone can enter, the more the merrier
🙂
7. Each participant can enter up to 3 projects.
8. Winners must be 18 or older and live in the US.
9. The Power Tool Challenge Team will vote on the best project and one winner will be selected. The winner will receive the Ryobi ONE+ 18-Volt Lithium-Ion Cordless Combo Kit with Miter Saw 6 tool package shown above.
10. Void where prohibited.

Join the DD Community!
Join the Designed Decor Community and receive weekly free tips on DIY home projects, painted furniture, decorating, and much more.