Are you someone that loves the feel of Christmas décor and yet wants to keep the decorating simple? You are in the right place as I am sharing Christmas Dining Room decorating with simple and classic touches.
It has taken many years to finally figure out how to keep my Christmas decorating easy, as I learned the hard way. I love the look and feel of Christmas in my house except I don't want boxes and boxes of decor that I drag out for a few weeks of the year.
I used to pack away my everyday décor in order to make room for all the Christmas themed items. There is nothing wrong with that, if you love doing this and have the space for storage. Over time, I figured out it was not brining me joy so I started to transition how I decorated for each season.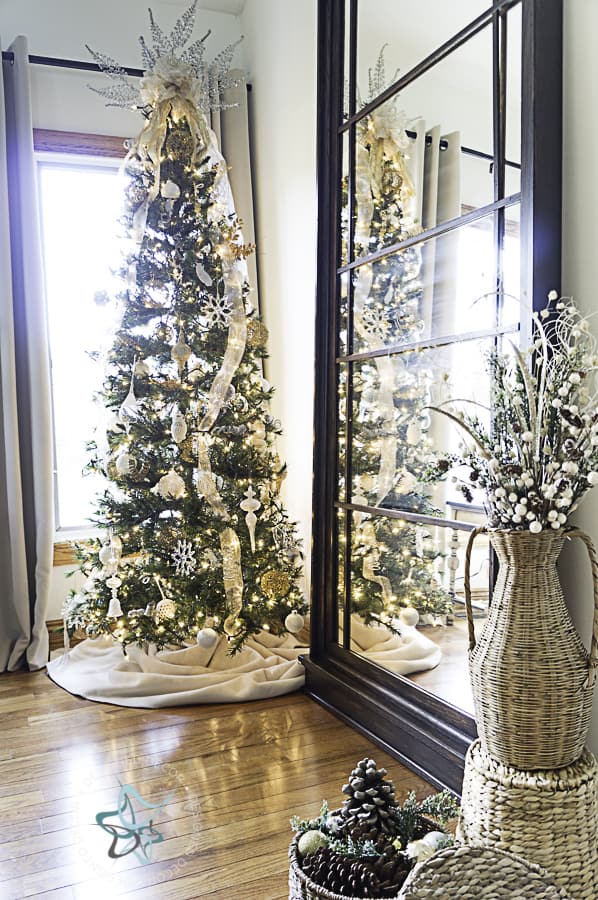 Featured Videos from Designed Decor
Tree location
Keep your tree located in a spot that you can enjoy and that you don't have to move the entire room around to fit in the tree.
This is the third year in our house for Christmas and we have had the tree in a different location each year. It was very simple to add the tree to this corner by moving a few plants and plant stands to other areas of the house.
This location is a keeper for the Christmas tree. I do want a bigger tree to fill in the space, as this tree was from the old house and I did not have as much space as we do in the new house.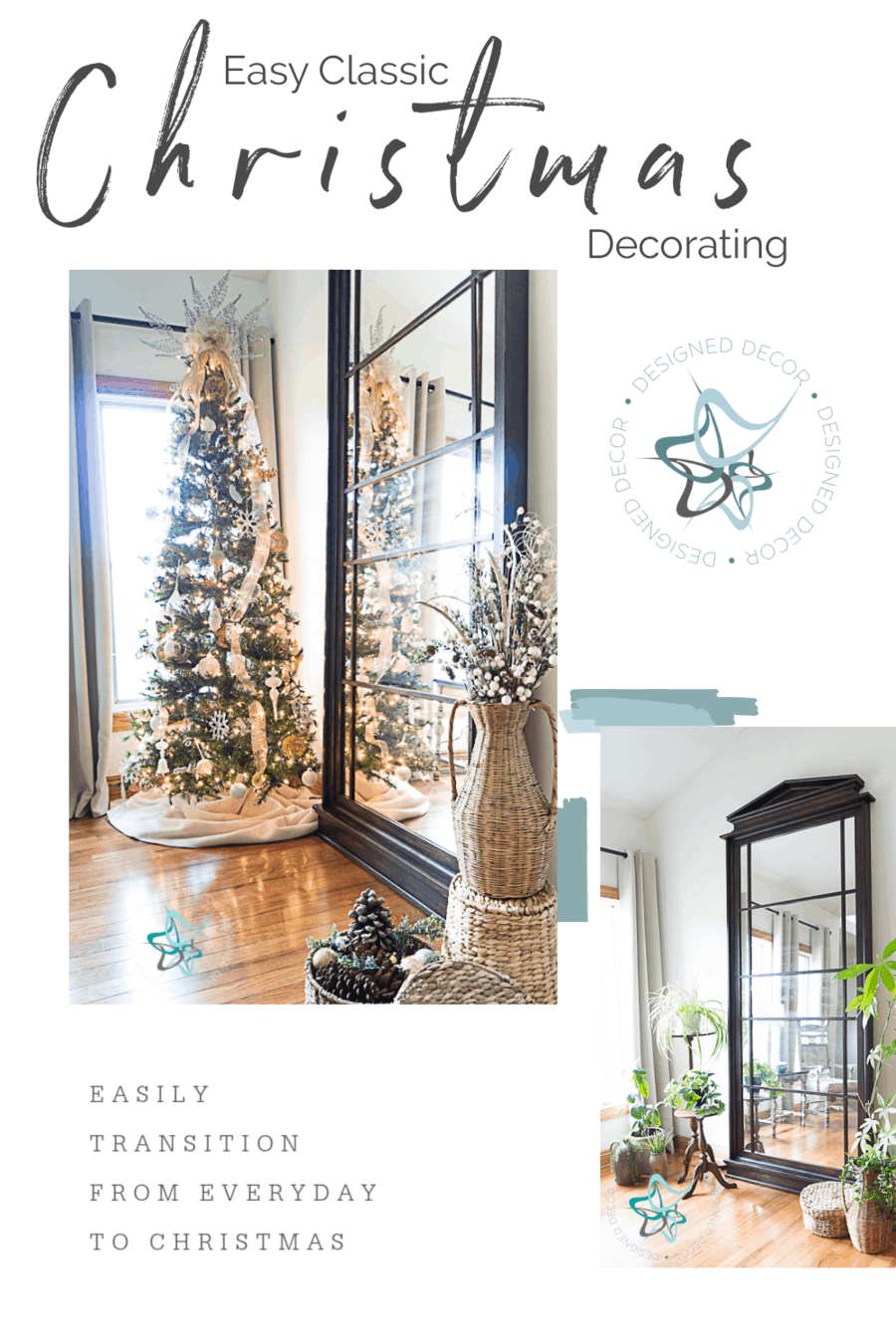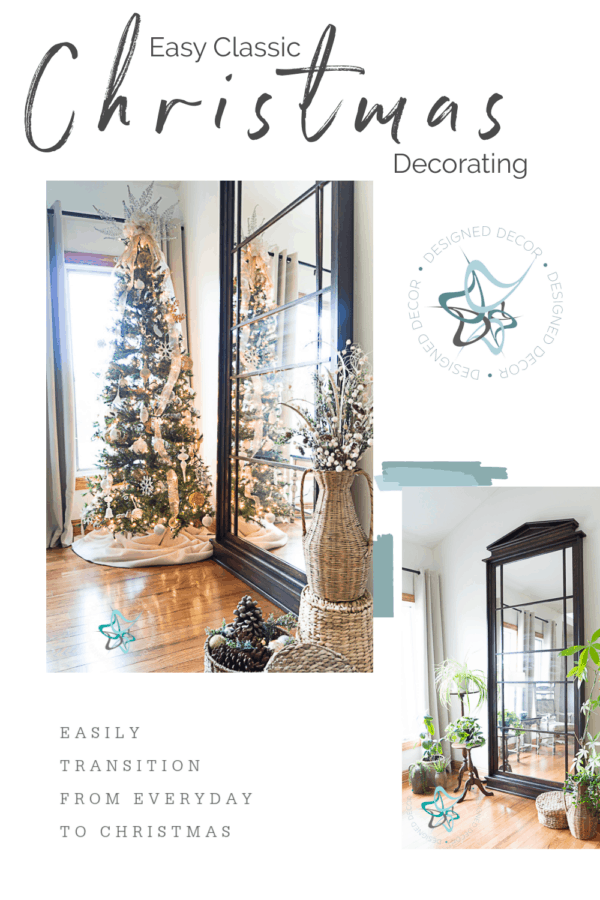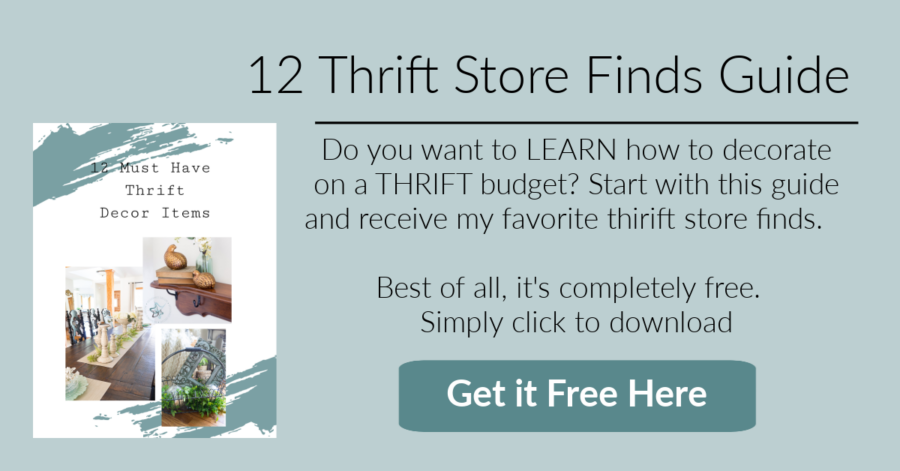 Adding Seasonal Items
To make things simple, use your everyday décor items. Keep the same basic items in a vignette and just add a few seasonal changes. Items to consider are:
Pine Cones
Christmas Bulbs
Winter Greenery and trees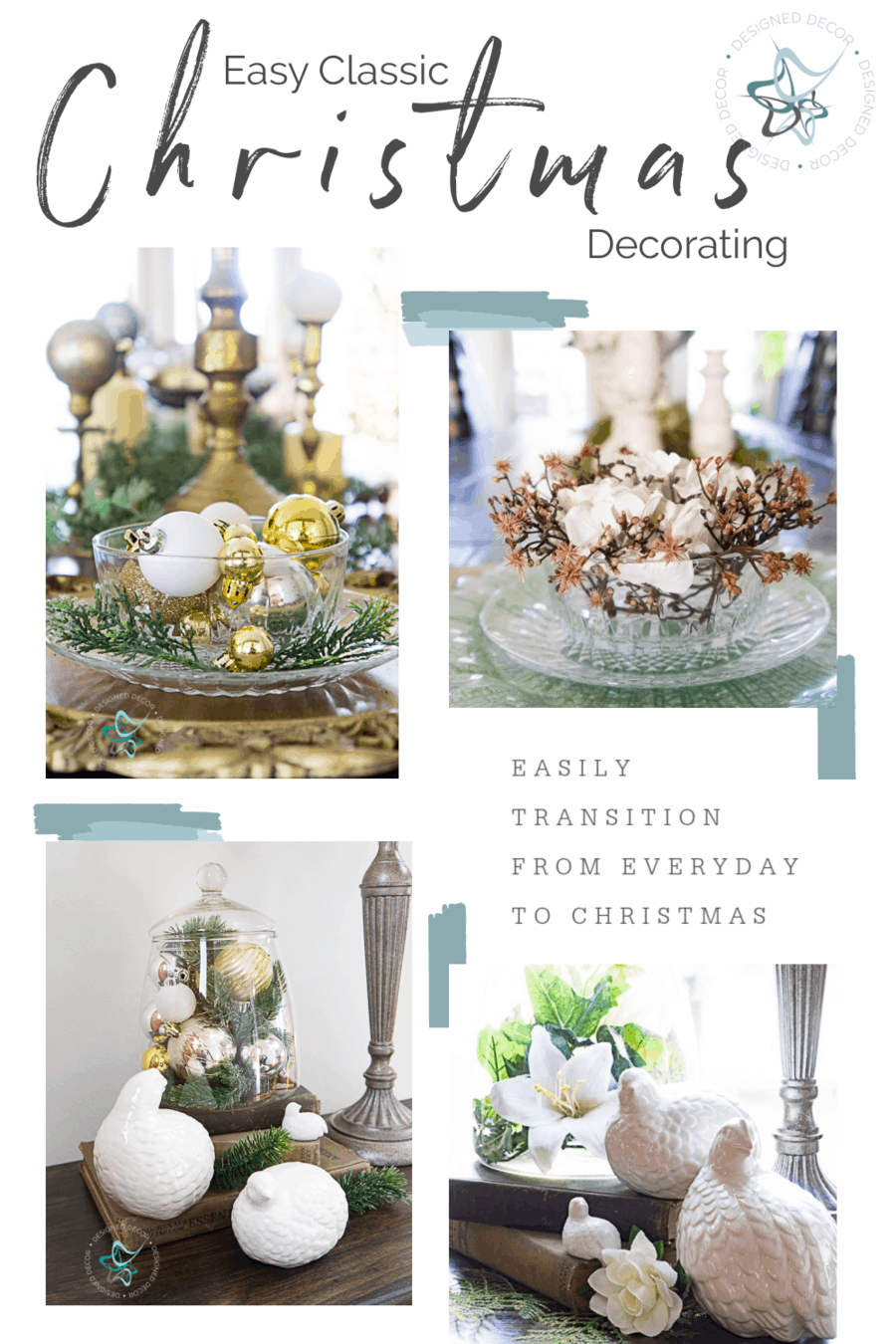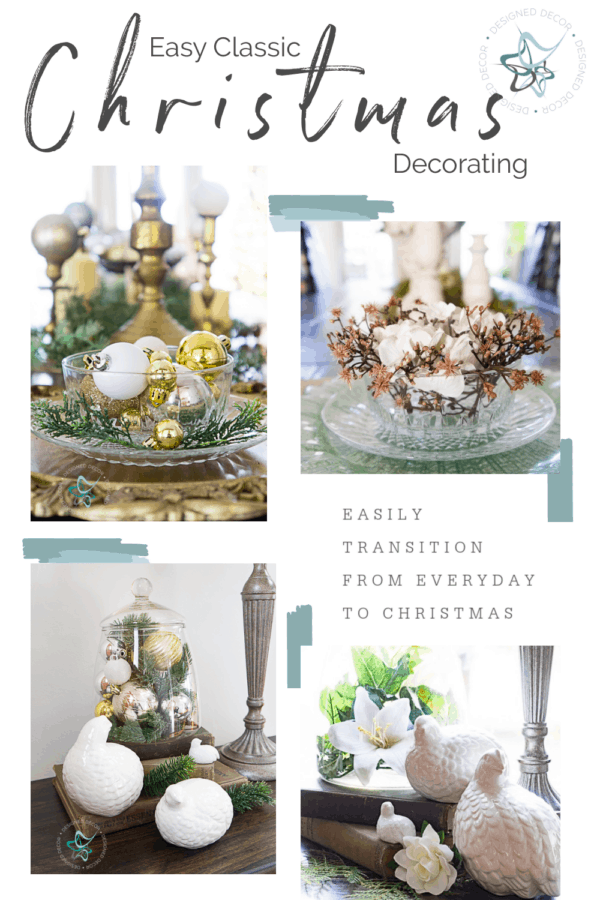 Table setting
A simple and classic table setting and tablescape brings me much joy. I used to set the entire table with charger plates and all the formal drinkware. When we needed to use the table, I had to remove all the place settings as it was not our everyday dinnerware.
Now, I just decorate the center of the dining table and the 2 ends. When we use the table, I only have to remove the 2 ends and this makes my life much easier. This also works for our family of boys and now 2 grandsons as well.
Here is a quick list of the items that I added or transitioned for the Christmas dining room decorating.
Wrapped the wall pictures with wrapping paper and a bow
Changed out the greenery for a more winter feel
Used Christmas bulbs and candles
Added greenery to the hanging light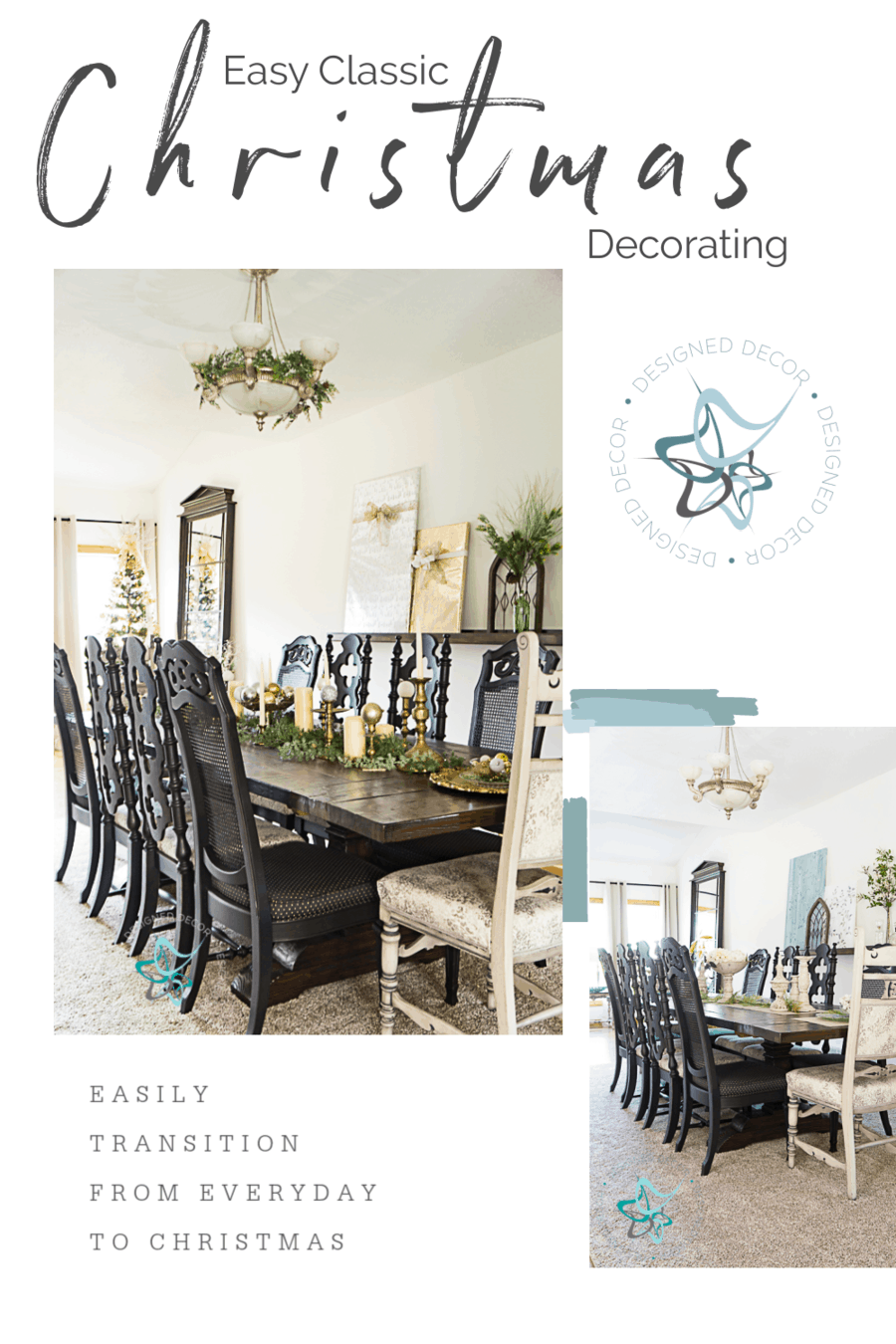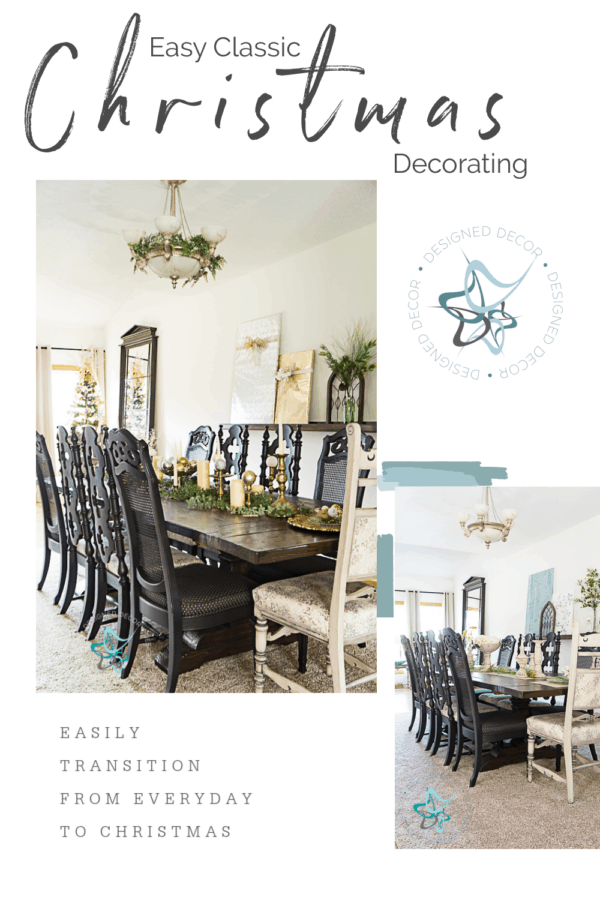 Find the Christmas decorating style that brings you joy! If you love simple and classic follow these tips I have given you for your Christmas dining room decorating.
Find additional Simple Christmas Decorating ideas: Christmas Decorating made simple, Simple Seasonal Decor, and Christmas Decorating Ideas.





Join the DD Community!
Join the Designed Decor Community and receive weekly free tips on DIY home projects, painted furniture, decorating, and much more.