Do you struggle with decorating your home? Are you someone who needs to see the items together to know if they look good? Do you continually bring things home and once in place, they do not match the décor? This is exactly why you need to create an easy design board to help you with decorating your home.
Create a shopping board
The first step is to create a shopping board in Pinterest. This allows you to save items along with links on where to find the items. Having all the items in one place saves time when you are ready to create your easy design board.
The other great thing about having a shopping board in Pinterest, it allows you to see all the items together in one place. Allowing you to easily add or subtract items.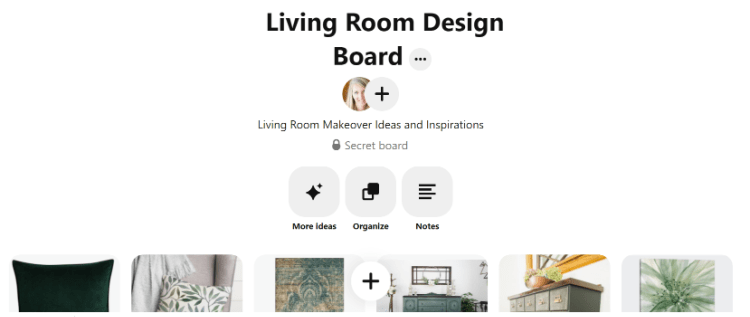 This is my "living room design board." I am currently making plans for a living room makeover and I have begun to add in decor items. This gives me a great starting point for design items.
The other thing I like about the Pinterest board is I can make it private and I can also upload my own images. If I have an item in my house that is staying in the design, I can upload them into my board and they remain un-pinnable since my board is set to private.
DIY videos from Designed Decor
Remove backgrounds from images
I like to make easy design boards with the image backgrounds removed. This allows you to easily layer on items next to each other without having the background color on your board. The background can be the wrong colors or have too much clutter and takes away from the item you are wanting in your design.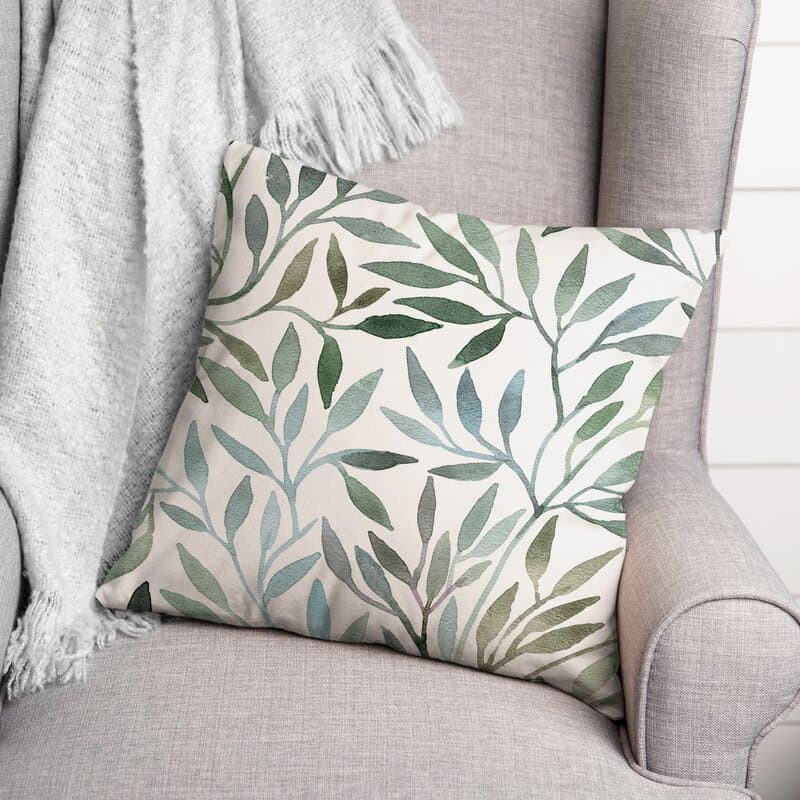 The accent pillows I am using for my easy design board, have the chair in the back ground. I want to remove the background and only use the pillows so I can actually have them setting on the couch.
2 options to remove the background of an image
Picmonkey or Powerpoint are 2 free options for removing backgrounds. I prefer to use Powerpoint as it does the fine detail work for you and it gives you a cleaner image on the edges.
This tutorial shows you how to remove the background in Picmonkey. Pickmonkey also has a one-click removal with a paid subscription. Most people won't need the paid version unless you make a lot of graphic images for your business. Also, Picmonkey will not let you download the image once you are done unless you have the paid version. You will need to screenshot it and crop it.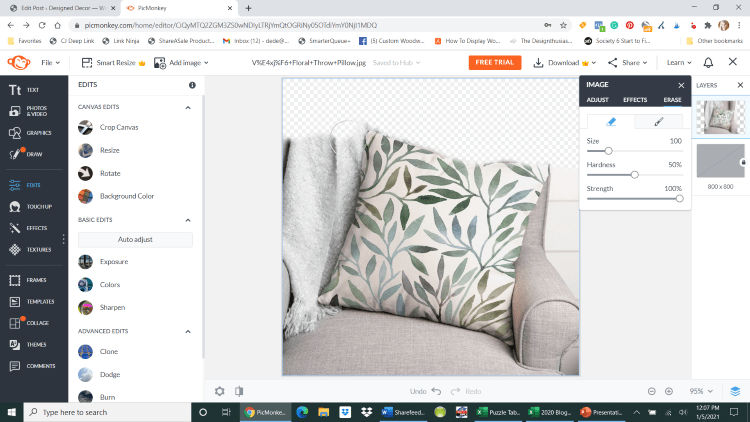 The image above shows how I manually erased the upper background of the image.
Powerpoint is the easier free option. Here is a tutorial on how to remove the backgrounds in Powerpoint.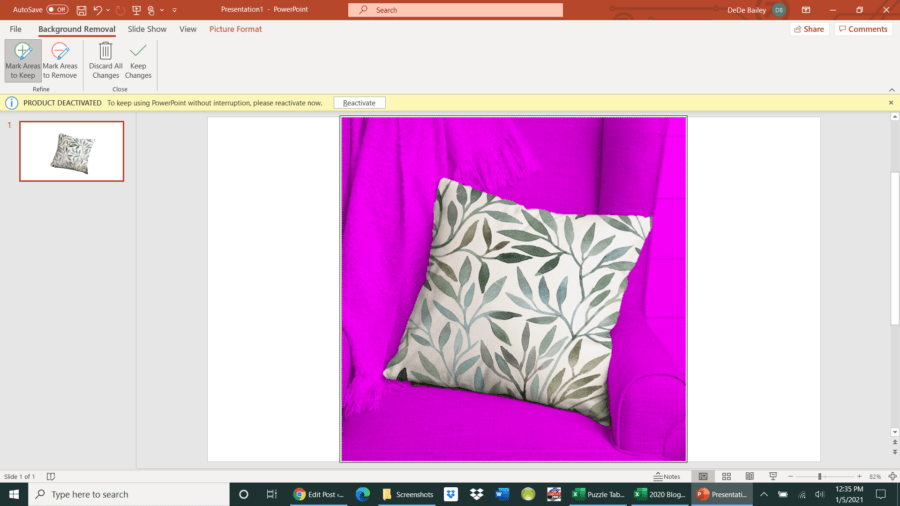 Powerpoint allows you to save the edited image to your computer and you can then upload it into the design board. Of course, the only drawback with PowerPoint is if you don't have it on your computer.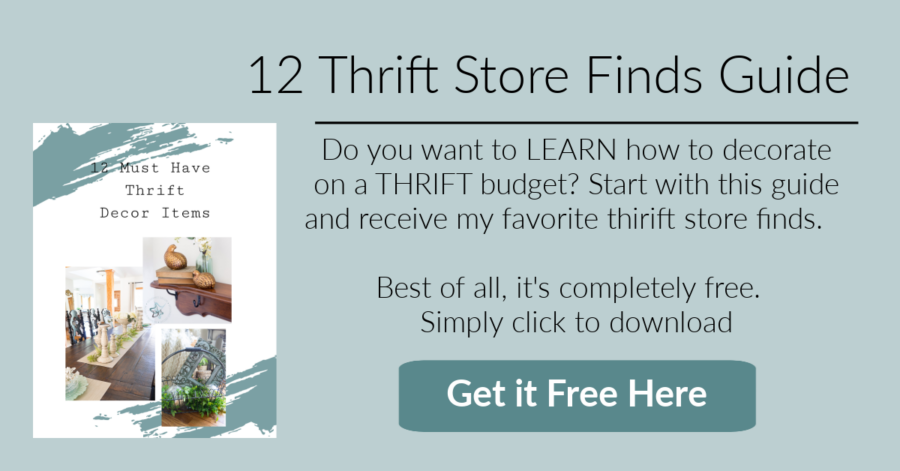 Starting the design board
Once you have all your design images and have removed the backgrounds, you are ready to begin to assemble your design board. Here is a tutorial on how to create the design board with step by step instructions.
Picmonkey is easy to learn and use and this is where I create all my design boards and graphics you see on my site and in my posts. I like to start with a template that already has swatch colors included.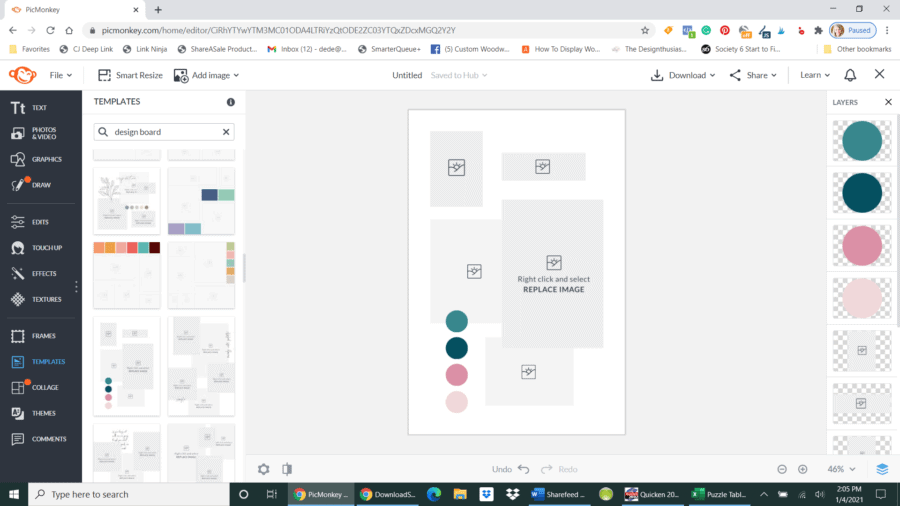 Upload all your images into Picmonkey and start to add them to your design board. Size the images and move around as needed.
Finding the HTML color
This is one of the most helpful things you can use in finding the colors from an image. It also helps you coordinate colors and find paint colors that will match a decor item. Here is the free site I use to find HTML colors.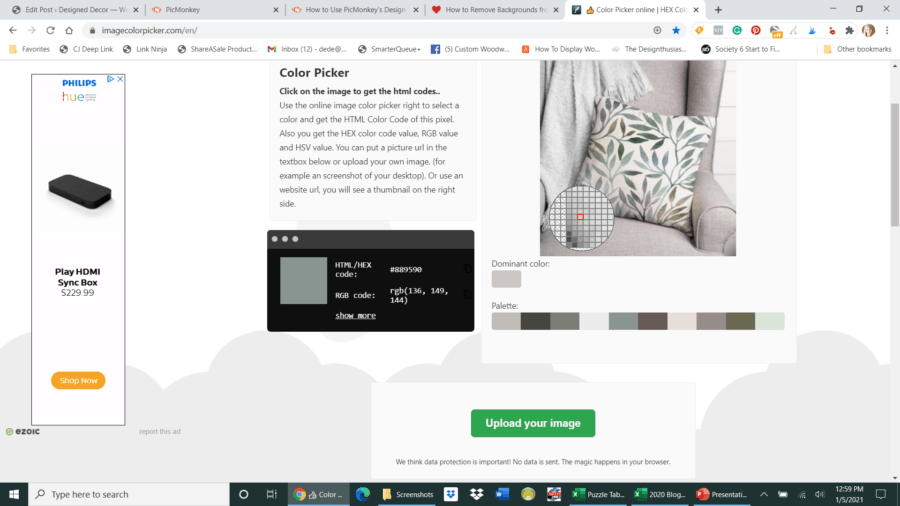 Upload any image from your design items and this will break down the colors from the item and give you the HTML color codes. Click on each color to get the color information.
Upload different items into this site and write down all the color codes and compare the color codes to each other to see if they will match in your design. This is how I discover if items have the same color tones and will coordinate in my design.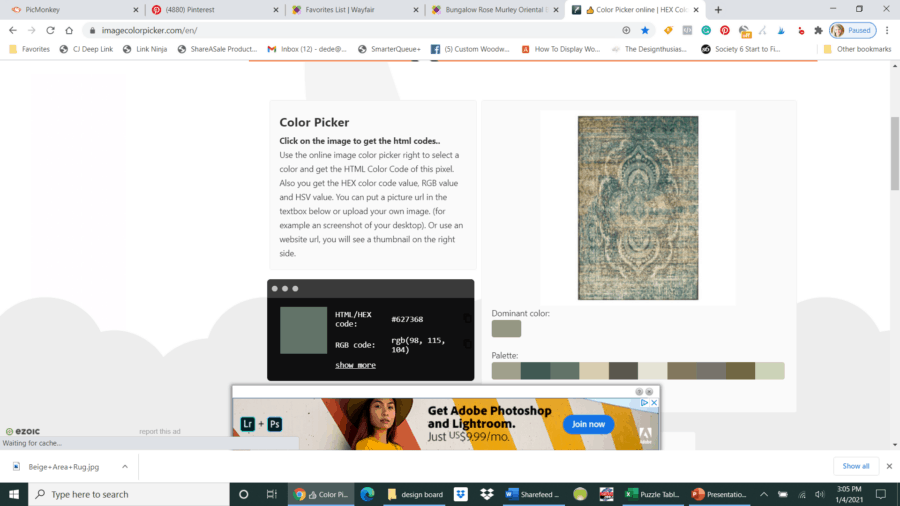 I was thinking about using this rug and it has more blue than the green tones I want in my design, so I picked a different rug with more green.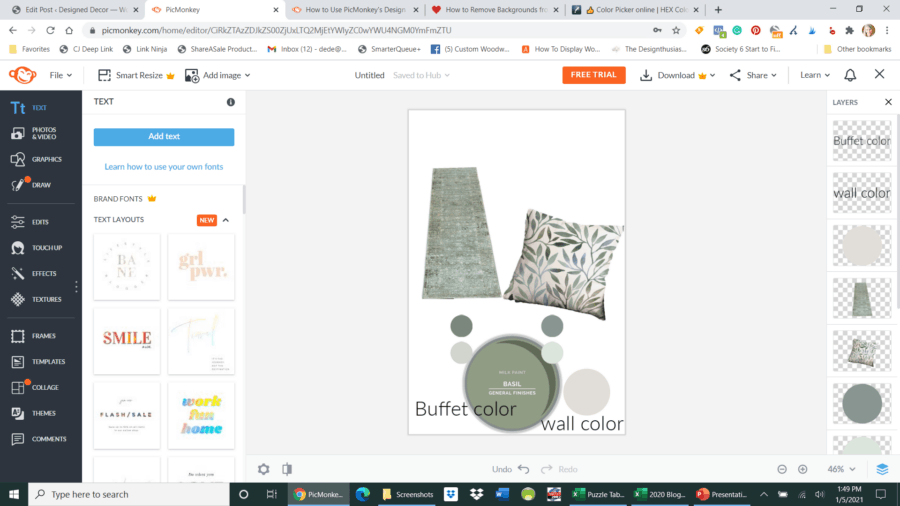 I took the main color from the rug, the colors from the pillow, and the color I want to paint the buffet and placed them in the swatch samples and they all are the same tone and would look good together.
Finding colors for wall color
Once you have your design board complete, you can pick your wall colors from an item in your design board. I am going to use the pillow as my inspiration colors.
Sherwin Williams is the brand I use for wall paint. I like to use their ColorSnap Visualizer to match paint colors to an inspiration item.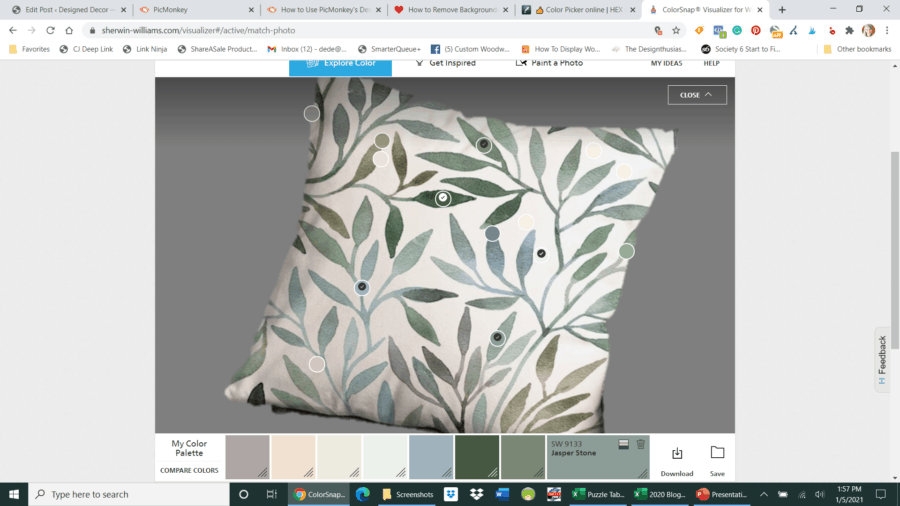 Click on the colors from the pillow and it will give you the matching paint color name and number. The other great thing about the ColorSnap is using a photo of your room and changing the wall color within the ColorSnap program.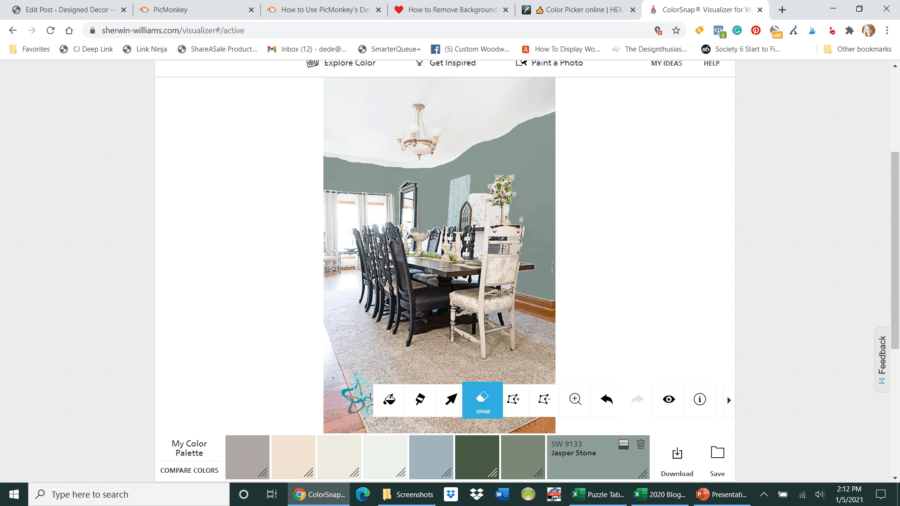 Using a photo from my dining room, I changed the colors of the wall to the green from the pillow. I had to erase the ceiling, so the edges are not very clean. It gives you a great visual on how your room would look with a paint color change.
The ColorSnap Visualizer is very easy to figure out and use. You can save all your inspiration colors to reference later and it also allows you to keep track of the colors you painted in each room. I also think the other paint companies use similar paint finder tools.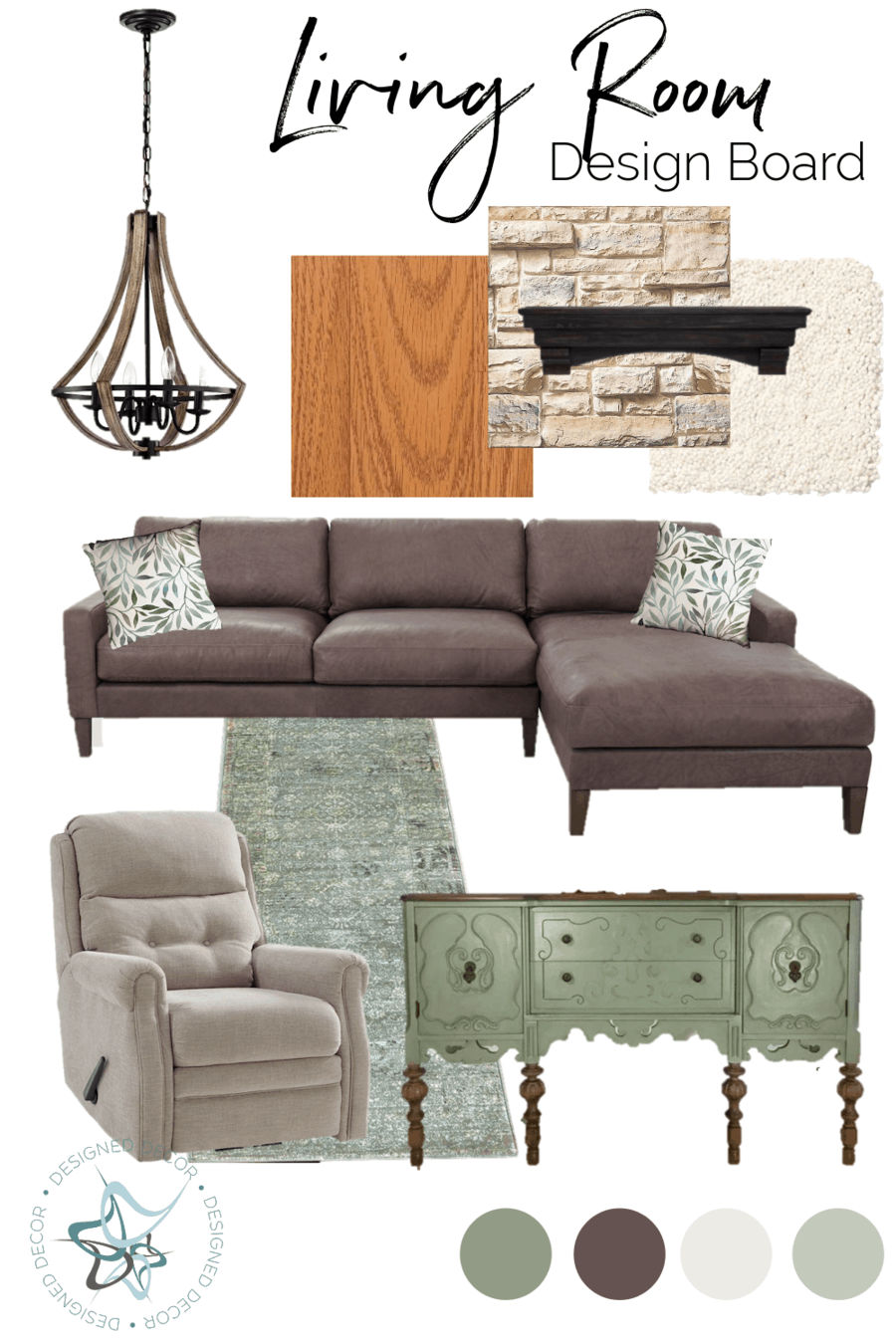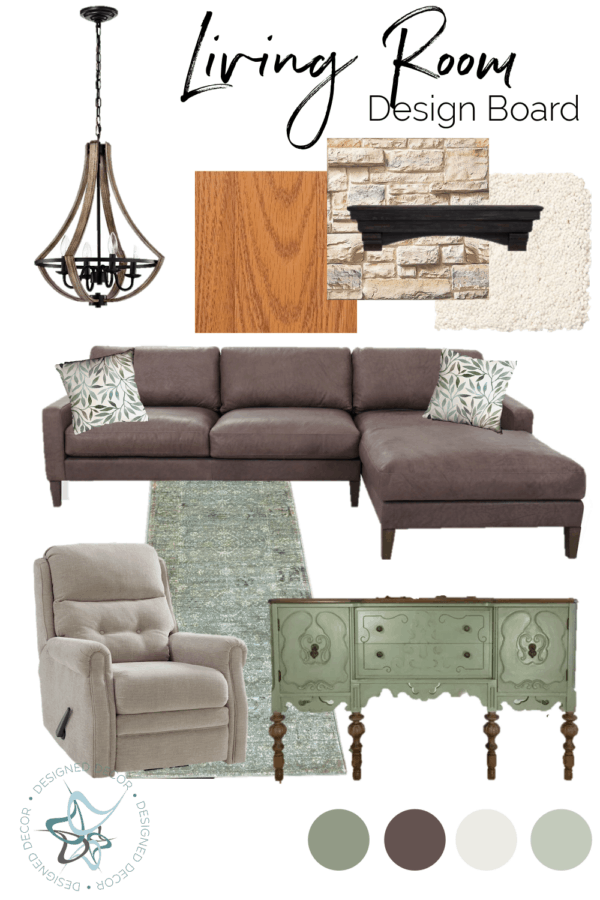 Now that I have my design concept, I can begin to shop for the items I need and want for my living room makeover. Make sure you sign up for my emails so you can follow along with the living room progress.
The first DIY project is giving the Fireplace a makeover. It is going to be a big change and I am a bit nervous because it involves painting brick and oak. Once I begin, there is no going back!
Sign up to Follow along
Join the DD Community!
Join the Designed Decor Community and receive weekly free tips on DIY home projects, painted furniture, decorating, and much more.





Join the DD Community!
Join the Designed Decor Community and receive weekly free tips on DIY home projects, painted furniture, decorating, and much more.