Is your entryway lacking an inviting appeal? Do your guests walk into your home and are greeted with clutter and chaos? Your entryway immediately sets the tone for all guests who walk into your home, what are you telling them? I want all my guests to feel a warm bold inviting entryway as soon as they open the door.
This is what my guests are greeted with when they walk into my guest suite.  The bold color on the buffet, the warm tones of the wood, and the inviting conveniences of a coat rack, shoe tray, an information center filled with local favorites, and a guest sign-in book.  You need to wow your guest as soon as they walk in and set the tone for the rest of the stay.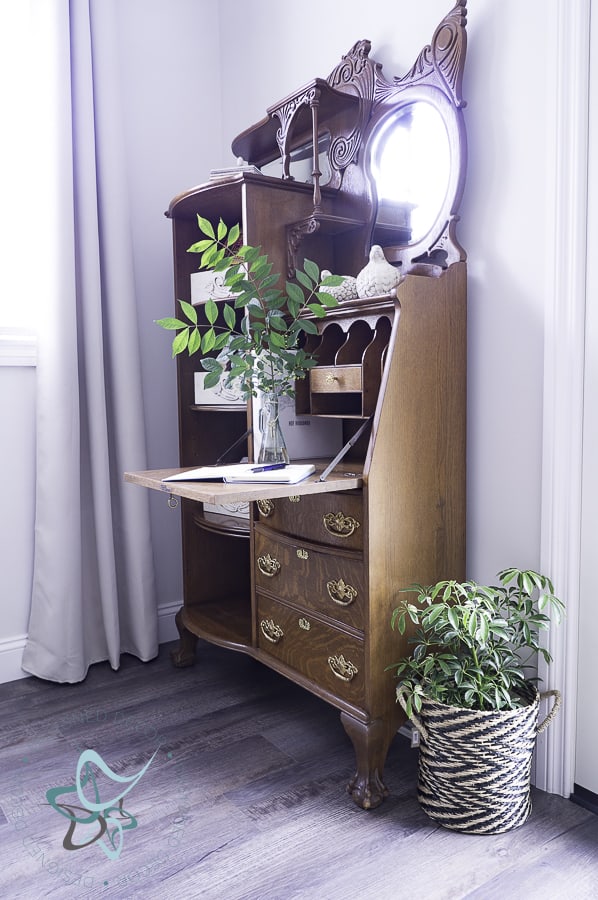 I have this antique secretary to welcome my guests by providing them with many different travel brochures, restaurants, and shopping information. We also provide them with an information booklet that is filled with details about the guest suite along with a complete list of our local favorite things to do. I also provide a guest book for everyone to sign as they leave so we can be reminded of each guest and the other guests can see where the others are from and what they liked best about our Airbnb.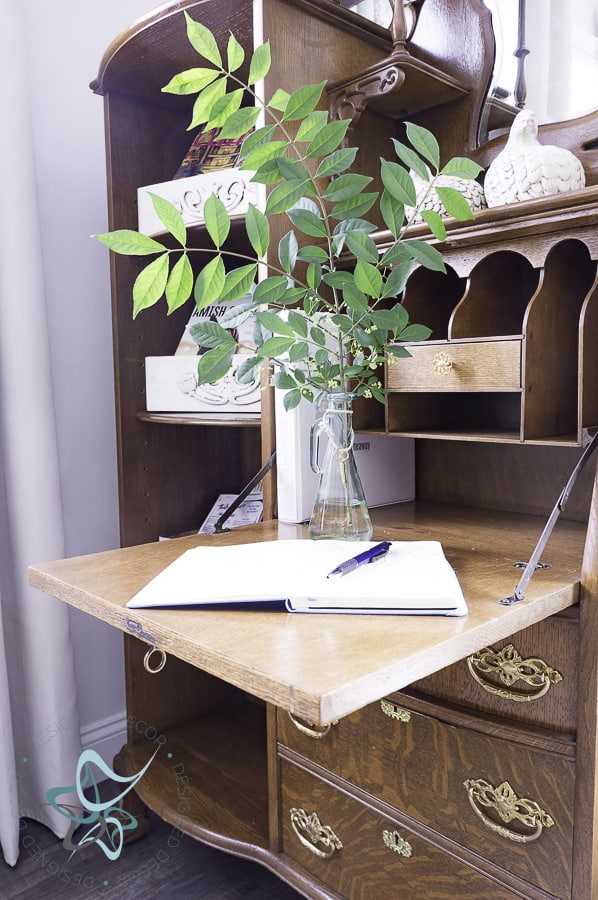 I like to leave fresh clippings from our yard in vases throughout the guest suite to show the guests the comforts of home with the added little touches. I always have some plants that need to be trimmed and it is a cost-effective way to add freshness.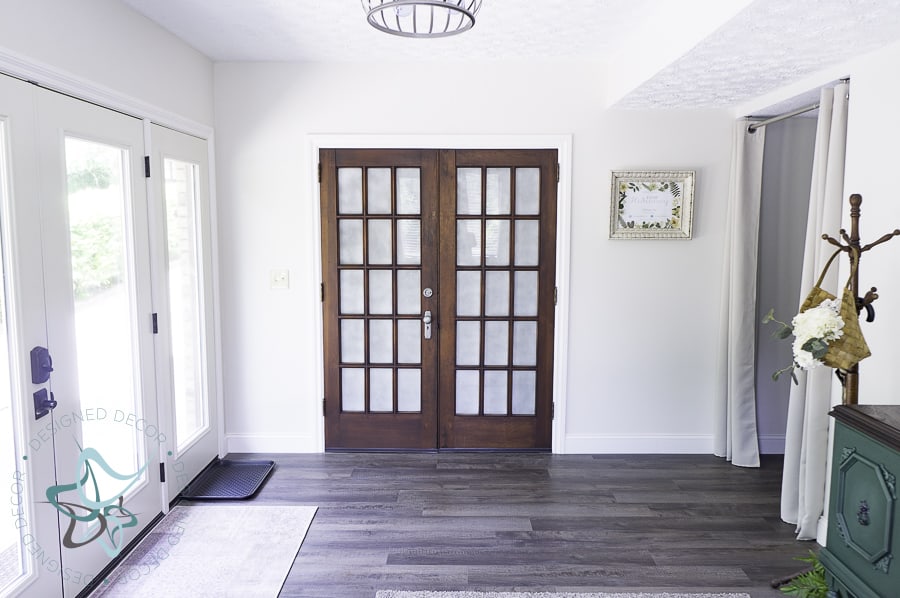 This set of doors leads you to my workshop.  I needed these doors so I could bring in my finished-painted furniture pieces to stage in the entryway before taking them to my shop to sell them.  We also designed it to be a door into the attached garage for future home buyers that would need an in-law suite with the conveniences and security of an attached garage.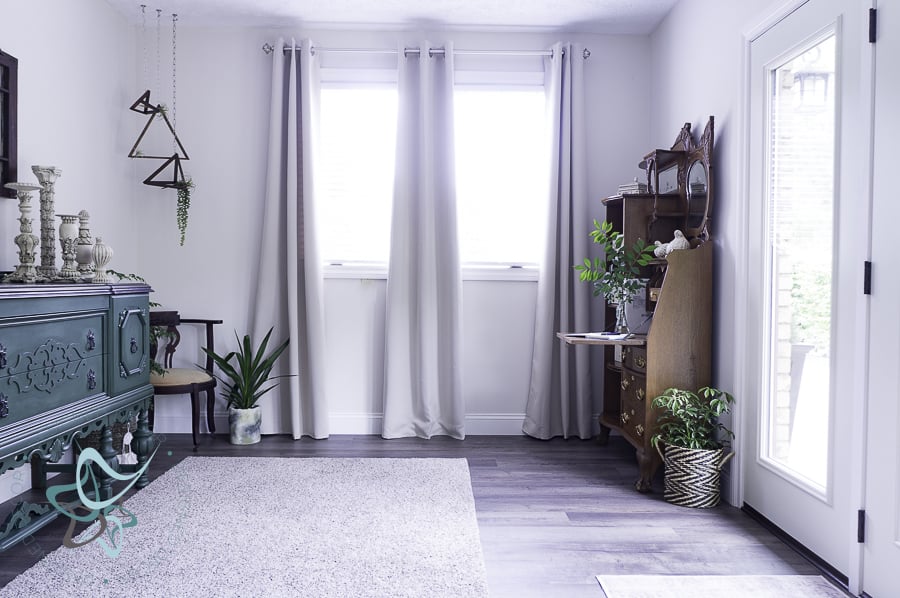 The side windows and the 12-foot glass entry door allow plenty of light into the area, which is perfect for photos.  I do have to move the green buffet each time I need to stage my painted furniture pieces and the extra work is worth the final photo.  Make sure you check out how I made those hanging triangle air plant holders.  They were fairly easy and I used what I had in my workshop.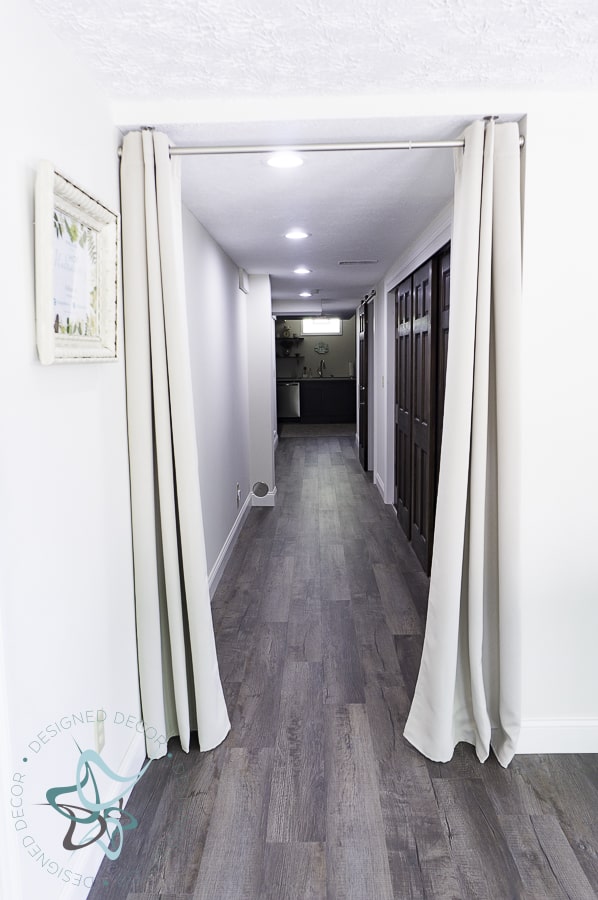 The warm bold inviting entryway gets the guests excited to walk down this long hallway to see what awaits them next!
You can also watch this quick video.
Now let me take you on our little journey of the entryway space with photos during construction so you can appreciate the vision and see the photos side by side.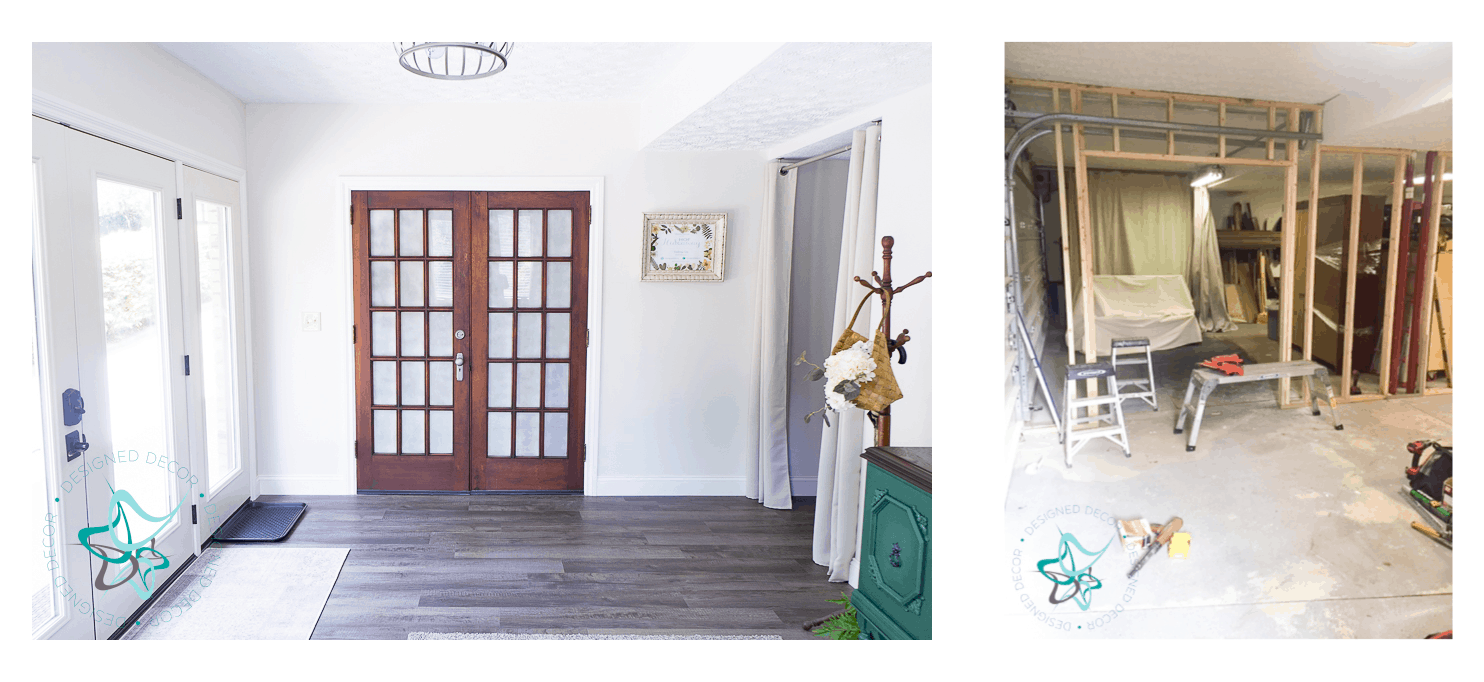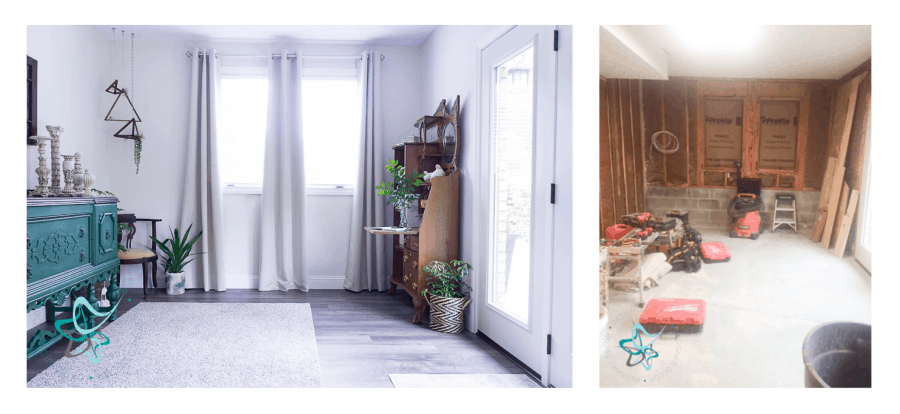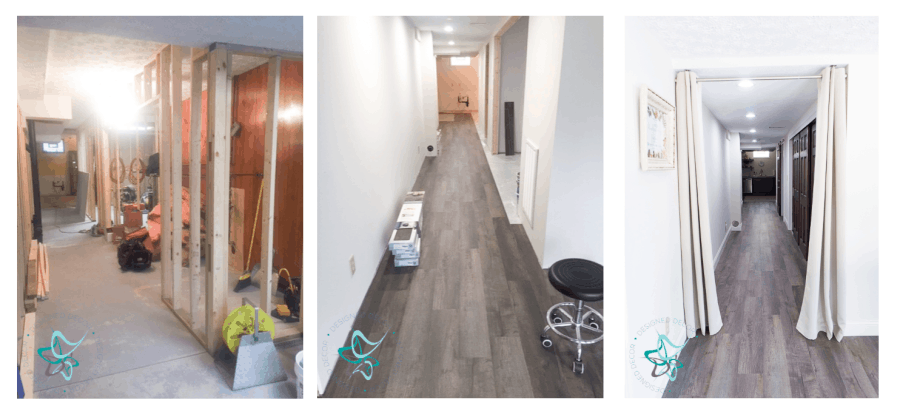 Seeing a space before and during the construction phase brings you so much joy when you walk into the after.
If you are planning to trip to Canton, Ohio or nearby, please stay with us in our #HOFHideaway. We have the guest suite listed on Airbnb. (<— click on the link to see our listing)
Make sure you sign up to receive my newsletter so you can follow along with the guest suite and all the other DIY home decor that I share.  
Also, check out this Entryway Table Makeover

Join the DD Community!
Join the Designed Decor Community and receive weekly free tips on DIY home projects, painted furniture, decorating, and much more.