Do you have a vintage piece of furniture that is in need of a makeover in order to fit into your design style? Let me share this vintage desk makeover that I did for a friend.
This post contains affiliate links. Click here to see my full disclosure policy.
I love doing custom pieces for my friends when they give me the ability to use my creative side and makeover their piece of furniture as I see it. This is exactly what happened with this vintage desk makeover from my friends Betty and Eugene.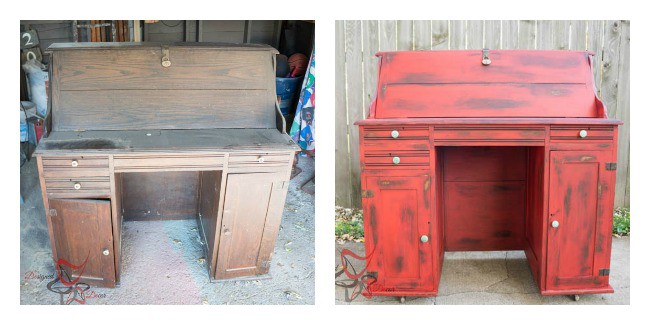 Eugene found his grandfather's antique desk in the barn and decided to bring it to me to see what I could do to it to make it fit into their decor style.
Videos from Designed Decor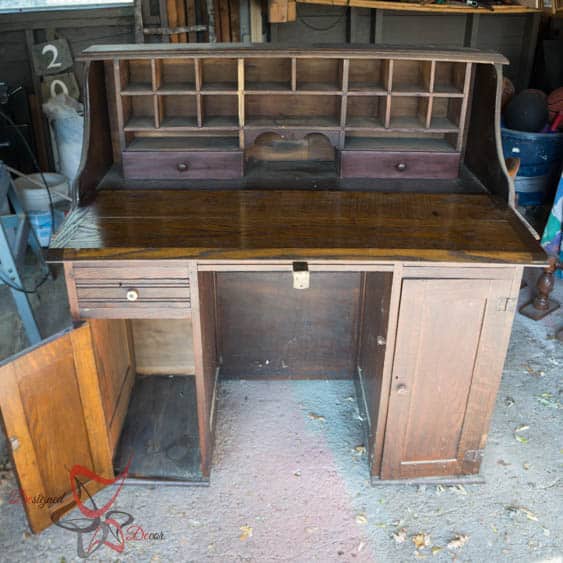 He left it up to Betty to decide how she wanted it painted. It sat in my garage for 9 months before I forced Betty to make a decision on color. She shared 2 pictures with me on what she wanted and they were total opposites in style. She did say she wanted the color red, so I showed her a few pictures on a highly distressed piece and she said yes, that is it.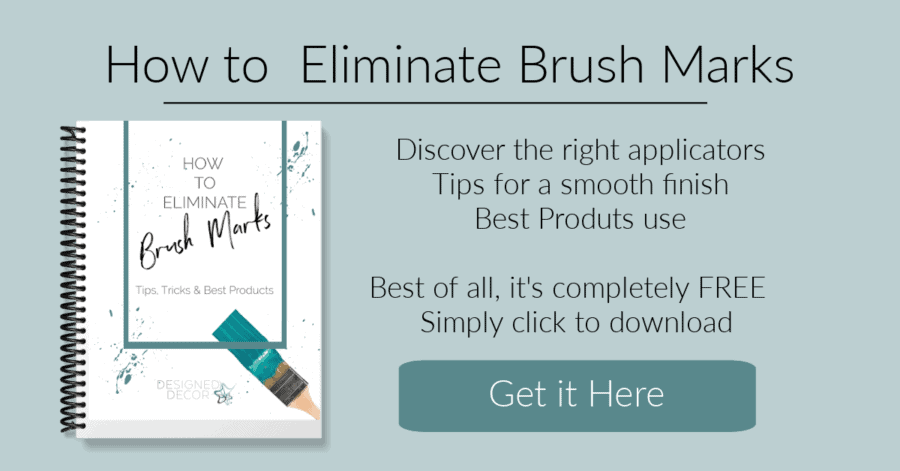 This vintage desk makeover needed an aged look since the desk was old. I knew that the red paint would look better distressed and aged than a more modern-looking finish. I left the inside in its original state except that I put clear antique wax on the dried-out wood.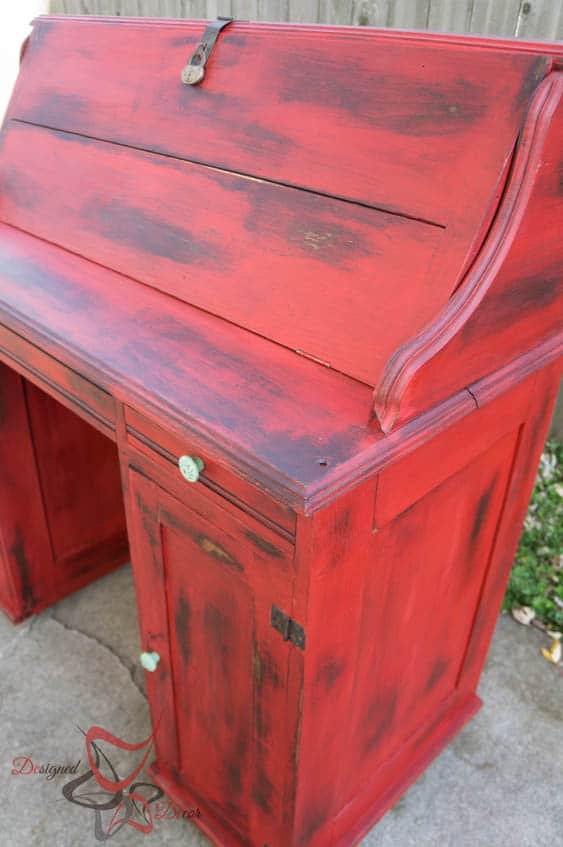 How to Stain Wash
First, make sure to clean the furniture well before painting. I like to use vinegar and water to clean furntiure.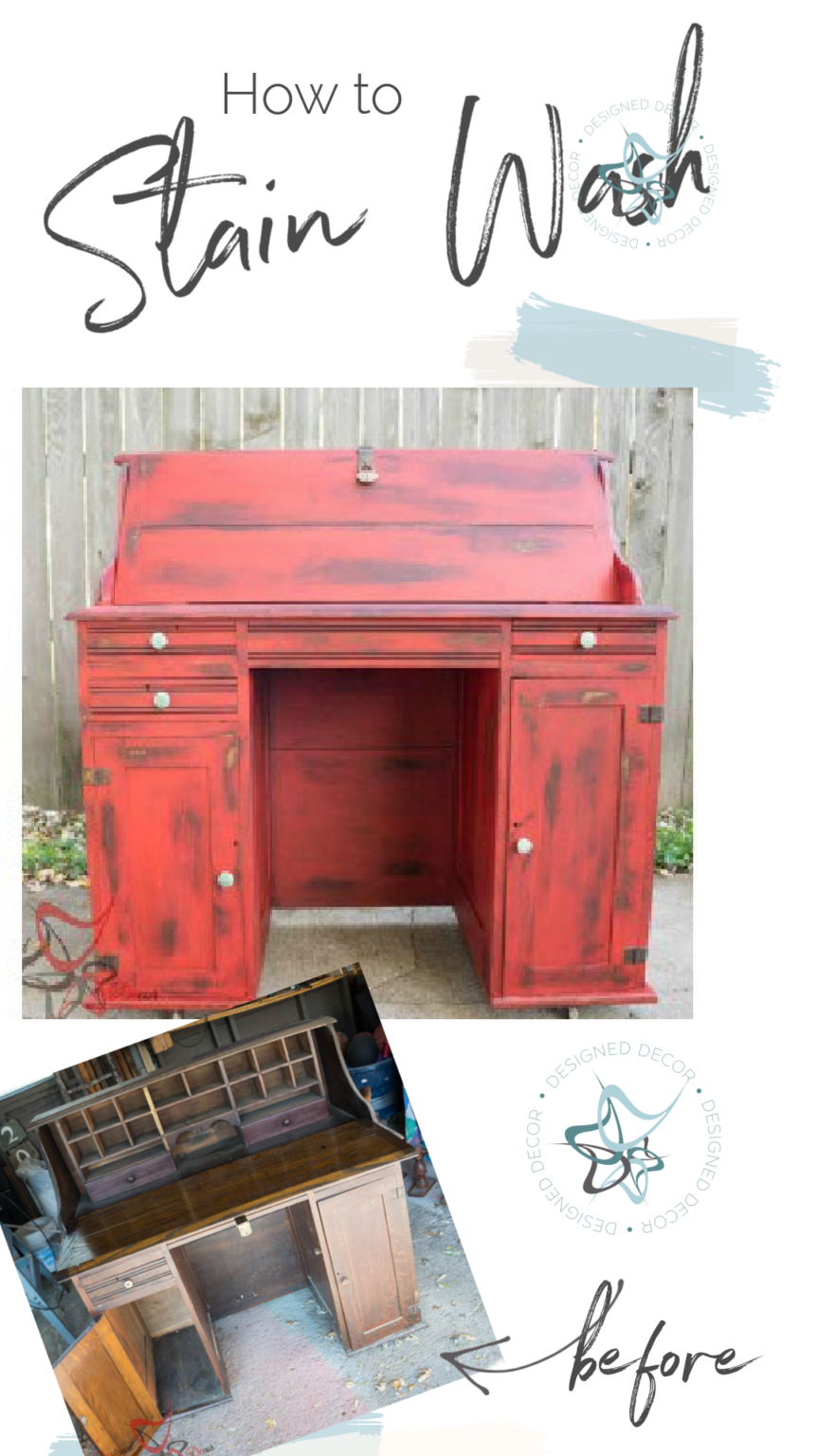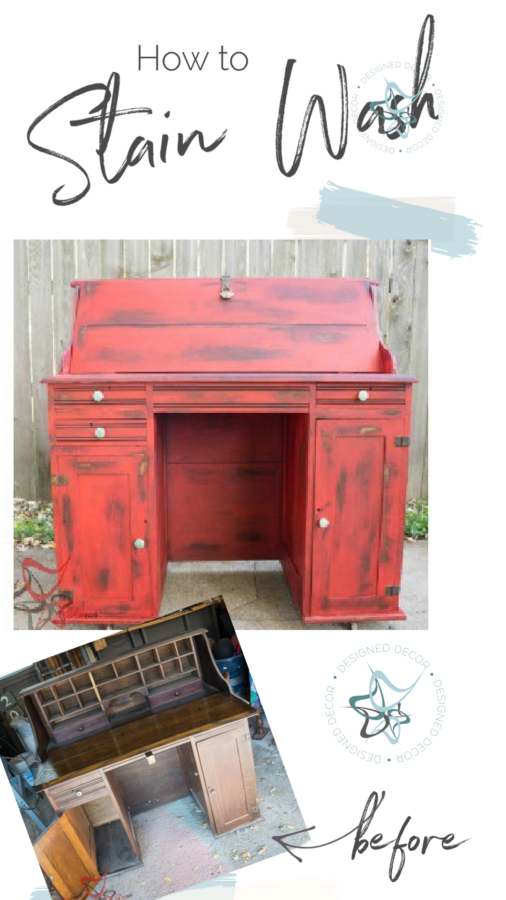 The desk was painted using paint the town furniture paint.  I applied 2 light coats of the Cerise paint and distressed it using a Ryobi finishing sander.  Remove the dust from distressing with a cloth.  
Then I gave the antique desk a stain wash with java gel stain and a wipe-on poly mix. By adding the poly into the stain, I did not have to seal the desk. Mix the stain and poly in a 50/50 blend and stir well. Working in smaller areas, apply the mix over the paint and wipe away using a lint-free cloth.
The stain mix deepens the paint and the exposed wood, giving it a richer look.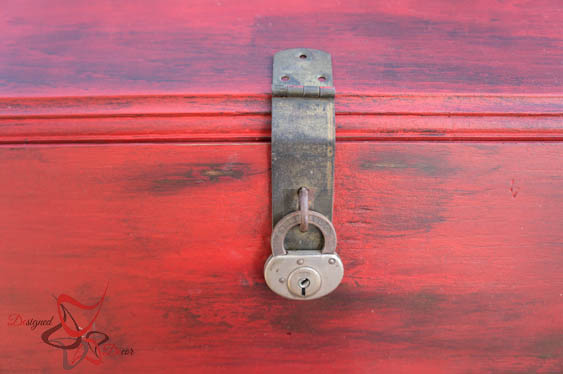 How cool is this original lock? They don't have the key, so we left off the screws on the top so they can get in and out of the desk. I added new knobs in a green color, which complimented the red paint. This custom piece turned out great and they both were very happy with the vintage desk makeover.
More Gel Stain Inspirations





Join the DD Community!
Join the Designed Decor Community and receive weekly free tips on DIY home projects, painted furniture, decorating, and much more.