Have you ever had a vision for a living space and needed the perfect piece of furniture to make it happen? You can see the perfect piece of furniture in this area and you search and search and everything is either too big or too expensive. I want to tell you to have patience, keep looking, and the perfect piece will find you and it will be within your budget. So let me tell you this story: "Vintage Buffet transformed into a stylish Media center."
This post contains affiliate links. Click here to see my full disclosure policy.
I knew for a couple of years that I wanted to use a small buffet as my media center. I like the details and the look of a vintage buffet over a traditional media center.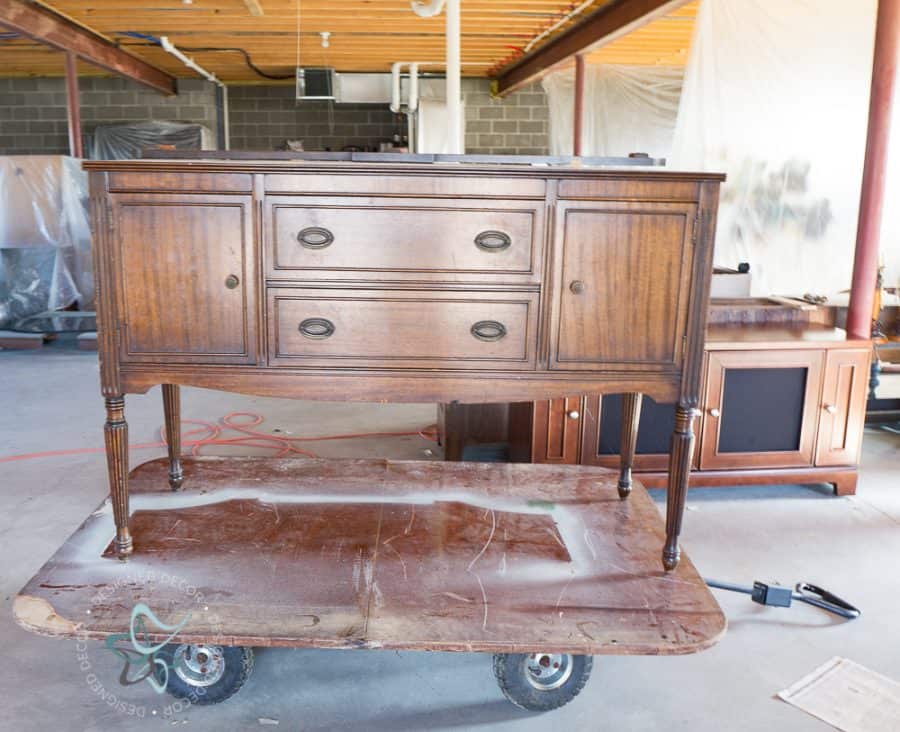 This is how the buffet looked before the transformation and you can see my old media center in the background, which I sold on craigslist. I also found the vintage buffet on craigslist as well. Most buffets are 5 feet or longer and I needed one to be around 4 feet and no longer than 54 inches. After waiting patiently, I found her. Remember I was wanting one for 2 years, it didn't take me 2 years to find her, it sat in my workshop for a year before I finally got around to doing the living room makeover.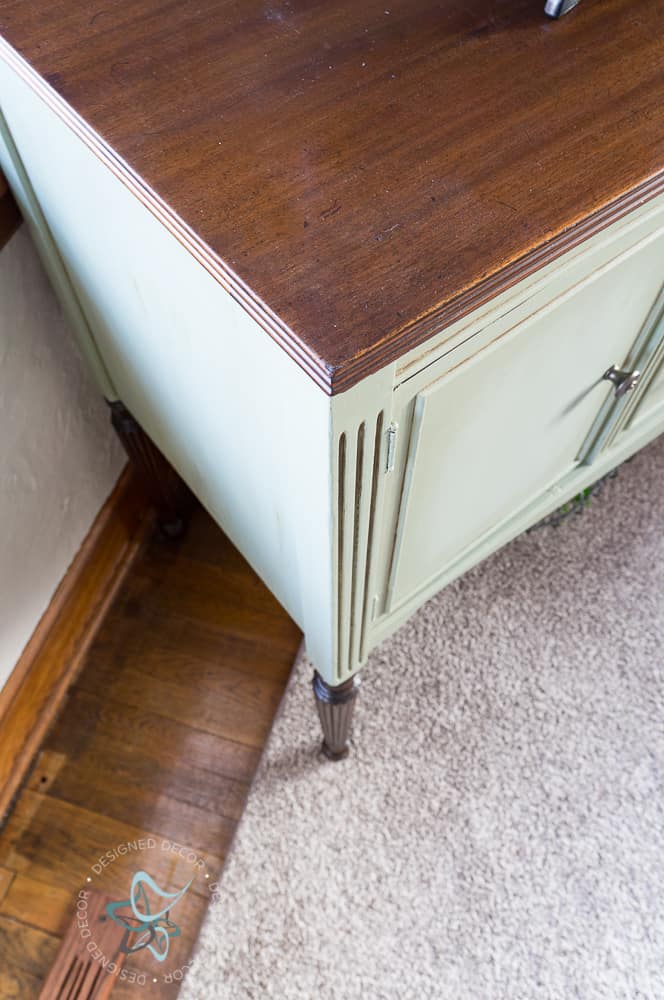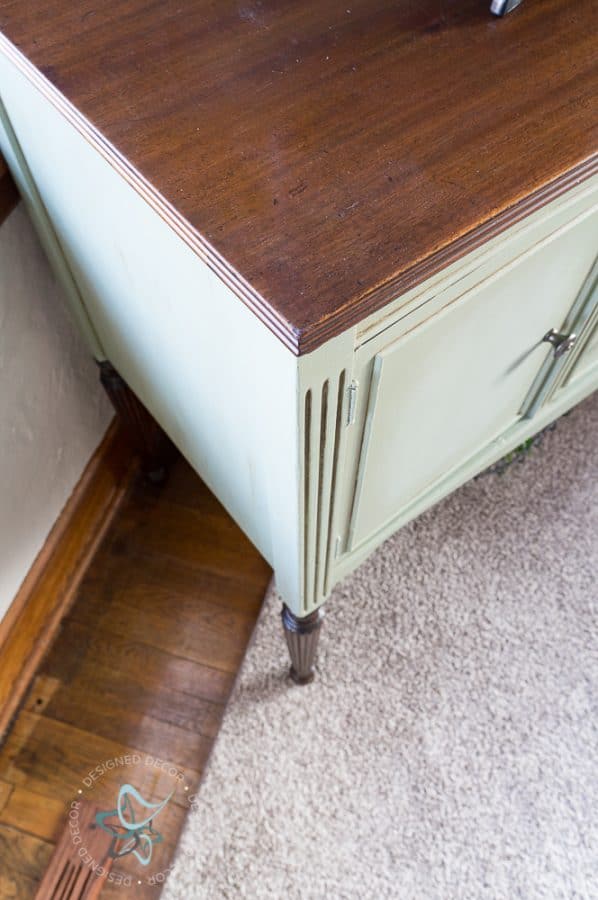 I lightly hand sanded the top and applied a new coat of stain and poly. I used Minwax gel stain in walnut and sealed with Minwax wipe-on poly
.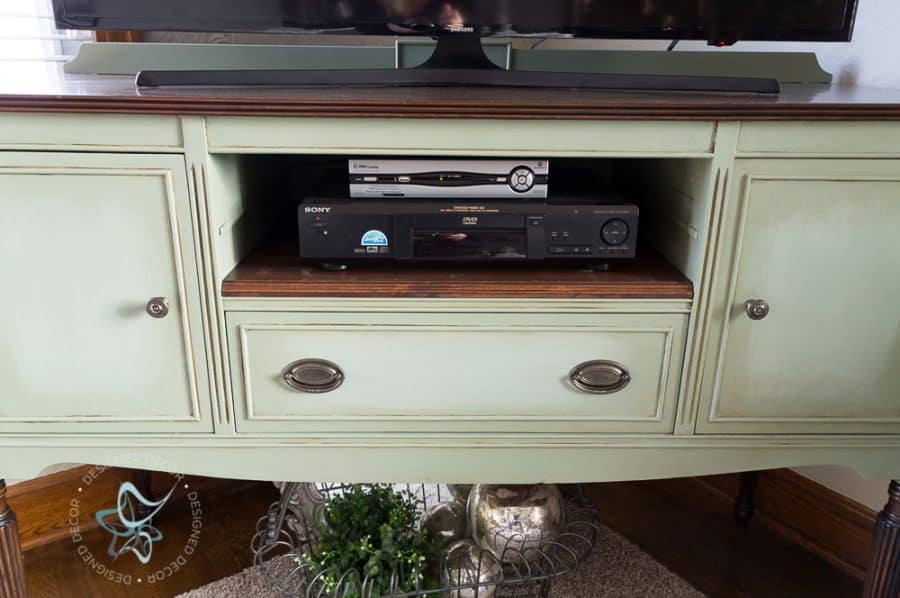 I removed the top drawer and made a shelf to replace the drawer. I did not glue or nail in place because I wanted to be able to take it out and use the drawer in case it was not used as a media center in the future.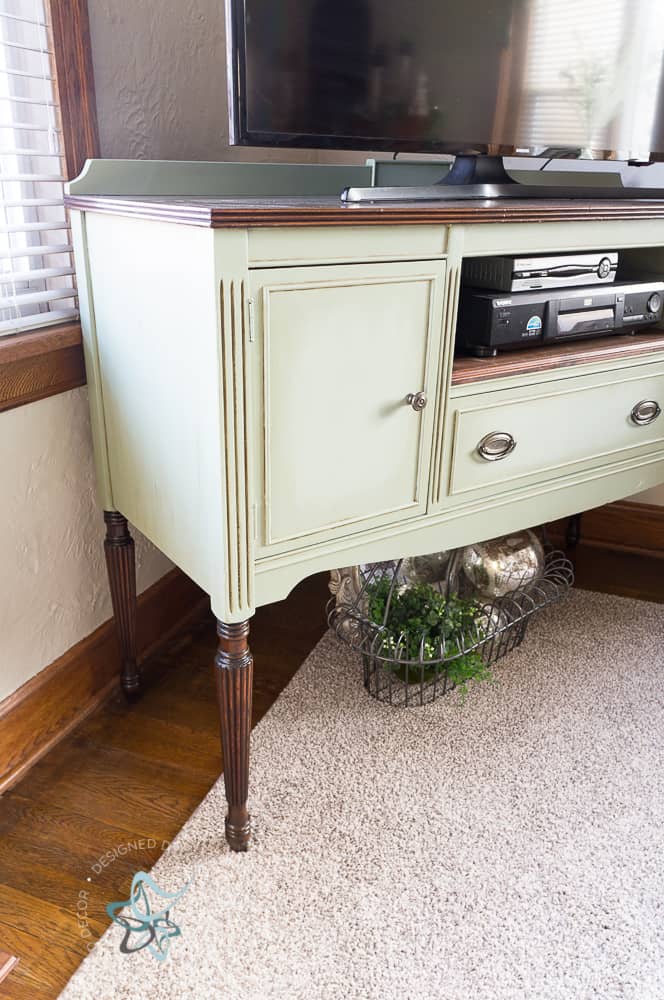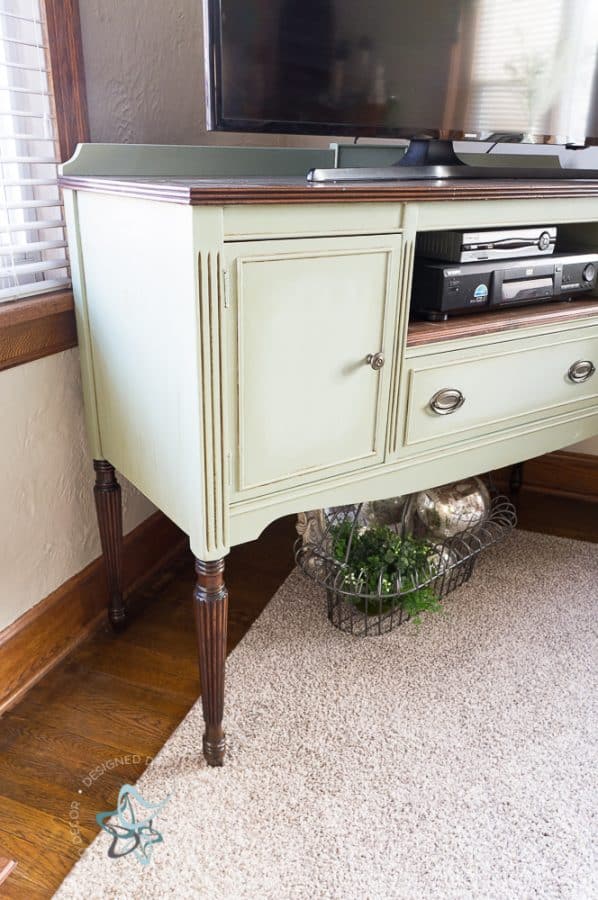 I used General Finishes Milk Paint in Basil
, added some highlights to the doors and drawer fronts by blending a lighter basil version, and sealed with Maison Blanche Antique Wax in clear and Heirloom Traditions wax in Muddy Pond. I used a wax sealer because I was seeing some slight bleed-through spots and sealing in wax helps to minimize bleed-through since it is an oil-based product.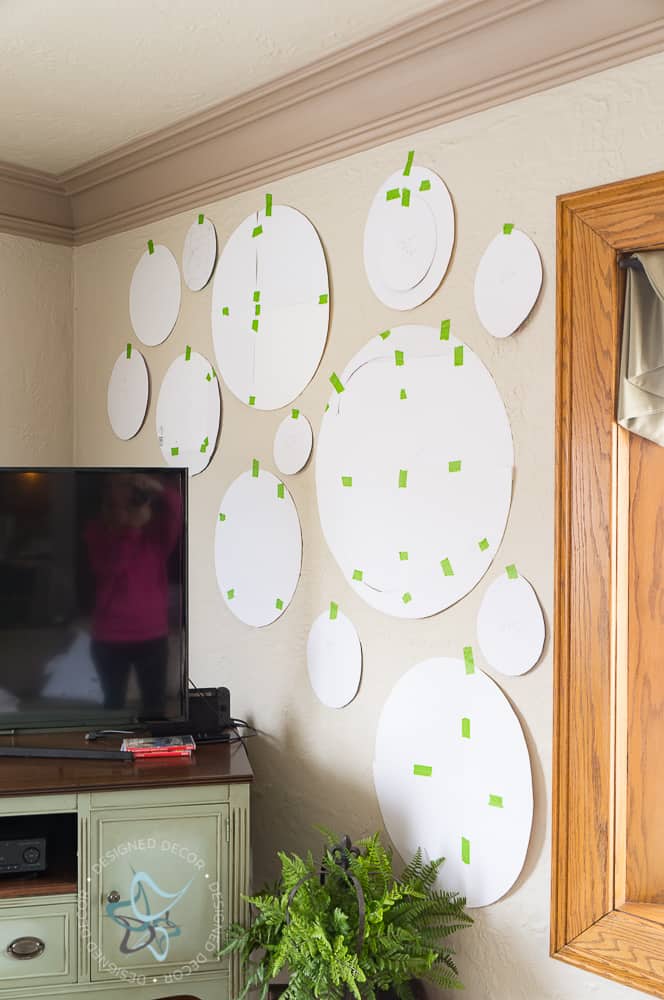 Yes, I traced all the frames that I was going to use for my gallery wall, cut them out, and taped them to my wall. This is the easiest way to create a gallery wall without putting hundreds of holes in your wall. You can easily move things around until you get a visually pleasing arrangement.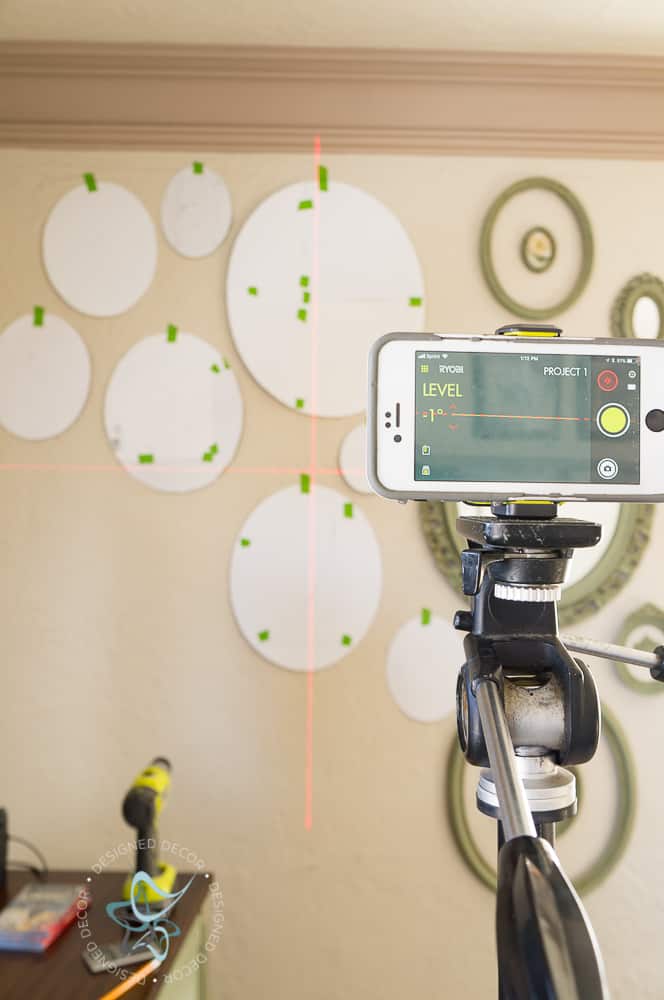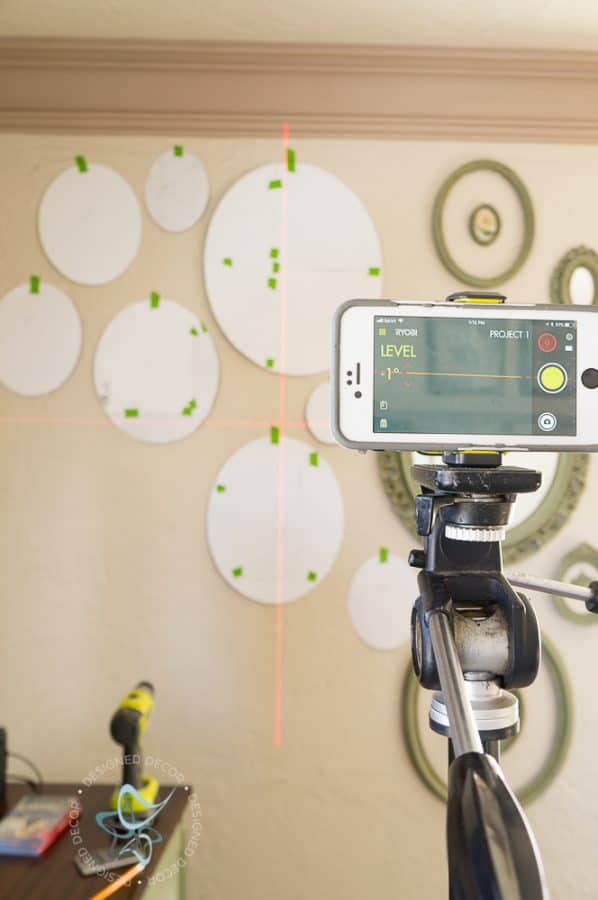 Mr. DD wanted to make sure things were level so he busted out the laser level from Ryobi Phone Works. I mounted it to my camera tripod and this was one simple tool to use to hang all of those frames and mirrors.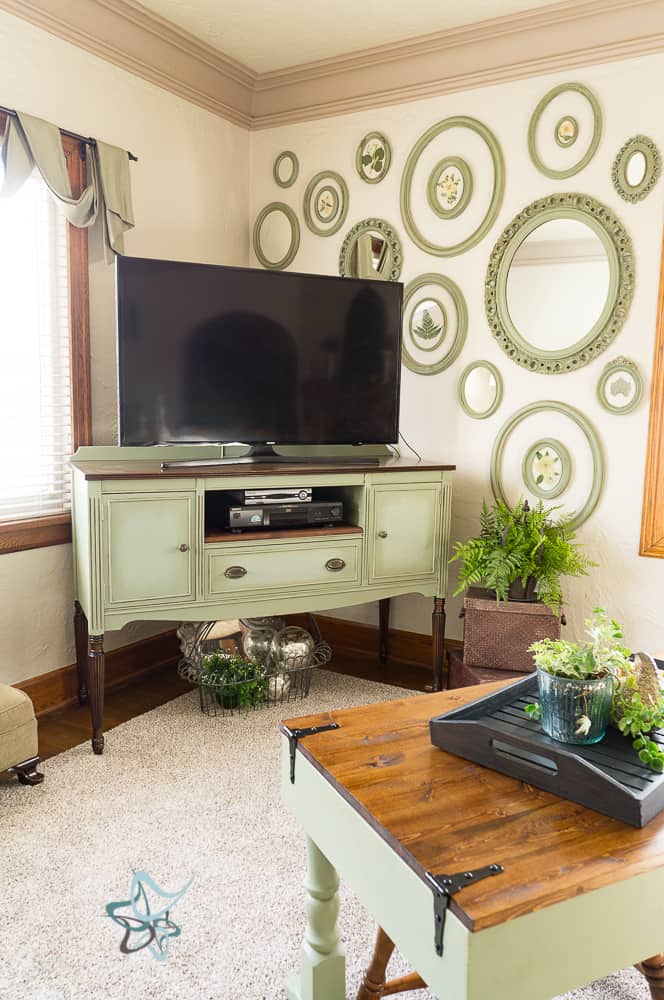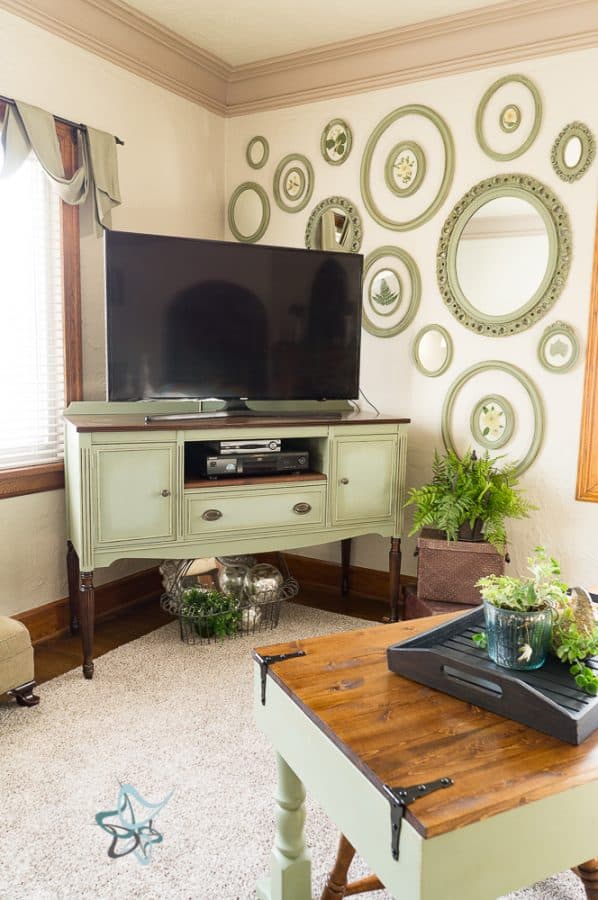 The frames were painted the same as the buffet. I added some pressed floral into some of the frames to add more detail to the empty frames. All of the frames and mirrors were found at thrift stores and garage sales, so it is an affordable way to fill an empty wall.
I love how this corner looks in my living room.
Make sure you check out my Puzzle coffee table and how I painted my living room with my new favorite painting tool!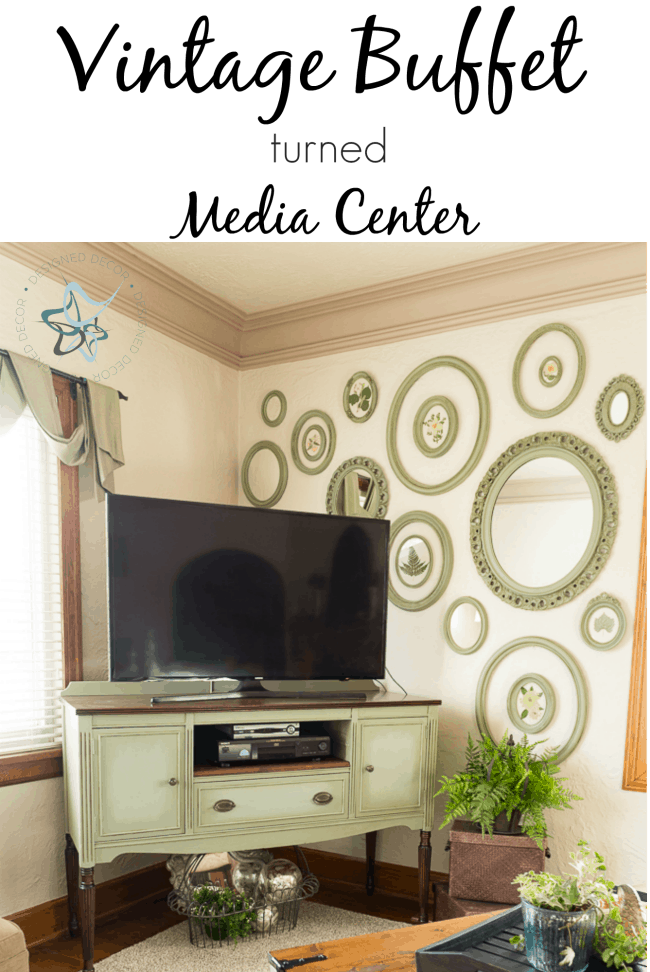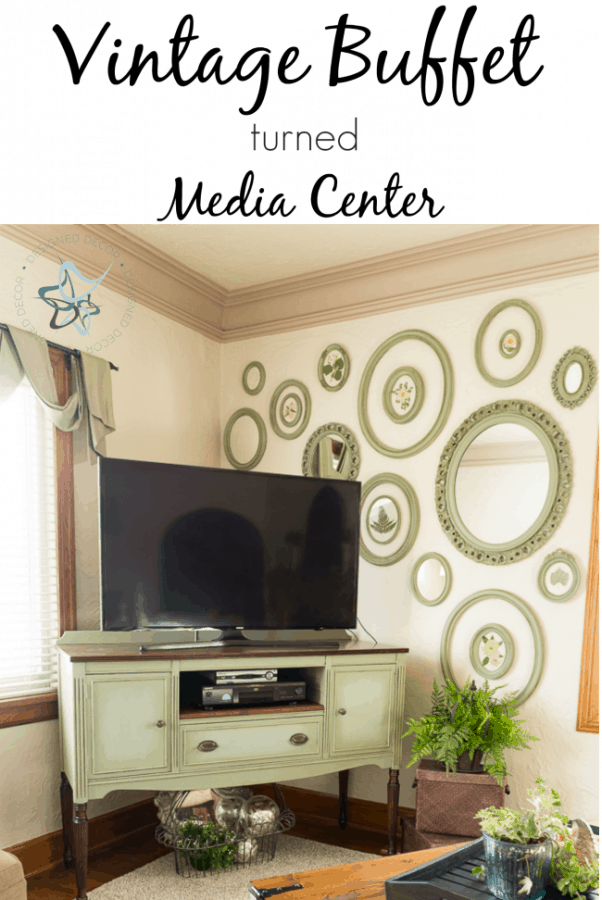 More Buffet makeover inspirations
Other furniture makovers
Join the DD Community!
Join the Designed Decor Community and receive weekly free tips on DIY home projects, painted furniture, decorating, and much more.