Do you love a good fall tablescape as much as I do? I love to look at all the pretty fall table decorations on Pinterest with all those layers and layers sitting on a table, they are beautiful. They make me want to recreate this look on my dining table, however, I need to keep it real in my home. We use our dining room table more than twice a year, so I don't want to have to take apart a table to eat a quick dinner. Therefore, I created a simple DIY fall tablescape and fall centerpiece.
This post contains some affiliate links. Click here for my full disclosure policy.
Supplies for a Fall Tablescape
Large shallow serving bowl or dough bowl
Various sizes and shapes of pine cones
mini pumpkins (real or faux)
Various acorns or tree nuts
Fall label (optional)
How to style a fall dough bowl
Styling the dough bowl can be inexpensive if you go out in nature and collect the pine cones, acorns, and other tree droppings. Watch the video below to see how I styled my bowl with fall foliage.
This post will be photo intense since I created a video on how to make the centerpiece and how to decorate a simple fall tablescape. No step by step, you just have to watch the video!
I love to use natural elements in my decor. All the pine cones in this bowl were free, yup I don't pay for pine cones. I pick them up whenever and wherever.
This year we went out to California to visit the oldest boys and I brought back 5 or 6 big pine cones from San Jose. I would have brought back more, but my luggage was full.
I also was at a rest stop in South Carolina this summer and I was out picking up pine cones. Mr. DD could only shake his head at me as I was carrying them back to the car.
Girls gotta do what she needs to do when it comes to FREE fall decor elements. Right, I know we are on the same page!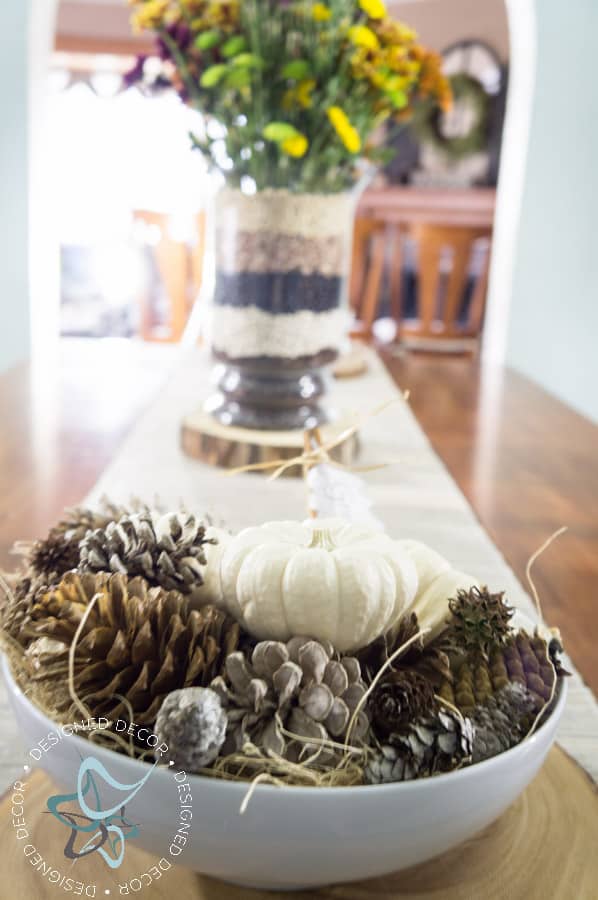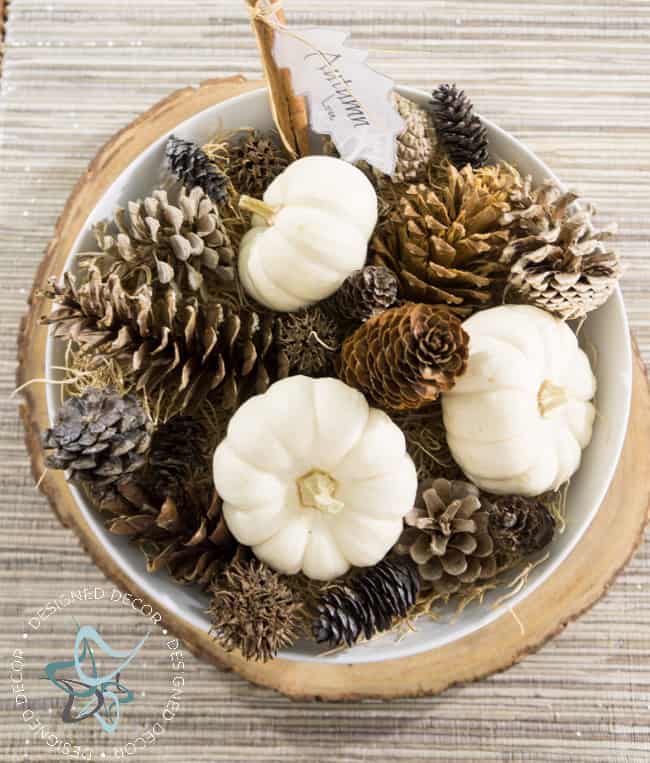 My fall tablescape is simple and inexpensive!  The table *runner(*discontinued –> similar metallic woven table runner), *wood slice charger, and white bowl.  On sale of course!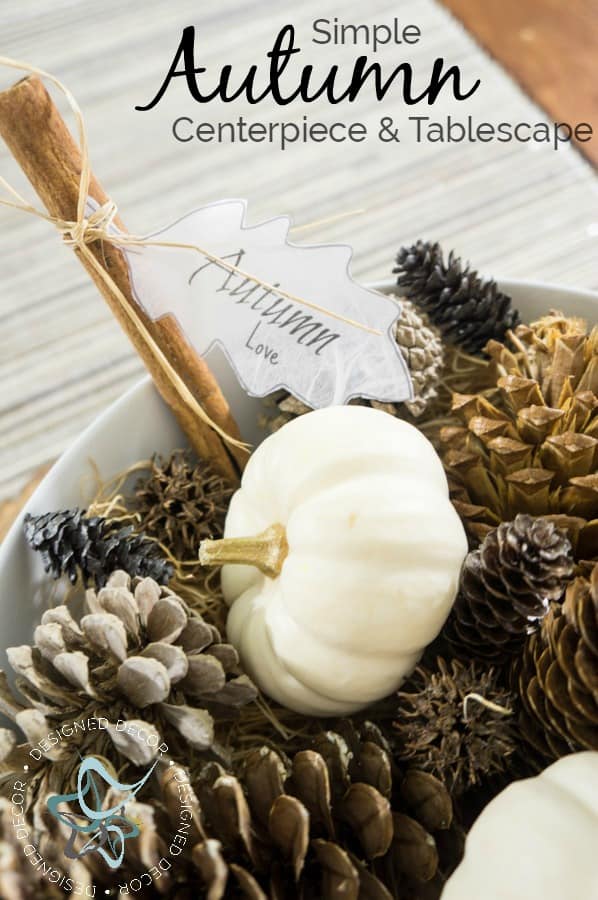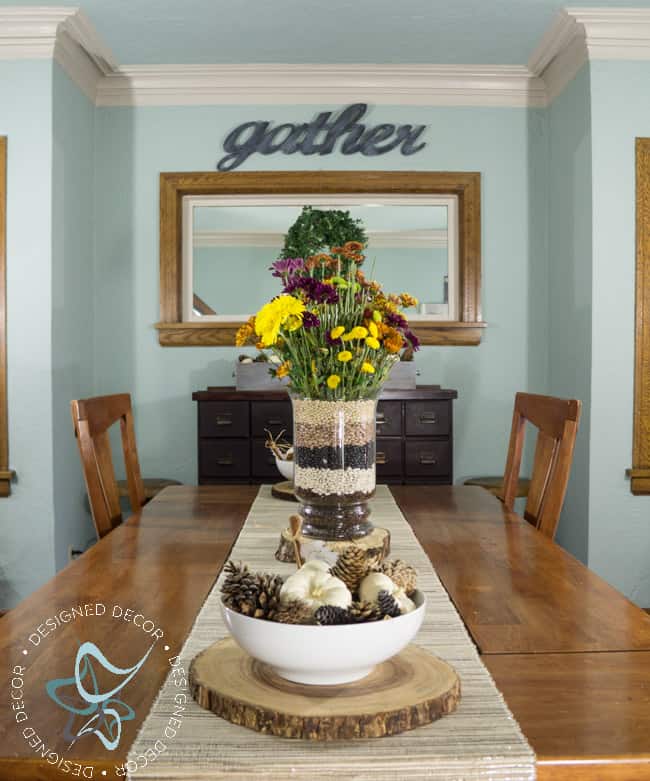 The *"gather" wood sign above the mirror is also from World Market. I did change the color of the gather sign. Learn how to use a galvanized metal paint effect.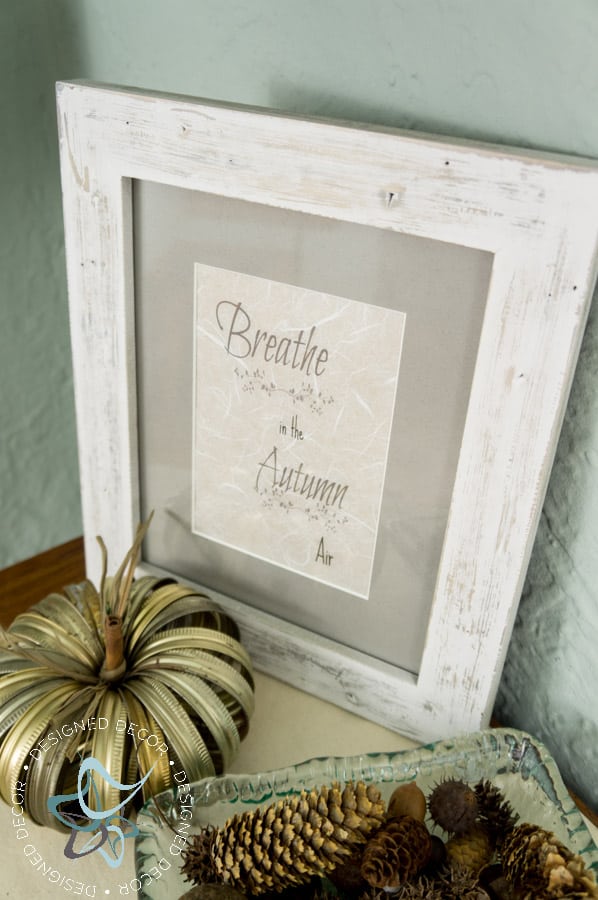 Inexpensive DIY Fall Decor Ideas
Need more inexpensive ways to decorate for fall? Start with a simple glass bowl filled with acorns, buckeyes, and small pine cones. I also made a canning lid pumpkin and the fall sign in the frame. All these items pulled together made a simple fall vignette.
Making the canning lid pumpkin is easy. Use 16 to 20 canning lids, and run a string through the middle of them all. Tie the string, making sure it is very tight. You might have to tie a few of them before you get it to the correct tightness. Spread and shape the canning lids and hot glue in a cinnamon stick or a stick from your yard in the center. Tie on some ribbon or raffia. Simple and inexpensive!
The quote in the frame "Breathe in the Autumn air"; I designed and is "free" to print out for my blog subscribers. I also added the cute maple leaf printable that is in the display pine cone bowl. If you would like to get those free printables and more, subscribe to my weekly blog posts and you can become part of the Designed Decor Community.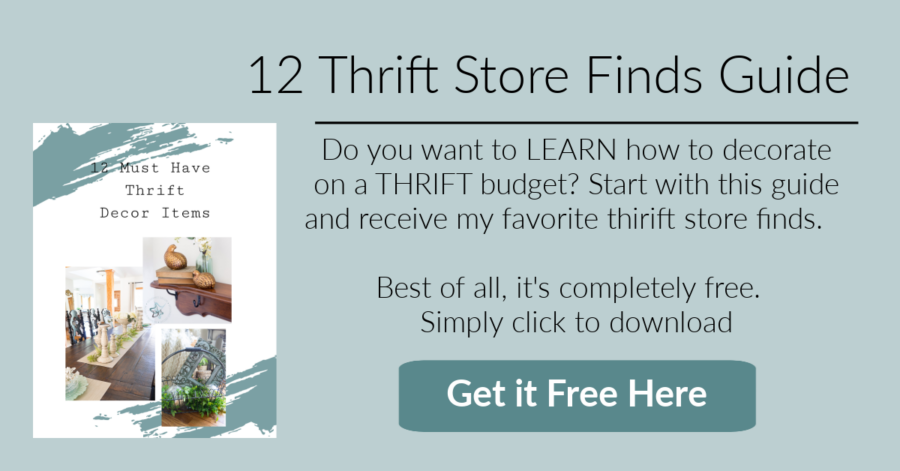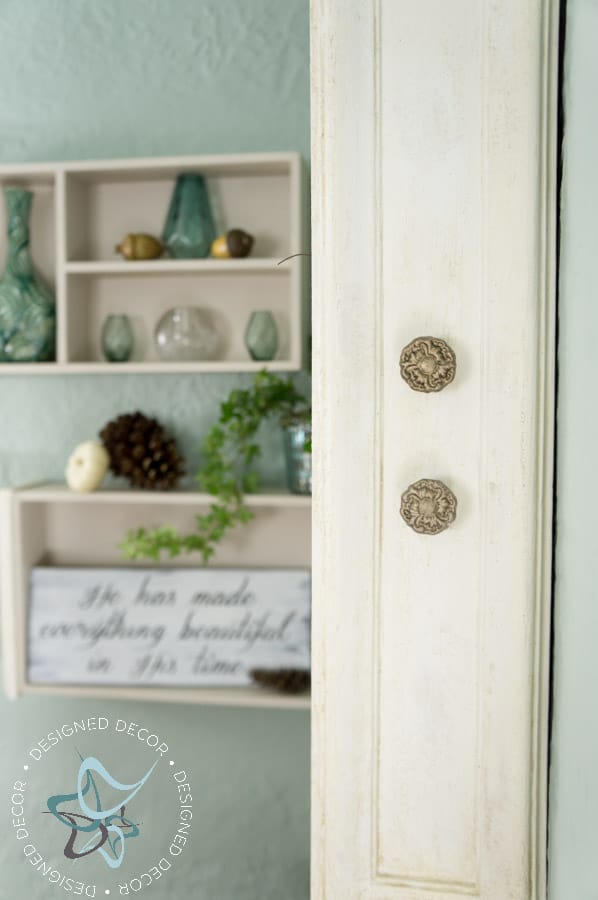 Another great way to add shelving to any area is by turning old drawers into repurposed shelving.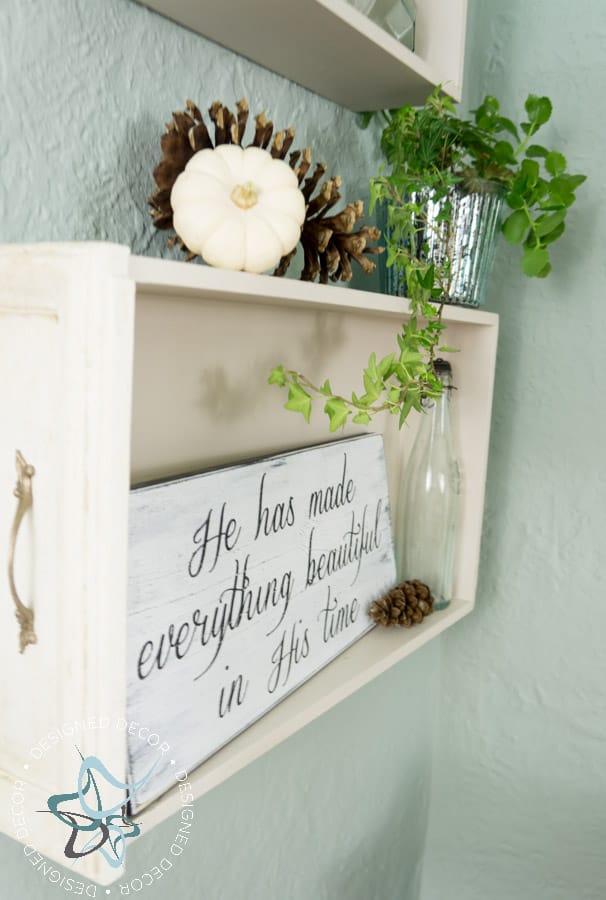 The person I bought this wood plaque from is no longer making wood signs. So, I did a little shopping for you and found a similar quote wood plaque.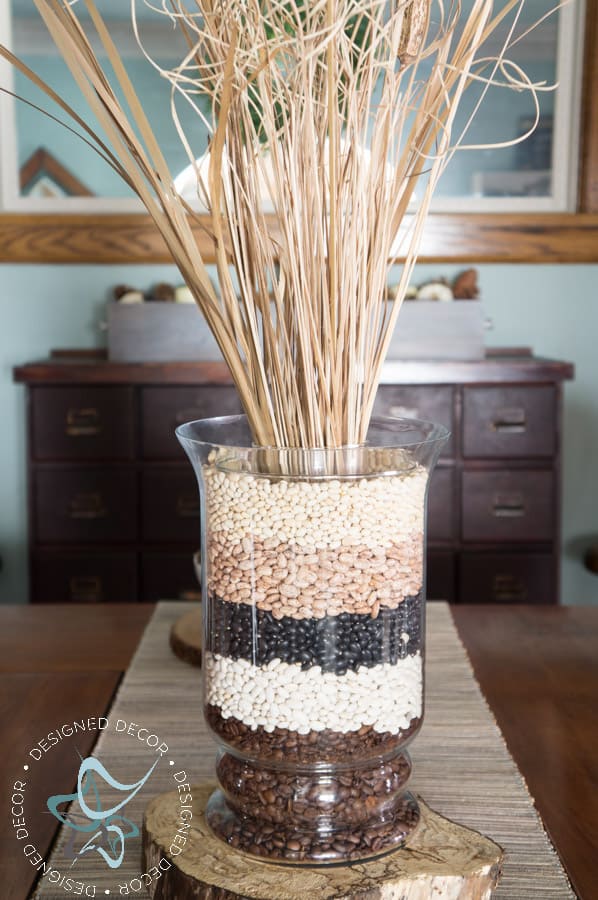 This DIY fall centerpiece was another simple fall decorating item. I used 2 glass vases that fit inside each other and placed layers of different dry beans in between the vases. Watch this video on how to make a simple fall centerpiece vase
Here are a few other Fall Tablescape and Fall Decorating Ideas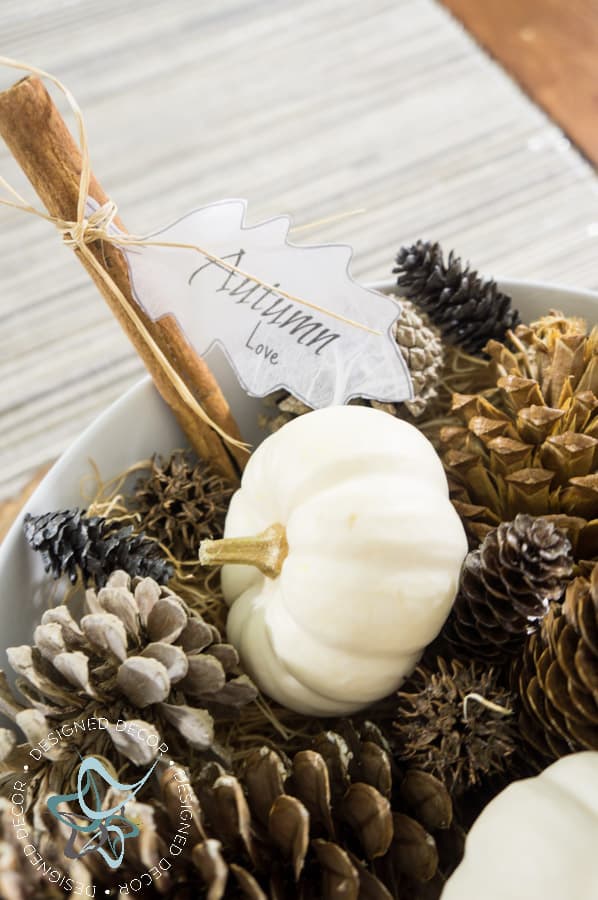 Do you decorate your table and if so do you layer or keep it simple?





Join the DD Community!
Join the Designed Decor Community and receive weekly free tips on DIY home projects, painted furniture, decorating, and much more.