I love finding old wood windows so I can turn them into a perfect home decor accessory. I have used them as coat racks and I love adding quotes on to the solid window panes like this one. I am sharing this Wood Window Tutorial on how I used music sheets and found a favorite music quote to put on the glass pane.
Most of the single pane window frames look like this one below.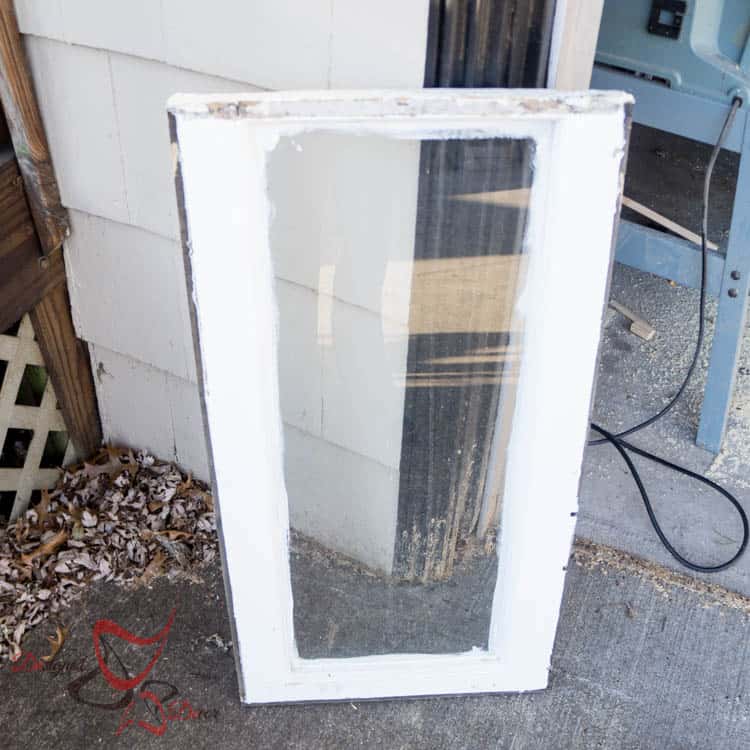 I clean them up and begin the makeover process.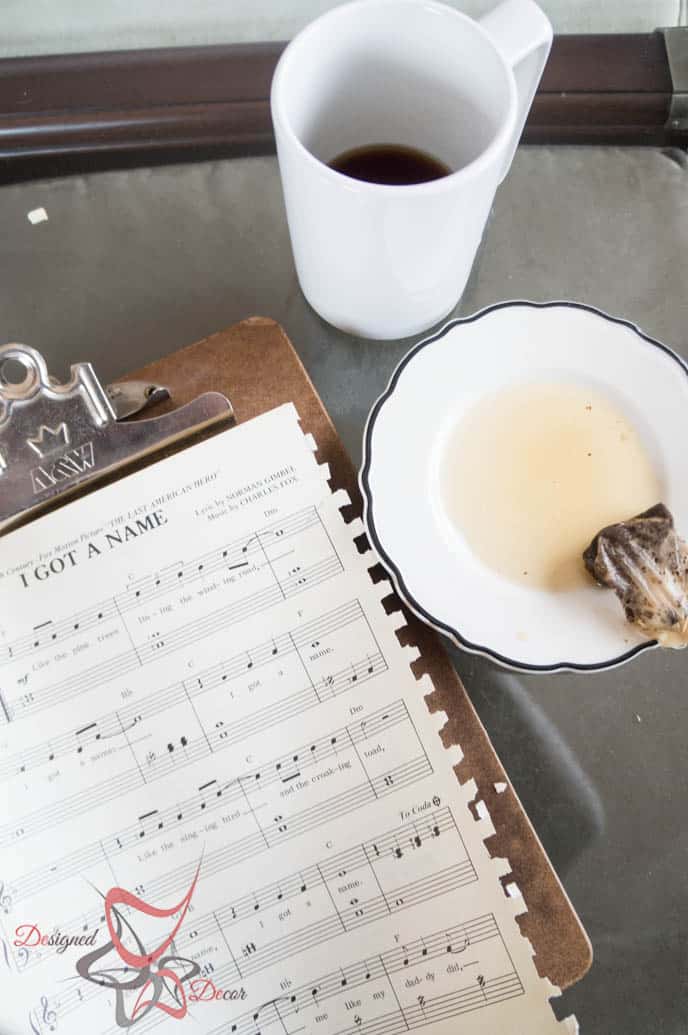 I have music song books on hand and this book was not aged the way I wanted them to be, so I did a tea stain on all of the music sheets. I soaked the tea bag in a small amount of water, poured into a saucer.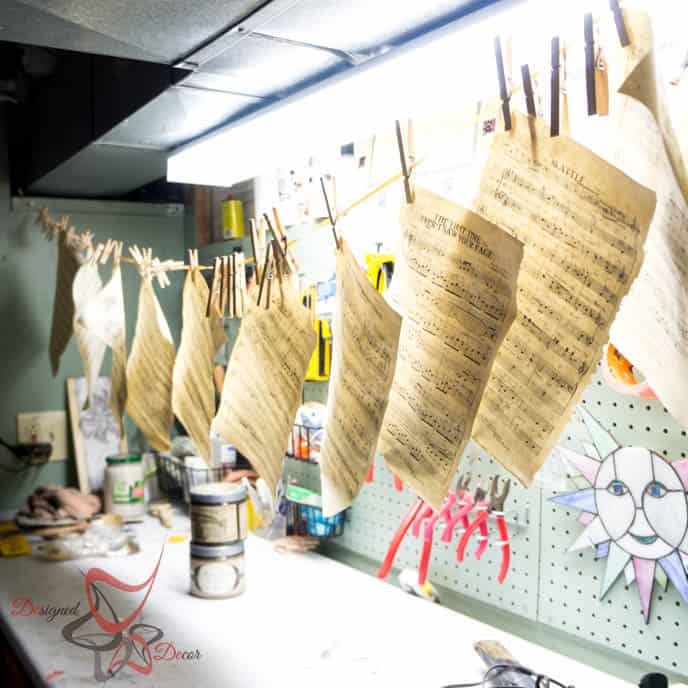 I wiped the wet tea bag over the entire music sheet and hung to dry.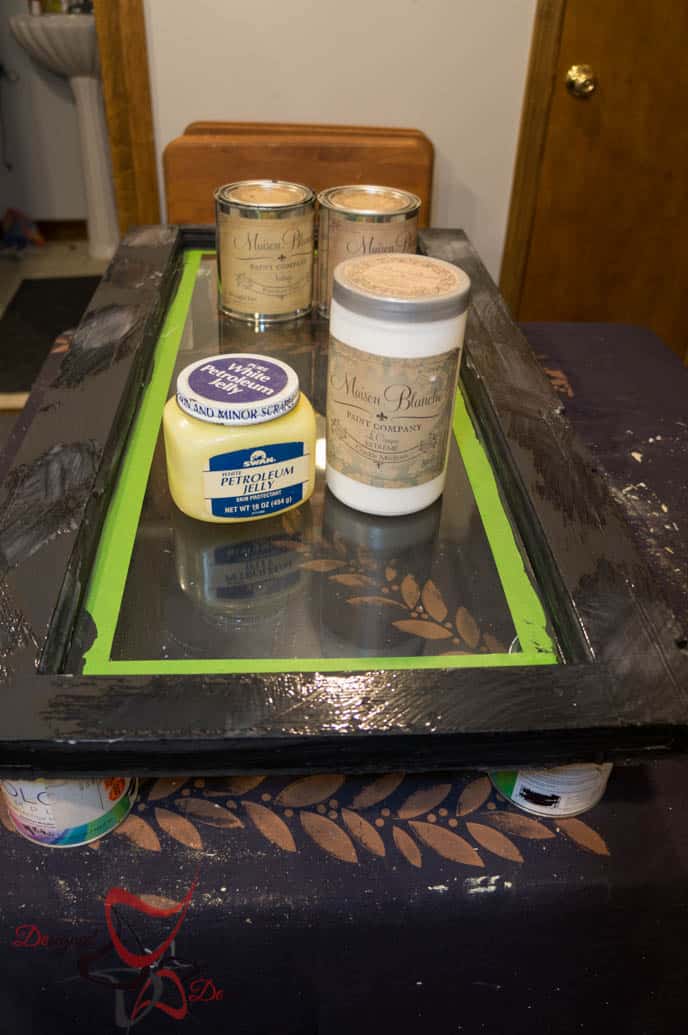 Painting the Frame: I painted the window with a black chalk paint (let dry) used a crackle product (let dry) and placed some vaseline randomly around the frame before applying a top coat of white chalk paint.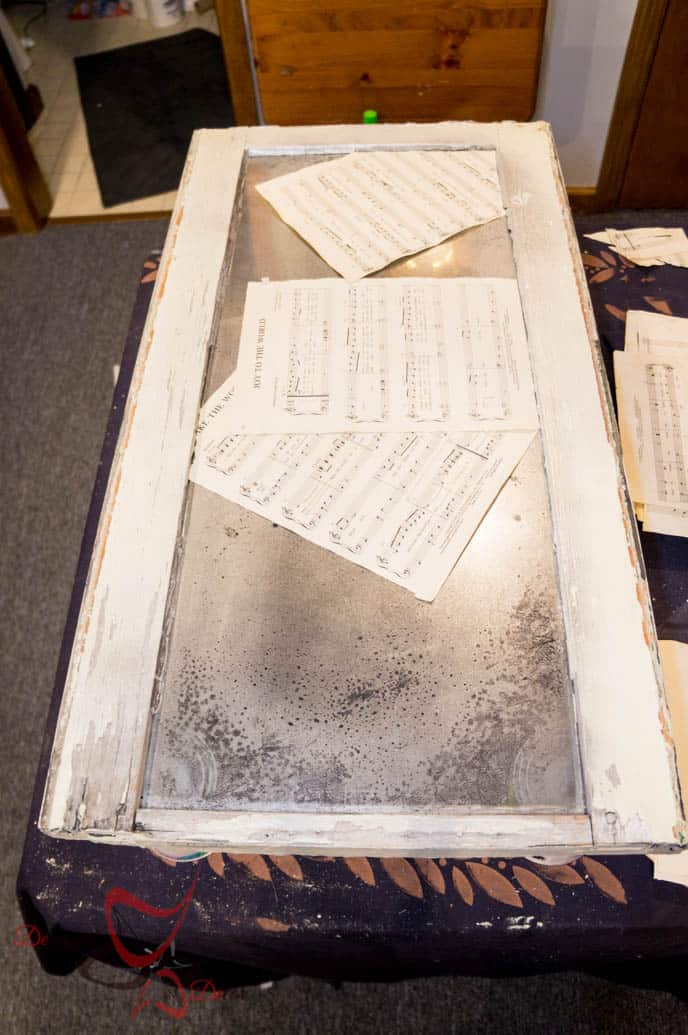 Aging the Glass Pane: I aged the glass window by using a spray paint reflective like(affiliate links —>) Rustoleum Mirror Effect
or Krylon Looking Glass. I lightly sprayed with some water before applying a layer of the spray paint. I also like to use a sponge or towel after the spray paint is applied and use it in a blotting method. I only wanted a very light coat of the spray paint since I wanted the music sheets to show through on parts of the glass.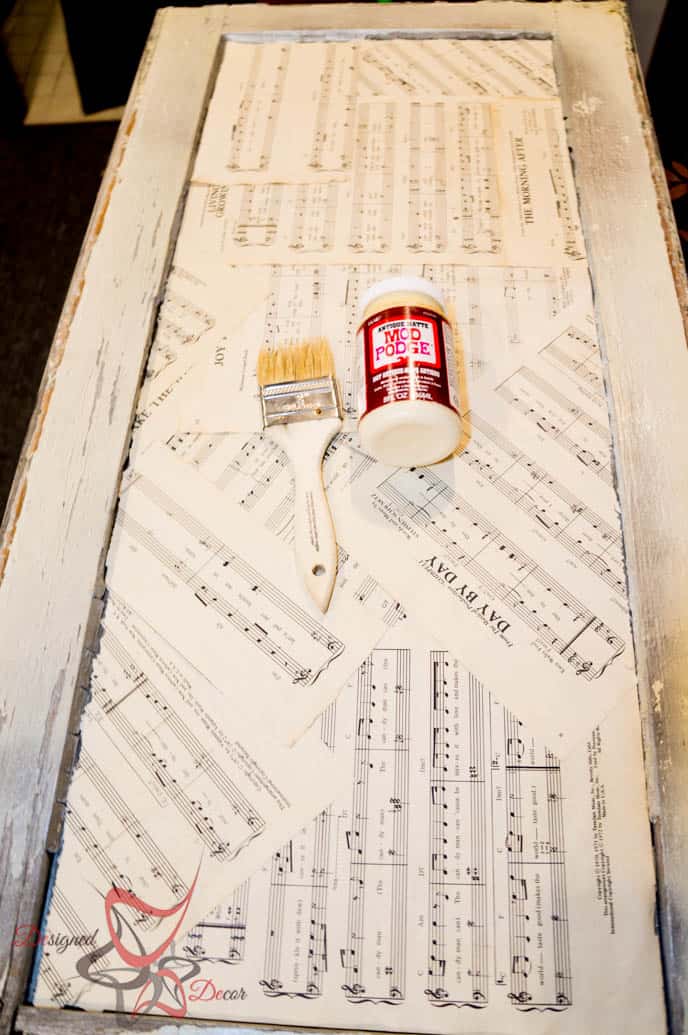 I tore the music sheets and place them randomly on the aged mirror effect glass pane. Once I have them in place, I apply a layer of Mod Podge to seal the music sheets together. I did not place Mod Podge directly on the glass, I only placed the mod podge in between the sheets that have overlapped and a complete coat over the top of the music sheets.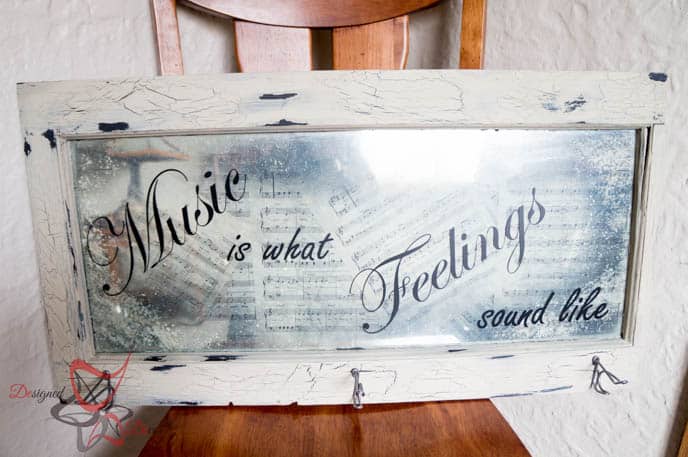 Next, I made the quote using Cameron, my Silhouette Cameo
, and black vinyl. Did you notice that this quote above is different from the first picture? The first one sold right away, so I made another one.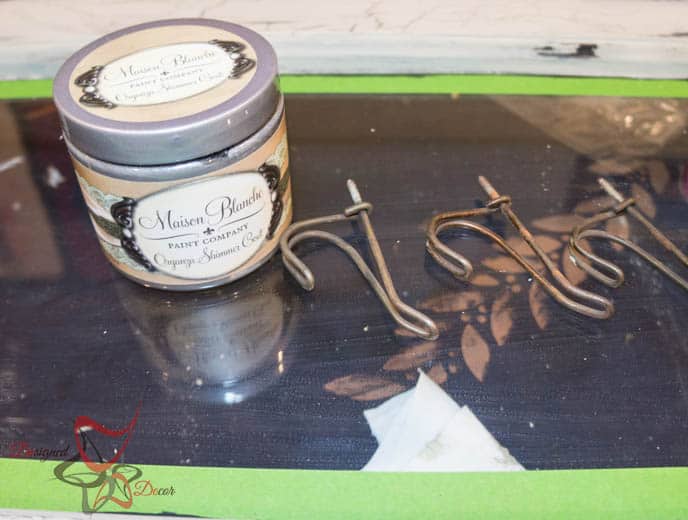 I painted old hooks using Organza in silver from Maison Blanche and placed them on the bottom of the frame.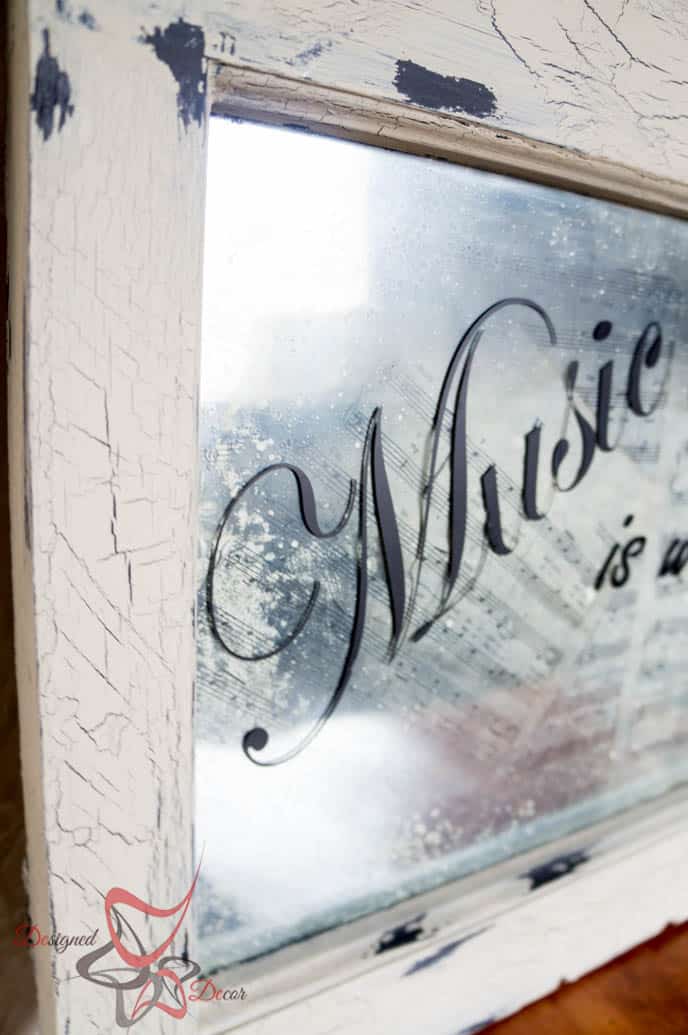 This has to be one of my favorite repurposed window projects. I love how the music sheets show through, the aged glass and the quote is perfect!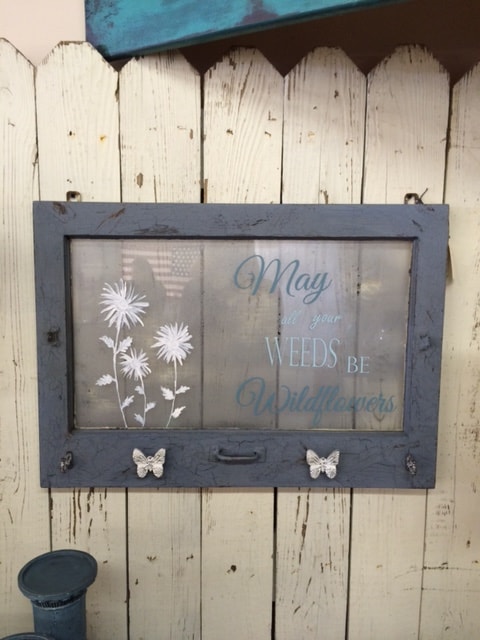 I made a few different windows and each one sold right away!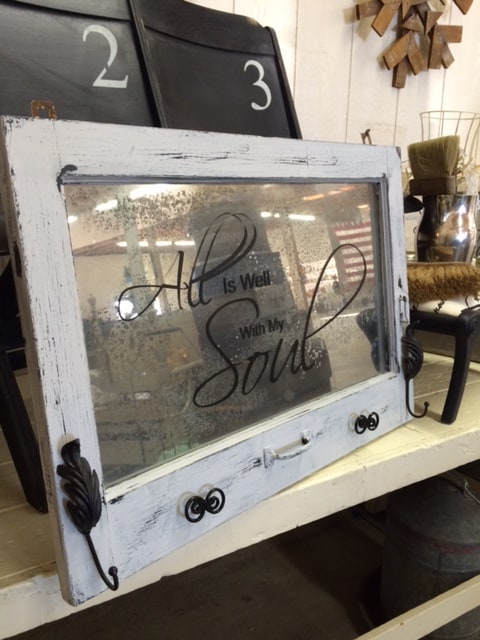 You can also check out these multi-panel windows that I repurposed as well.

Join the DD Community!
Join the Designed Decor Community and receive weekly free tips on DIY home projects, painted furniture, decorating, and much more.