I found this old radio cabinet at a garage sale and I knew it would have to become a bar of some type. I decided I would keep it for myself and turn in into a coffee bar.
This post contains some affiliate links. Click here for my full disclosure policy.
She was in BAD shape. Someone had already tried to transform it at some point in its life, but let me say they did a horrible hack job. They had a piece of this and a piece of that they used as shelves.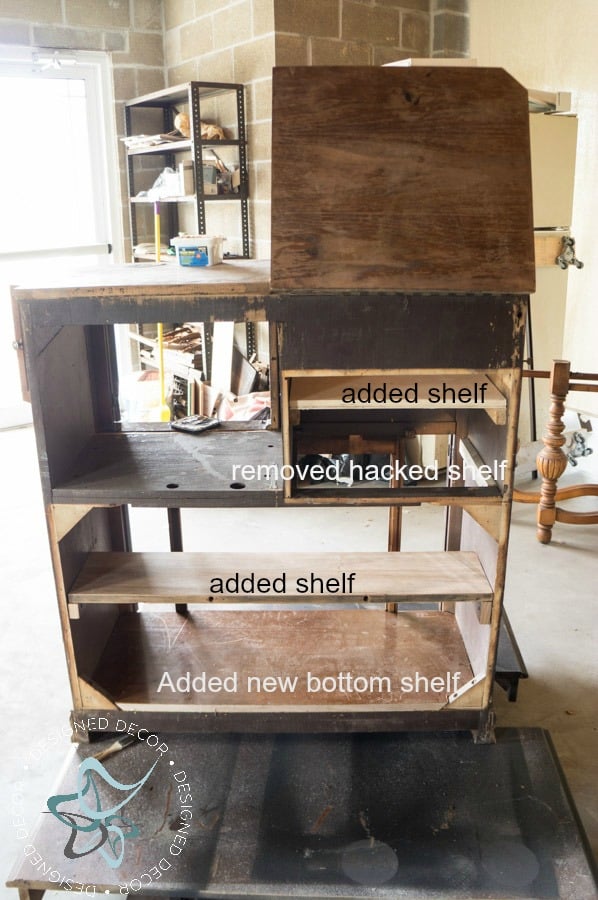 As you can see I had to remove the back, to get to work. I had to remove the existing bottom shelve since it was hacked together and not a smooth full shelf. I added a shelf to the middle bottom area, so I could get more storage in the bottom.
I removed another hacked together shelf and added one more shelf on the side that flips up. This will hold a Plexi storage container that I can use for ice and cold beverages.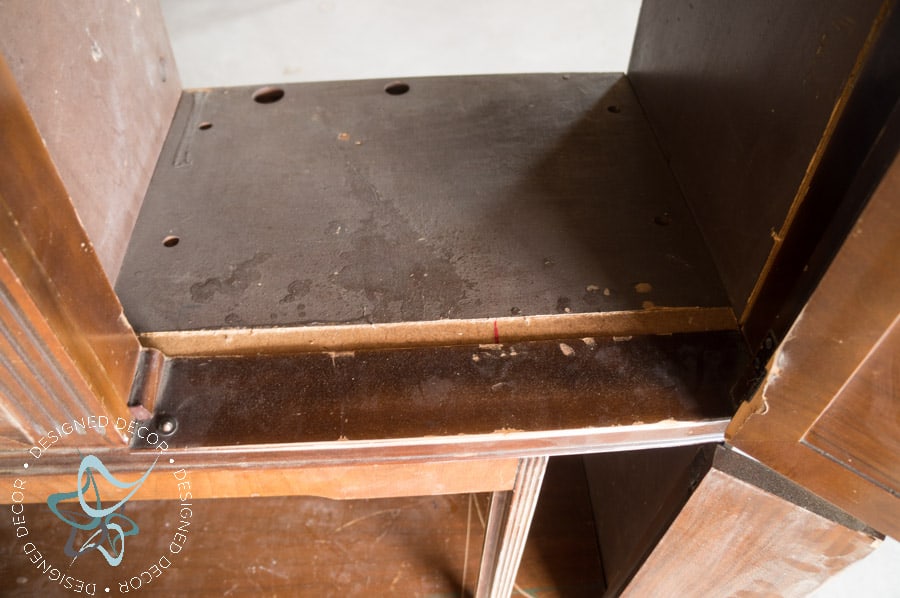 I had to add some wood putty to the shelf above so the shelf would be a smooth transition.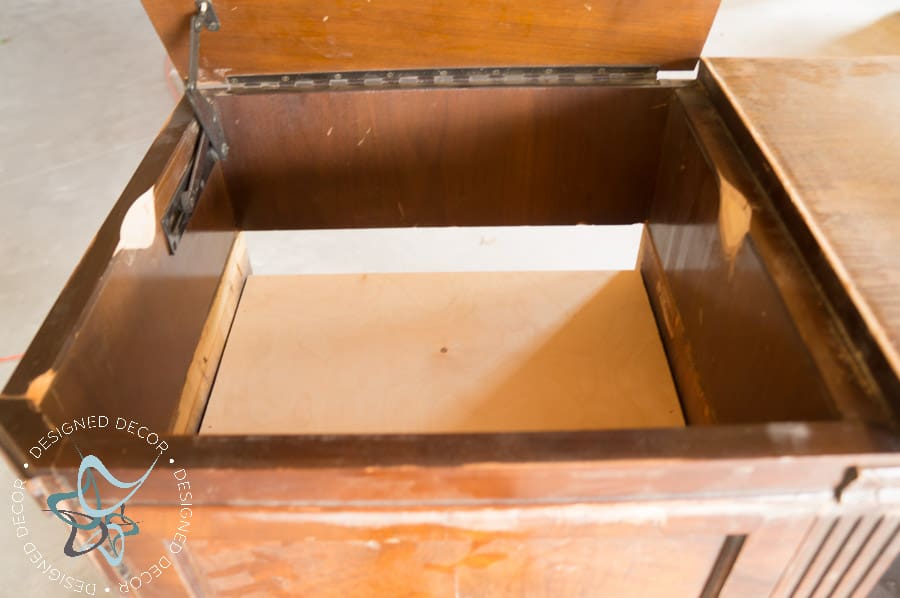 The Plexi container I purchased had handles that were a tiny bit wider than the cabinet, soMr. DD carved out the wood on the sides of the cabinet so the container would fit down onto the shelf. I sanded down the top of the cabinet and the interior shelf and stained using Java Gel. I prefer my tops to be stained as that seems to stand up well to everyday use. I also love the look of stained wood and paint.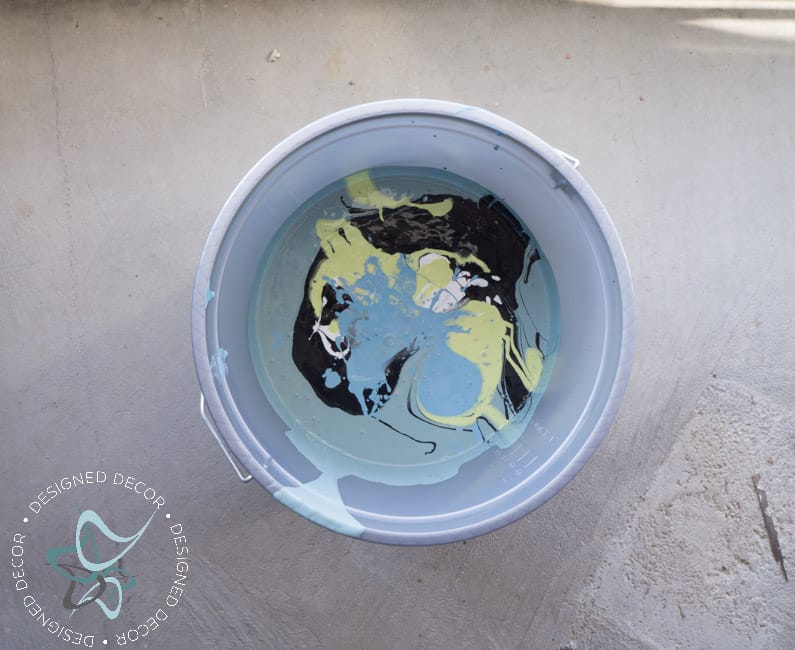 The cabinet was all prepped and ready for some paint. I made a custom blend using Amy Howard One Stap Paint. I have a favorite accent color that I wanted to use in my home and could not find the paint color, so I made my own.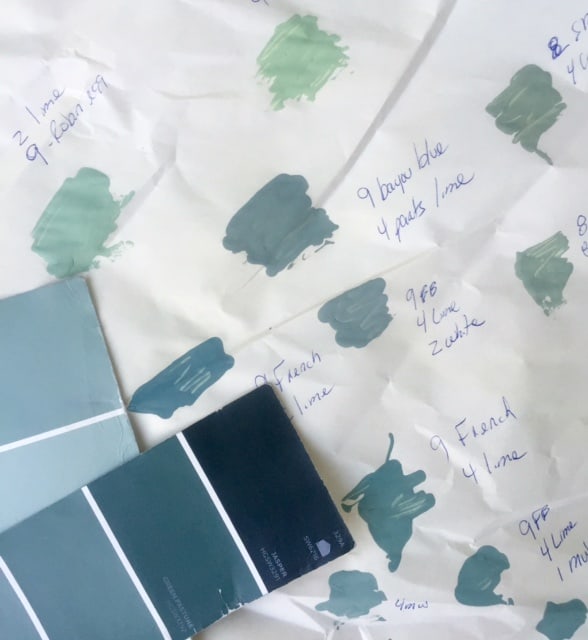 I started by having the inspiration paint swatches on hand and I could color match to the tone of the paint I was looking for. As you can see from the sheet above, it was a lot of trial and error and finding the right balance of blue and green paint to get the perfect green-blue tone I wanted. I ended up using 15 parts Rugo, 4 parts lime, 1 part black and 1 part white.
I used my Wagner Flexio 890 Paint Sprayer
and made this video to show you how easy it is to spray furniture.
Wagner also makes a
Home Decor Sprayer
which is an entry level sprayer for those of you that would only use the sprayer on occasion and not weekly like me.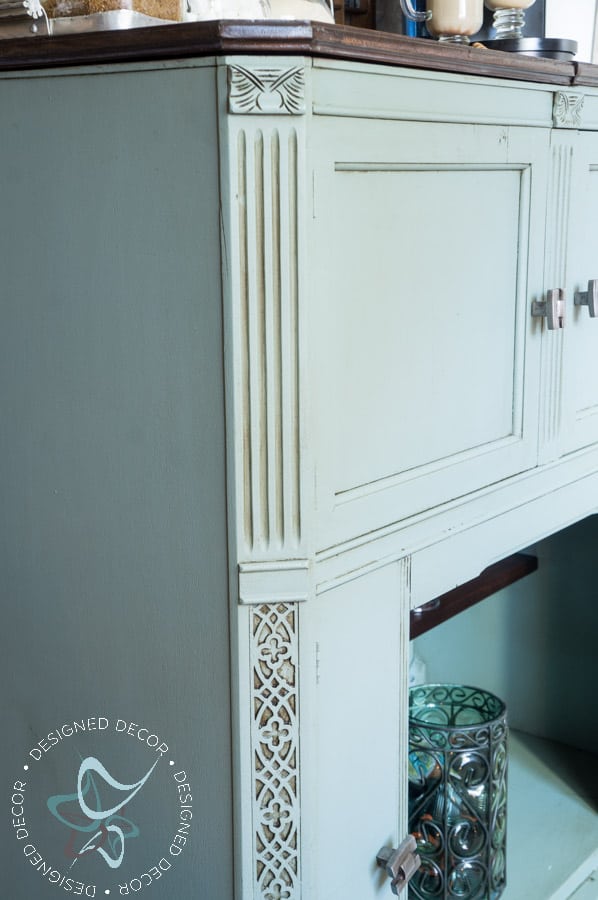 I also used the dark wax to deepen the color and highlight the carved accents on the coffee bar.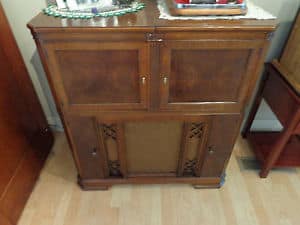 I did a little research on Zenith radio cabinets and found this one on e-bay which looks like an identical match to what mine used to look like before I found her gutted. I discovered these were made in the 1940's. So my cabinet has many years of use and abuse before she received this new life as a coffee bar.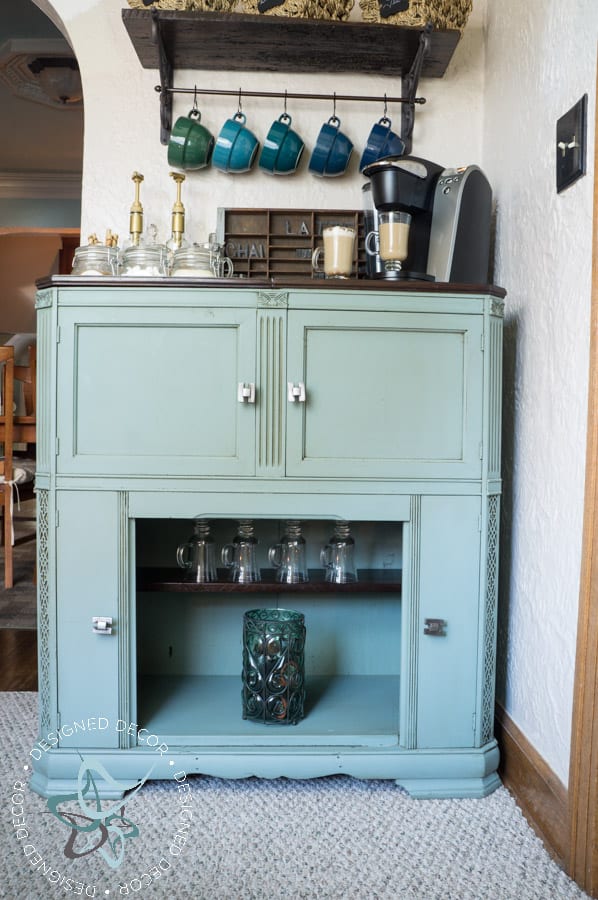 I think the family is enjoying having the coffee bar and it seems like they are drinking more coffee too.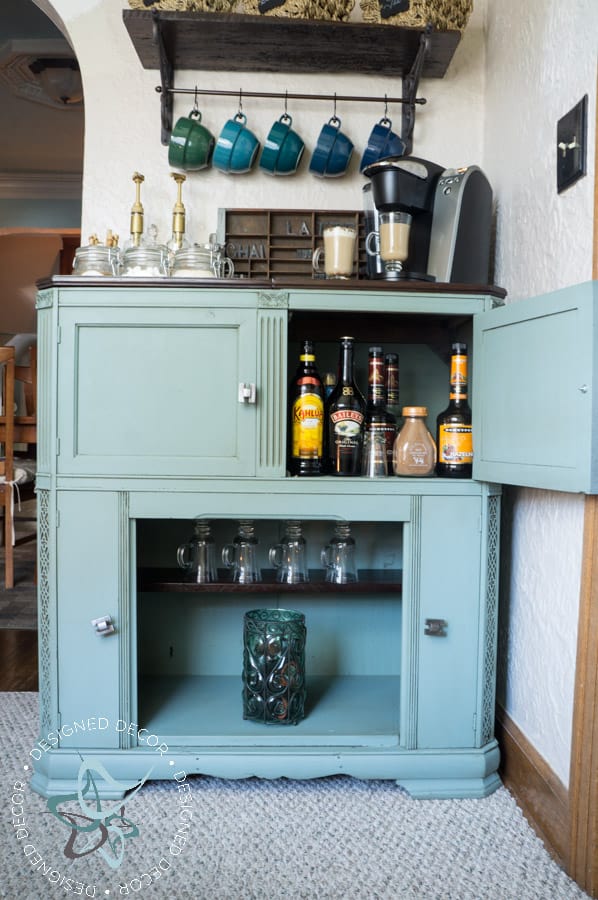 I have my stash of adult coffee additives stored near the top for convenience.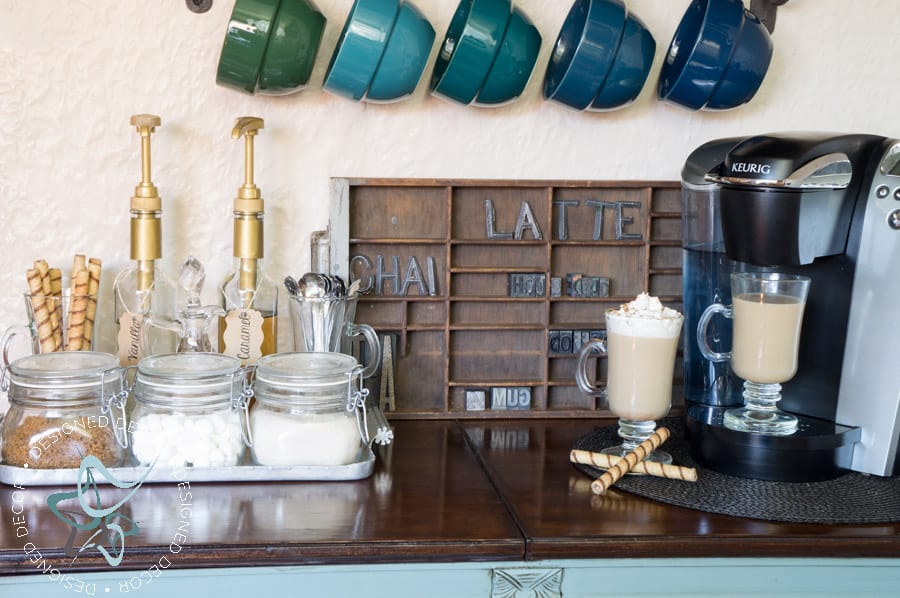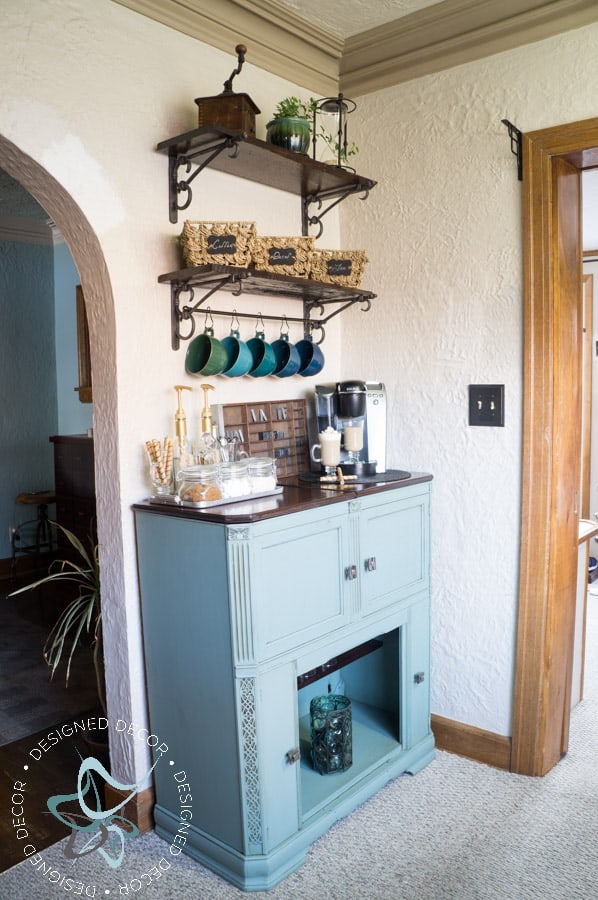 Achieve this look:  Silver Serving Tray, Printers Tray, Print Letters, Clear Locking Jars, Irish Coffee Mugs, Jumbo Coffee Mugs,  Syrup Pumps, and locking Jars
This is a temporary location as I will be moving the coffee bar into the dining area once I get the painting done.  I also will be sharing a post about those shelves above the coffee bar this week for our Power Tool Challenge.   

Join the DD Community!
Join the Designed Decor Community and receive weekly free tips on DIY home projects, painted furniture, decorating, and much more.