This modern casual dining room design plan has been a vision in my head since moving into this home, and now it is close to being a finished reality. I have joined the One Room Challenge (ORC) to motivate me to get this project complete. Nothing like a deadline to hold myself accountable for completing a room makeover.
Technically the ORC is a 6 week design makeover that is hosted twice a year, spring and fall. My dining room makeover started back in October 2019, when we removed the walls to create an open concept between the living room and dining room. Yes, this is way longer than a 6 week design challenge. Stick with me and you will see why!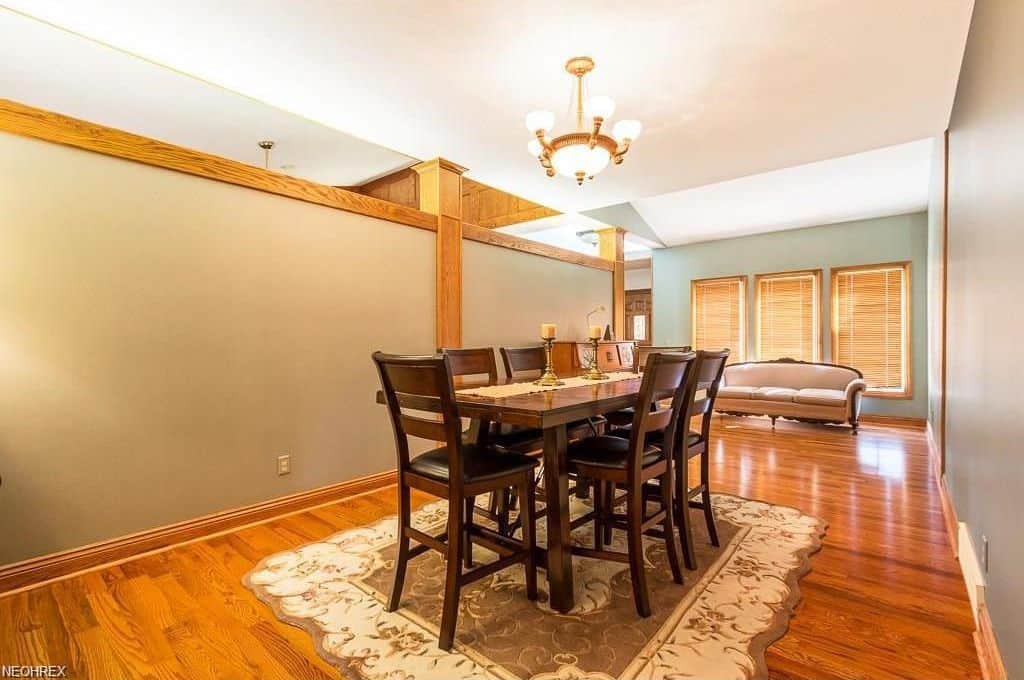 This is the before photo of my dining room with the 3/4 divider wall that separates the dining room and living room. This room was long, narrow, and felt so unusable for everyday use.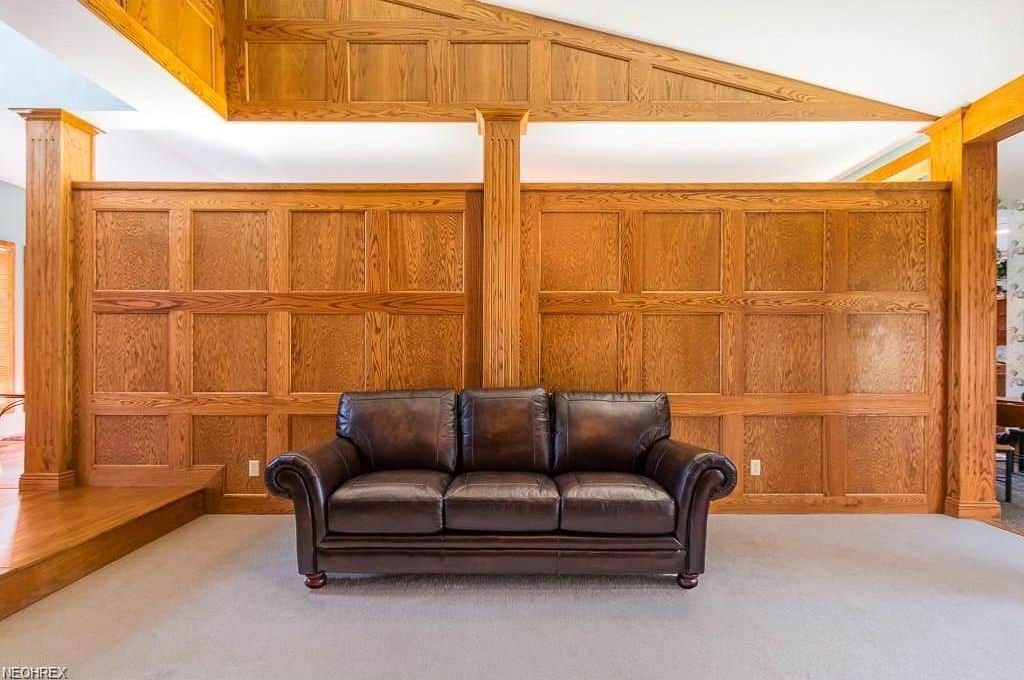 This is the living room side of the 3/4 wall that separates the living room and dining room. This side of the wall was dark and felt like a study instead of a living room. We wanted to remove the wall an create a much needed open concept and to show case the great features of this home.
Removing the Walls
This was the long and hard part of this renovation. We removed the walls and had to reconstruct the columns since the walls were built into the sides of the columns.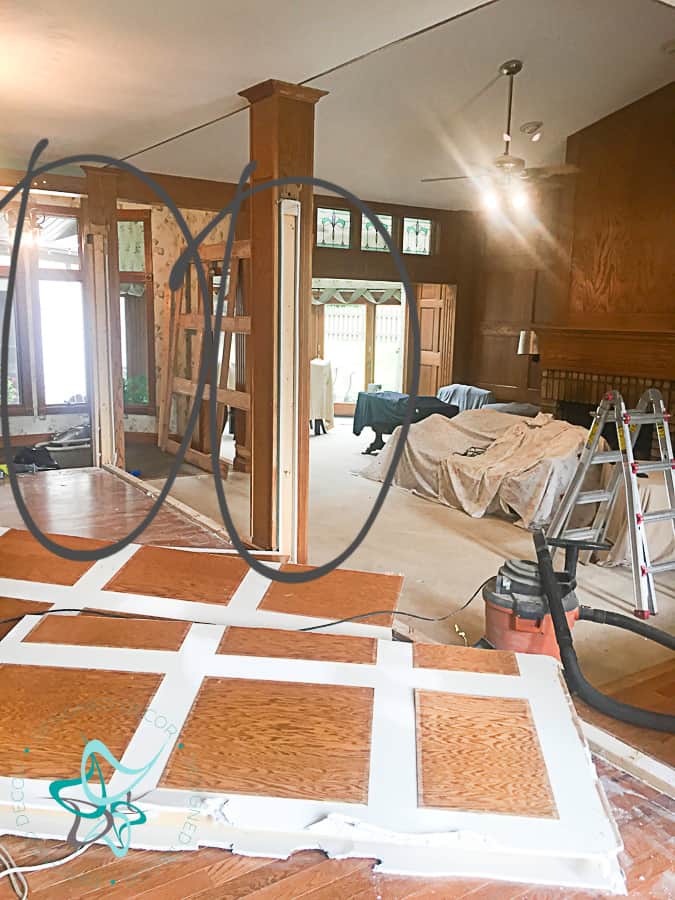 Mr. DD tried to take apart the columns to see if we could fix and salvage some of the existing columns and they were well constructed and there was no getting them apart without damage.
We consulted with a friend who has amazing carpenter skills, and after receiving his advice, we decided not to fix the columns and to have them reconstructed.
Project List
Remove Walls ✔
Re-Build Columns and Fix Floor ✔
Cut crown and base molding for columns✔
Stain and seal columns
Remove Wallpaper and Paint✔
Find, Refinish a used Dining Table and Chairs
Build a large floor mirror✔
Build an Art Ledge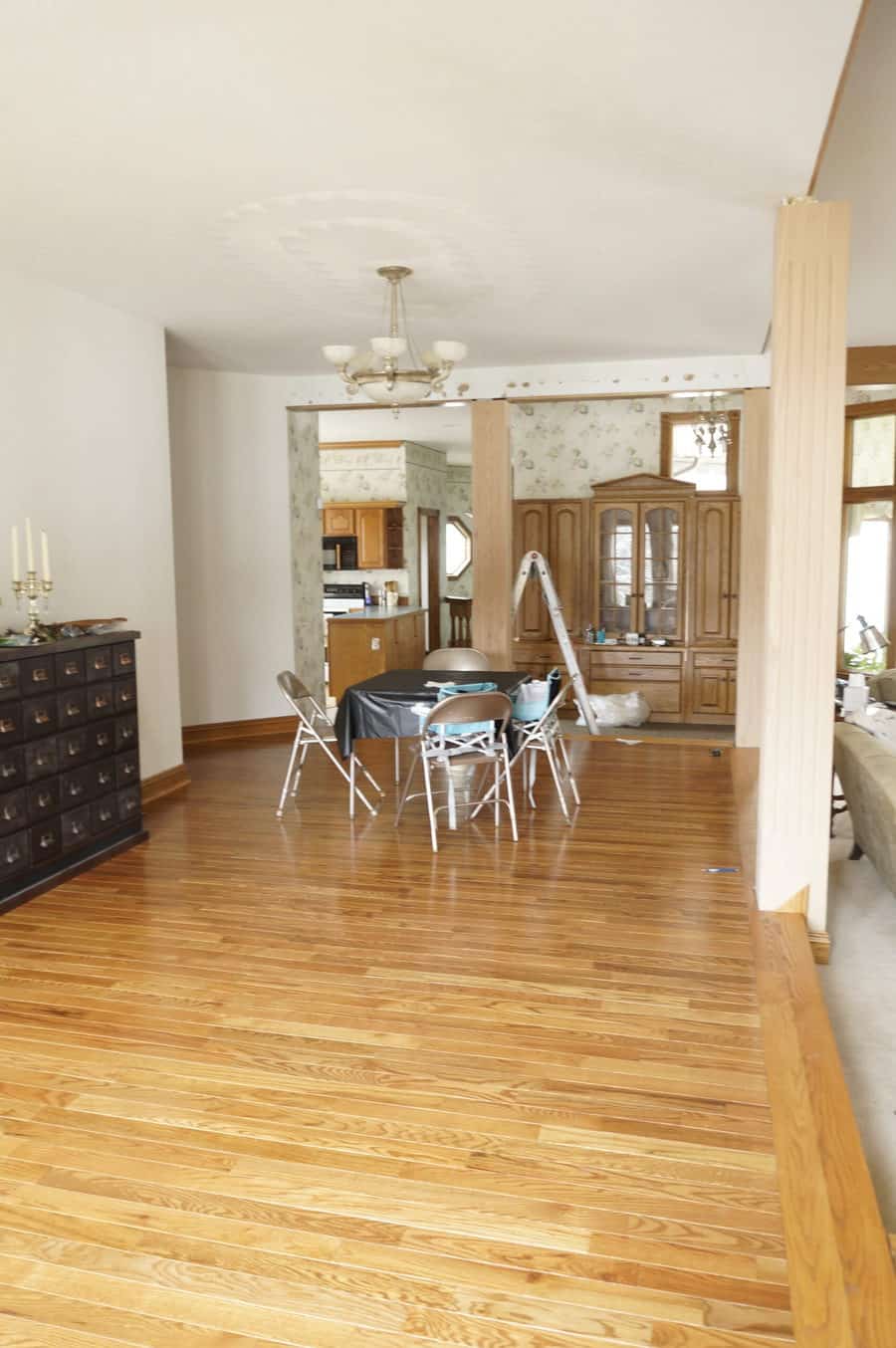 Although we started the removal of the walls in October, it took us 3 months to decide, order, and receive the columns. Mr. DD assembled the columns, fixed the floor, and worked on the crown and base molding and our dining room has looked like this since January.
Decorating List
Window Treatments
Front Window Seating Area
Area Rug
Painting for Art Ledge
Simplistic Table Setting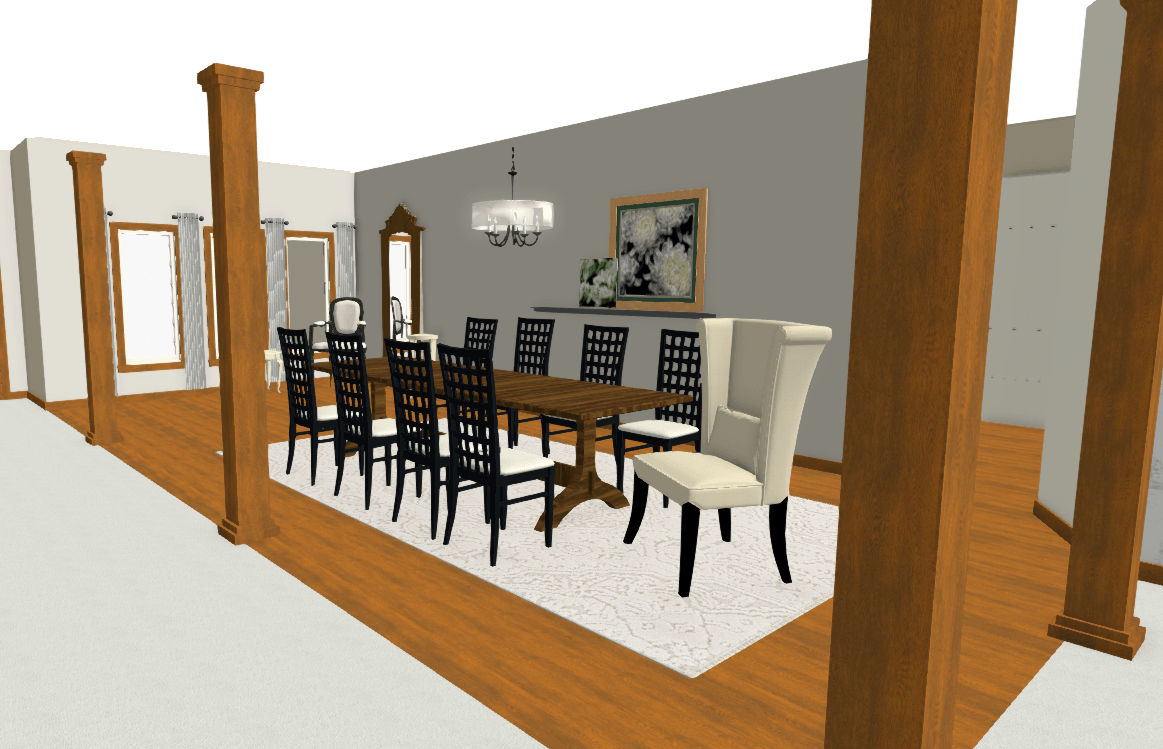 I am learning how to create room design plans in a software program. I am hopeful this will give me and my readers a better idea on how things will work in a space and give great new design layout plans. This is something I have been wanting to learn how to do in order to grow and help others.
Source List
Dining Room Design Plan source list for the inspiration pieces.
This post contains affiliate links. Click here to see my full disclosure policy.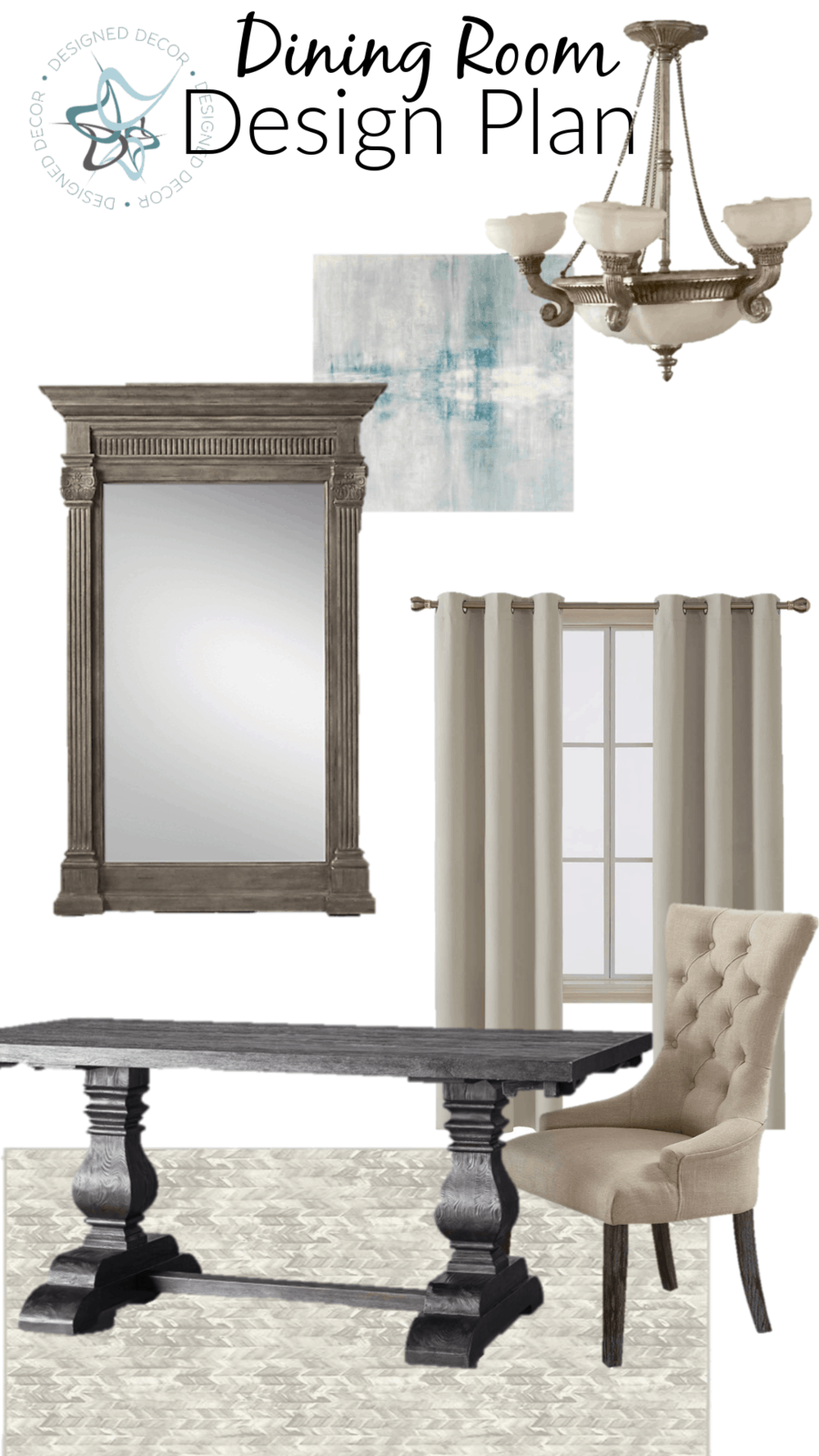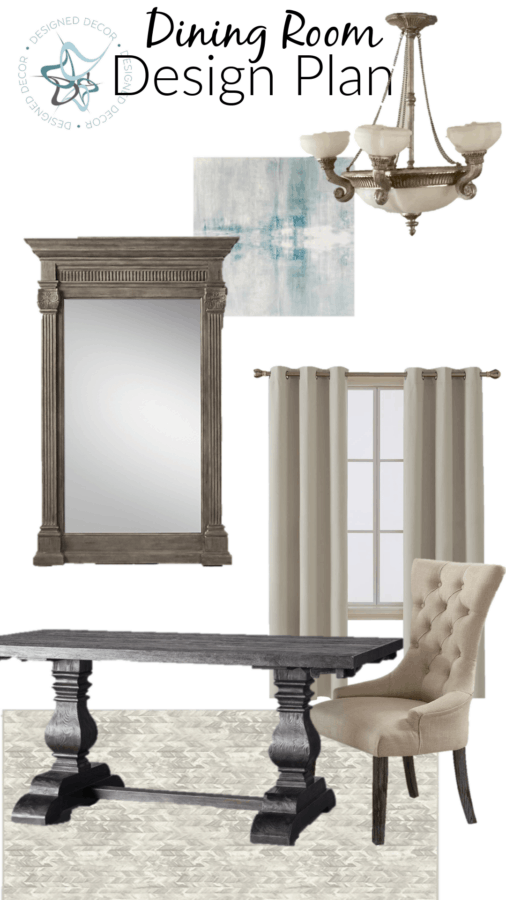 Other Room Makeovers
Affordable Room Makeover- Den Reveal(Opens in a new browser tab)
Modern Transitional Living Room Design-Touches of Vintage for the Airbnb(Opens in a new browser tab)
What is your favorite room makeover that you have completed?

---





Join the DD Community!
Join the Designed Decor Community and receive weekly free tips on DIY home projects, painted furniture, decorating, and much more.