I am so proud to be sharing this beautiful leaning floor mirror that Mr. DD built for me. I LOVE this mirror and Mr. DD outdid himself on this repurposed project.
This is an 8 foot mirror. Pictures can be a little deceiving and this beauty is huge and fills the space perfetly, right down to the matching peaks.
I LOVE when a good plan turns into a GREAT project!"
This post contains affiliate links. Click here to see my full disclosure policy.
Design Plan
I wanted to fill this large open wall, using a classic design style and no clutter. So I began to look at a large floor mirror to fill the open space.
I loved the design style and not the prices."
I decided to challenge Mr. DD to build me a leaning floor mirror with the wood pieces we had leftover from removing the oak wood panel wall. I also had some large mirrors that I purchased years ago from a garage sale.
This is how all my great projects come to life. I sketch out a design idea and give it to Mr. DD to build.
Build Process
This is not a "how to" project for a leaning mirror, as we used what we had on hand and can't give you the exact how to do it. Use this as "inspiration" on how you could build your own leaning mirror. Yes, you need to have some skills and tools to complete this project.
I am so proud that I let Mr. DD run with this project. I typically give him a project and then question and analyze everything he is doing. I stand over his shoulder and can't let him be in control. Does anyone else have control issues?
See that peak on these kitchen cabinets? Well, that is what we used for the peak for our leaning mirror. The cabinets I purchased from Facebook Marketplace to use in our kitchen as our bar area. We didn't need the peak for the cabinets and I wanted a peak on my leaning floor mirror.
Repurposing at its best"
Glamour Shots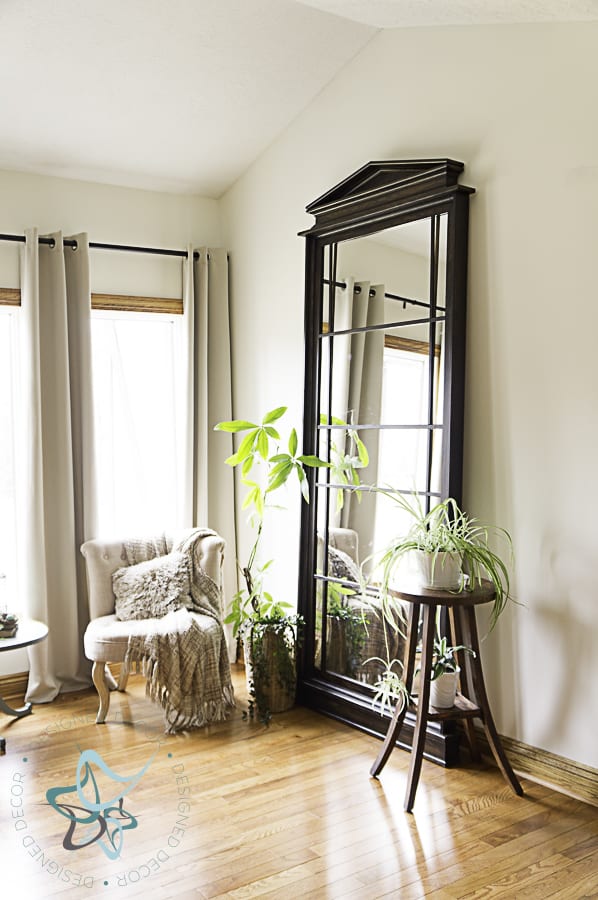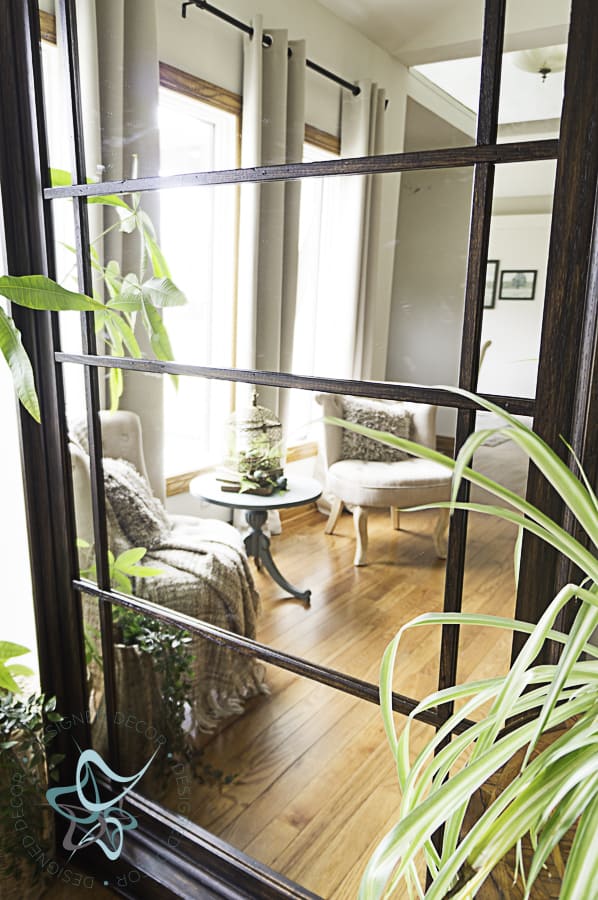 I added the wood furring strips for function and design. Can you see where the 2 mirrors meet?
Stain Process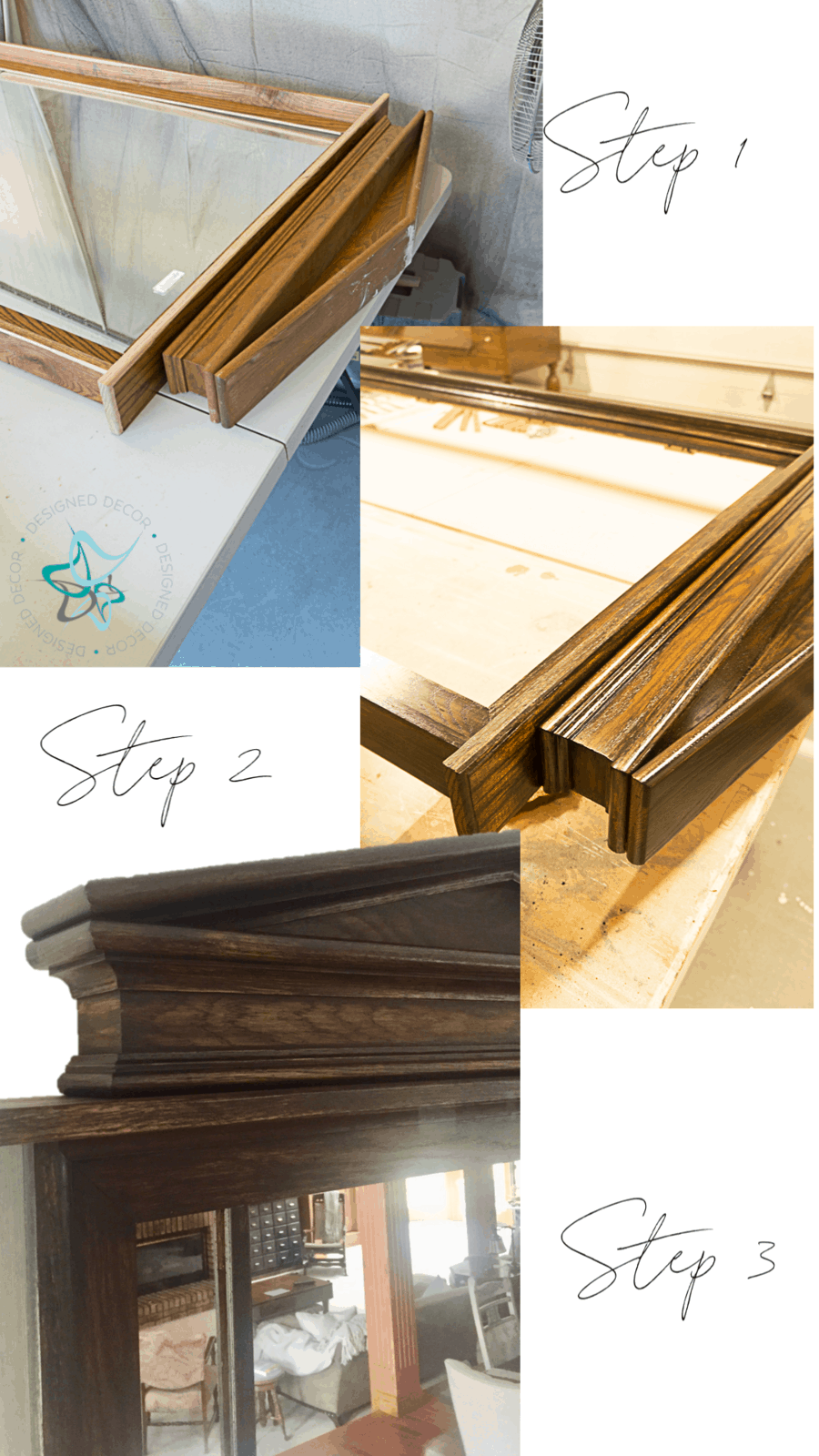 Step 1 – Apply Provincial stain on raw oak pieces.(matching original stain color)
*Step 2 – Apply Java Gel over entire frame.
*Step 3 – Apply Black gel stain over entire frame.
Step 4 – Seal with wipe-on poly.
*Visit my other staining tutorials, If you want more details on how to darken wood without sanding or stripping.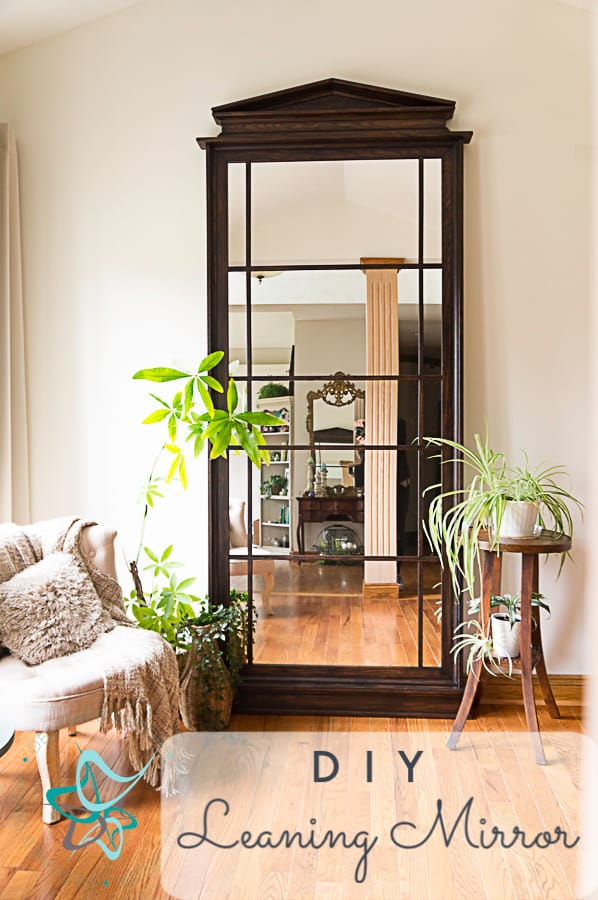 Join the DD Community!
Join the Designed Decor Community and receive weekly free tips on DIY home projects, painted furniture, decorating, and much more.