You all know that I am a huge fan of decorating on a budget. So I rounded up the best of the best and got their tips for Decorating on a Budget. These lovely ladies are my decorating influencers, I love their style, their homes, and their blogs. So sit back a read about each one of them and their tips for decorating on a budget.
Tip #1 – Find Pieces you Love
"My #1 tip for decorating on a budget is to look for decor pieces in a shape you love – you can always paint or refinish them in your color scheme with a little paint or fabric!" – Shannon AkA Design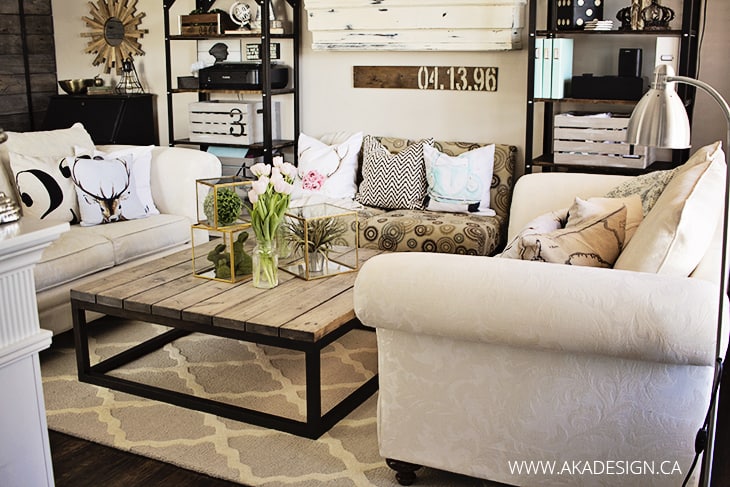 Shannon from A.K.A. Design – Shannon has an incredible knack for color and design.
This is a photo of her living room. I am in love with the neutrals and the contrast of wood and metal. If I could, I would take everything out of her living room and place it in mine! Shannon has shared this tip with us.
Tip #2 – DIY it
"Don't buy it, DIY it! There are so many high end (and high budget) items that we could make ourselves much easier than you would think! Budget in the items you can't make, then be adventurous and search through DIY blogs for tutorials to make some items yourself."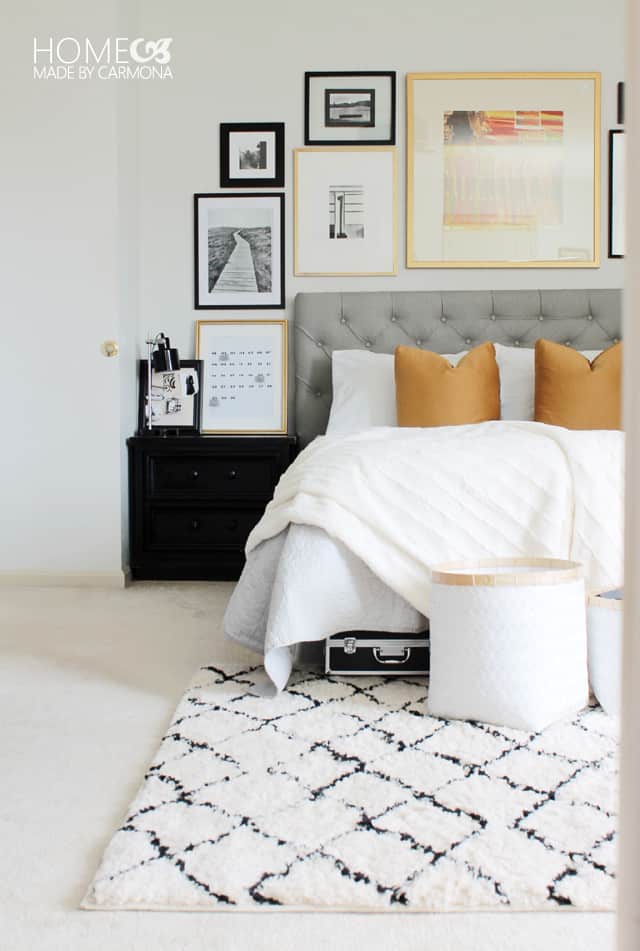 Ursula from Home Made by Carmona. Ursula is a fellow Ohio Blogger and personal friend. She has a fantastic way of making over her home on a real budget. See that fabulous headboard, she made it and it only cost her $44. Ursula shared this tip with us, ok a few tips, because it is hard to share just one when you thrift like she does.
"Paint paint paint! I love that you can take completely mismatched thrifted or hand-me-down pieces and make them look contemporary and cohesive with the power of a little paint."
"Thrift shops are my best friend when keeping my decorating budget low! I have also discovered local online garage sales, estate sales, and salvage shops as a great place to find incredible quality items at a great price." – Ursula, Home Made by Carmona
---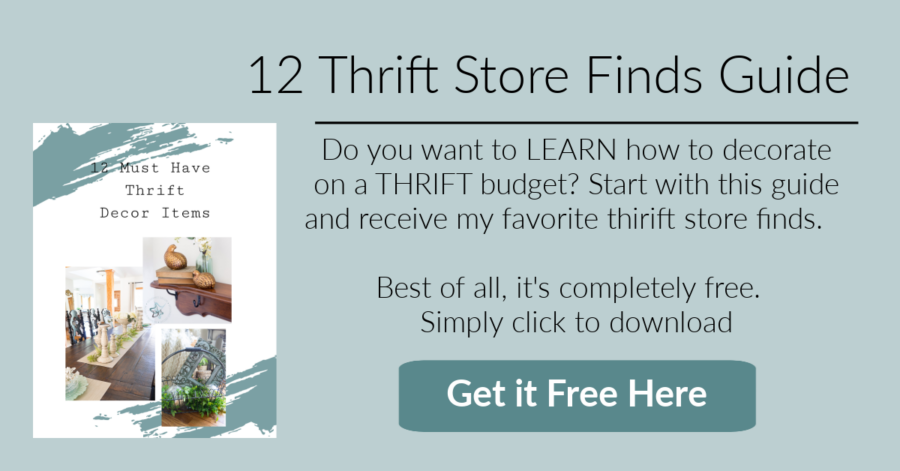 ---
Tip #3 – Make it Personal
" Make it personal! Don't be afraid to decorate your walls with kids drawings, sticks, and leaves, clipboards, printables, etc. If you can't afford or don't want to hang high-end art try and find old canvases at second-hand stores and repaint it yourself. Abstract is in, a few simple brushstrokes and you might discover your inner artist."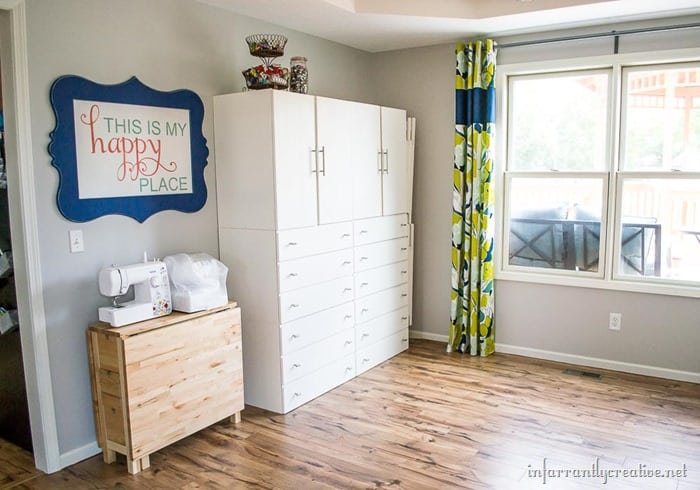 Beckie from Infarrantly Creative has the BEST craft studios ever. I have craft studio envy every time she makes one over. You see Beckie is also a fellow Ohio Blogger and she had to move away from her other craft studio. Beckie, I think its time for another gathering so we all can play in your craft room! Here are some bonus tips from Beckie-
"Spend money on things that are most important and you will spend the most time in like couches, mattresses, etc. Save big money on picking up second hand dressers, end tables, nightstands, tables, etc. With a little paint, stain or imagination you can make it yours!"
"One of the things that has saved me the most money is having an emergency DIY fund. I have money set aside to help me bail myself out of projects that I take on that are too big for me. Knowing that money is there for when I can't figure it out myself actually saves me money because it gives me the freedom to fail. So far I haven't touched that fund yet!" Beckie, Infarranty Creative
Tip #4 – Create an Inspiration Board
"Create a room inspiration board with items you love and want to incorporate into a space. Then take that inspiration to the stores you love and shop the clearance aisles. Shop Goodwill, thrift stores, and flea markets. If you have the inspiration board with you, to guide you in your purchasing decisions, this will keep you on track and save you money." Michelle, Dandelion Patina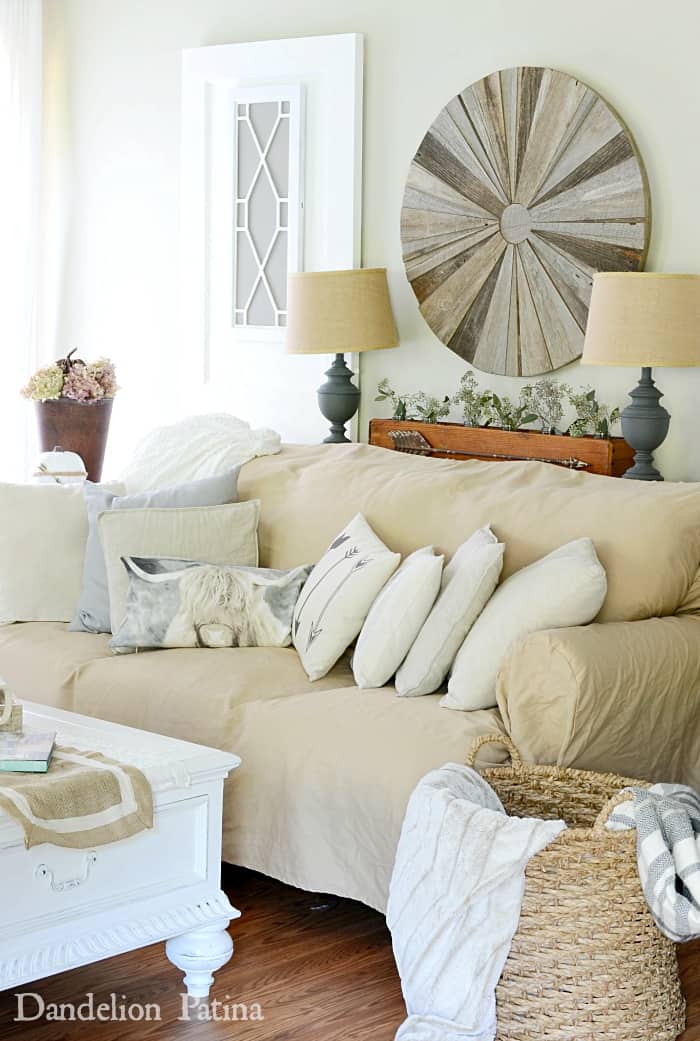 Michelle from Dandelion Patina has an incredible talent in making new items blend with the old and making it all look trendy. I love her living room space, it is so warm and inviting. Her space makes you want to sit and read a good book and pass the day away. Michelle shares these bonus tips with us.
"I would have to say shop your home! I can't tell you how many times I have found something I like in a magazine and couldn't afford it. But, if I looked around in my basement or another room in my home, I could tweak the piece a bit and transform something outdated into a piece very similar to what was in the magazine."
"Bring some character into your space. Shop flea markets or antique stores and look for pieces that can add dimension to your walls. I hung a vintage printers tray on the wall and created a fun grouping in our kitchen. The tray decor can be changed out seasonally or as you desire. I also love using architectural salvage pieces on my walls or in a book shelf display."
Tip #5 – Learn to Paint
"My #1 tip for decorating on a budget is to learn to paint and buy a can of spray paint…ha! It may sound like a joke, but it's totally not. You can switch up your color palette, bring new life to an old or outdated piece, and completely change the look of something with one (or two) cans of inexpensive spray paint." April, House by Hoff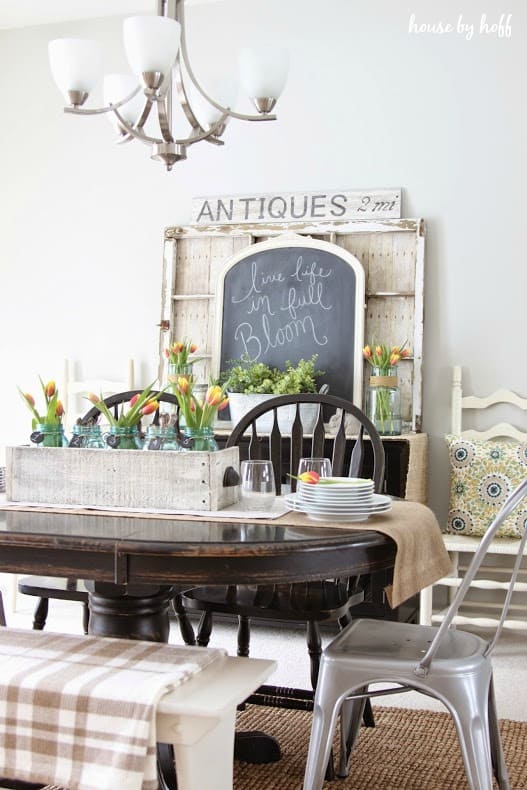 April from House by Hoff. April has a gift of layering a space and making it so inviting. Look at all the layering she has done in her eating area, all the details make a huge impact in this space.
Tip #6 – Shop your home
"My tip for decorating on a budget is to work with what you have. Start by combining different pieces from around your house that you haven't put together before. This can create a whole new look in itself. If the pieces you have are dated, try recycling them by giving them a coat of paint or other treatments. If you are ready to spend a little bit of money, head to a few thrift stores or browse the clearance sections at Target, TJ Maxx and Homegoods!" Taryn, Design, Dining, and Diapers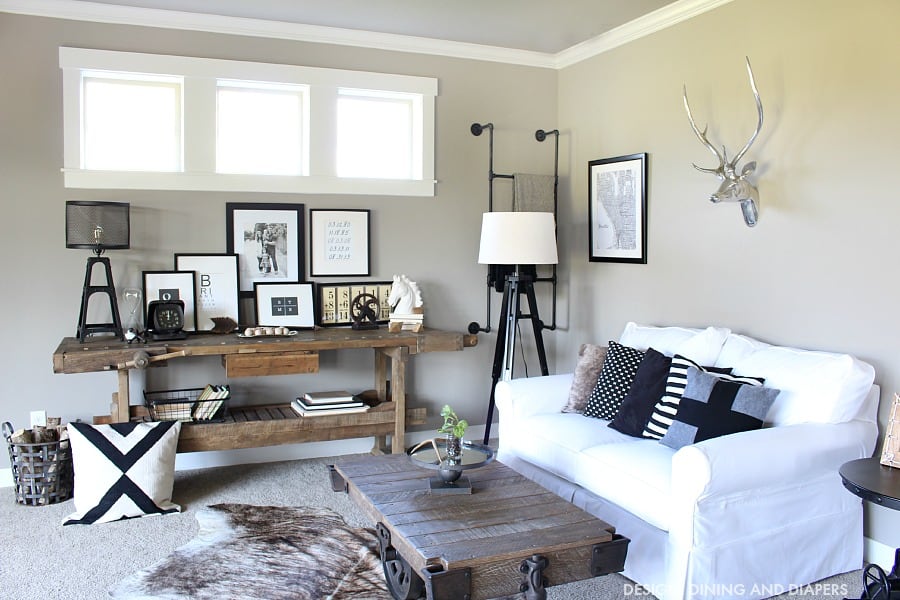 Taryn from Design, Dining and Diapers. I love how Taryn can take a modern space and add her personal style and make the room pull together. I love her mix of modern with some of the rustic and industrial pieces. Her style creates and welcoming space. Taryn shares this tip with us.
Tip #7 – Repurpose
"My #1 tip is remixing and repurposing what you already have. If you're wanting to tackle your family room, completely clear it out and pretend like you're just moving in. Start from the ground up, area rug, sofas/tables, artwork & accessories. Don't love your dated wood coffee table? Paint it for a fresh new look." Janna, Yellow Prairie Interiors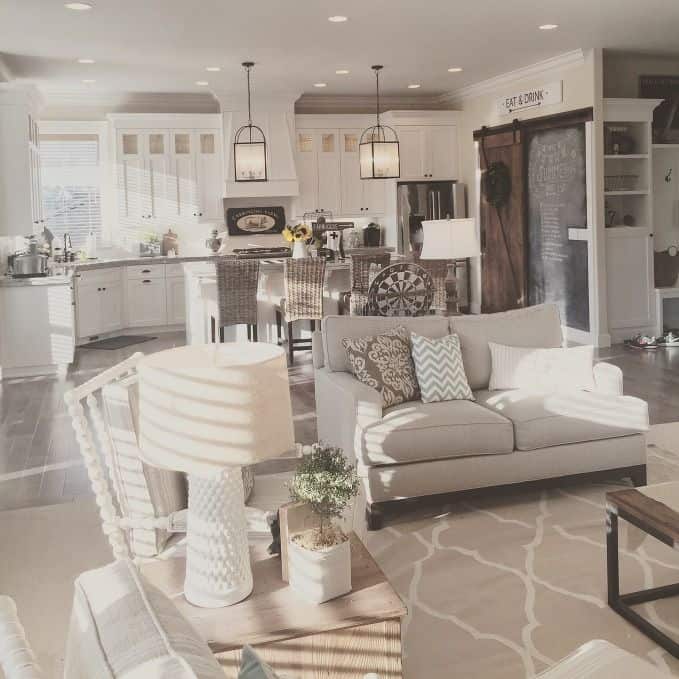 Janna from Yellow Prairie Interiors. I had a HARD time selecting which photo to share with you from Janna's incredible home. Janna is incredibly talented at making her entire house flow from one room to the next. She has transformed her newly constructed home into a beautiful and inviting Modern Farmhouse.
Tip #8 – Create Cohesion not Chaos
"Start by emptying the space you want to decorate. This gives you a clean slate to begin to create cohesion. To much stuff crammed in an area will create chaos for the space and not give your room a relaxed cohesive feeling. You want items the compliment each other and work together in one space." DeDe, Designed Decor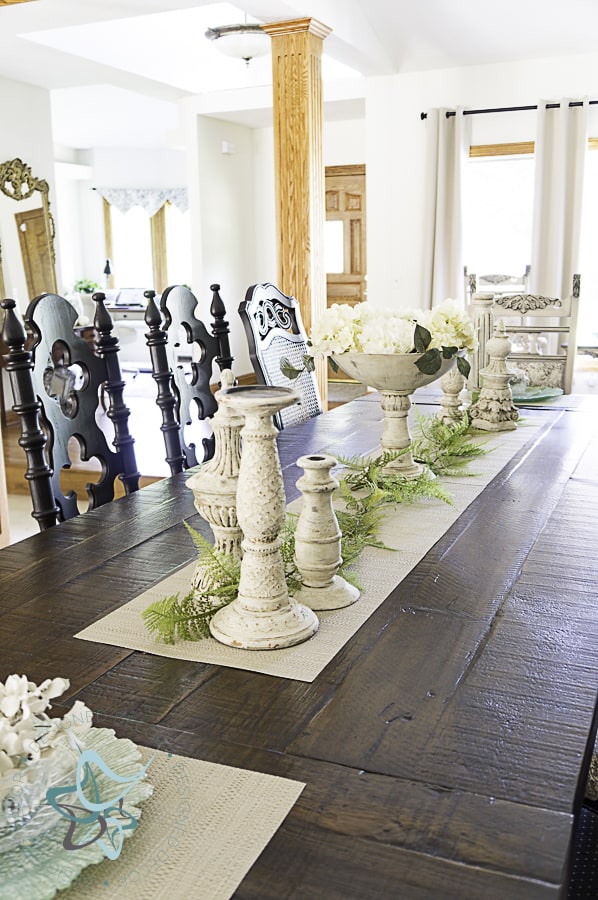 "When shopping at thrift stores and clearance racks at retailers look at items for shapes and sizes. Some items are worn and not to their full potential. Add a little paint and creativity and you have a beautiful inexpensive home decor item. Buy only the things that speak to you. Don't buy an item because it is a good bargain, buy it because you love it. And if you love it, you will make it work in your space. " DeDe, Designed Decor
I want to thank each of these incredibly talented women for sharing their budget decorating tips with us and I hope you will spend some time on theirs blogs like I have.
Also, check out these other decorating posts- How to Find your Decorating Style! and Fall Decorating on a budget.
Do you have a budget decorating tip that you would like to share with us? Please leave it in the comments and we all can benefit from each other's knowledge.






Join the DD Community!
Join the Designed Decor Community and receive weekly free tips on DIY home projects, painted furniture, decorating, and much more.