Do you struggle every year when decorating for Christmas because your space is just too small?  No matter how much you change things around you just are not in love with your Christmas decorating because the space is too cramped.  I understand your frustration when it comes to small space Christmas decorating.  It has taken me years to figure out the secret to Christmas decorating in a small space.
For years, I tried to use all my decorations and my space would just end up looking like a hot mess.  I had no rhyme or reason to my Christmas decorating, I just tried to fit it all out.  I would pack up my everyday decor in the empty Christmas boxes just to help fit the Christmas decorations out.     Are you guilty of this too?

Tip #1
Start with the biggest item, which is the Christmas Tree.  Find a corner and use a pencil tree or if space is really tight, use a tabletop tree.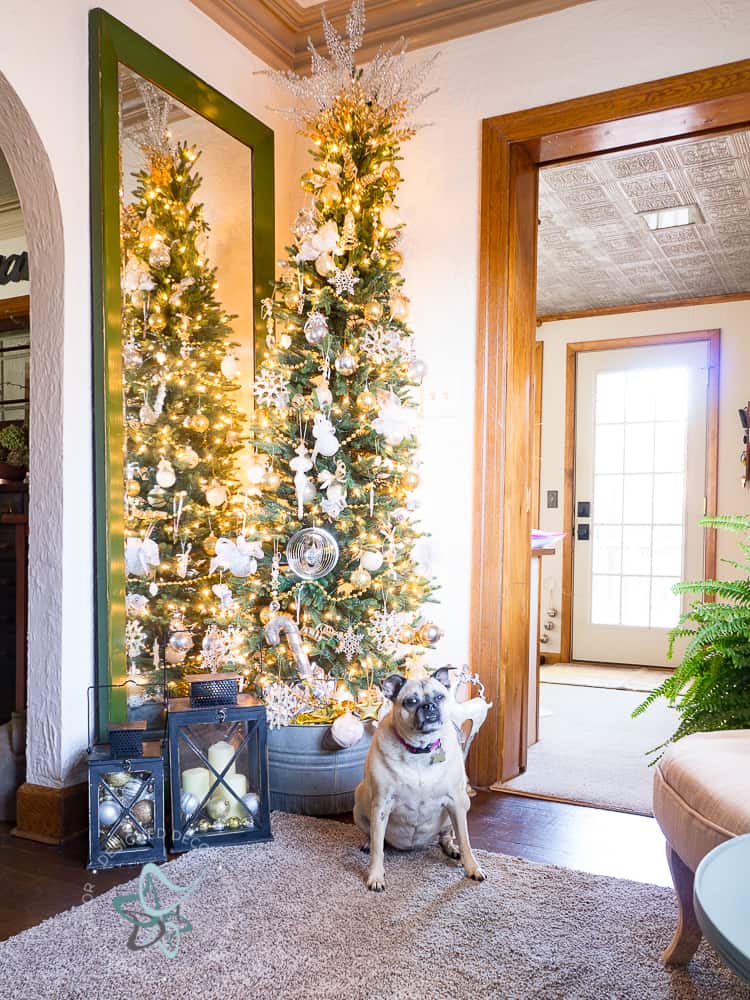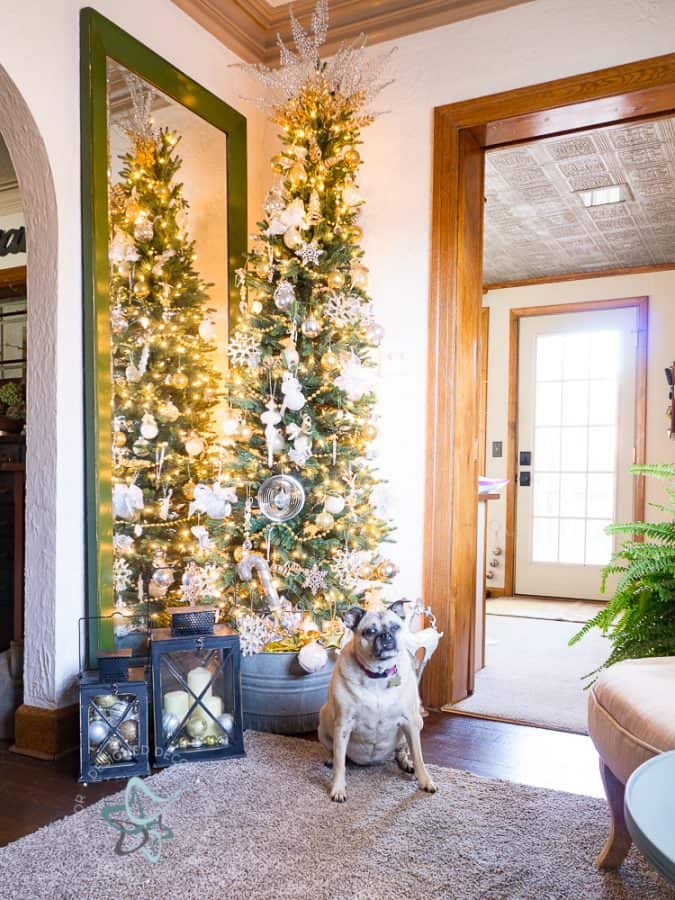 This year I used a Pencil Tree.  I had skinny trees before, and this one is the skinniest I have used it's not a scrawny skinny, it's lush and very pretty even without the decorations.
The other option you have for a Christmas tree in a small space is to place a short tree on an existing tabletop.  You don't even have to purchase a tabletop tree because today's trees are usually 3 pieces and you can use the top 2 pieces and place them in the tree holder.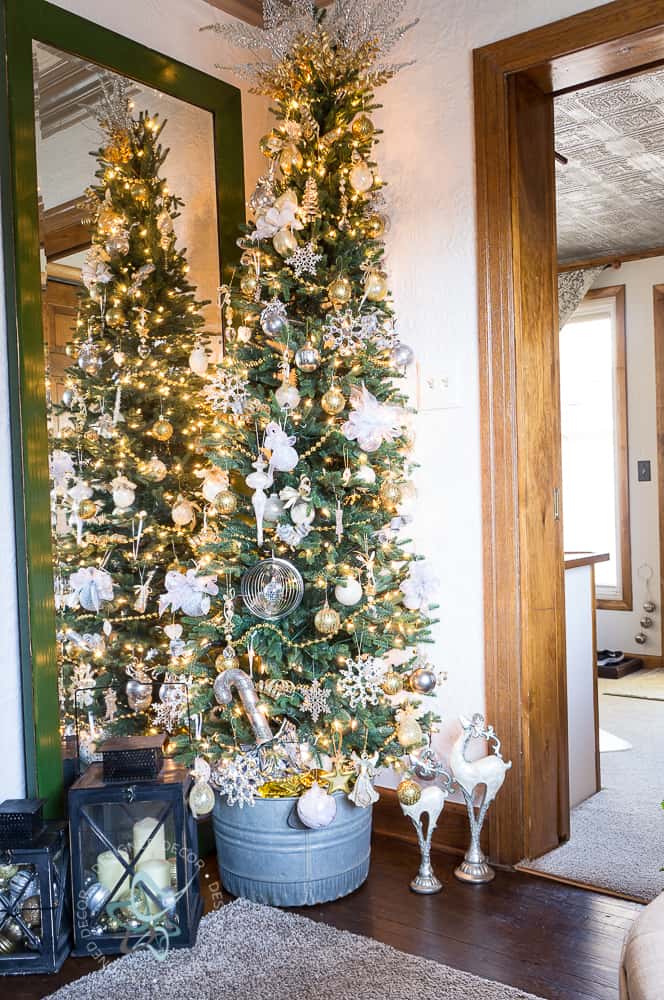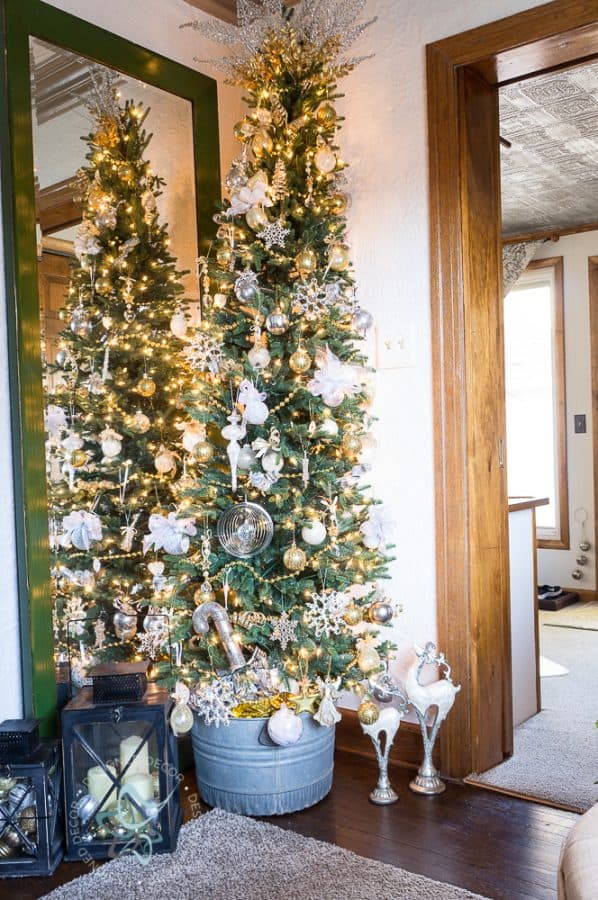 I chose the lighted version of this tree and love it.  It comes will all the cords needed to plug into the outlet and has a large foot pedal on-off switch.  Treetopia can make your small space decorating easier with its great assortment of small space trees.
Tip #2
Add garland to windows, doorways, tables, or the mantel.
Garland gives a festive feel and it does not take up any additional floor space.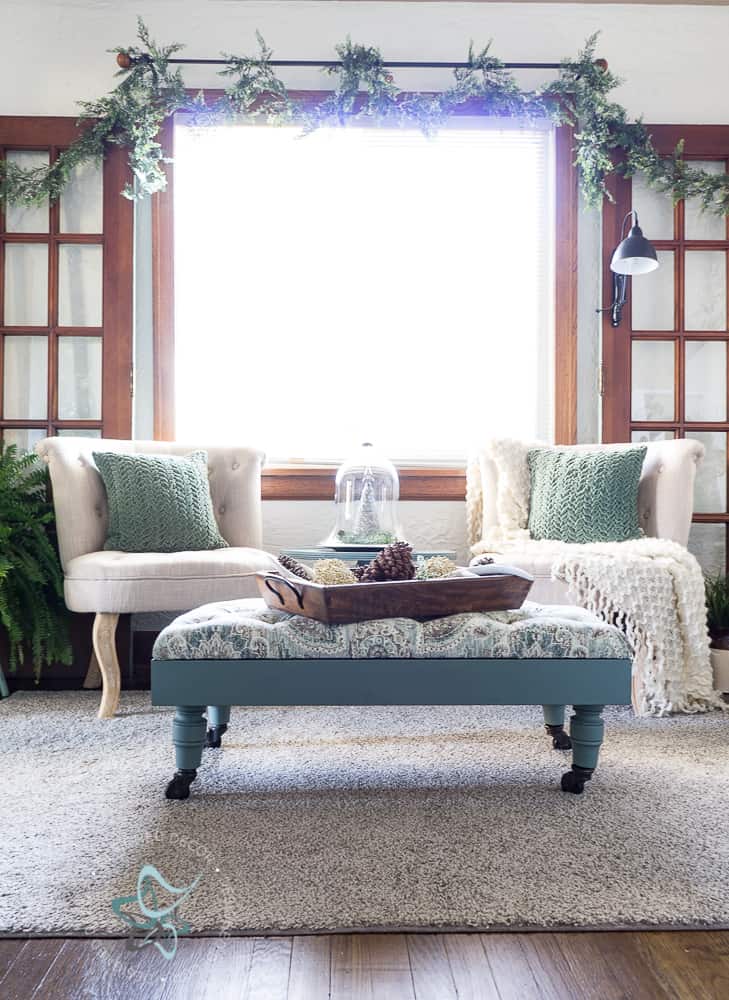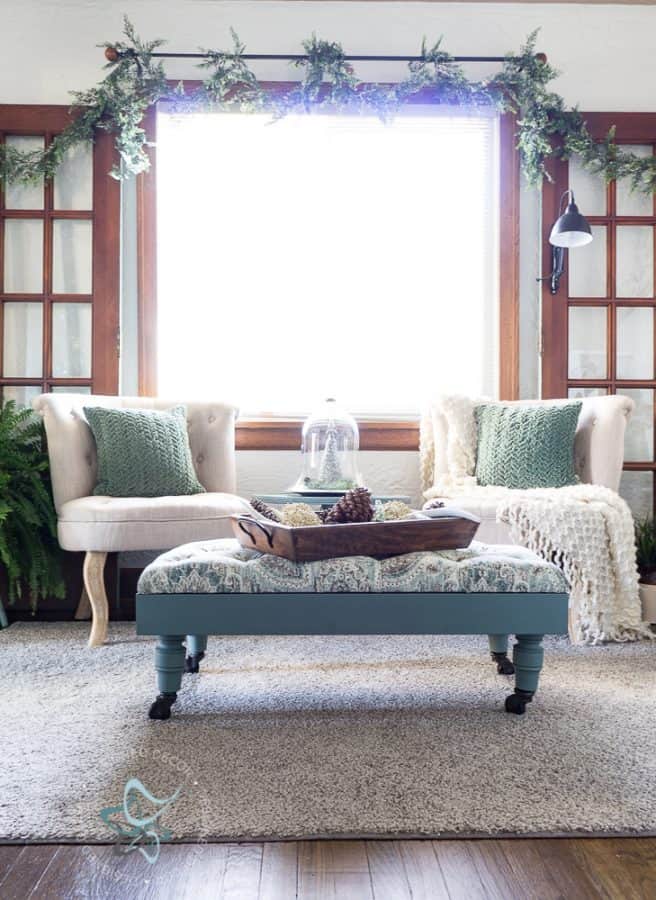 Simply adding garland to the window curtain rod and the 2 decorative doors gave the perfect addition of festive to this space.  While you are over-browsing the wonderful selections of small space trees, make sure you check out the great selection of garlands and wreaths.
Tip #3
Add lights to garlands, baskets, windows, and of course the Christmas tree.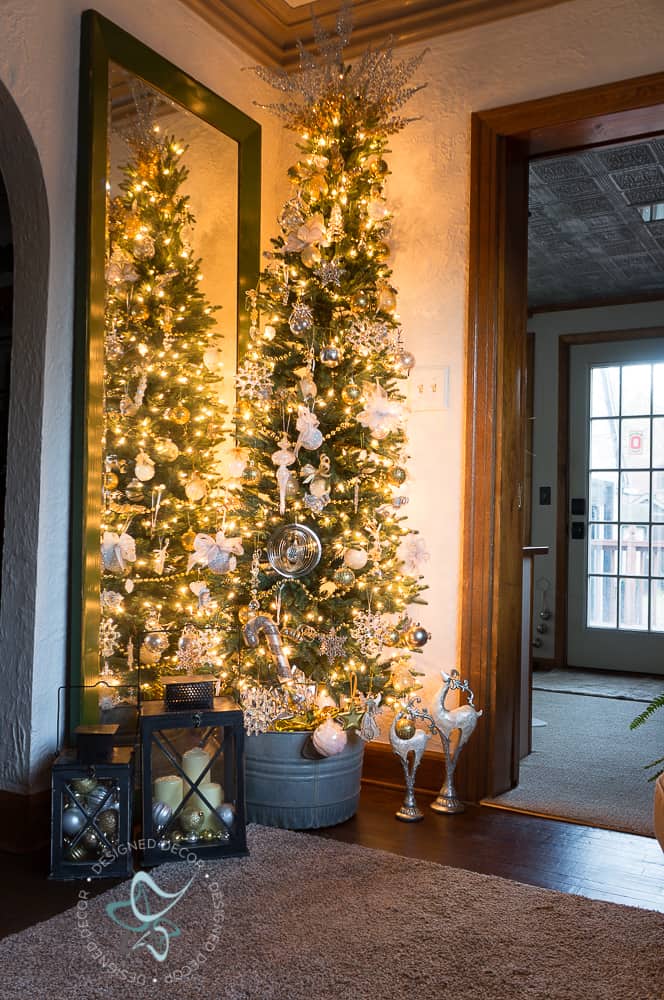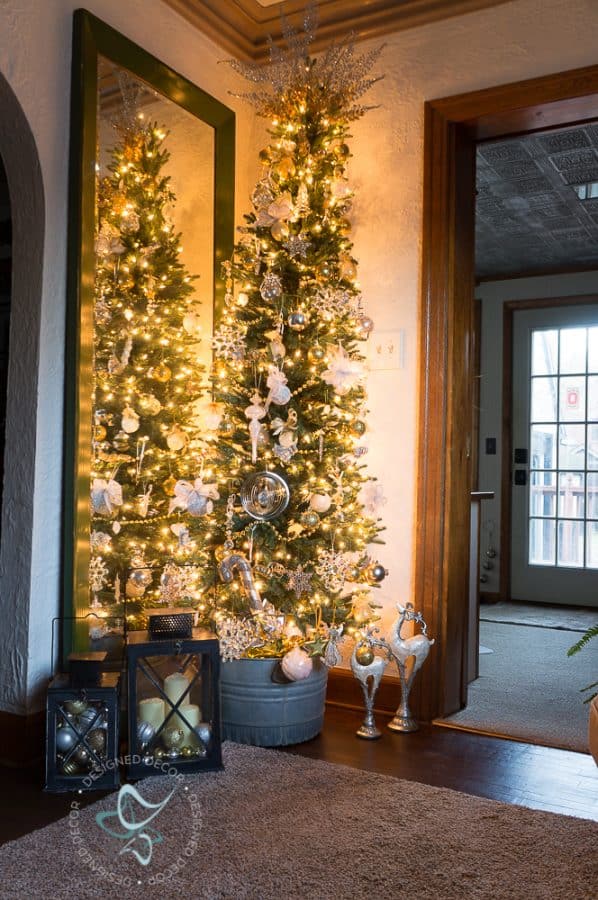 Adding lights to any space makes it feel cozy and festive.  I start by adding lights to the garland, then I continue by adding lights to baskets, lanterns, and the mantel.  I set my lights on timers to turn on and off automatically, this really helps in those hard-to-reach areas.
Tip #4 
Add small amounts of Christmas to your existing decor.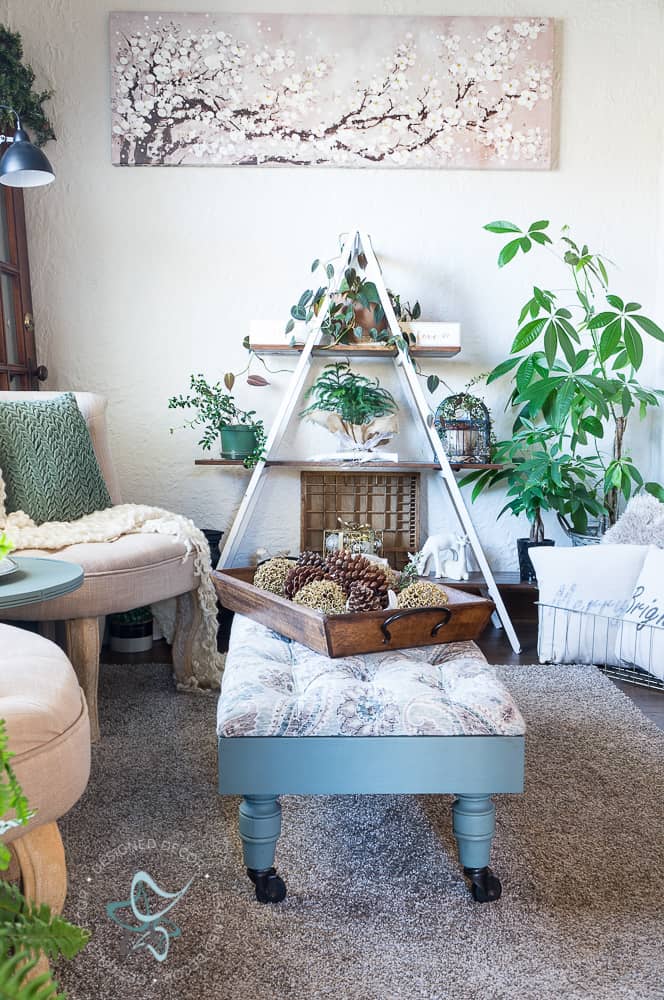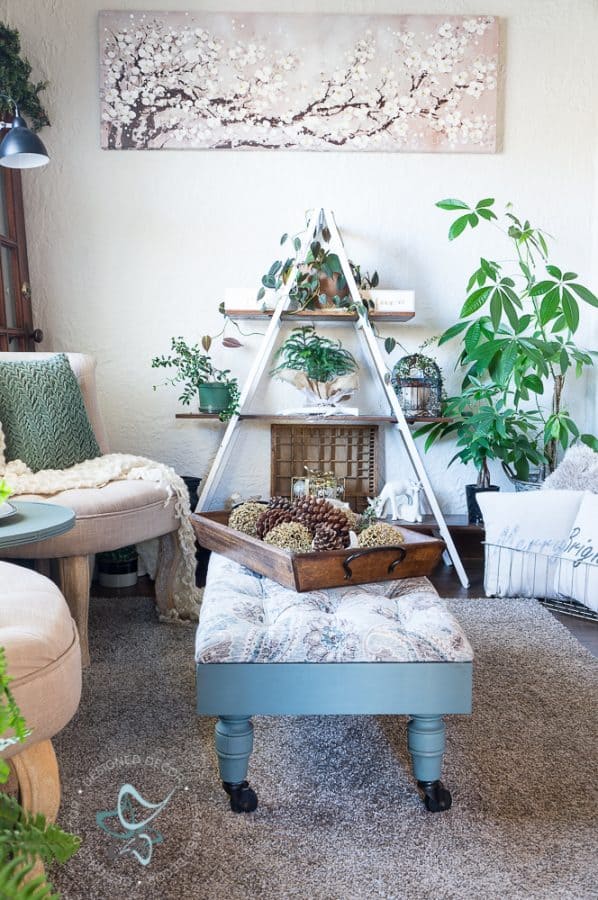 This is what I struggled with over the years.  I finally downsized my Christmas decor and kept my favorites.  I will add a few pieces of Christmas decor in each area of my home and no longer remove all the everyday decor.  I no longer have the philosophy of fitting it all out.  Some of it stays packed away and I rotate the Christmas decor the following year.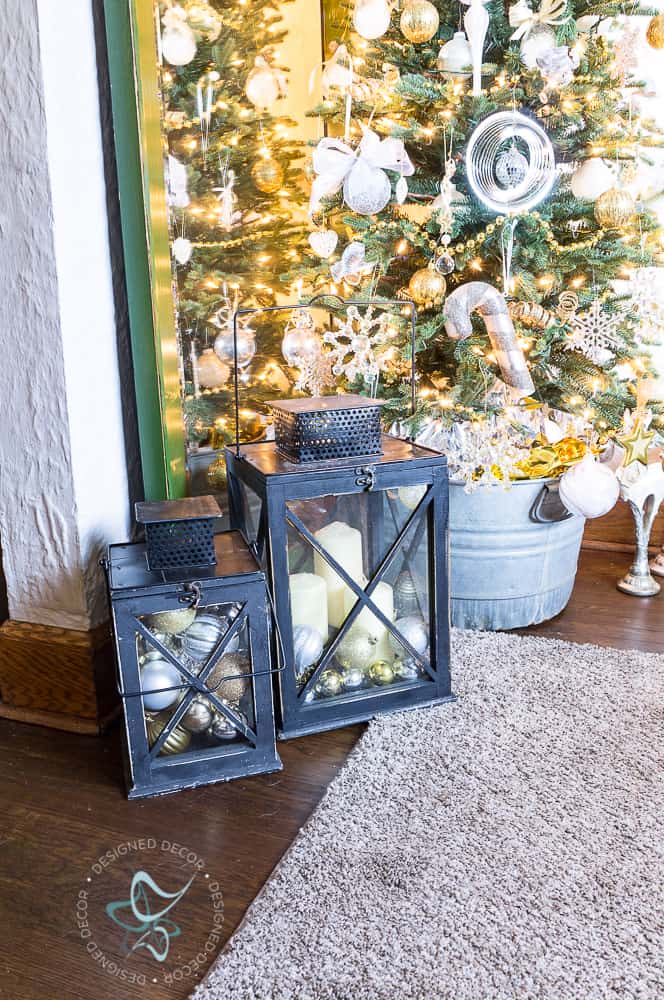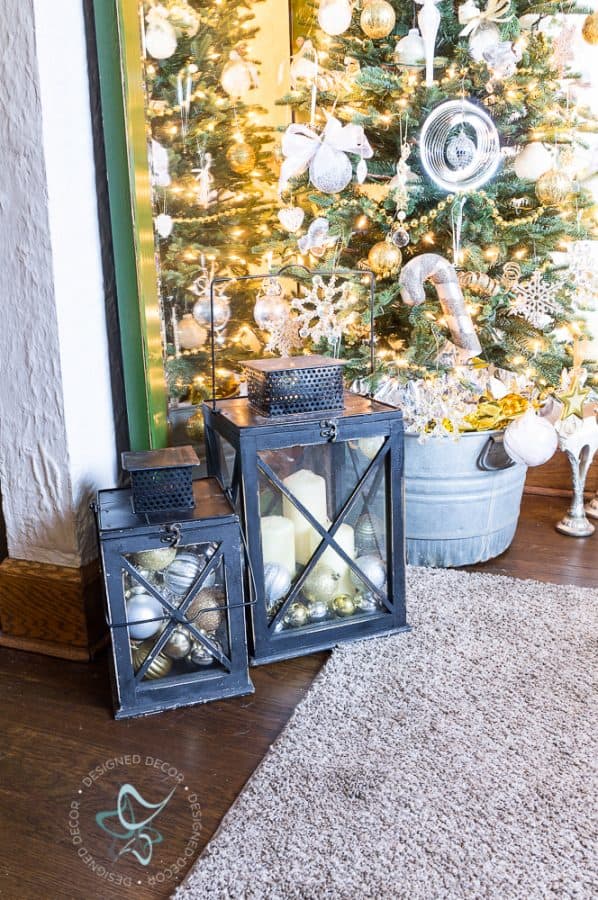 These lanterns I keep out year-round and fill them with different seasonal items.  This year, I filled them with candles and ornaments; you could also add string lights.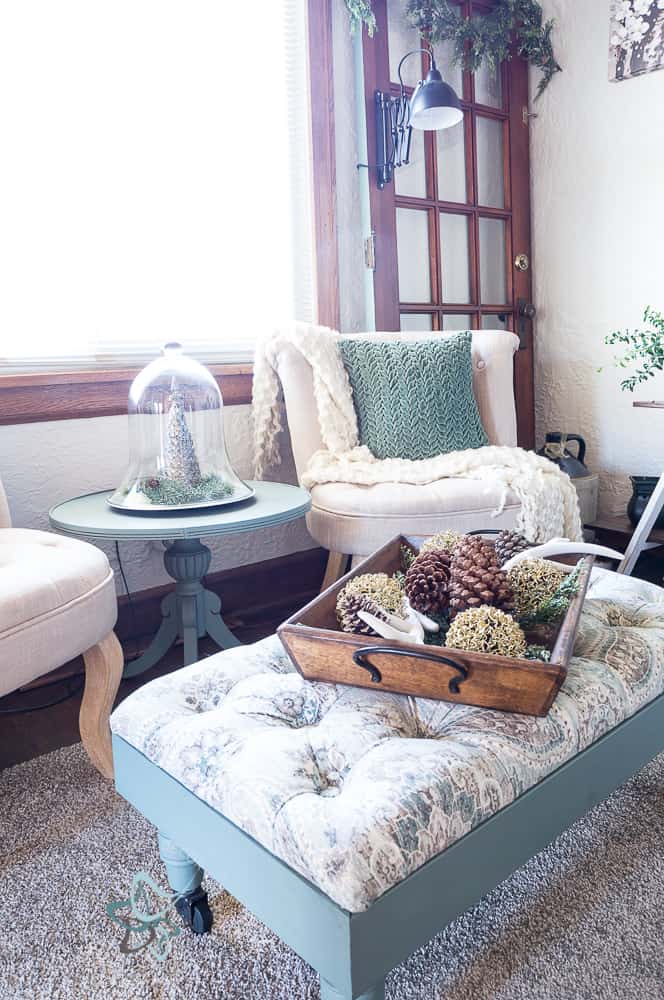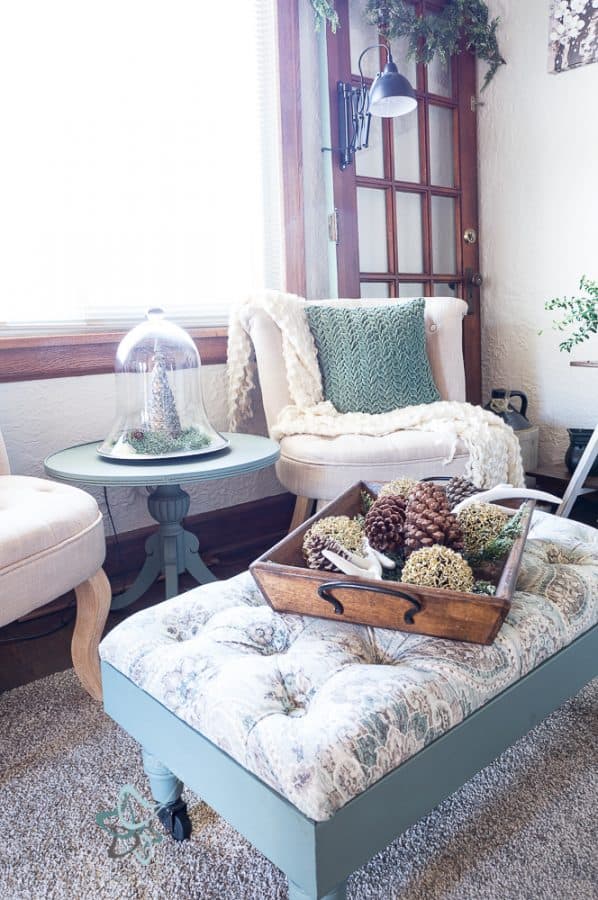 I replaced the items in the cloche with a simple metal Christmas tree and some greenery from the garland.  I switched out the fall tray items for greenery, pine cones, antlers, and some gold bulb ornaments for a simple and understated vignette.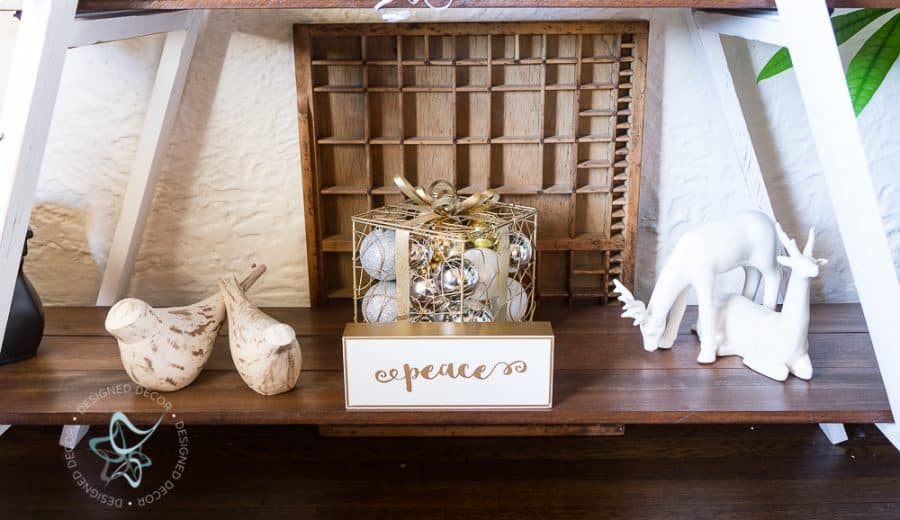 On my DIY A-Frame plant stand, I switched out my thankful sign for the 3 small peace, love, and faith signs and added the reindeer and gift basket of ornaments.  The only item I removed was the dead plant.  Seriously, I had a dead plant sitting on the shelf all summer long.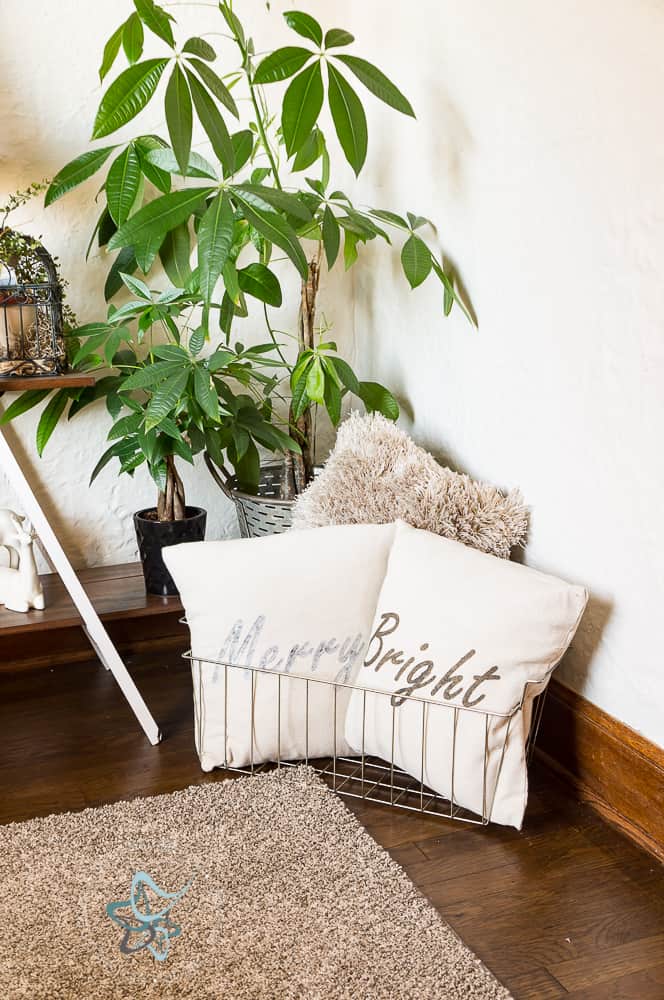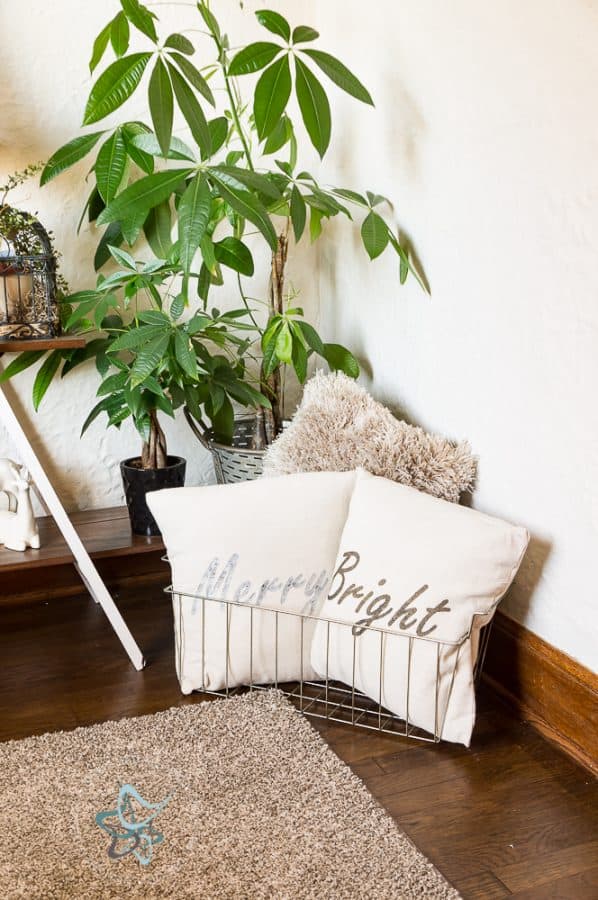 I took this basket of pillows from my living room and covered 2 of the pillows with my "Sew Easy" Christmas Pillow Covers.  This space is cozy, warm, and not over-decorated.
PIN ME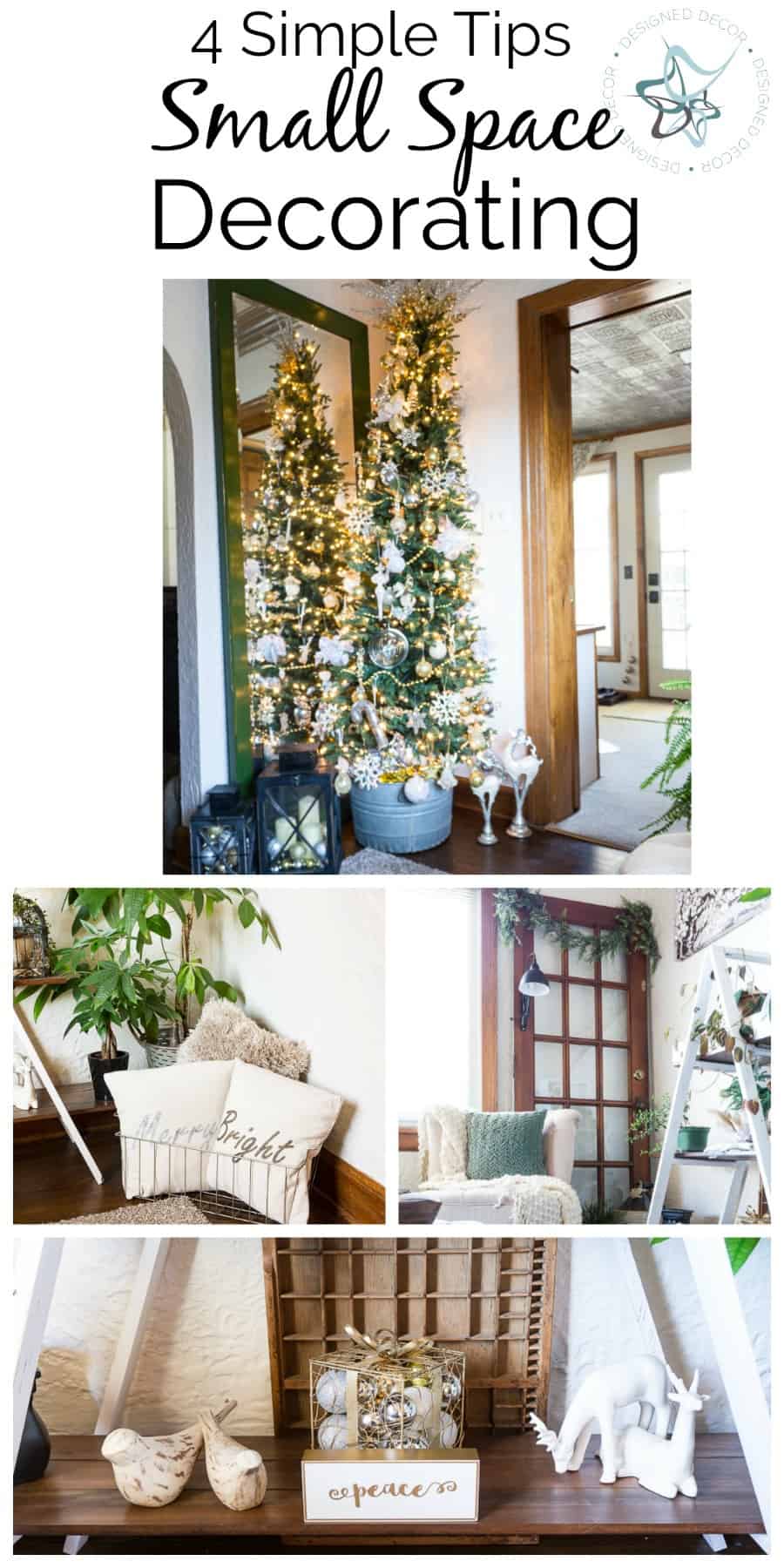 BONUS TIP
Have kids?  Decorate their rooms with all the novelty and juvenile decorations to keep your space from being overloaded with your decorations and theirs.
More Space Space Inspirations
Monday –
Designed Decor (you are here)
Tuesday
Wednesday
Are you ready to throw away those dead plants and start your Christmas decorating? What tips do you have to add to this list?  Leave me a comment so all can read your great tips!

Join the DD Community!
Join the Designed Decor Community and receive weekly free tips on DIY home projects, painted furniture, decorating, and much more.