It still amazes me to see what others throw away. Such as these little beauties!
Now, nobody in there right mind would throw these away would they! Well, maybe if they looked like this. This post contains some affiliate links. Click here for my full disclosure policy.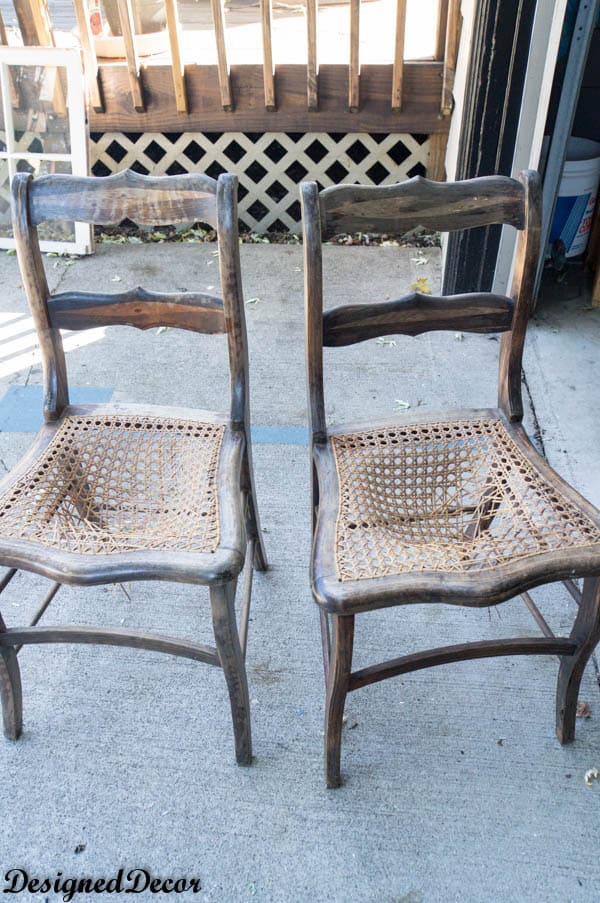 Again, I saw the potential that they could become. Using a little imagination, these can become some awesome repurposed wood chairs. I decided that these chairs needed to stay with the wood grain and not painted. Look at that beautiful wood. I also decided I would need to make a seat base instead of re-caning. That is one job I have no interest in learning.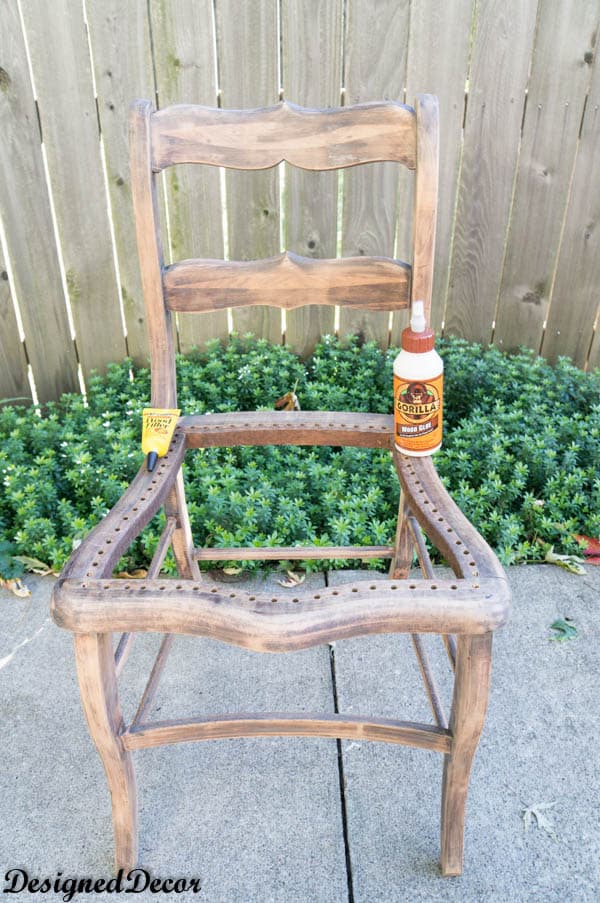 I needed to glue a few loose pieces together on the legs and touch up a few small areas with wood filler. I hand sanded each chair to remove any remaining poly that was still on the wood.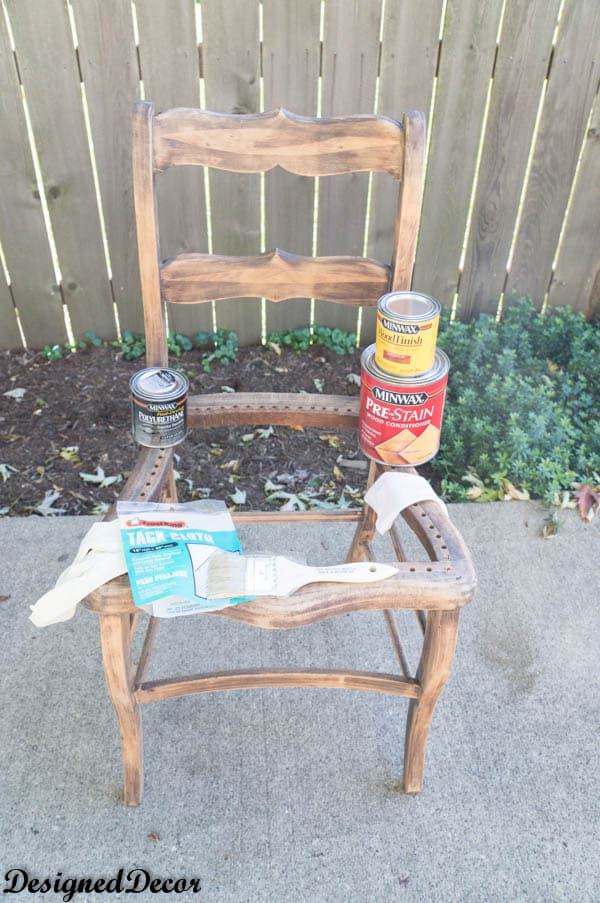 Supply List:
Gorilla Wood Glue

Minwax Stainable Wood Filler

Tack Cloth

Sand Paper
Minwax Pre Stain Wood Conditioner

Minwax Wood Stain, Dark Walnut

Minwax Fast Drying Polyurethane

2″ Chip Brush

Plywood
Jigsaw
Foam
Fabric
Now the fun begins! Here are the steps involved in re-staining these repurposed wood chairs.
~Remove all dust with a tack cloth ~ Treat wood with a Pre-wood Conditioner

~allow wood conditioner to dry for 1 hour (make sure to stain within 4 hours of apply wood conditioner) ~ Apply stain with lint free cloth(apply in thin coats and wipe off any excess stain) ~Leave stain alone until dried completely ~ Lightly sand with 220 grit~ Repeat tack cloth and stain steps~ Seal with a Polyacrylic(may need to apply 2 or 3 coats, wet sanding between applications) I like to use chip brushes to apply my oil based products so I can throw them away when finished. I don't like to use harsh chemicals to clean brushes, so disposable ones are what work best for me. Now for the seats!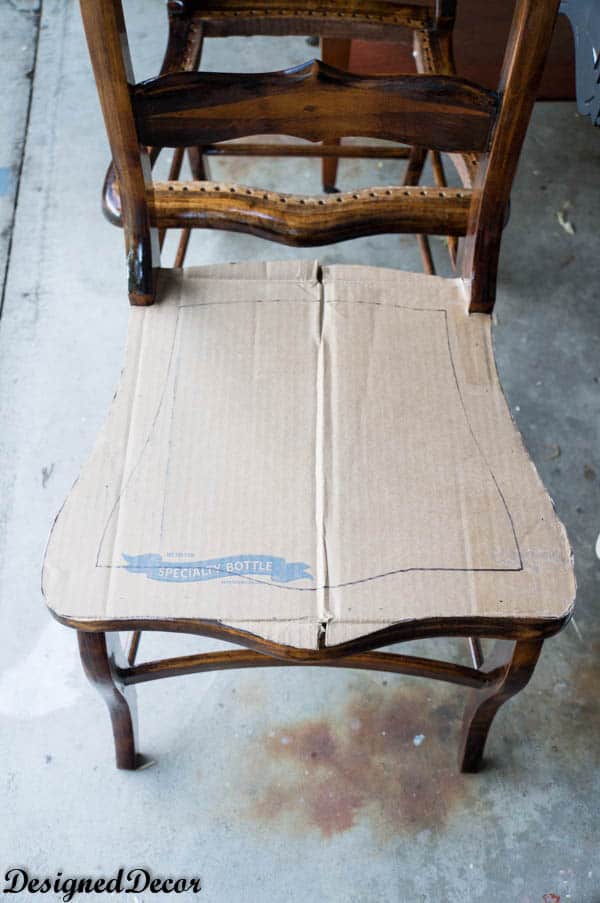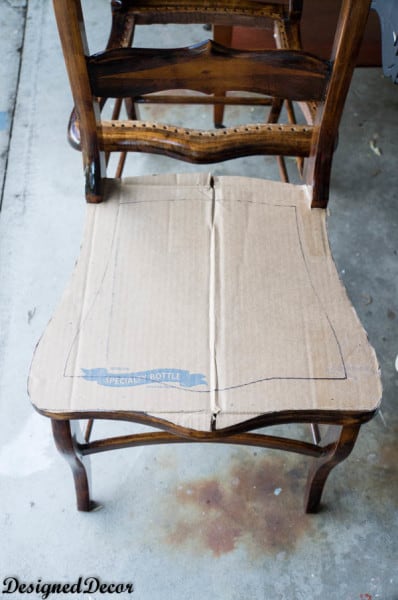 I started by tracing the outside and the inside of the seat to start a pattern that was the same as the chair. Mr. DD measured and hand drew a pattern that was about an inch from the outside edge.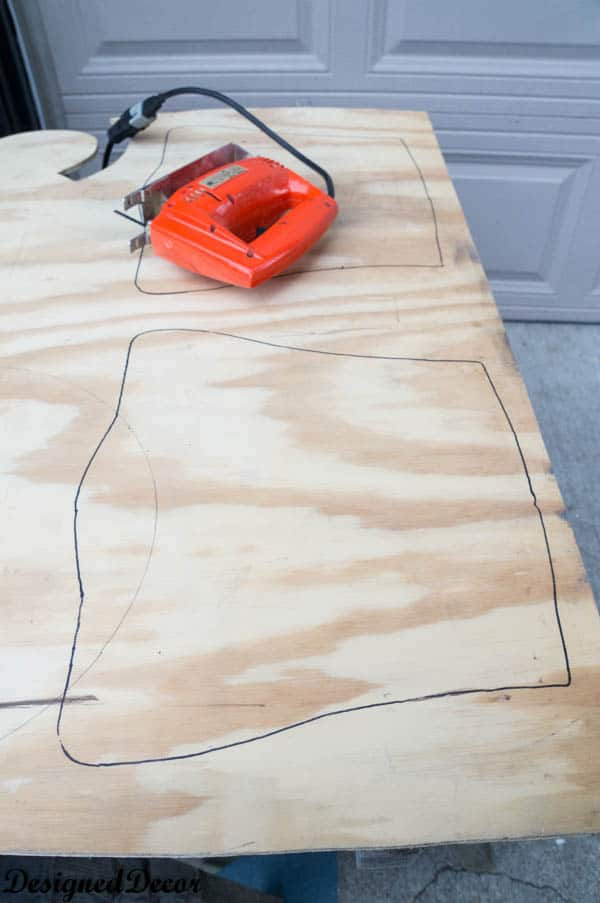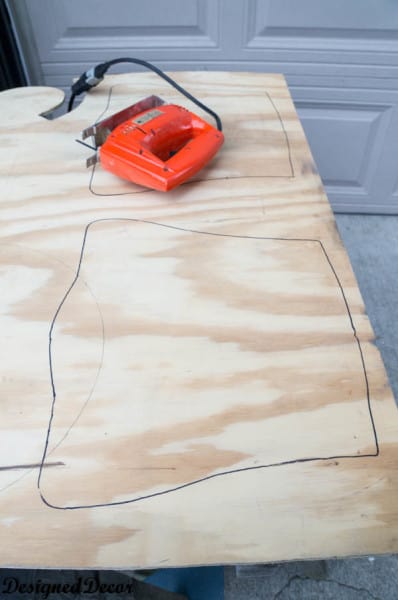 I cut out the pattern and traced in on to the plywood base. Used a jigsaw to cut each seat base out. I needed to slightly sand the edges to make sure I had a uniform pattern. I am in need of a new jigsaw, mine does not cut very well. Hint Hint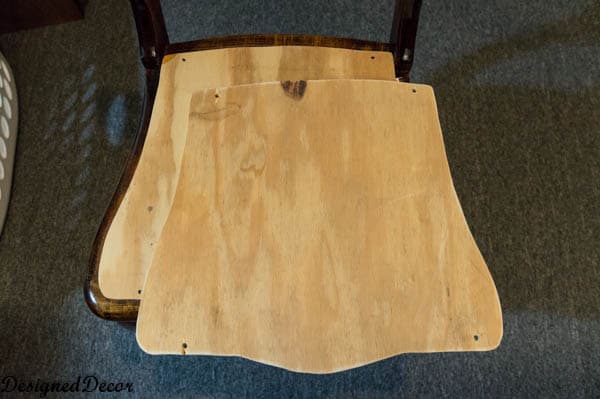 I drilled holes in to the seats so I can secure them to the base after they are covered in the pretty fabric.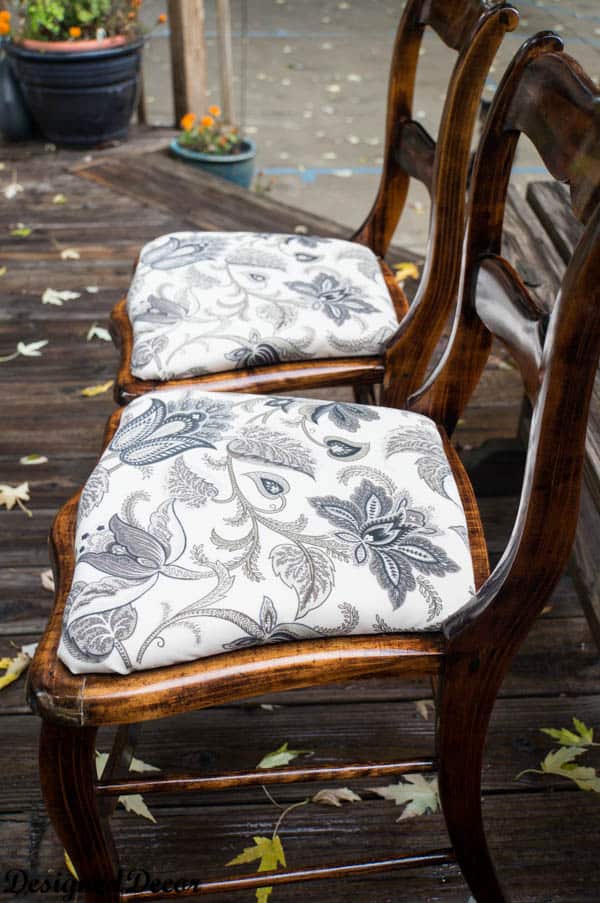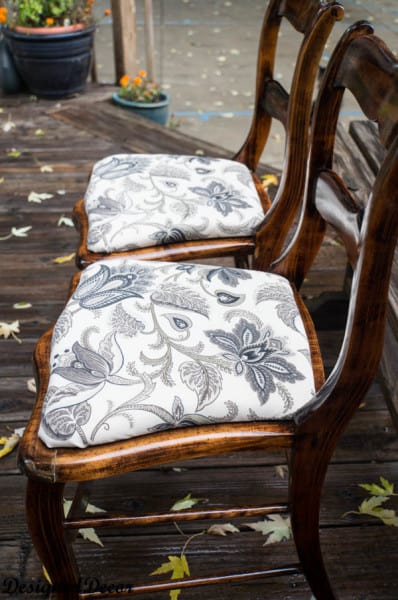 I love these repurposed wood chairs . Also, take a look at these kitchen chairs that were turned into outdoor plant holders.! Someone else did too, because they sold within 2 days of being in the shop.

Join the DD Community!
Join the Designed Decor Community and receive weekly free tips on DIY home projects, painted furniture, decorating, and much more.