This Baked French Toast recipe is a perfect dish to serve on Christmas Morning or any morning that you will be serving a large crowd.
The best part is that you make it ahead of time so you are not in the kitchen missing the Holiday fun with the family.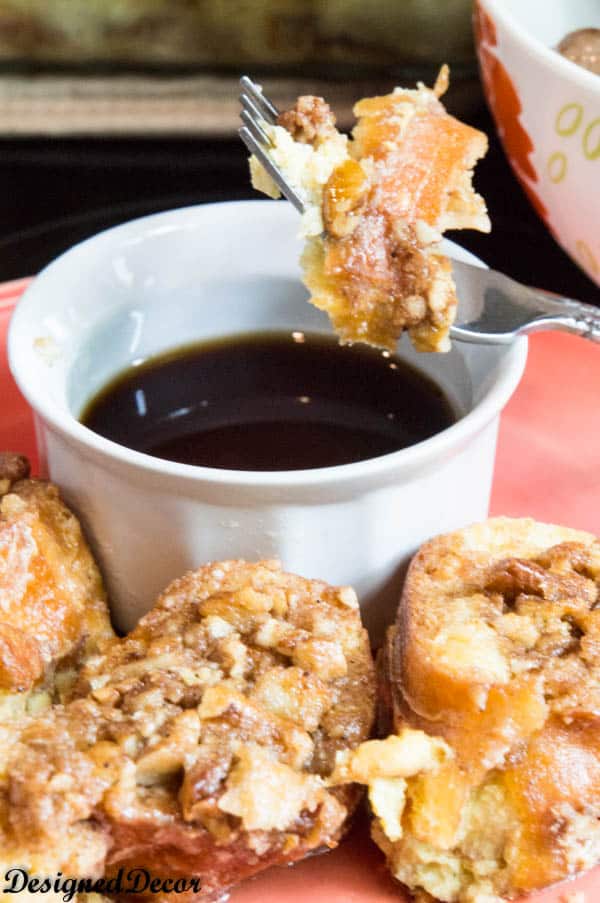 My boys have already put in the request to make this for Christmas morning. I usually make an egg casserole for Christmas morning, but I guess I will be changing it up this year.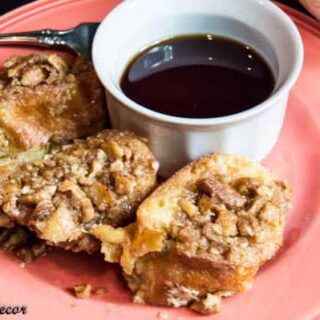 Baked French Toast!
Additional Time:
20 minutes
Total Time:
1 hour
20 minutes
Ingredients
1 loaf French bread (13 to 16 ounces)
8 large eggs
2 cups half-and-half
1 cup milk
2 tablespoons granulated sugar
1 teaspoon vanilla extract
1/4 teaspoon ground cinnamon
1/4 teaspoon ground nutmeg
Dash salt
1/2 pound (2 sticks) butter
1 cup packed light brown sugar
1 cup chopped pecans
2 tablespoons light corn syrup
1/2 teaspoon ground cinnamon
1/2 teaspoon ground nutmeg
Instructions
Slice French bread into 20 slices, 1-inch each.
Arrange slices in a 9 by 13-inch baking dish(spray with cooking spray), overlapping the slices.
In a large bowl, combine the eggs, half-and-half, milk, sugar, vanilla, cinnamon, nutmeg, and salt and beat with a rotary beater or whisk until blended.
Pour mixture over the bread slices, making sure all are covered evenly with the milk-egg mixture. Spoon some of the mixtures in between the slices.
Cover with foil and refrigerate overnight.
Prepare the Praline topping by combining all ingredients in a medium bowl and blend well.
Store in refrigerator.
The next day, preheat the oven to 350 degrees F.
Spread Praline Topping evenly over the bread and bake for 40 minutes until puffed and lightly golden.
Serve with maple syrup. (optional)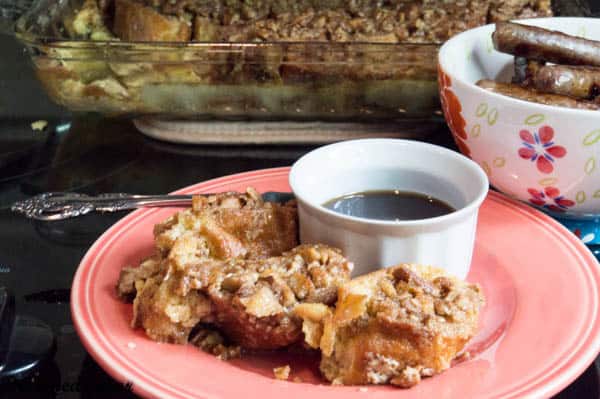 I cheated and bought the pre-cooked sausage so I only had to microwave them.  This is my way of spending time with my boys on Christmas morning instead of in the kitchen.  It is Christmas for me too!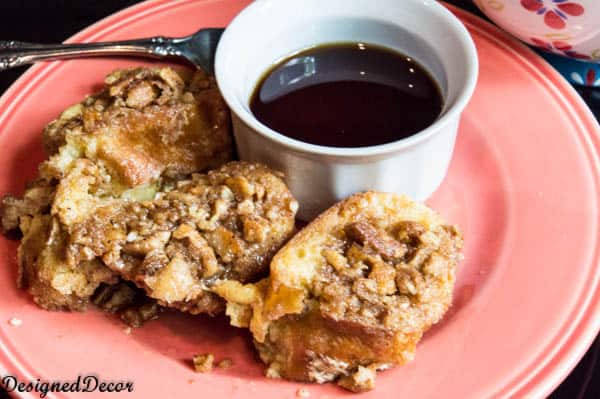 What about you, do you make breakfast on Christmas morning?

Join the DD Community!
Join the Designed Decor Community and receive weekly free tips on DIY home projects, painted furniture, decorating, and much more.