I love making a new recipe and serving it to my family and hearing the words, Oh… My… This is a really good pie.  This is what I heard on Easter as my family ate this Peanut Butter Chocolate Frozen Parfait Pie.  
Thankfully this recipe makes 2 pies.  The first one was gone right away.  My boys were happy that they had leftovers from the second pie.  
I made a few simple changes to this recipe, since I love peanut butter, I added it with a few other changes.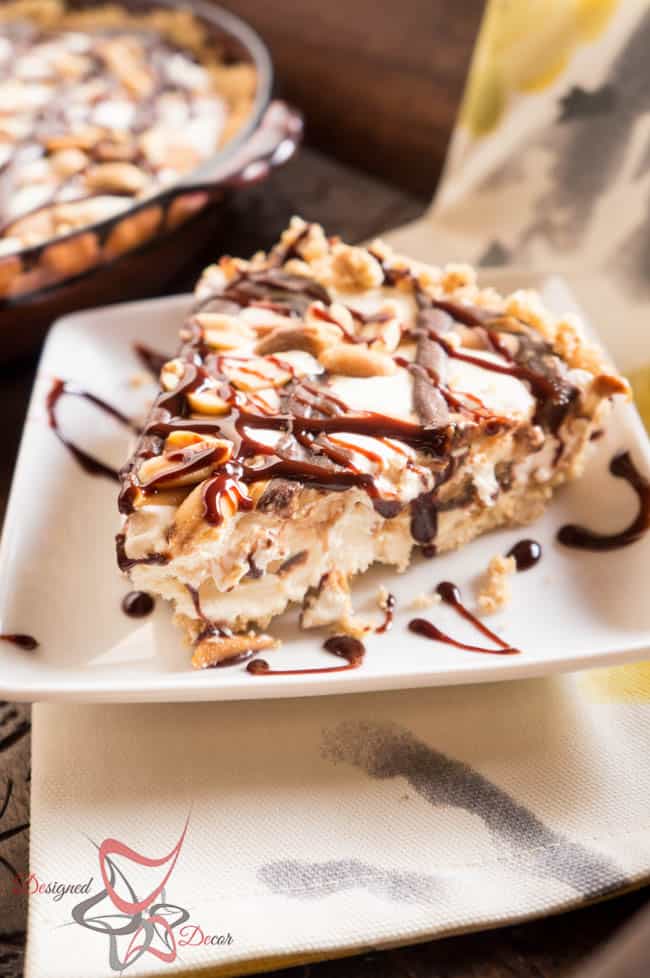 Peanut Butter Chocolate Frozen Pie
Additional Time:
10 minutes
Ingredients
1 8 ounces cream cheese, softened
1 can (14 ounces) sweetened condensed milk
1 (16 ounces) frozen whipped topping, thawed
1 jar hot fudge ice cream topping, warmed
1 cup peanut butter, warmed
2 cups dry roasted peanuts
Crust
3 cups finely crushed graham crackers
2/3 cup sugar
3/4 cup butter, melted
Instructions
Crust
Mix graham cracker crumbs, sugar, melted butter until well blended.
Press mixture into an 8 or 9-inch pie plate.
Freeze to set
Filling
In a large bowl, beat cream cheese and condensed milk until smooth.
Fold in whipped topping.
Spread a fourth of the cream cheese mixture into each pie shell.
Drizzle each with a fourth of the fudge and peanut butter topping.
Sprinkle each with 1/2 cup peanuts.
Repeat layers.
Cover and freeze for 4 hours or overnight.
Remove from the freezer 5 minutes before cutting.
By Designed Decor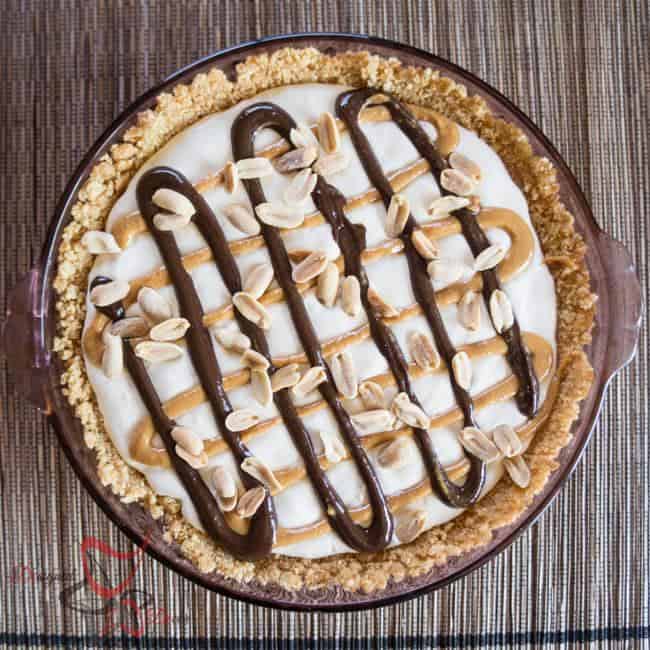 This Frozen Parfait Pie was a perfect combination of cream, chocolate, and peanut butter.  The crust and peanuts gave it a great crunch.
I did try to make a peanut butter sauce with a honey mixture and found it easier to spread warmed peanut butter straight than the sauce with the honey.  I also liked the taste of the straight peanut butter over the sauce with the honey, the honey made it too sweet and I love just the taste of peanut butter.  So one of these pies was made with peanut butter sauce and the other with just peanut butter.  Be venturous and try different sauces, you can substitute any of your favorite sauce toppings like fudge or caramel.  
You also may like these great recipes:

Join the DD Community!
Join the Designed Decor Community and receive weekly free tips on DIY home projects, painted furniture, decorating, and much more.