I am not kidding when I say this is the best apple pie on the planet. Ask Mr. DD, as he hid it in his closet so he would not have to share it with our boys.
I came across this recipe a few years back and have made it ever since. Before I give you the recipe. I want to share the story of how I came to get this recipe. I will keep it brief, I promise it is a good one, or you can scroll past it! I used to work in retail and when I was the manager of the furniture department(among many other departments) It was a tough job dealing with customer complaints about furniture deliveries. One particular day I received a phone call from an irate jerk of a gentleman. He stated that he was at our store to pick up 2 chairs that were delivered to the store for the customer's pick up. After he unloaded them into his apartment and began to unbox them, he discovered that they were not the chairs he ordered. After doing some checking on this situation, I found that the associate at the service desk gave the stock associate the wrong order. We still had the customer's chairs and he had someone else's order. I made arrangements for us to exchange the customer's chairs. The problem was that it was not soon enough for this jerk of a customer. He demanded(not nicely) that I get someone to his apartment today or he would be taking these chairs to his apartment dumpster. I could not find anyone with a truck to go to the customer's apartment and pick up the wrong order and deliver the correct chairs at the drop of a dime. I did the only thing I could think of, I called Mr. DD who has a full-sized van, Mr. DD always comes to my rescue. My husband works from home, and he was available to do this exchange. My husband traveled 30 miles from our home to the store to pick up the correct set of chairs than on to the gentleman's jerk's apartment to exchange the chairs. My husband confirmed what a nice guy I was dealing with.
Where the pie comes into the story.
The woman at the service desk who made the mistake was so upset that I had to deal with such a great customer and that my husband was the one who corrected her mistake. The very next day she brought in a homemade apple pie to give to my husband for all that he did. I took this wonderful pie home to Mr. DD and told him it was for him for going out of his way to fix the service gals mistake. After dinner that night he had a slice of the pie and I have never heard my husband rave about a dessert like that. He immediately wrapped the pie back up and took it upstairs to our bedroom closet, he was not sharing this pie with the four boys. I think I did get 1 small slice, but that was it. The rest of the pie was eaten by my husband. I, of course, had to get this recipe and have made this apple pie every year since. Whenever I make this pie to take to a friend's house or party I have to make 2, one for my husband and the other to share. NO JOKE!
So here it is!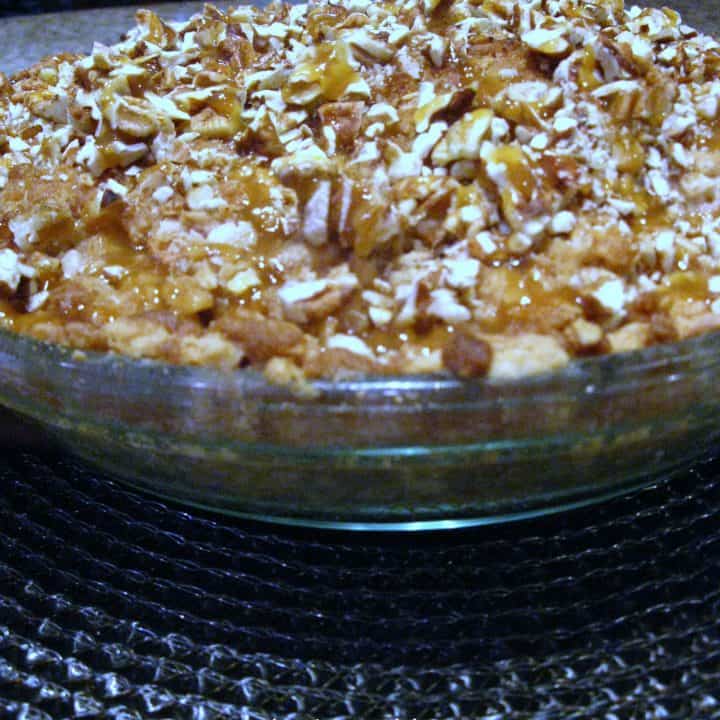 The best apple pie on the planet!
Ingredients
1 pastry crust for a deep-dish pie 9-inch (homemade or store-bought)
1/2 cup sugar
3 Tbsp. all-purpose flour
1 tsp. ground cinnamon
1/8 tsp salt
6 cups apples, thinly sliced peeled
1 recipe crumb topping (see below)
1/2 cup pecans, chopped
1/4 cup caramel topping
Crumb Topping
1 cup packed brown sugar
1/2 cup all-purpose flour
1/2cup quick cooking rolled oats
1/2 cup butter
Instructions
Crumb Topping
Stir together brown sugar,flour, rolled oats. Cut in 1/2 cup butter until topping is like course crumbs. Set aside.
Pie
In a large mixing bowl, stir together the sugar, flour, cinnamon and salt.
Add apple slices and gently toss until coated.
Transfer apple mixture to the pie shell
Sprinkle crumb topping over apple mixture.
Place pie on a cookie sheet so the drippings don't drop into your oven.
Cover edges of pie with aluminum foil. Bake in a preheated 375 oven for 25 minutes. Then remove foil and put back in for another 25 to 30 minutes without foil. Remove from oven. Sprinkle pie with chopped pecans then drizzle with caramel on top. Cool on a wire rack and enjoy warm or at room temperature.
Note: This pie won Emeril Lagasse's 2001 Apple Pie Contest.
This post contains affiliate links. Click here to see my full disclosure policy.
Tip: I will never make an apple pie without one of these, affiliate link—–> Apple and Potato Peeler, Clamp Base
I made the very first apple pie without an apple peeler/corer. I said I will never make another one until I purchased a peeler. I have to say this was the only kitchen gadget my husband did not complain about me purchasing. I have made every other apple pie with this thing. It is the BEST! It makes the entire process of making the pie so much easier. I am ALL about the easy!
Tip: I place a paper towel under the grip and on the counter to catch all the apple juice and to make clean up easier. One scoop and all the apple skin and cores are cleaned up. Again Easy! Did I mention I am about the easy!
I also make my crust. I did not share the how-to on this one but here is the recipe for the crust.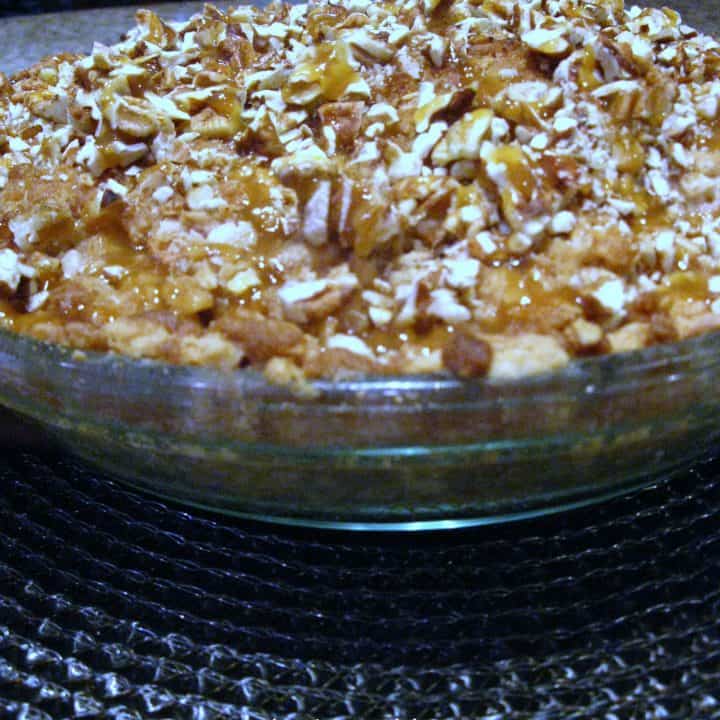 Homemade Pie Crust
Ingredients
4 cups all-purpose flour
1 1/2 teaspoon salt
1 1/2 cups lard/Crisco
1 tablespoon sugar
1 egg
1/2 cup cold water
1 tablespoon vinegar
Instructions
Mix together flour, salt, Crisco, and sugar until crumbling.
In small bowl add: egg, water and vinegar
Slowly add liquid to dry mix. Mix only long enough to make the dough wet.
So what do you think? Feel like some apple pie? Let me know of any better pie crust recipes, I am always looking for the best.
You might like these other great apple recipes!

Join the DD Community!
Join the Designed Decor Community and receive weekly free tips on DIY home projects, painted furniture, decorating, and much more.