I have southern roots. My mom was born and raised in a small southern Georgia town called Alma. I have always considered this small town my second home when I was growing up. We took a summer vacation every year to South Georgia to visit my Grandma and all my southern relatives. This is where my love for pecans and all things south come from. This must be the main reason I want to move to the south, but that is a whole other blog post. So back to the Georgia Pecan Pie.
My Aunt lives in Waycross, GA and has a lot of pecan trees on her property. My mom visits my Aunt every year and she ships me some pecans from my Aunt's trees. It can't get any better than this.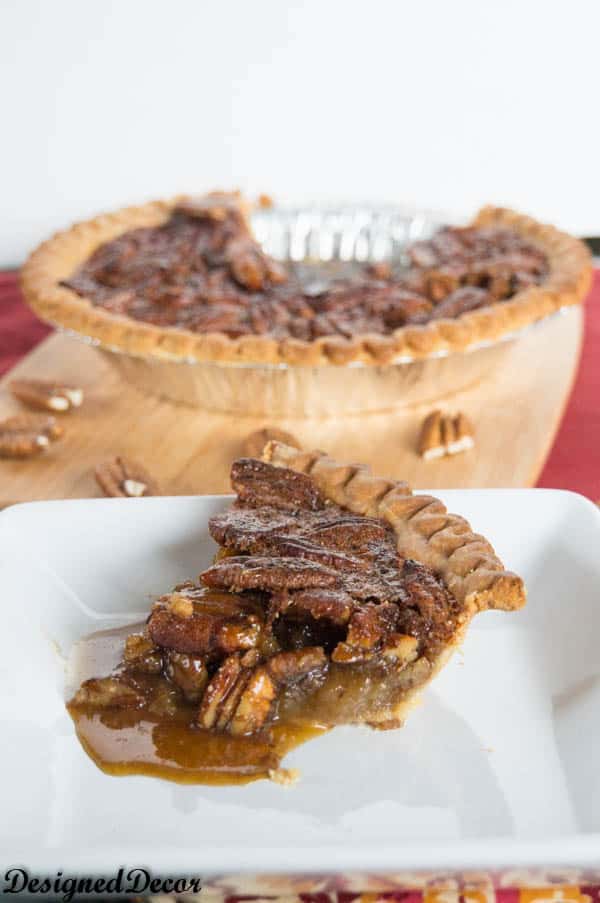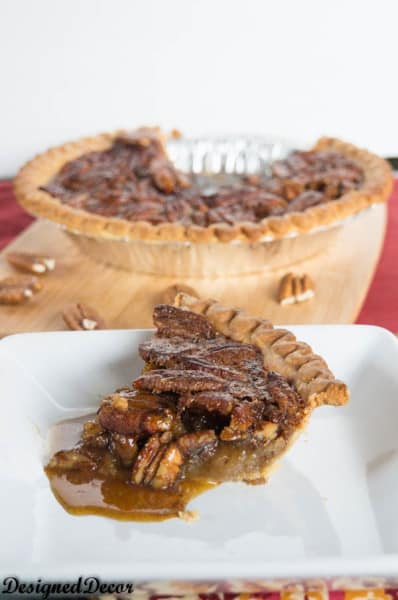 You will have to forgive me for not making my crust from scratch like I usually do, but life was crazy this week. You can find my homemade crust recipe from The Best Apple Pie on the Planet.
Georgia Pecan Pie!
Author:
Prep time:
Cook time:
Total time:
Ingredients
3 eggs (slightly beaten)
3/4 cup dark corn syrup
3/4 cup sugar
1/4 teaspoon salt
2 1/2 teaspoon vanilla
2 1/2 cups pecan halves
3 Tablespoons butter(melted)
1 unbaked pie crust
Instructions
Combine eggs and corn syrup. Mix well, add sugar and mix thoroughly. Stri in salt and vanilla, let stand for 5 minutes. Spread pecans on bottom of pie shell. Stir in melted butter into syrup mix. Pour over pecans. Bake at 375 for 40 to 45 minutes. I use foil to cover the crust for the first 25 minutes of baking.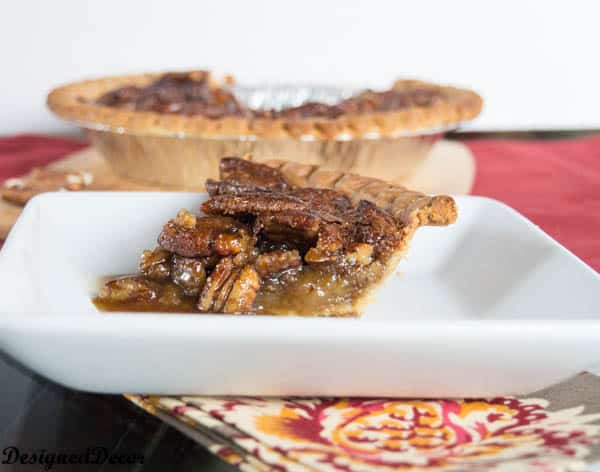 I still have to figure out how to get the middle of my Georgia Pecan Pie to not be runny. If you have tips on how to make this happen, please leave me comments.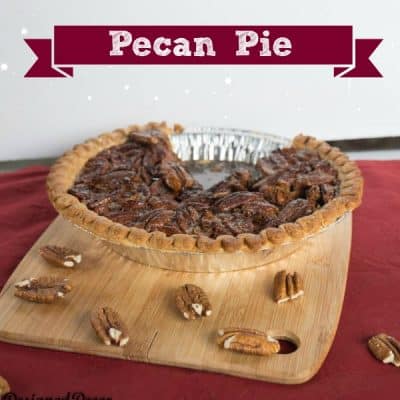 Join the DD Community!
Join the Designed Decor Community and receive weekly free tips on DIY home projects, painted furniture, decorating, and much more.