Last week was my youngest son's Birthday, so I made him some Oreo Brownie Cupcakes to help celebrate.
I had nothing planned for his birthday, I know bad mother. Friday morning, the day of his birthday, I came up with a plan. I had Oreos and brownie mix on hand, so this would be his Birthday cake. I needed to make them look festive and like I had a grand plan for his special day. I came up with the cupcake sticks idea, to spell out Happy Birthday and went looking in the Silhouette store for something that would work. I found it and made the cupcake birthday sign. I think it made a great impression, what do you think?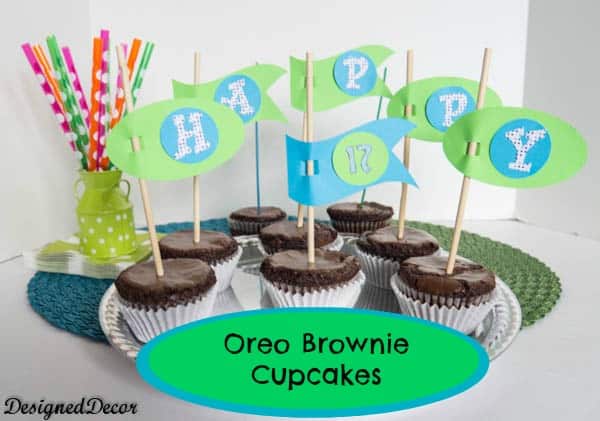 This recipe was a very simple one.
Oreo Brownie Cupcakes!
A few simple ingredients and you have a great dessert to share with others.
Ingredients
1 box brownie mix
12 Oreo Cookies
Instructions
Mix brownie mix according to package directions. Line cupcake pan with paper liners. Scoop small amount of brownie mix into bottom of each cupcake paper liner. Place an oreo cookie into each cupcake opening. Place remaining brownie mix on top of each oreo cookie. Bake at 350 for 30 minutes.

My son loved the Oreo Brownie cupcakes, so did his friends that spent the night.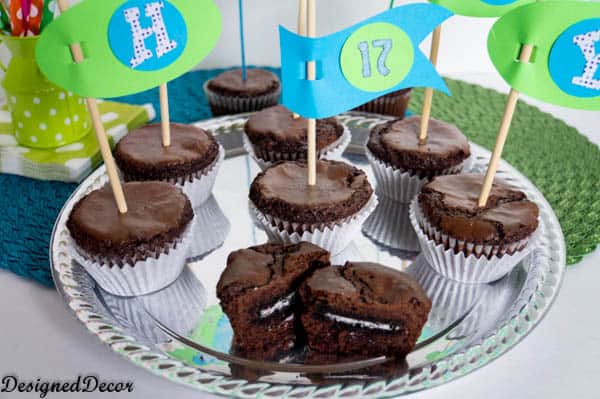 We took him out to dinner his choice and he had friends spend the night. I made them my Baked french toast casserole in the morning. I had some full and happy teenage boys when they left in the morning afternoon, teenagers stay up late and sleep in.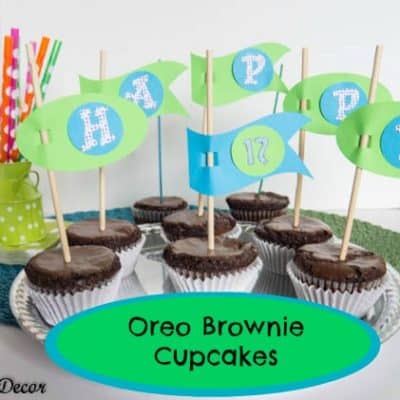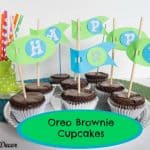 Join the DD Community!
Join the Designed Decor Community and receive weekly free tips on DIY home projects, painted furniture, decorating, and much more.