I would like to introduce you to my guest post writer, Dagmar Obert.
Dagmar Obert is a designer for Balsam Hill with over two decades of experience transforming homes into spaces that reflect comfort and elegance. More of her how-to guides and inspiration articles on decorating and entertaining, you can follow her on Pinterest and Houzz.
That month or two after the holidays is usually a bit of a letdown; instead of parties, food, and fun, you have to return to work and winter's chill. And despite those lofty New Year's resolutions that you may have made, sometimes it can be hard to get back into the swing of things. But one thing that can really help is to maintain the decorative touches that you've been enjoying for the past few months. You'll find that a beautiful, seasonal home is the perfect antidote to late winter gloom. Furthermore, there are many ways to adapt items that you already have leftover from holiday festivities, which makes these projects as easy and thrifty as they are enjoyable!
This post contains affiliate links. Please see my full disclosure for details.
Repurpose the ribbon you used to wrap presents to make a lovely pine cone door or wall hanging. Just make sure to choose a more neutral color like cream or maroon, for a look that's wintery rather than specifically Christmas-y.
2. Platter
Post-holiday sales are the perfect time to pick up those serve ware items that you ran out of with so many guests stopping by. But they don't need to sit in storage for a year; season-less pieces like this platter are just as handy for corralling remotes or desk accessories during the rest of the year as they are for serving hors d'oeuvres during the holidays.
Higher-end string lights don't necessarily need to be put away once January rolls in. As long as they're not overtly Christmas-related, they add instant glitz to any home when draped over a window or even looped casually around a wall hook.
4. Wine Bottles
Chances are that after the holiday festivities, you'll have a lot of extra bottles of wine on hand. Instead of throwing them out, you can use them for any number of charming crafts; wrap them in twine, use them as candle holders, or even make them into a chandelier!
Fill the void left by your Christmas tree by replacing it with a lovely fiddle leaf fig. With proper care, these deservedly popular plants can grow to impressive sizes and make an amazing statement in your living room.
6. Tissue Paper
Think twice before you throw out all the tissue paper from your gifts; it's easy and fun to make pom poms or flowers out of them and use them all around the house. You can hang them on a fishing wire in a corner, attach them to twigs to make a faux flower arrangement, or just slip them onto place settings for a fancy meal.
If your mantle is looking empty without your holiday garland, then why not replace it with a banner that you can use year-round? Blackboard fabric lets you write and then wipe away any message, and a quick DIY makes such a chic addition that you might not want to swap it out when Christmas rolls around next year.
If you've used up all your winter scented candles, then don't just toss away their pretty containers! Give them new life as storage vessels for your desk or vanity; they can hold paper clips, cotton balls, and much more.
9. Plain Wreath
That simple wreath that you decked out with ornaments during the holidays can easily be reused with other decorative items. Make it traditional with dried or faux winter fruits, or modern with bunches of feathers.
I hope you found some decorating inspirations from Dagmar. Remember you can follow her on Pinterest and Houzz.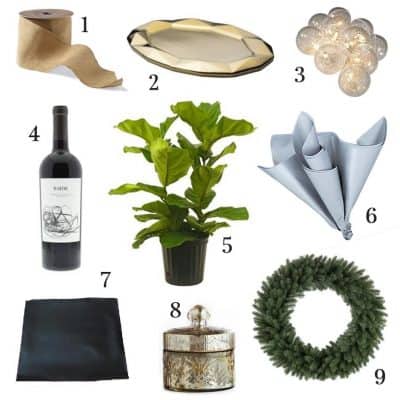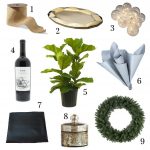 Join the DD Community!
Join the Designed Decor Community and receive weekly free tips on DIY home projects, painted furniture, decorating, and much more.