I can't believe what a great feeling it was when I completed the last page to my sons scrapbook. Let me start by saying I did not start my sons scrapbooks when they were babies, no I waited until each of them where seniors in high school. Not only did I wait to do their scrapbooks when they were seniors in high school. I waited until it was after Christmas of their senior school year. I have completed each scrapbook for the boys for their graduation, and we share the BOOKS at their graduation party. I started these last books for Mack in January of this year, and just completed the last page. It's official because I put All my scrapbook supplies away. I usually only scrapbook during the winter months, these 4 books took longer than expected.
I wanted to share some of my layouts. I do not like to do a lot of layering in my books. I like to see pictures with a little establishment.
I also would love to share an idea I had about the school projects. I had draws full of gifts and school projects from the boys. I decided to sort them by school year and photograph the projects. This allowed me to place the pictures of their projects into the scrapbook pages. I also did not feel guilty by not saving them any longer, since we now have all the memories of each project in the scrapbook. I thought this was the BEST idea ever. I did have to save some of the very special projects. Here is a layout with the school projects.
Another cool thing that I have done with some of the page layouts is to make a collage. This allowed me to put 5+ pictures on the layout. I ordered the collage from Wal-Mart. Here is the photo link, http://photos.walmart.com/walmart/welcome?povid=cat1070145-env172199-module051812-lLinkGNAV_PHOTO_DEPT
The collage print in an 8 x 10 is only $2.84. I also ordered some collage prints and cut them apart, this allowed me to have small pictures to use on the layout. Here are a few examples.
Here are a few more of my favorite layouts.
My advice is to not wait until the senior year in high school to start a scrapbook. Now, I need to heed my advice since my last son is an incoming Sophomore. What advice or methods do you use to stay on track with your scrap-booking? Leave your comments below to help us all stay on top of our photos.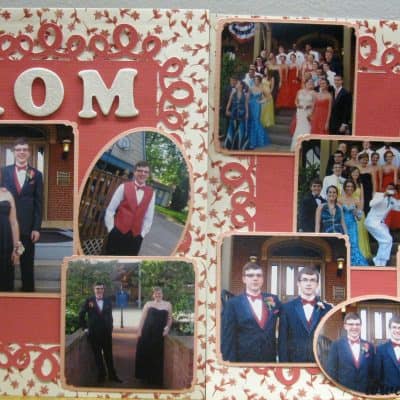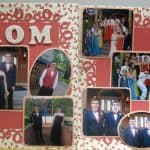 Join the DD Community!
Join the Designed Decor Community and receive weekly free tips on DIY home projects, painted furniture, decorating, and much more.