You may see a baking theme on my blog at times. It seems I get on a kick with a recipe and make different versions of the recipe. I get tired of making my famous Chocolate Chip Banana Muffins that are a favorite in this house, so why not make Chocolate Chip Banana Cake.
I have to say this one ranked up there with the Chocolate Chip Banana Muffins and the Chocolate Chip Zucchini Muffins. I am convinced that the boys will like any dessert as long as it has milk chocolate chips in the recipe. I think the maple sauce added to the flavor and moisture on this Chocolate Chip Banana Cake recipe. Of course you could omit the sauce, but I think it makes the recipe.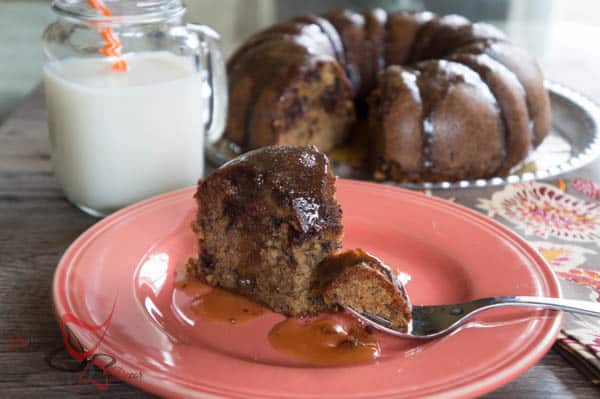 I honestly think my boys purposely don't eat the fresh bananas just for the chance that I will use the bananas for some type of dessert.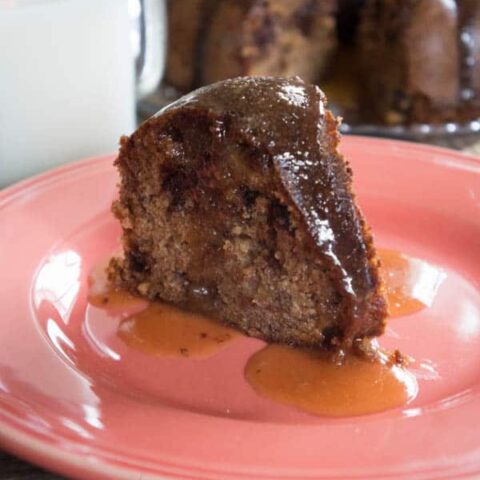 Chocolate Chip Banana Cake!
Additional Time:
5 minutes
Total Time:
1 hour
5 minutes
Ingredients
10 tablespoons unsalted butter
1 cup granulated sugar
1/2 cup brown sugar
3 eggs
2 cups all-purpose flour
2 teaspoons baking powder
1 teaspoon ground cinnamon
3/4 cup sour cream
3 or 4 mashed bananas
1 cup milk chocolate chips
Caramel Icing
3 1/2 ounces unsalted butter
3/4 cup brown sugar
1/2 cup maple syrup
1 cup heavy cream
Instructions
Preheat oven to 350°F.
In an electric mixer, beat butter and sugars until creamy.
Add eggs one at a time and mix well after each addition.
Slowly mix in the flour, baking powder, and cinnamon.
Add the sour cream and mashed bananas, stir until combined.
Fold in baking chips.
Pour batter into a greased bundt pan and bake for 45 to 50 minutes, or until done
Allow to cool in the pan for 10 minutes, then turn the cake pan upside down onto a cooling rack to finish cooling.
Notes
Caramel Icing
Add butter, brown sugar, syrup, and cream to a saucepan.
Cook over medium heat stirring until the sugar is dissolved.
Turn the heat up and bring the mixture to a boil, continue cooking on a low boil for 12 to 15 minutes.
Cool to room temperature before pouring over the cake.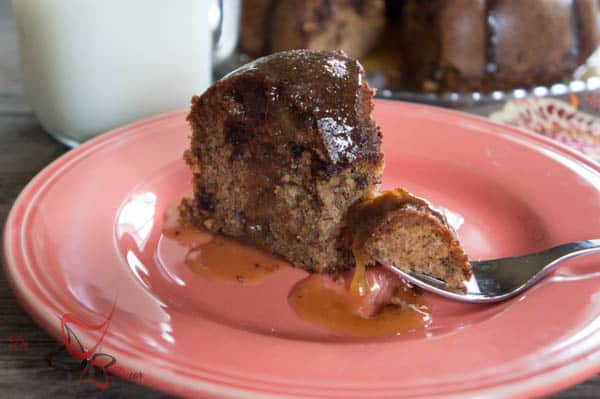 What is your family's favorite recipe using mashed bananas, I am always searching for new recipes to use up the ripened bananas.  

Join the DD Community!
Join the Designed Decor Community and receive weekly free tips on DIY home projects, painted furniture, decorating, and much more.