I can hardly believe that we will be ringing in the new year next week.  We always toast to the new year with a bottle of champagne.  This year I decided to try out some champagne cocktails that we could drink for the evening.  I am really liking how this Champagne Raspberry Cocktail turned out.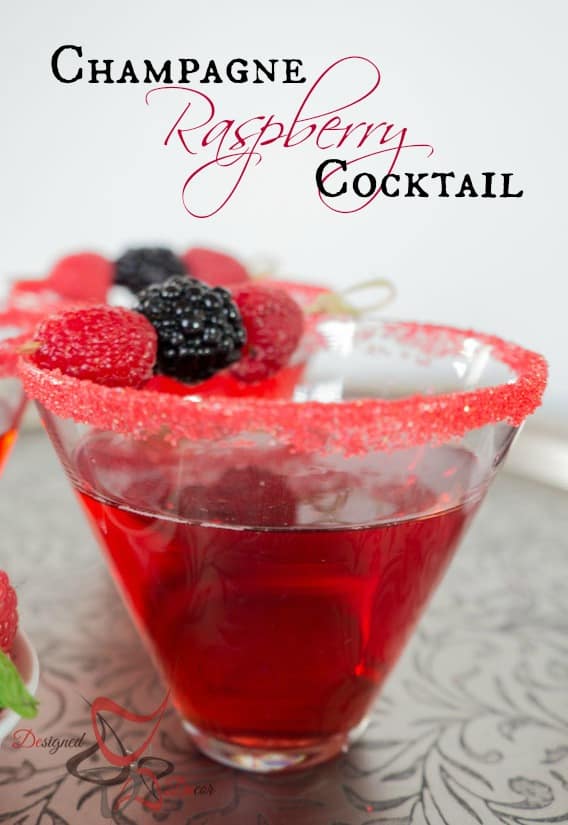 While I was shopping at World Market for a few Christmas gifts, I decided to go ahead and purchase our champagne for Christmas day and also for New Year's Eve.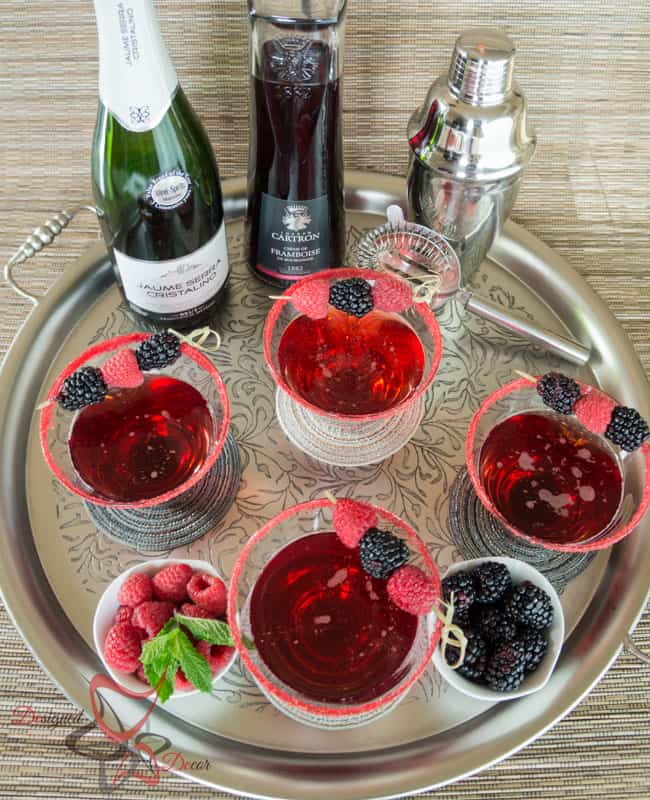 I came across the yummy Rasberry Liqueur and decided that this would mix well with champagne.   Did you know that World Market carried drink mixers and an assortment of spirits?  The Raspberry Liqueur was at my local store, except I was unable to find it online.  Stopover to see the spirit selection from World Market.    I am also crushing on my drink accessories and oh that silver serving tray.  I love serving trays because they are so versatile and can be used for decorating as well as serving.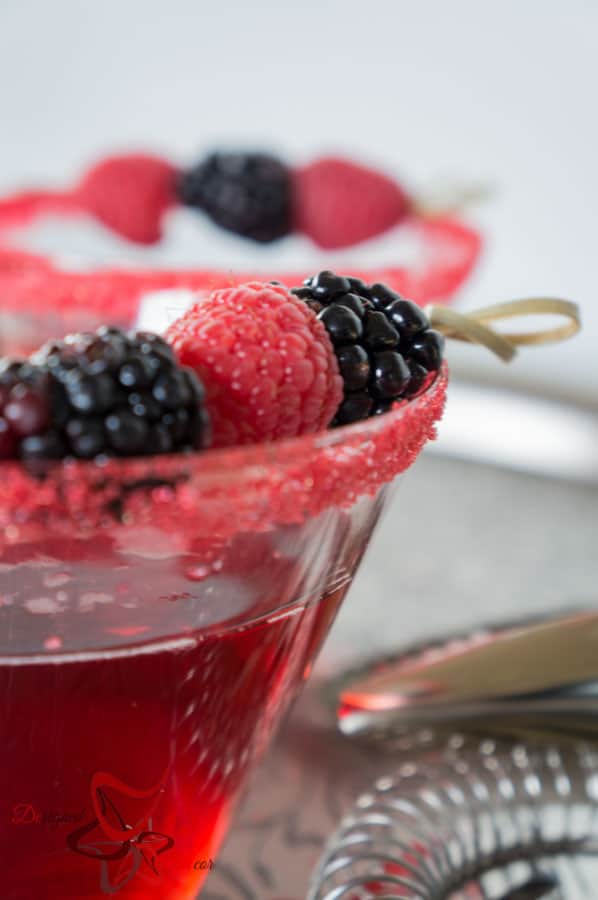 Champagne Raspberry Cocktail
Ingredients
1 shot raspberry liqueur
1 splash raspberry simple syrup
Champagne, chilled
Instructions
Begin with two shallow dishes, wide enough for martini glasses.
Fill one dish with a small amount of water and the second with colored sugar.
Dip martini glass into water and let all drips fall off before placing in colored sugar.
Set sugar-rimmed glasses aside.
Place a few ice cubes in the drink shaker.
Add 1 shot of raspberry liqueur.
Add a splash of raspberry syrup.
Shake until blended and chilled.
Pour into a sugar-rimmed martini glass
Add champagne to martini glass filled with the chilled raspberry liqueur.
Serve garnishments - optional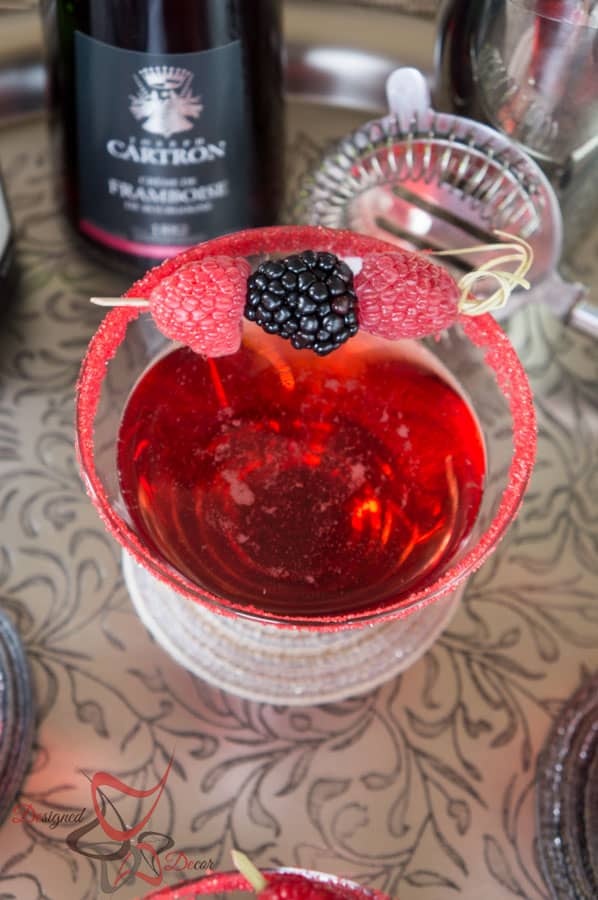 I would recommend using dry champagne over sweet champagne when mixing with the raspberry liqueur.  The raspberry liqueur is sweet so when blended with dry champagne, it provides a perfect balance of sweet and dry.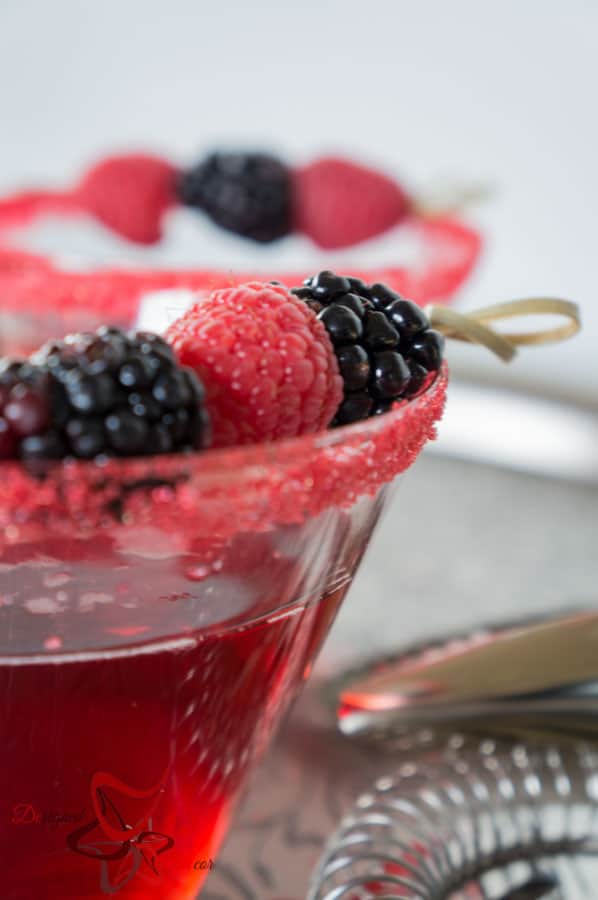 We usually like to stay home for New Year's Eve, watch movies, and of course, watch the ball drop at midnight.   What about you,  what are your New Years' Eve celebrations and traditions?  

Join the DD Community!
Join the Designed Decor Community and receive weekly free tips on DIY home projects, painted furniture, decorating, and much more.