Boy of boy do my boys love Barbecue Ribs.  This is one meal that they get pretty excited about.  This meal screams Summer to me; Barbecue Ribs, Corn on the Cob, Baked Beans, garden-fresh tomatoes, and Sweet Tea.  This is heaven on a plate!  
I don't make ribs very often, because honestly, it is the one meal that takes planning ahead of time. I usually buy the ribs when they are on special at the grocery store and place them in the freezer. So by planning, I mean I have to take them out of the freezer 2 days before we eat them.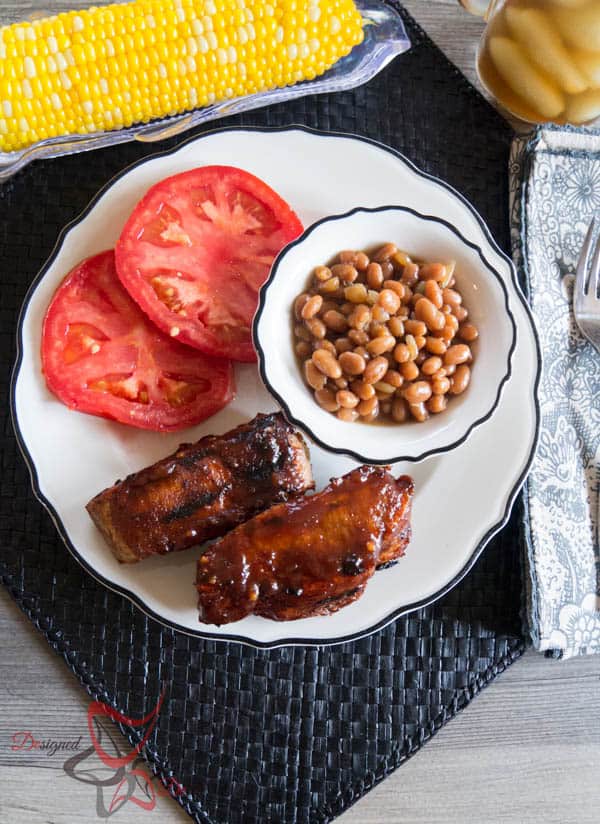 This recipe is a 2-day recipe, so be prepared about the planning.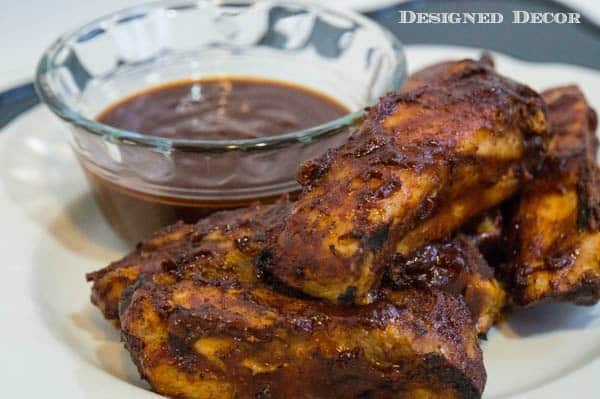 Dry Rub Barbeque Ribs
Ingredients
4 pounds baby back pork ribs
4 cloves garlic, sliced
Dry Rub
1 tablespoon white sugar
1 tablespoon paprika
2 teaspoons salt
2 teaspoons ground black pepper
2 teaspoons chili powder
2 teaspoons ground cumin
Sauce
1/2 cup dark brown sugar
1/2 cup cider vinegar
3/4 cup ketchup
1 tablespoon chili powder
1/4 cup Worcestershire sauce
1 tablespoon lemon juice
2 tablespoons onion, chopped
1/2 teaspoon dry mustard
1 clove crushed garlic
Instructions
Preheat oven to 300 degrees.
Place ribs in a shallow roasting pan.
Scatter 4 cloves of sliced garlic over ribs. Cover, and bake for 2 1/2 hours. (See notes)Cool slightly.
In a small bowl, mix together white sugar, paprika, salt, black pepper, chili powder, and ground cumin.
Rub spices over cooled ribs. Cover, and refrigerate overnight.
In a small saucepan, mix together brown sugar, cider vinegar, ketchup, chili powder, Worcestershire sauce, lemon juice, onion, dry mustard, and 1 clove of garlic. Simmer over medium-low heat, uncovered, for 1 hour.
Reserve a small amount for basting; the remainder is a dipping sauce.
Preheat the grill for medium heat.
Place ribs on the grill. Grill, covered, for about 12 minutes, basting with the reserved sauce, until nicely browned and glazed.
Serve with remaining sauce for dipping.
I have been making this recipe for a few years now and this is the one I always go back to. I have tried a few others and my boys think this is the keeper. They like the homemade sauce and Mr. DD likes the rub. We use the dry rub on chicken wings and other meats that we are making. I keep a container of just the dry rub, so we can use it when cooking.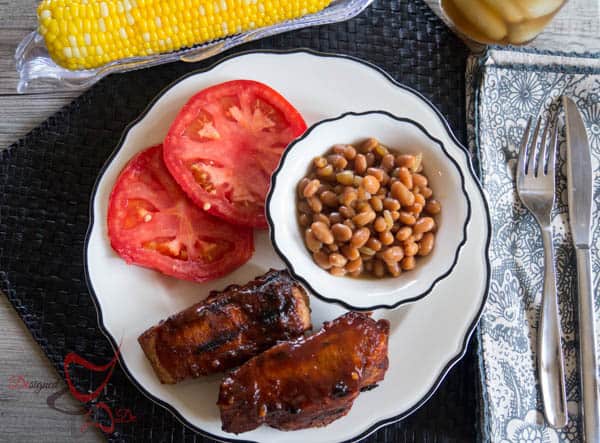 I am sad to see summer go. I love the change of seasons and Fall is on the top of my list, but saying go bye to this Summer meal is hard to do. What is your favorite summer meal?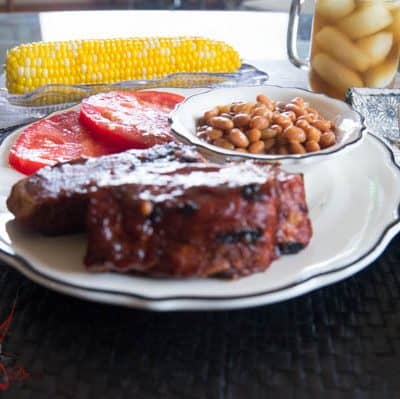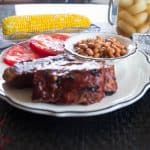 Join the DD Community!
Join the Designed Decor Community and receive weekly free tips on DIY home projects, painted furniture, decorating, and much more.