Have you ever been in a thrift store or a garage sale and saw an outdated item sitting there just calling your name?   The price is right, the style is great, and the color is all wrong.  Everything about the color is so outdated and old.  Sometimes you may even find a piece that has some awesome details but there is this big tacky angel in the middle of it.  Don't let that stop you from seeing the potential in an item.  Thrift Store Decor upcycle is top on my list when it comes to finding affordable home decor pieces. Most items just need to be painted so they don't look so outdated. This ornate angel frame needed a little more than just paint.
This month the Power Tool Challenge team is using their favorite tool and sharing projects that they made using that favorite tool.   Picking a favorite tool can't be done, so I decided to share how I used my jigsaw for this Thrift store upcycle.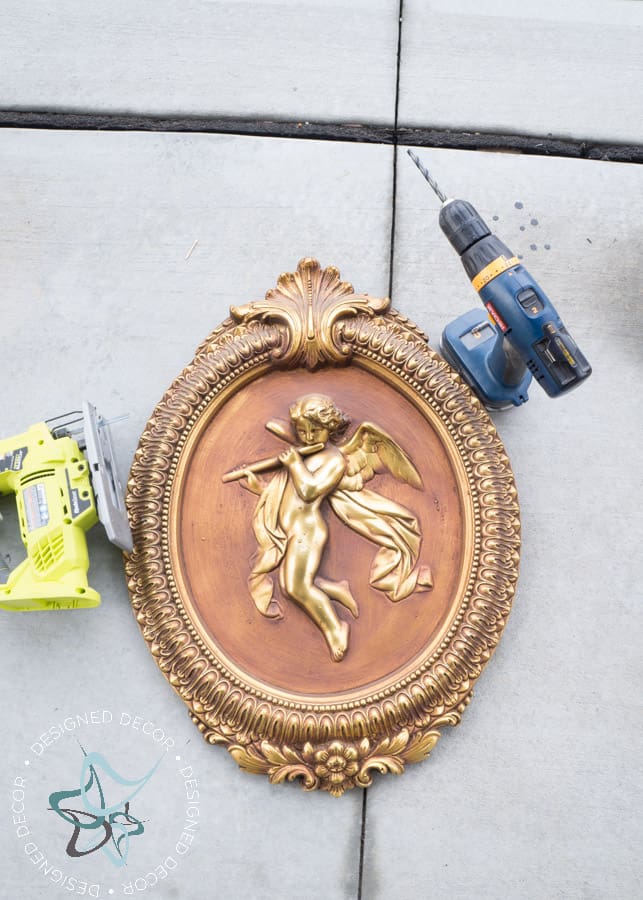 I saw this beauty at a garage sale.  The frame was calling my name.  I thought, score, I will just pop off the back and remove the angel.  Wrong, I picked her up and discovered that the angel and the frame were molded together.  I was so disappointed, but wait.  My little mind said, "you CAN do this", just cut out the angel.  I know some of you like angels and yes, this would be pretty with just a nice aged paint job.  I did not like the angel, but I LOVED the frame.  So I did not let the angel distract me from the awesome price tag and oh that frame.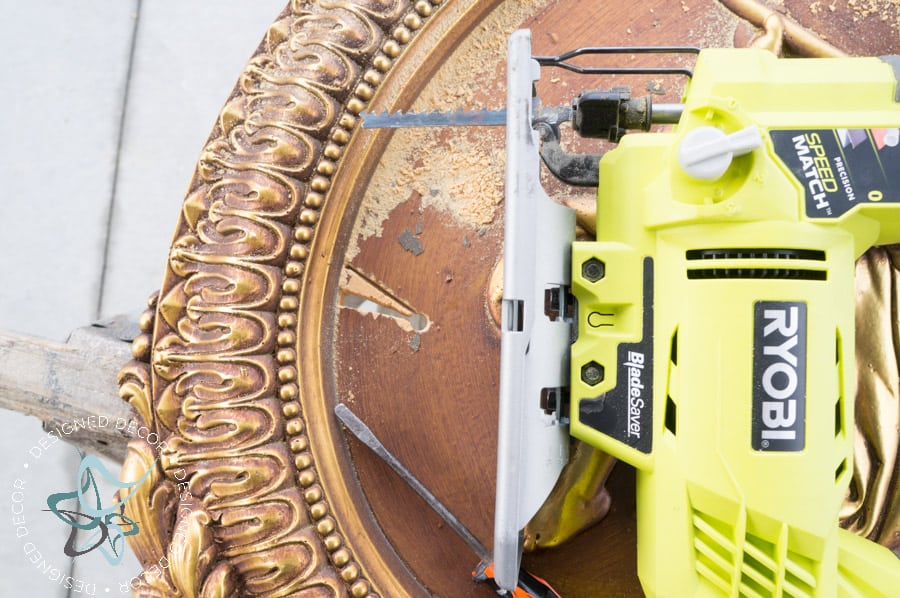 I went to work on making this outdated angel frame into a classic frame.  I started by drilling a hole with my drill and a large drill bit.  Once I had the hole, I was able to stick the jigsaw blade down and remove a section so I could run the jigsaw all the way around the inside of the frame.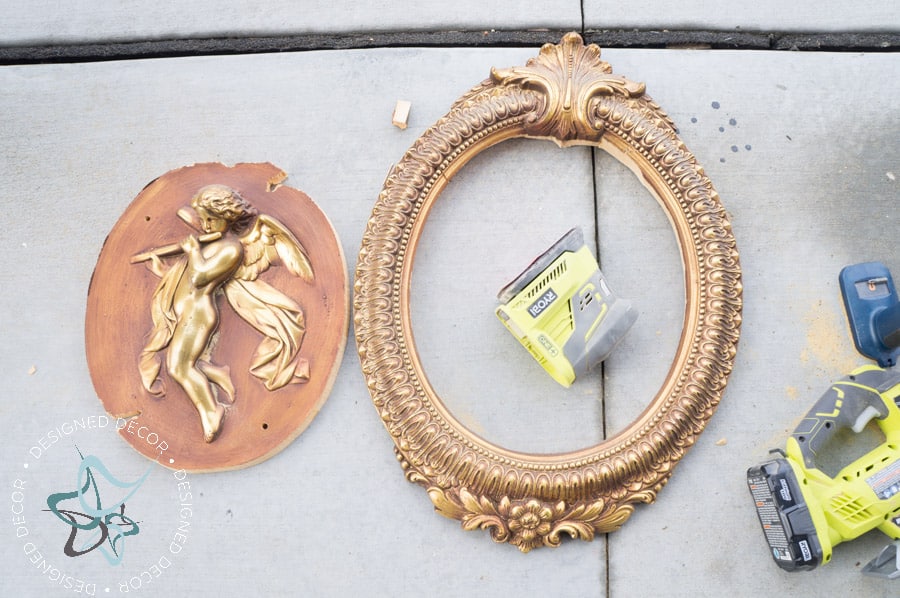 This was very simple to do, and it is much better already.  Don't worry if your cut job was not perfectly even.  You can see I had a small section near the top right where my cut was wider than the rest of the frame.  This is where you use a hand sander to smooth out all the imperfections and cut marks on the inside of the frame.  Now she is ready for a nice coat of paint.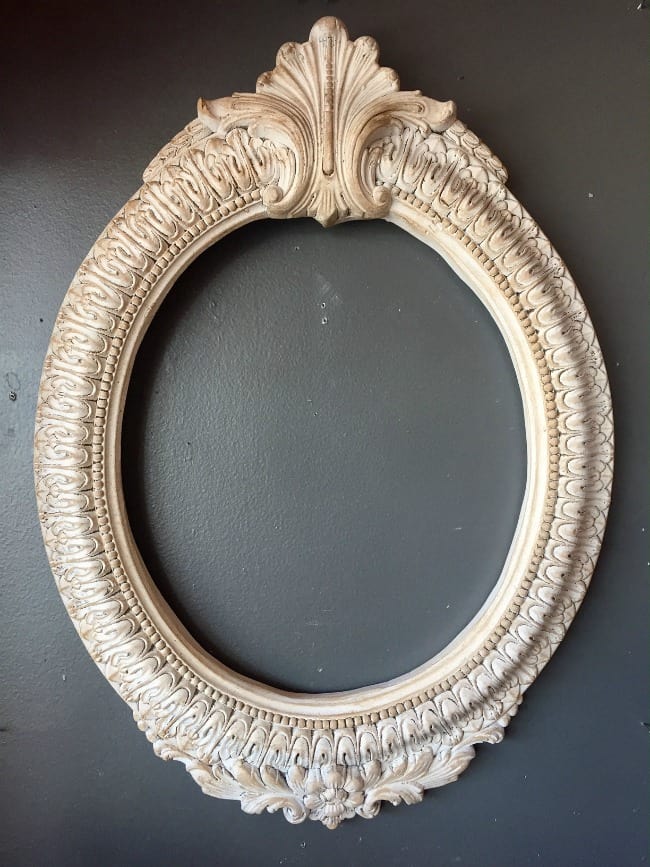 I painted the frame using Heirloom Traditions in colors Row House and Venetian.  I painted the base of the frame in Venetian and I did not paint to fill in all the crevices.  I wanted this piece to show layers and to make it have an aged look.  I then dry brushed on the Row House hitting the raised parts of the frame.  I then applied the dark umber wax with the same dry brush technique.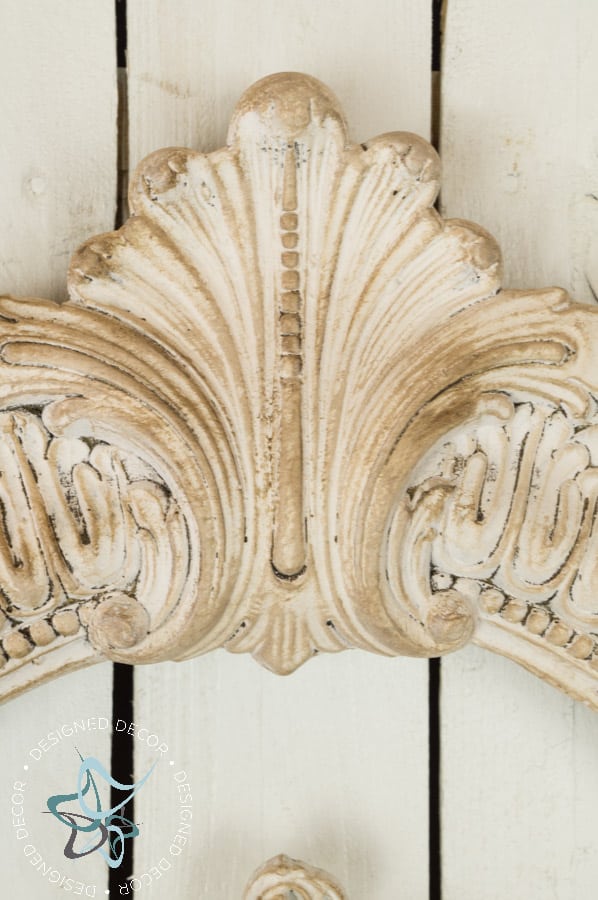 I love how this paint gave the frame the perfect aged look.  So the next time you find yourself wanting to buy an item at a garage sale and knowing it is outdated, make that purchase, use a little vision, and you will have the perfect thrift store decor upcycle.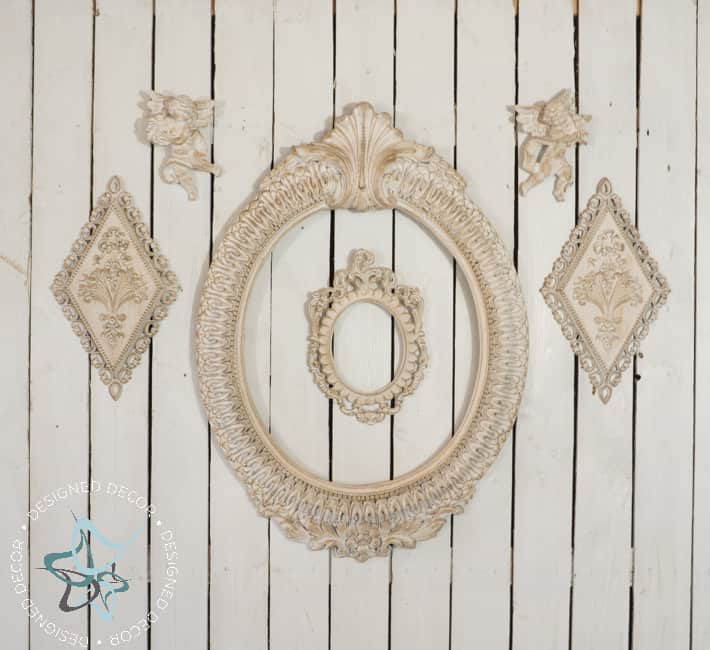 I did the same technique on the other wall decor pieces to make a mini gallery wall.
Stick around and visit the other Power Tool Challenge team and see what tool they used for their projects.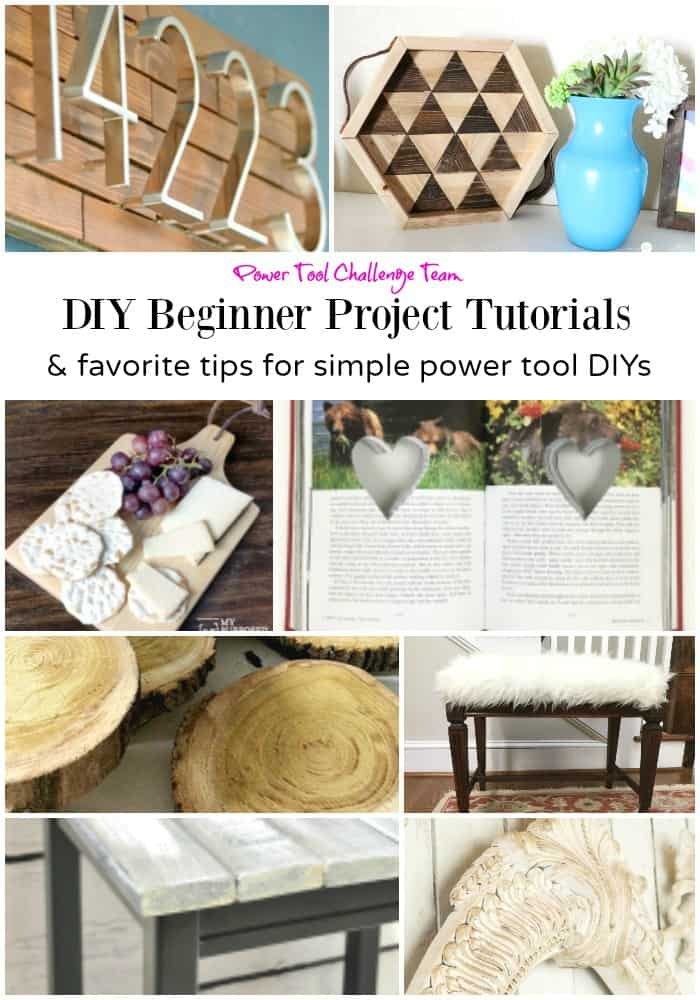 H2OBungalow DIY Horizontal Wood Slat Address Plaque
My Love 2 Create – Triangle Hexagon Tray
My Repurposed Life – DIY Cutting Board
The Kim Six Fix – Scroll Saw Book Letters
Create and Babble – Cut Wood Slices
The DIY Bungalow – DIY Faux Fur Foot Stool
The Interior Frugalista – Small Portable Rolling Multi-Purpose Table
Designer Decor – Ornate Oval Wood Frame Update
Check out these other Thrift Store Makeovers

Join the DD Community!
Join the Designed Decor Community and receive this FREE Favorite Furniture Painting Products & Tools Guide for joining.
You will also receive weekly updates on the in's & out's of making your house a home on a "Thrift" Budget!