I usually don't like to use chemicals, so I try to avoid buying furniture that has been previoulsy painted.  Sometimes a bargain is too good to pass up and this is why I want to share my tips on how to strip painted furniture.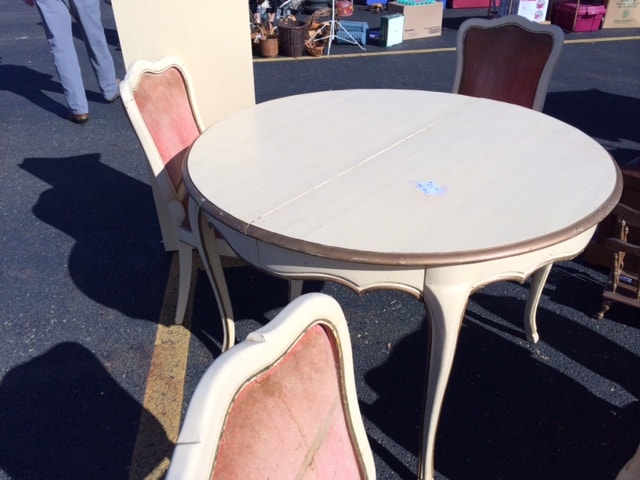 This is the only before picture I could find of this piece.  This set was in SAD shape and maybe that is why I got it for $20 bucks, yes a table and 5 chairs for $2o.  Like I said, some painted pieces are too good of a bargain to pass up.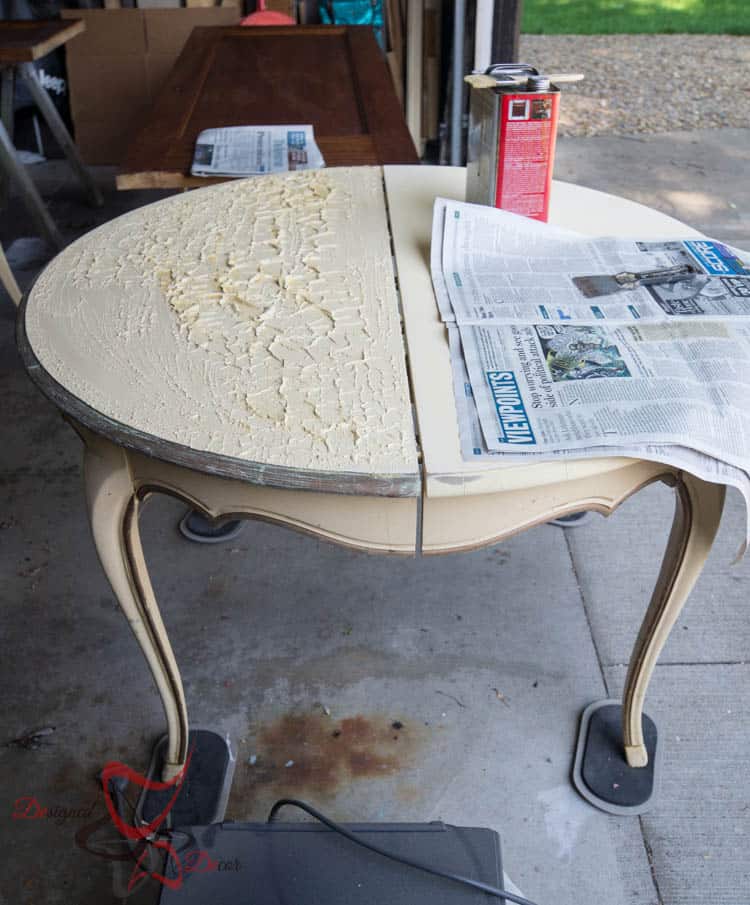 I usually like to finish a dining table with a stained top.  I think they hold up better to the everyday wear and tear.  So I decided I would give it a try and see what kind of wood was under that factory paint job!
Step 1: Apply Paint Stripper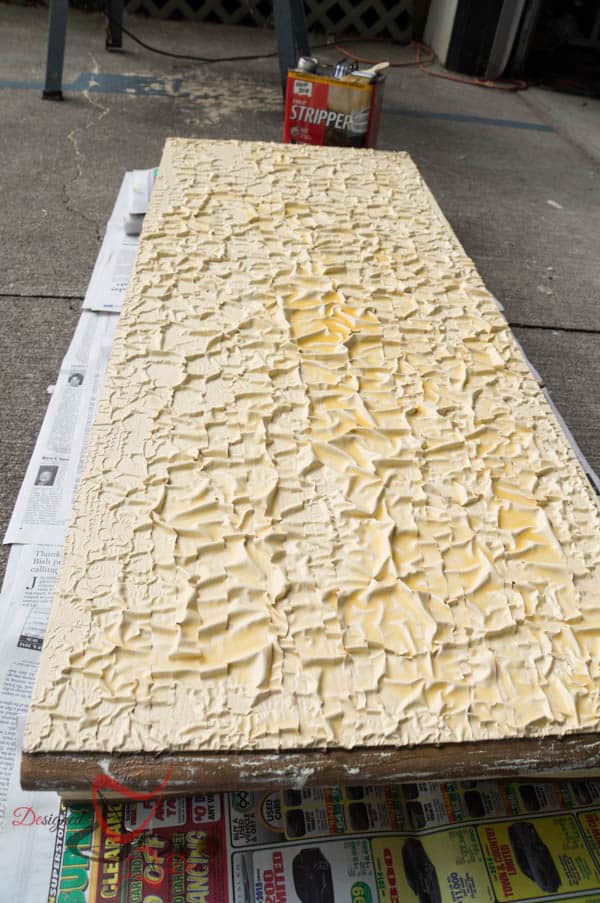 Make sure you are wearing the proper safety equipment before beginning, heavy duty gloves and goggles.  Tip: Wear the proper shoes and pants as the paint slug can splatter.  Apply a coat of Klean-Strip Paint Stripper
.  Tip, I use a disposable chip brush so I don't have to clean the brush when done.  The above picture is how it looks after 30 minutes wait time.  I use a large putty knife to remove the layer of paint onto a few layers of newspaper.  Tip:  I like to use extra layers of newspaer that way I can wrap up the paint sludge and still have extra layers under my work area.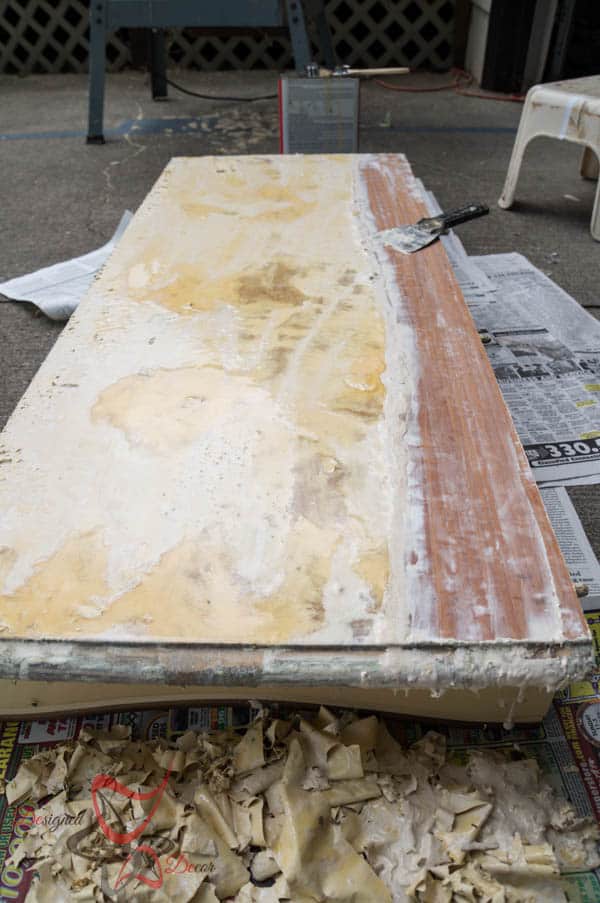 A second coat of stripper maybe needed to remove all the paint.  This factory painted table did need 2 applications of stripper.  You want to see the wood when you remove the paint sludge.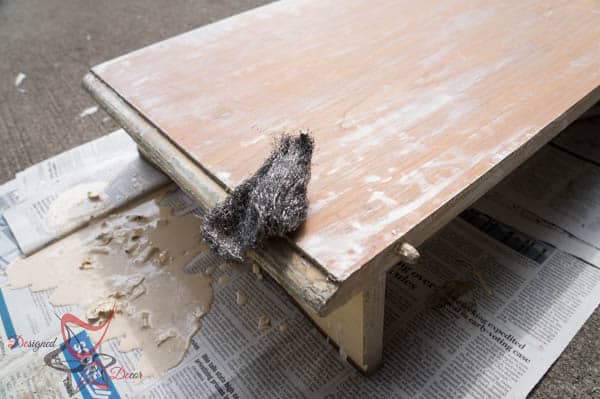 After the paint is removed from the top, use Steel Wool
to remove the paint from the edges.
Step 2: Sanding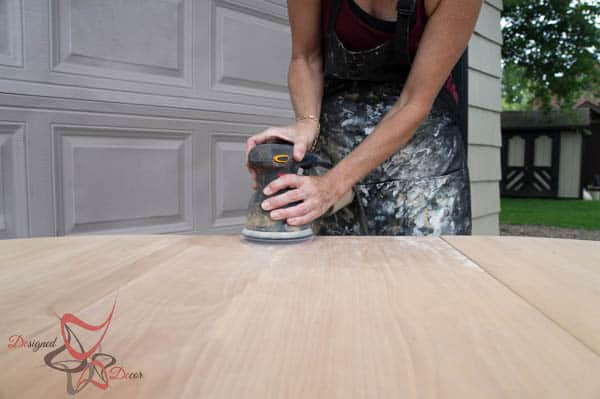 My favorite tool for sanding is Ryobi Orbit Sander
.  This sander does a great job at removing any extra paint and getting down to the bare wood.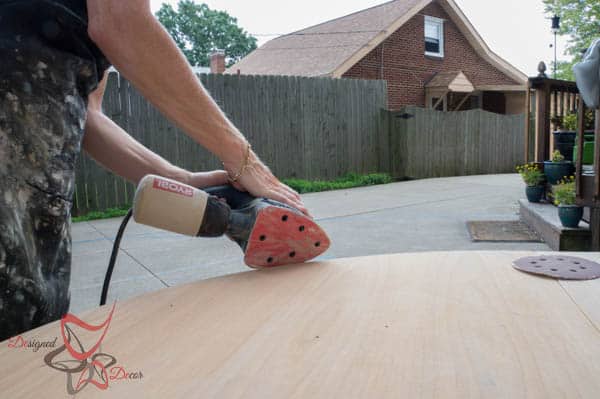 I use my Ryobi Finishing Sander
on the edges and finished by sanding the remaining edges by hand.   Now she is ready for paint on the bottom and stain on the top.  I will share with you how the table turned out later this week.  You won't believe how pretty she turned out and you will have to hear about those chairs!
You may also like these great posts:

Join the DD Community!
Join the Designed Decor Community and receive weekly free tips on DIY home projects, painted furniture, decorating, and much more.