This year I participated in an ornament exchange with One Artsy MaMa.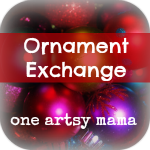 Each participant is teamed up with another and we were to hand craft an ornament to send to the other participant. I had the great pleasure of being team up with a fellow "Ohioan" and blogger. You can read about Erin over at Crafty Biggers. After reading about Erin and poking around on her blog, I knew I needed to make something fun for her since she has 2 young girls. For Erin I made a glass gem stone snowman ornament. I used 3 glass stone beads and soldered them together. I used red stained glass for the hat and added wire for the arms and hat brim. I than used ribbon for the scarf and to hang the ornament. I also used glass paint for her initial.
So as I made something fun for Erin, she was thinking on the same lines as me. She also handcrafted a snowman ornament.
As Erin stated on her blog, "Great minds think alike" I love how cute and crafty this ornament is! This is going on my "Pretty Tree"! Thanks Erin for the great ornament. And Thanks to Amy at "One Artsy MaMa" for hosting the exchange. You should go see all the other handcrafted ornaments in the exchange by visiting here.
Sharing with:
Join the DD Community!
Join the Designed Decor Community and receive weekly free tips on DIY home projects, painted furniture, decorating, and much more.