Making the first impression to those that walk into your home will leave a lasting impression. It sets the tone to the rest of the house. I want my guests to enter into our Airbnb space and instantly feel welcomed and impressed. I want to give them the feeling that they chose the right place to stay. I am sharing my Modern Entryway Design Board to show you my thoughts on how to add the wow as my guests enter into this space.
This post contains affiliate links. Click here to see my full disclosure policy.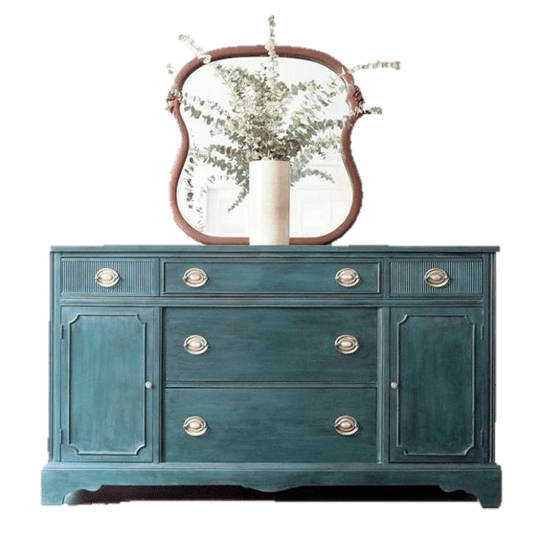 I want to start with the statement piece like this boldly painted buffet. This beautiful piece was done by Jen from Green Spruce Designs. Go over to see her beautiful Instagram feed, I am in love with all that she does in her home. If you are looking to have a statement piece similar to this and can't paint one yourself, go see this one from Uturn Design.
I will be using the secretary for my guest sign-in book and my information booklet about our place and things to do in our area. You can find many types of antique secretary desk from Etsy.

The decorative accessories are just as important as your statement piece. You want them to be the finishing touches and not overpower the space. They need to complement the style you are trying to achieve. I love having natural elements in every space so I want to use green plants and baskets to give the space warmth. I also think the window treatments that you add into the space adds warmth as well, they will soften the hard lines around a window.
Belly Basket-I love these baskets and I will be adding a few baskets in the entryway to hold plants, pillows, and blankets.
I have enough natural light in the entryway that I can use real plants. I don't have a green thumb so I try to mix in faux plants with real ones so you don't notice the fake plants.
Semi Flush Mount Ceiling Light – Lighting can get so expensive, especially when you have a new construction like our HOF Hideaway. We added can lights and I found ceiling lights for under $100. I also like to add table lights to every space to give a warm glow when you don't want the harsh overhead lighting.
Grommet Top Sheer Linen Curtains – I love blinds on my windows. They give you the ability to have some privacy or to raise them and have an unobstructed view. I always soften the lines of my windows with some sort of valance or drapery. I love these linen looking sheer window panels, they still allow light in and they add softness to the area.
I hope you find inspiration in these design boards and I will always recommend that you create a design board for any space in your home before you begin a makeover. If you want to see how I make my design boards, visit my Stylish Bedroom Design Board to learn how.

Join the DD Community!
Join the Designed Decor Community and receive weekly free tips on DIY home projects, painted furniture, decorating, and much more.