I love to make and eat soup when it is cold outside. This chicken tortilla soup recipe is easy to make and great tasting, it won't disappoint.
I always like to double my recipes for soups and chili so I can freeze them for a quick and easy lunch.  I did have to invest in more glass containers in order to have single-serving sizes.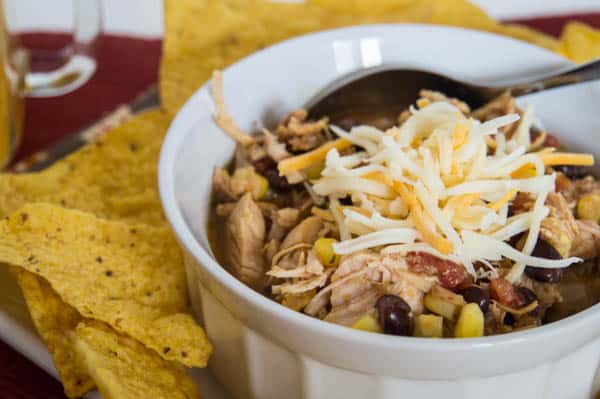 Chicken Tortilla Soup
Ingredients
1/2 small onion, chopped
3 cloves garlic, minced
1 tablespoon olive oil
2 teaspoons chili powder
1 teaspoon dried oregano
1 (28 ounce) can crushed tomatoes
1 (10.5 ounce) can condensed chicken broth
1 1/4 cups water
1 cup whole corn kernels, cooked
1 can cannellini beans, drained
1 (4 ounce) can chopped green chile peppers
1 (15 ounce) can black beans, rinsed and drained
1/4 cup chopped fresh cilantro
2 boneless chicken breast halves, cooked and cut or shredded
shredded Monterey Jack cheese
Instructions
In a medium saute pan, heat oil over medium heat. Saute onion and garlic in oil until soft. In a large stockpot, add in chili powder, oregano, tomatoes, broth, and water. Bring to a boil, and simmer for 5 to 10 minutes. Stir in corn, chiles, beans, onions, cilantro, and chicken. Simmer for 10 minutes.
Serve in individual serving bowls and top with toppings of choice.
I always like to have chicken ready to serve for recipes.  I usually pre-cook the chicken and store it in the freezer for soups, salads, or when I make chicken enchiladas.  I find by preparing and having the chicken ready makes cooking dinner a lot easier.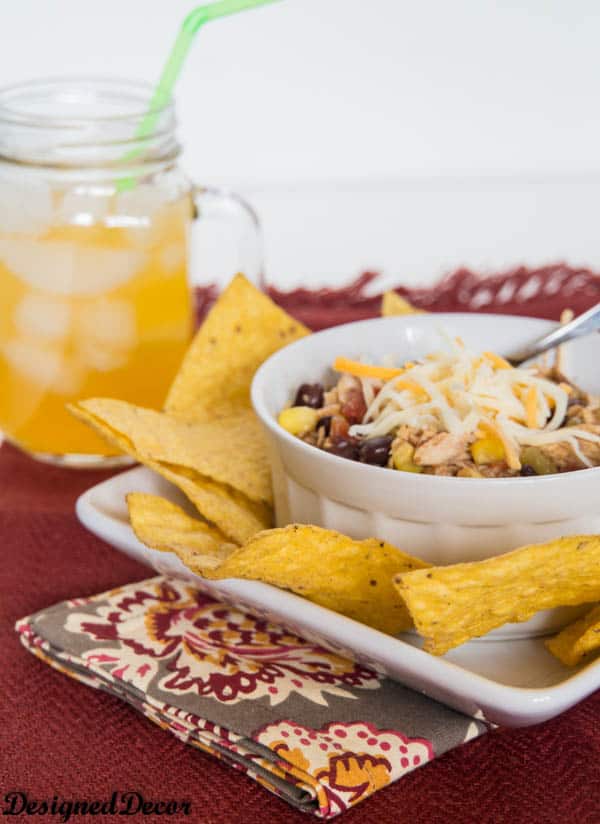 Join the DD Community!
Join the Designed Decor Community and receive weekly free tips on DIY home projects, painted furniture, decorating, and much more.