This year I made a goal to have better time management for blogging. A big part of having better time management would be to have a blog planner. I signed up to do a blog mentoring program with Amy at One Artsy Mama. The first week of the blog mentoring program was to write down your goals. Well, I have never written down any goals for my blog since starting it in April of last year. I have kept all my ideas for posts, projects, and goals in my head. I do know, that actually witting your goal down makes you commit to it more and it makes you more successful in reaching these goals. Now here lies that challenge, finding a planner that works. I decided not to spend my money on a pre-printed planner and find out they do not work for what I needed. So after a lot of searching and thinking, I laid out my own blog planner.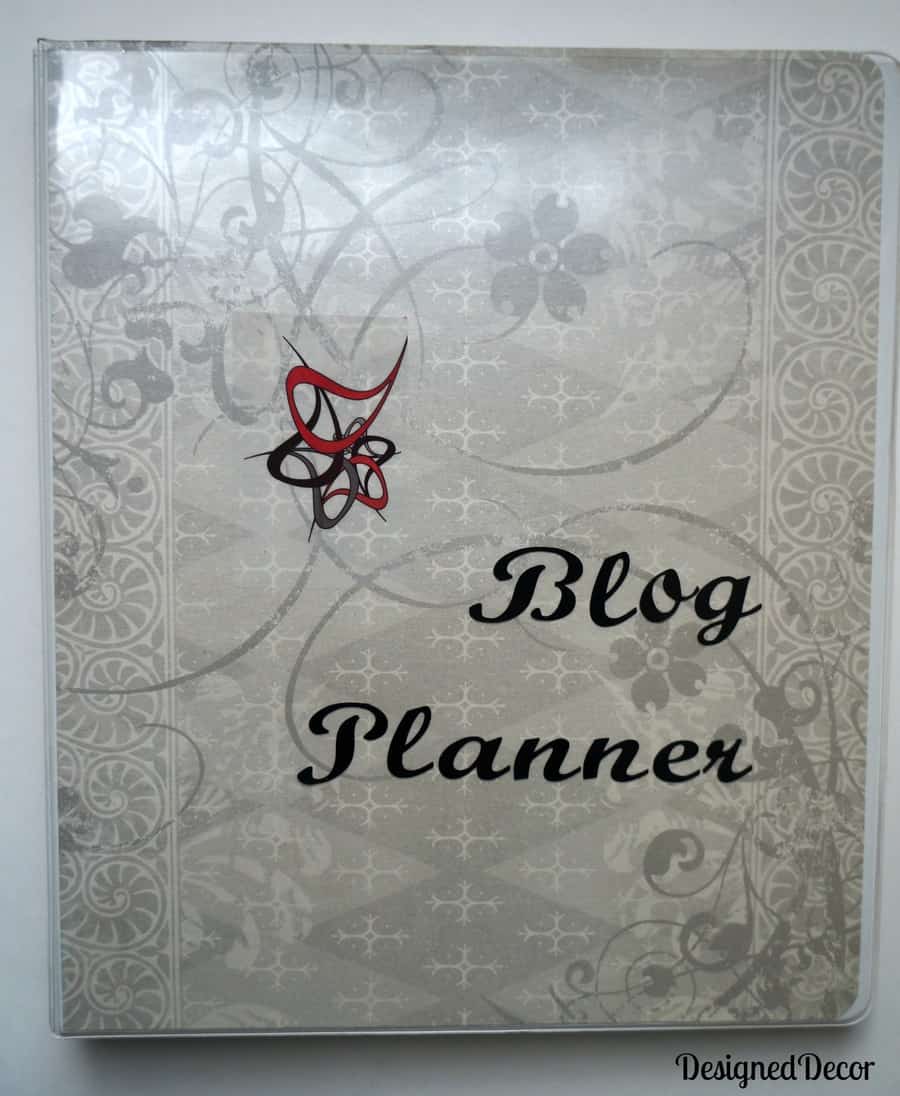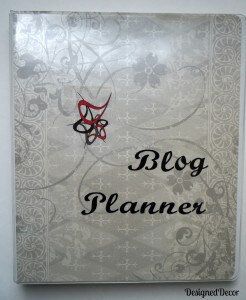 In my research for a planner, I did come across Beckie's planner from Infarranty Creative. I loved her idea, but the pages were not exactly what I needed. I also came across another idea from The Blog Engenizer and I used her calendar idea for remembering to post to my social media sites. I started with a notebook that I already had on hand. I made my tab divider pages out of heavy scrapbook paper and made my planner pages using Word and excel. Here is how I made my tab divider pages. I started with 12 x 12 scrapbook paper cut the width to 9 1/2 and the length to 11 1/4 and used my hole punch.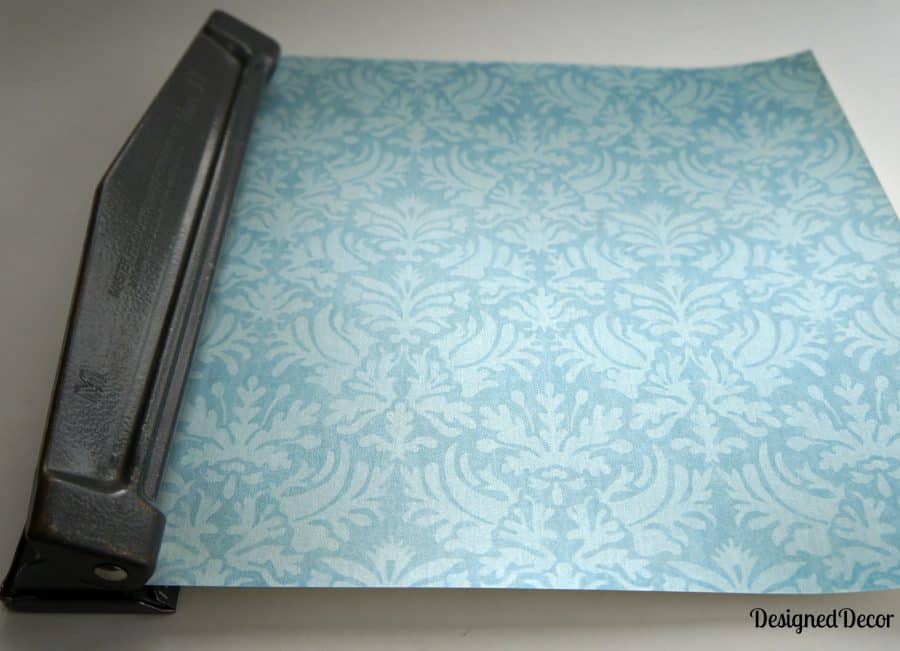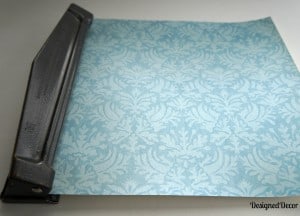 Using my straight-cutting tool, I started 2 inches down from the top of the scrapbook paper and a half inch from the edge. This gave me a 2-inch tab. I continued with the next divider by cutting it down to 2 inches, lifting my blade and moving it to the 4-inch mark, and continuing to cut from there. I continued to do all the remaining tab pages in this same manner 2 inches down from the last tab divider.
I used my clear mailing labels and made labels for each of the tabs. Next was the outside cover for my blog planner. I cut my scrapbook paper to be 9 1/2 wide x 11 3/4 long. I used Cameron (my silhouette) to cut out the lettering. I printed my logo on a clear label and placed that on the front also. Now for the time-consuming details of planning my pages. The first section was for my calendar and my week of pages. I used Beckie's planner idea of having a page that flips open so I can change my "week of "page and store my weekly pages without having to move them to another section.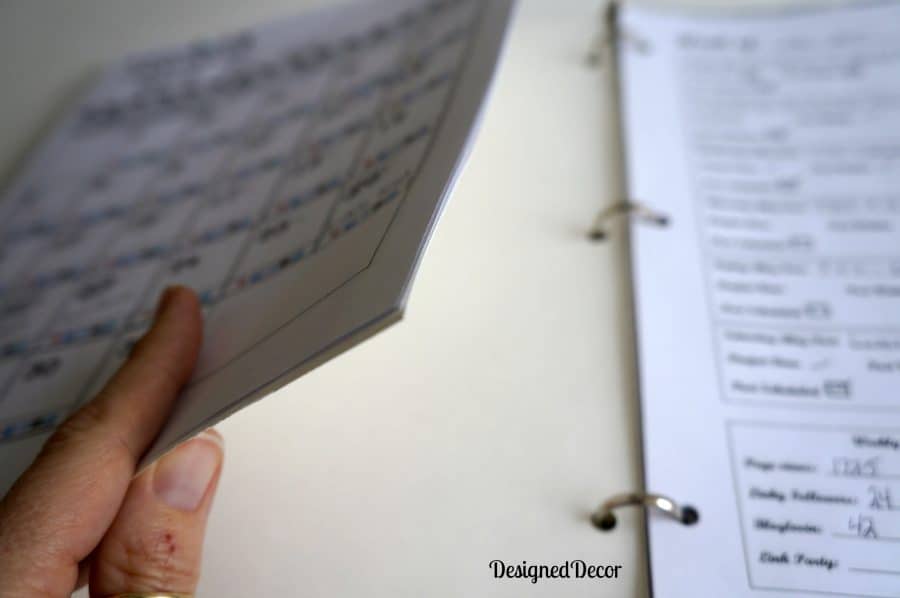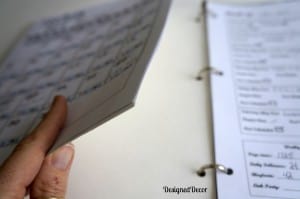 Here are the measurements for the flip divider, 18 inches wide x 11 1/4 inches long. Use your hole punch and place the holes on the right side of the flip divider. Measure from the left edge to 8 3/4 wide and this is where you will fold for a crease to make the flip-out section. Once you have folded the divider, measure from the folded edge (left side) and place a mark 1/4 of an inch down from the top edge at the 2 1/4 inch measurement and the 6 1/2 inch measurement. This will be where you make holes to hold your calendar.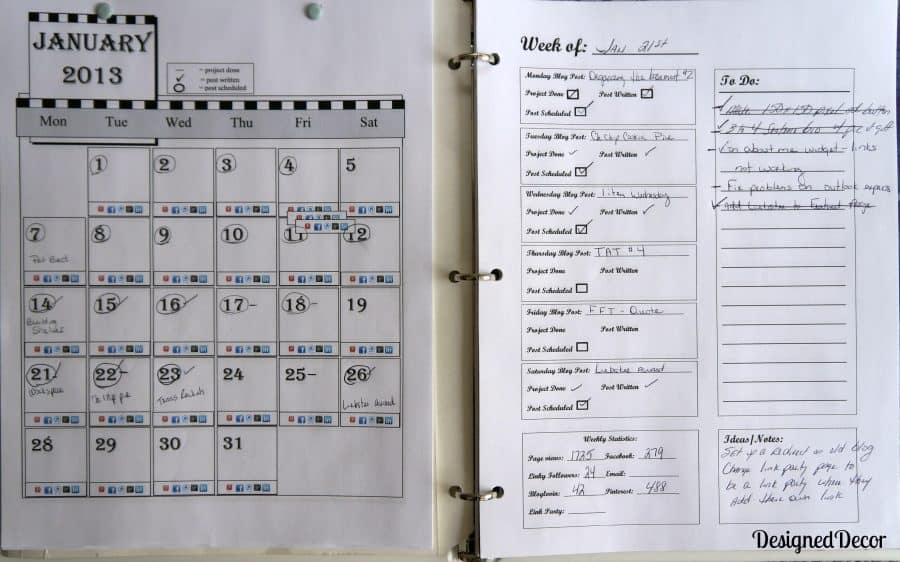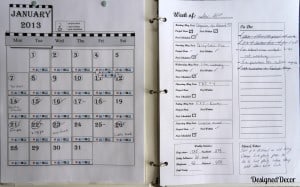 If you will notice, my calendar does not include Sundays, that is because I do not post blogs on Sundays. My monthly calendar has a small space to write my blog topic, and I used the idea from The Blog Energizer to keep track of when I schedule my post on my social media sites. You may also take note of the small box next to the month. I use a "-" (line) to indicate when a post project is done, a "Check mark" to indicate when the post is written and a "Circle" to indicate when the post is scheduled. This allows me to glance at my calendar and get a quick overview of what needs to be done. This quick system is what has helped me a tremendous amount in my blog posts.
Each of the above pictures is the divided sections I use in my blog planner. I have a Detailed Projects page, where I list my ideas. the supplies needed for the project and some links to other pages for inspiration. I have an Important Sites page, where I list all the sites I use with my username and password. I have a Blog Post page, where I list the post topic and have a checklist for step-by-step on that topic. I have a Projects Page, where I list all the house projects, craft projects, and shop projects that I have thought about. This page is my idea starter and a general to-do list. I chose the keep my pages plain and simple, as I did not want to waste ink when I printed them out. You can make your own blog planner using my free printable. You can print it on colored paper to give it that extra pizzazz and to save you some expense on ink. I am willing for a small fee to customize a blog planner page for you. Just contact me and we can discuss the options.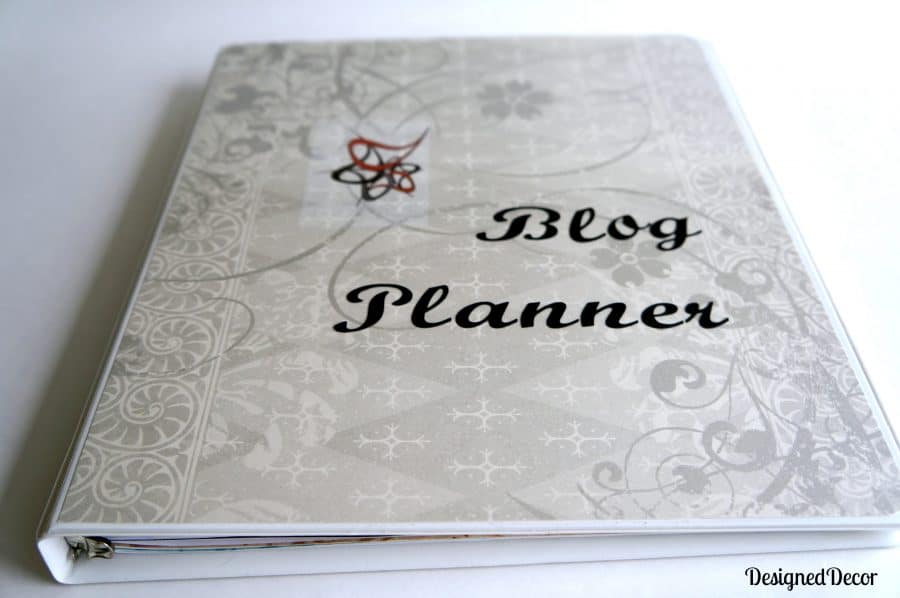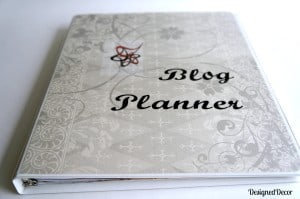 Join the DD Community!
Join the Designed Decor Community and receive weekly free tips on DIY home projects, painted furniture, decorating, and much more.