I love finding the ordinary items and turning them into fun, like this Bistro Table Makeover.  Sometimes you need to step out of your comfort zone and go for color.
I typically paint in neutrals since those are the colors I pick for my own home.  That is why this bistro table makeover was fun for me.  I just went with a fabric pattern I liked and found the paint colors to match.  And those colors are far from my neutral comfort zone.
I saved the chairs from my neighbor's trash and was in search of the perfect table to go with the chairs. I found the table about 8 months after rescuing and making over the chairs.  Yes, the chairs sat in my house waiting for the perfect table to go with them.  The table was in good shape, so a little sanding and rust removal and she was ready to be painted.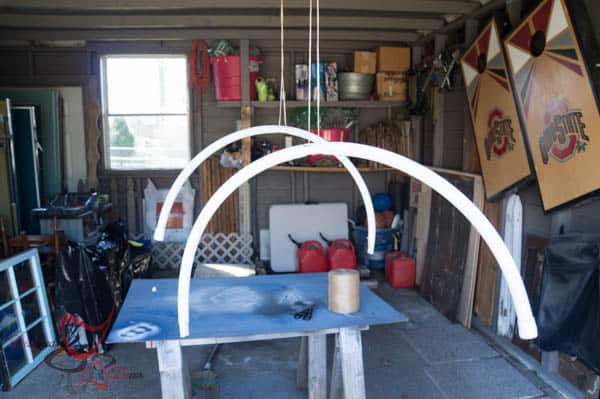 This is my creative way of spray painting things that are round or have moving parts. This way I can spray all sides without having to flip or hold it!  I will find ways to hand items so I can spray all sides at once.  It makes it easier and saves you time from flipping over and over again.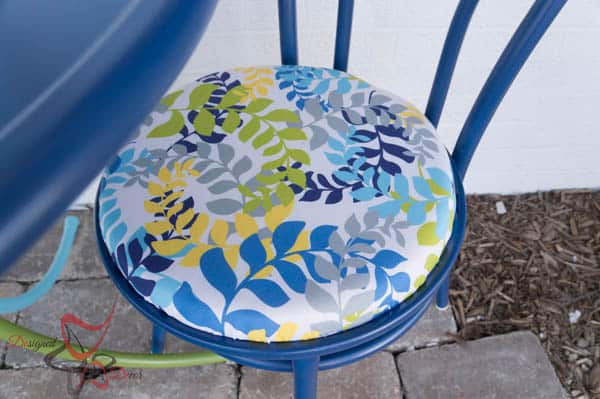 Stopover to the read "How to paint rusted metal chairs" to see where I received the fabric from and tips on how to remove the rust from metal chairs and a bistro table.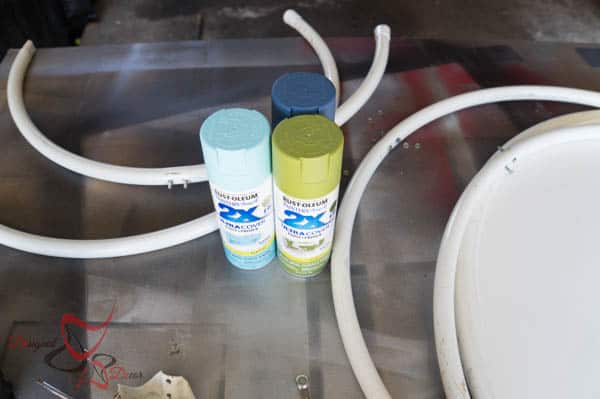 This post contains affiliate links.  Click here to see my full disclosure policy.
I decided to paint the legs 2 different colors to make the table fun.  I used Rustoleum's 2X Ultra Cover in a satin finish in colors Aqua and Eden.  The bistro table and chairs were painted in Rustoleum Stain enamel spray in Indigo.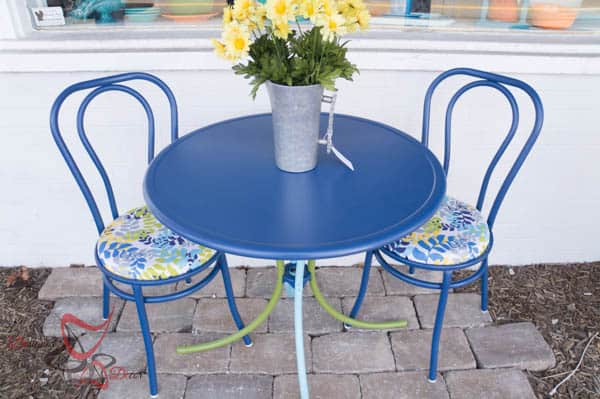 I think the table turned out to be a great pop of color for any porch setting.

Join the DD Community!
Join the Designed Decor Community and receive weekly free tips on DIY home projects, painted furniture, decorating, and much more.