Are you the type of person who loves an amazing makeover reveal?  Do you look at the after photos and say to yourself, "well if I had that kind of money, mine would look that amazing too?"  I am sharing my amazing budget-friendly home office makeover, that looks that good without the big bucks invested.   If you have been around my website, you know I am all about the thrift budget and making my house look like I spent the big bucks on my home decor and makeovers.
This amazing budget-friendly home office makeover, like all my others, took me longer than I expected.  I think I just need to plan my makeovers to take 6 to 9 months to be completed.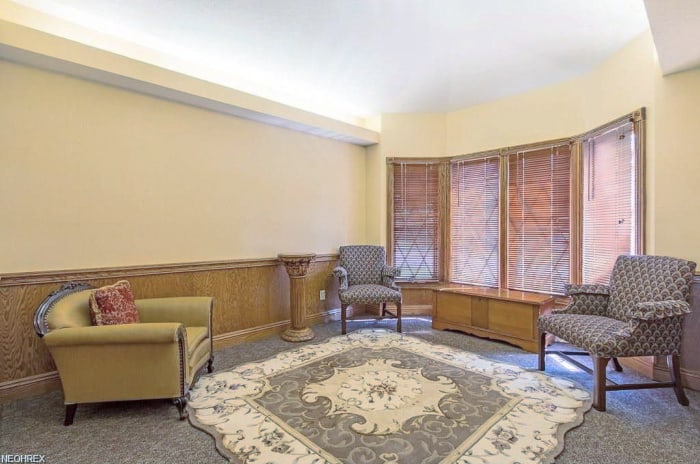 This is the photo of my office from the listing pictures, looking in from the entryway.  I need to get one of these wide-angle lenses.  It makes the space look huge and it is not, as you can see from the photo below.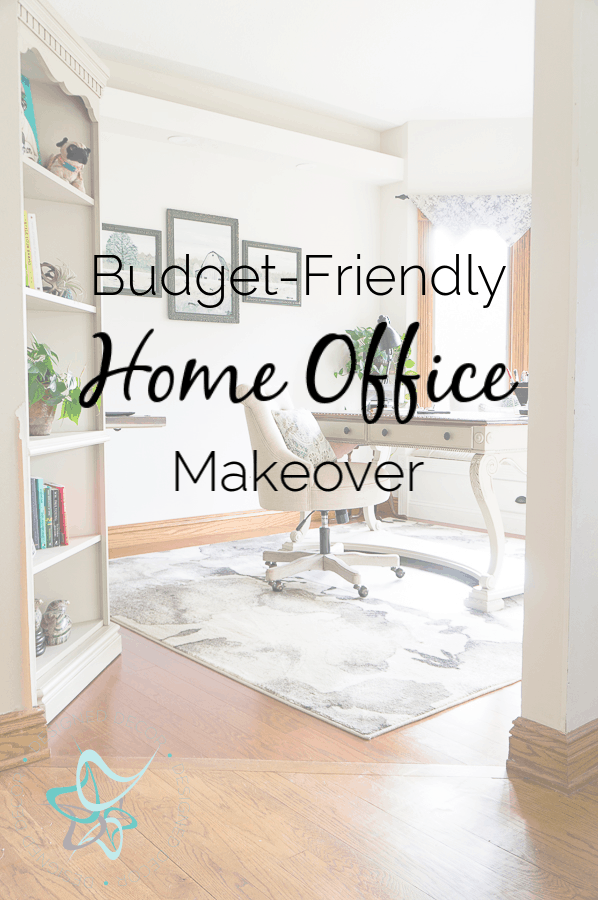 In this new house, I am having to embrace living with oak.  I am trying to minimize the amounts of oak we have and yet still use it as unpainted oak.  I am not one just to slap paint on it, because once you do it takes a lot of work to go back.  Believe me, I know, we stripped oak baseboards at our old house.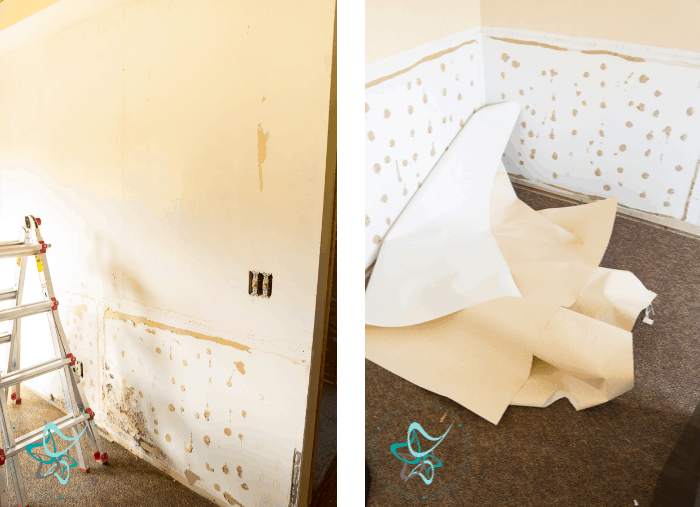 Removing the oak paneling and chair rails came first.  After seeing the amounts of damage to the drywall, I wanted to glue it back on and just paint over it.  It was oak paneling and I knew I would not be happy with how it would look with the grain showing through the paint and covering the grain was work too, so I decided just continue.  I removed the wallpaper and carpet and began to repair the walls.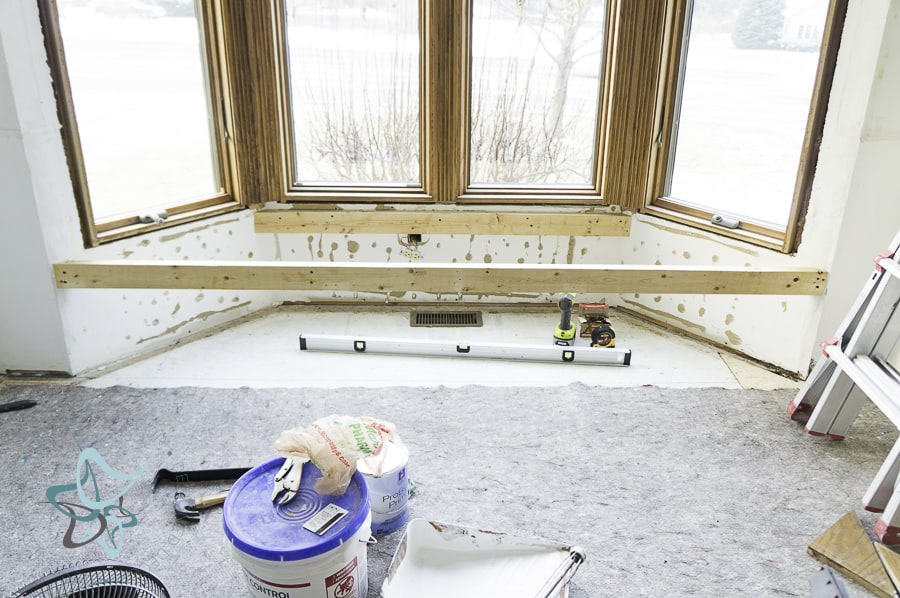 Mr. DD built a window seat bench in the bay window area.  We tore out a bench area from our downstairs Airbnb guest suite, and all the wood came from that bench. After the walls were repaired and the bench was complete, we installed laminate flooring to match the existing flooring in the entryway and dining room.  I am wishing I would have spent the extra money to do the real oak flooring.
Watch this video to see the progress we made on the walls, the window bench, and the design plans.  You will also see a messy look into my living room.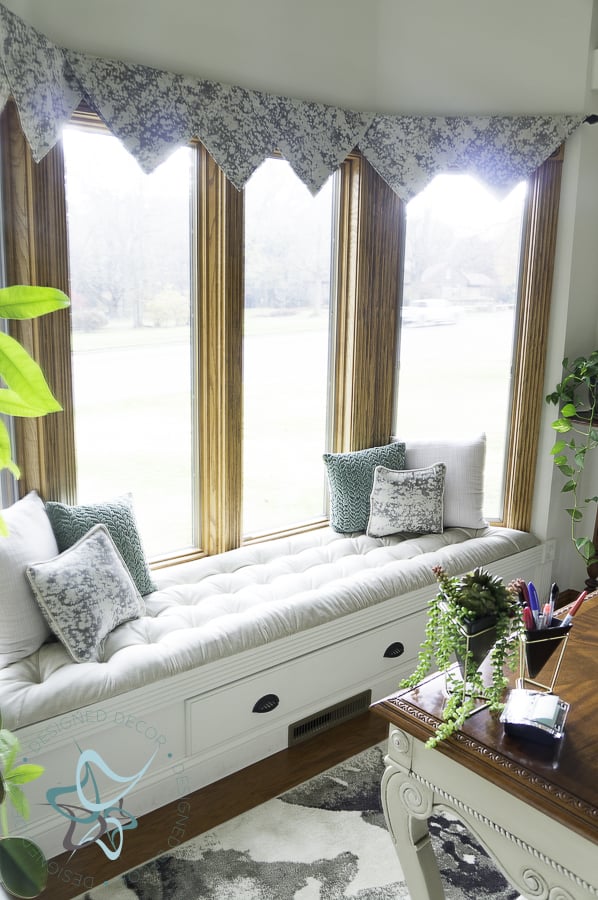 I painted the window seat bench, Pure White, by Sherwin Williams, and made the tufted seat cushion.  Mr. DD sits on it all the time when he comes to chat with me in my office.  He sometimes comments at what a nice seating area his window seat bench makes.
I reused the bay window curtain rods from our old house, with a few adjustments and the DIY handkerchief valances were also from the old house.  I did make those decorative envelope pillowcases with piping with some of the leftover fabric from the handkerchief valances.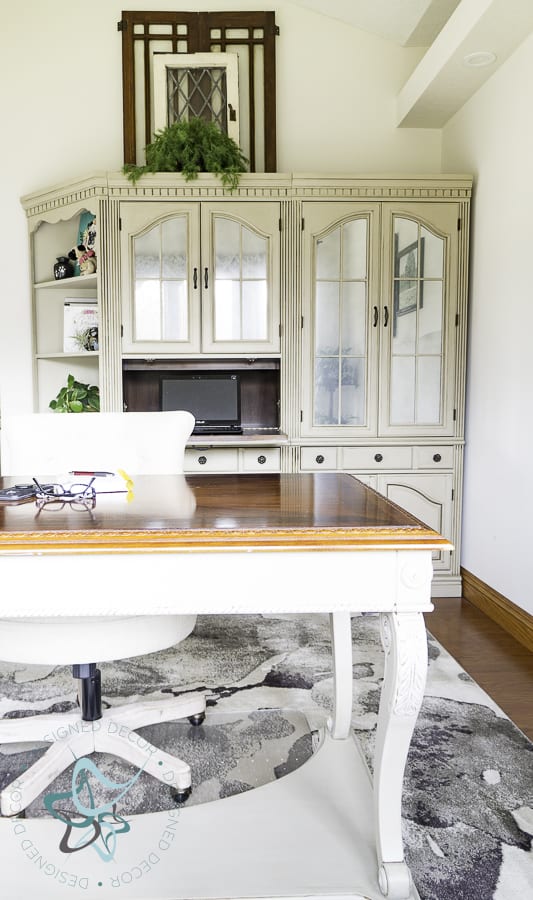 I found the desk and shelving from Facebook Marketplace and gave them both a much-needed makeover.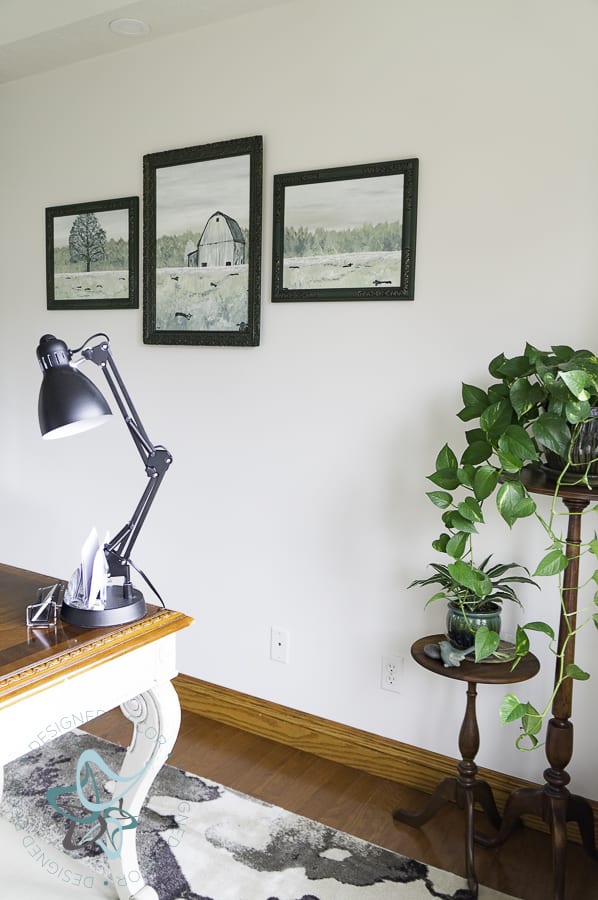 Mr. DD painted me the barn scene pictures.  I had the frames from the guest bedroom at the old house and gave them a new paint makeover.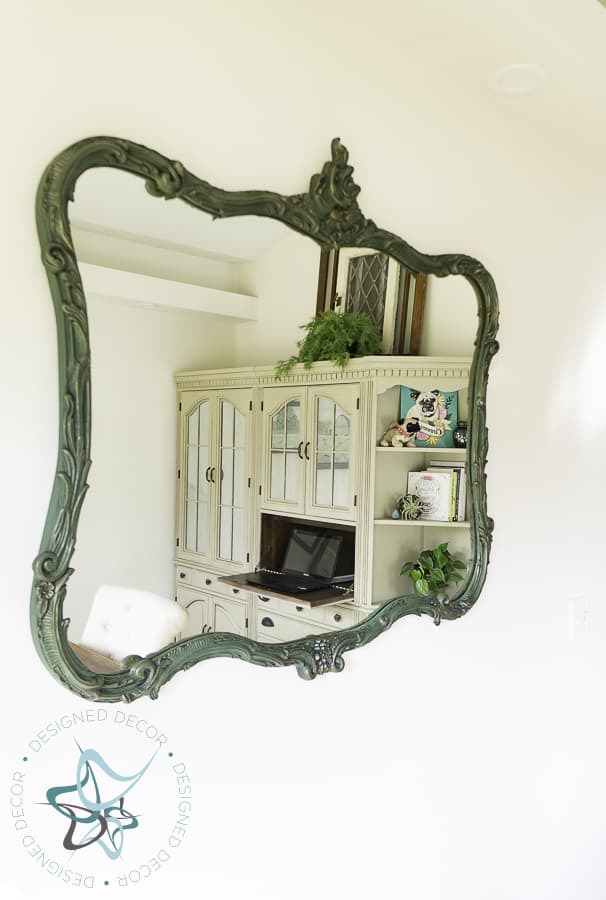 Another FB Marketplace find was this gold antique mirror that received a facelift with paint, to match the frames on the other side.  I mixed a few colors of Chalk paint to create this deep green accent color.  If you would like the green color mix, stop over to read how to modernize an outdated buffet.
Shop My Office
This post contains affiliate links.  Click here to see my full disclosure policy.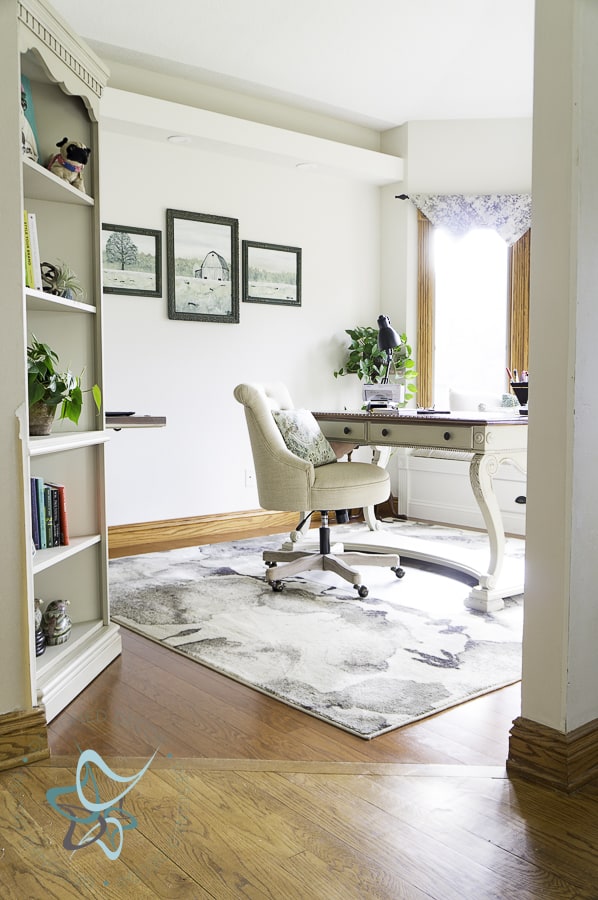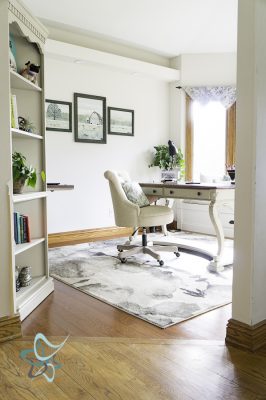 Peace Area Rug – It currently is out of stock here is the other one I was considering Kemi Area Rug
Upholstered Office Chair – Wait to purchase when they are running a furniture sale or a 30% coupon.
Office Desk – This is an affordable alternative to buying a thrift desk and painting.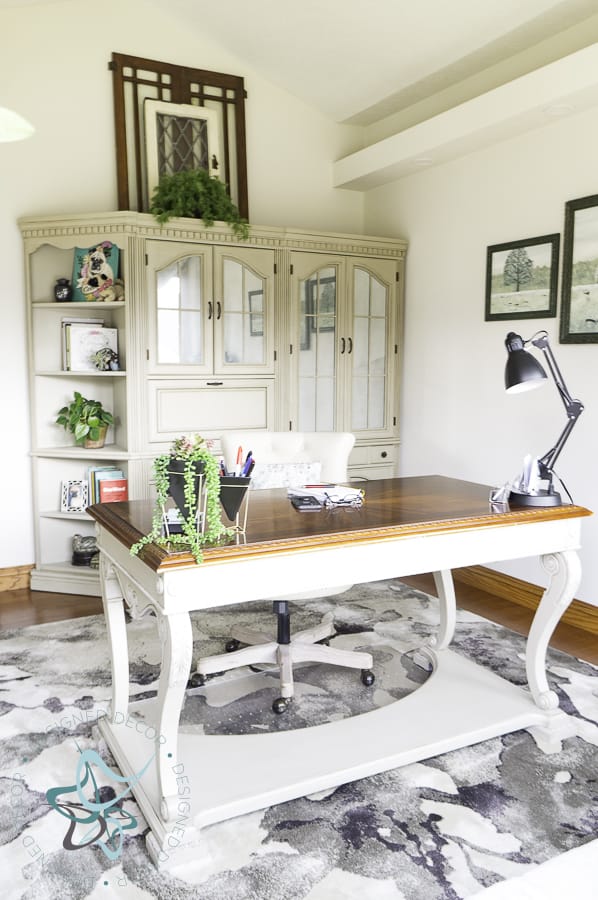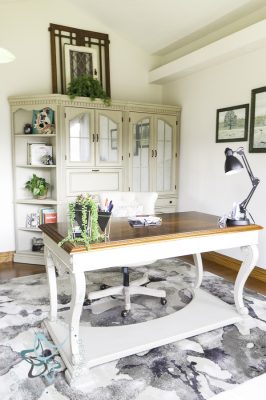 Desk Lamp – Affordable lamp under $25
Post it pop up note dispenser – I love this thing, I only need 1 hand to get a post-it note.
Modern Business Card Holder – I like modern touches mixed with the antiques and traditional items.
2 pc. Desktop Vase – I splurged on this item.  I wanted something modern to hold my pens and liked the idea of having the taller vase for some added greenery.
Antique Windows – If you can't find some type of local architectural salvage, I found these arched wooden window frames that I think look pretty old.  The set of 2 is under $50, pretty great deal!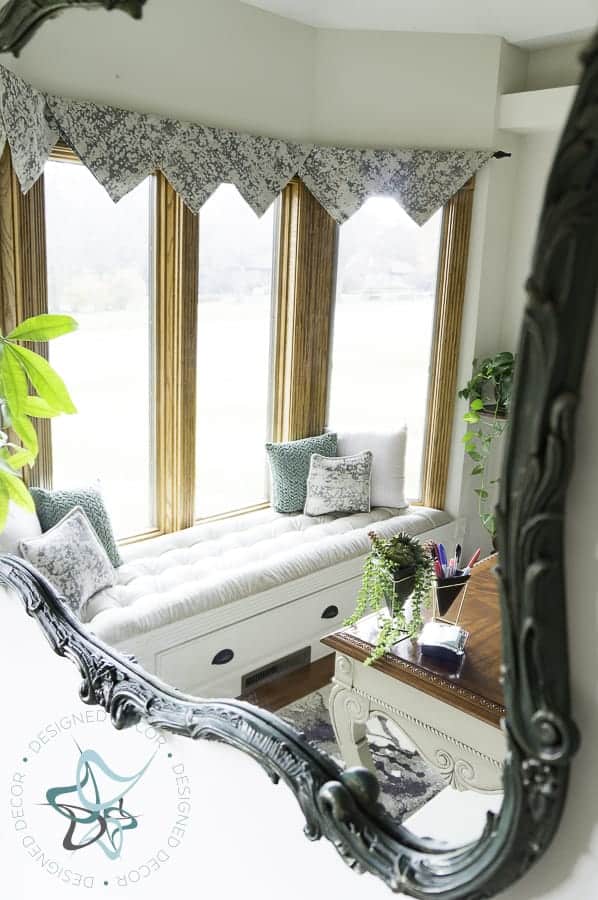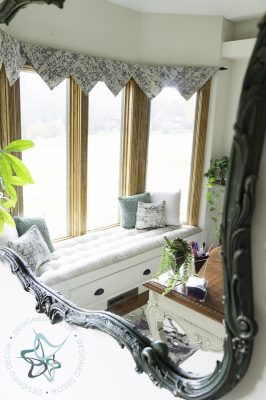 Handkerchief Valances – The easiest is purchasing square napkins and draping over the curtain rod.  I made my own since I could not find a pattern that I liked.
Linen Pillow Covers – I like buying pillow covers so I can easily change out the cover and do not have to store decorative pillows in all the closets.  I pillow cover folds nicely compared to extra decorative pillows.
Green Velvet Pillows – I purchased mine on clearance from Pier 1, I found these that would be a similar style and color.
Wood Pedestal Plant Stands– I first recommend your local thrift stores.  I searched online and the prices were crazy expensive.  I guess that makes me grateful for Ohio thrift store prices.
Ornate Mirror – Another one where you are best to find at a local thrift store.  I paid $40 for mine.
Are you living with oak?  Leave me a message and let me know some of the changes you have made to your oak home? Make sure you sign up to get my latest emails so you receive the latest tips and tricks for making your house a home on a thrift budget.


Join the DD Community!
Join the Designed Decor Community and receive weekly free tips on DIY home projects, painted furniture, decorating, and much more.