I will be starting 2014 off organized with my Blog Planner.
Last year I was in search of a blog planner, but everything I found just would not work for me, so I created my own blog planner. Over the course of last year I made changes as I began to work with my planner. I am so happy with this blog planner and I use it everyday to track my posts, ideas and social media. You will need to stop over to my 2013 blog planner to see how I put it all together. I have kept my graphics simple and I don't use a lot of color, because I am cheap frugal and don't like to waste my colored ink.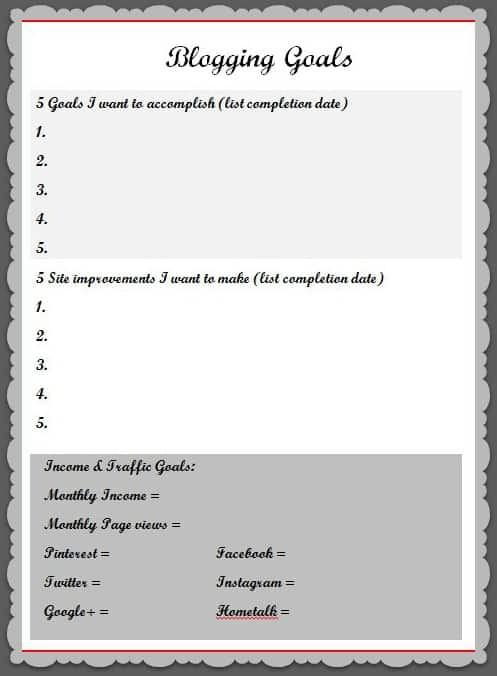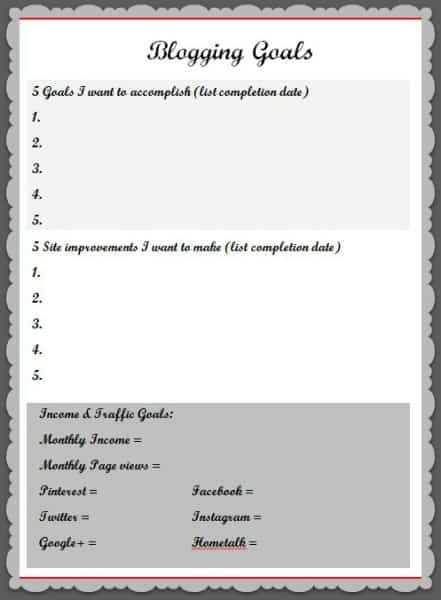 I start by having a Blogging Goal Sheet. I find it a must to write down all goals, short-term as well as long-term. Having a Goal sheet helps to remind myself of those things that I want to achieve for my business and my blog. Just click on the highlighted area below each picture and you can print out each of the sheets for your own use.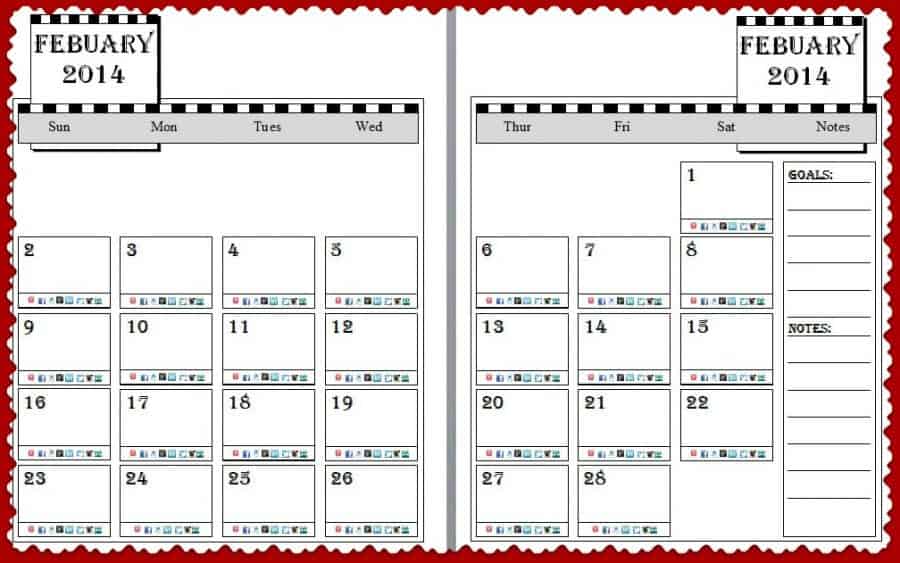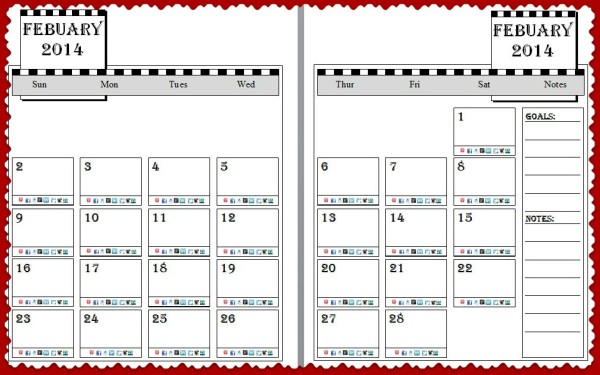 Next is my monthly calendar, This is the life line in my blog planner. This tells me at a glance what is done and what needs done. The best thing that I love about this is that I track my social media posts on this calendar too. I use "lines", "check marks" and "circles" as indicators for a completed post.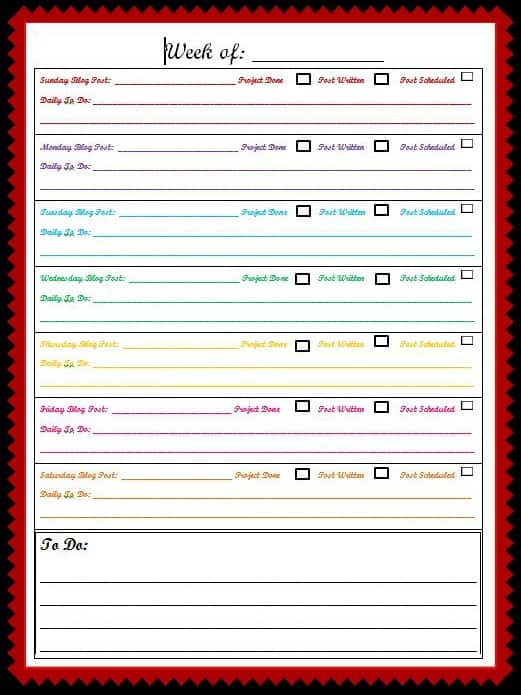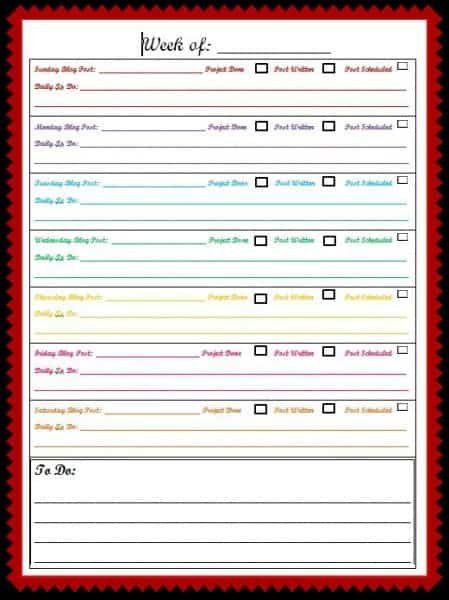 I use this Weekly sheet to breakdown my week by what I need to do on a daily basis. Yes, I used color for this one.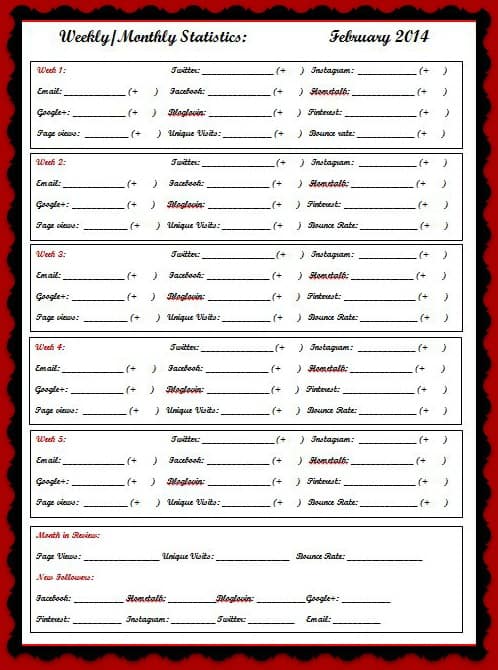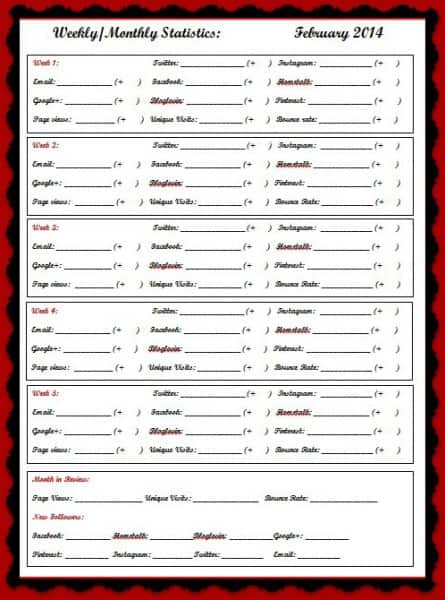 Weekly Monthly Stats Jan – Dec. 2014
Tracking your statistics and analytics is a must. I like to keep track of mine on a weekly basis, but I usually don't dig deep and compare things until the end of the month. Once I begin to take in more sources of income for my blog, I will be changing this sheet to track my income too.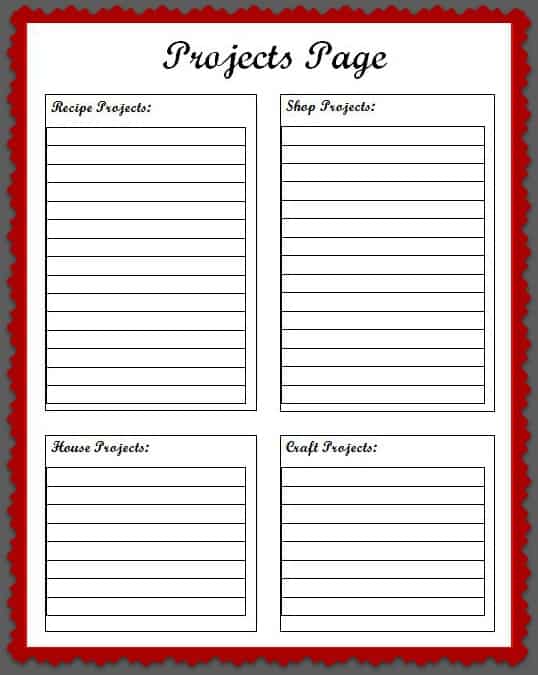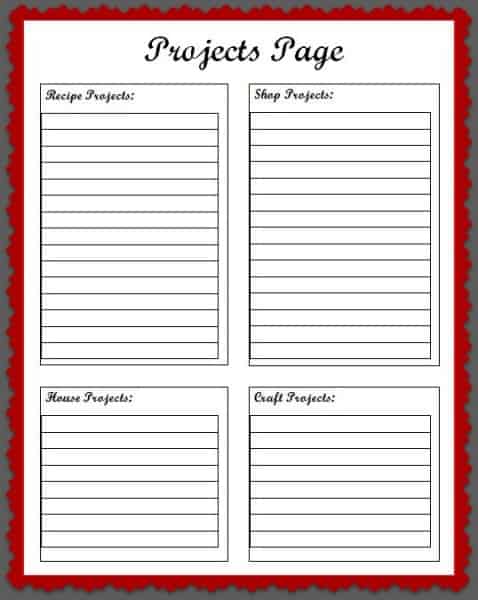 My projects page is where I keep all my ideas and projects that I want to make or tackle. This is just my idea starter.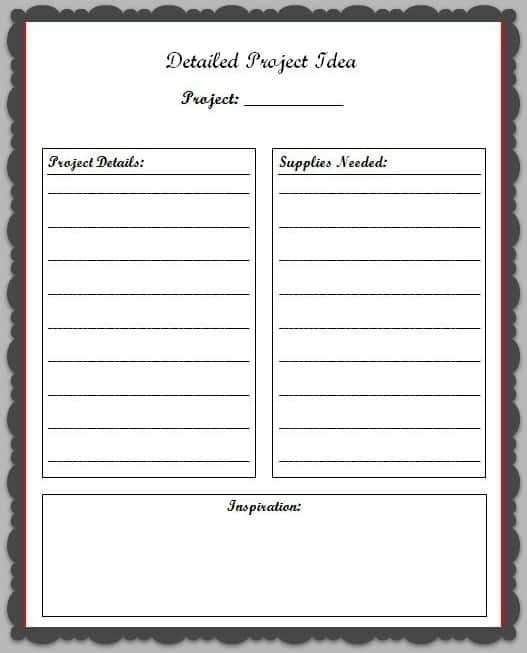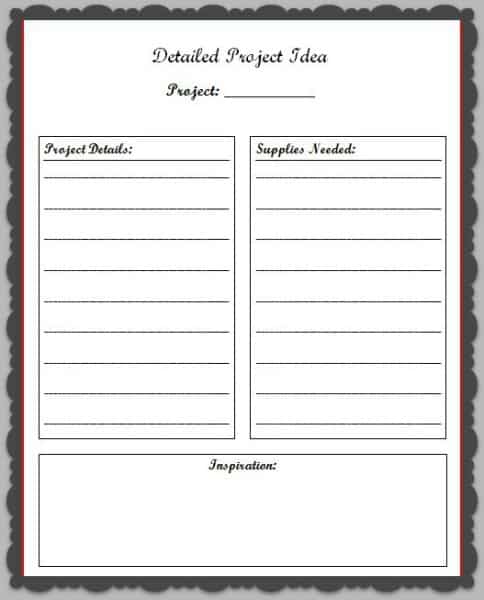 Once an idea is going to happen, I list it on my detailed projects page. This is where I break down my thoughts, ideas and list the items I will need to complete the project.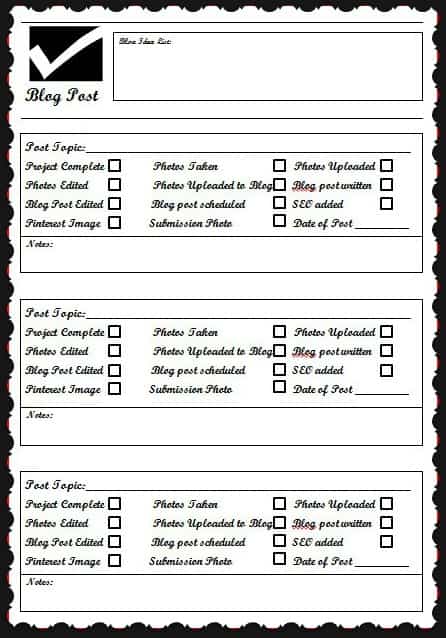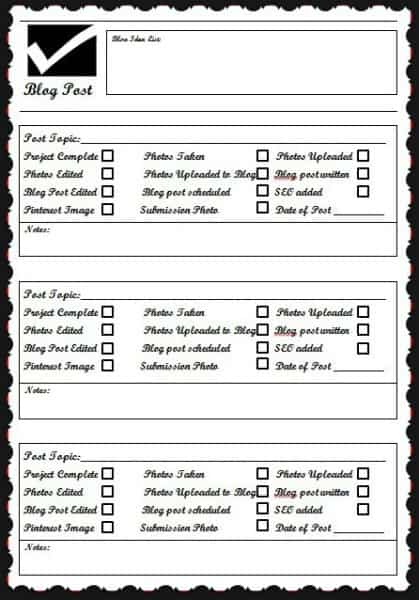 My blog post topics sheet is used once I have completed a project and I need to write-up the blog post. This helps me to keep track of where I am in the blog post. It is very easy to start a blog post and have to stop everything for something that needs to be done sooner and you forget that you were even planning this post.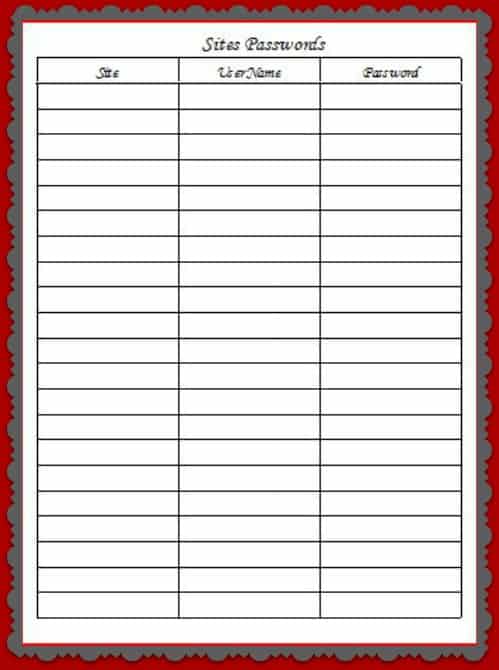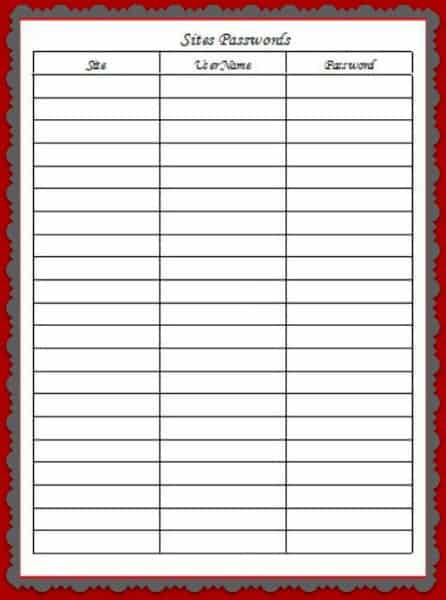 Nothing drives crazy more than not being able to remember my username and password. So to keep it simple, I made a simple sheet to reference back too.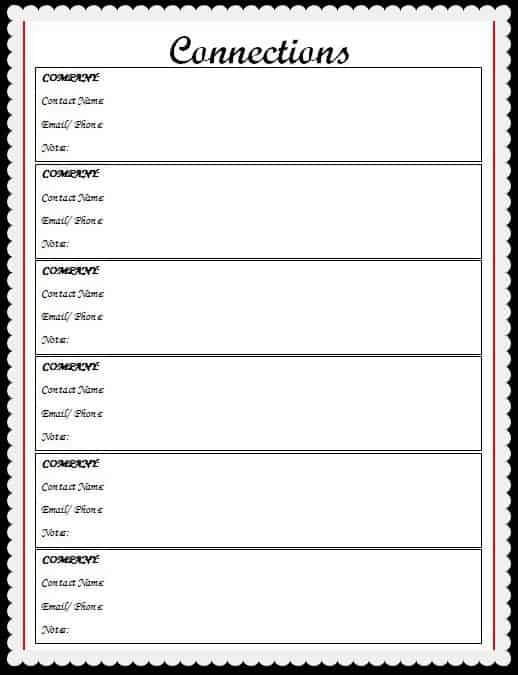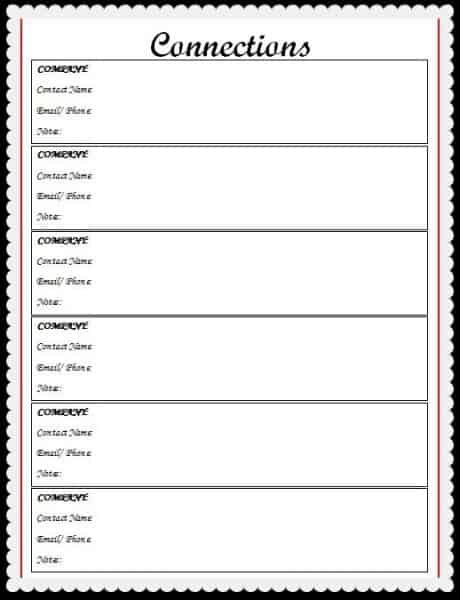 I also like to write down my company connections. I have this information in my email, but sometimes it is easier to have everything in my blog planner. I love technology, but I still am a little old-fashioned when it comes to planners. I have tried to do the online planners, but it was not working for me. I have my blog planner sitting on my desk where I can easily see what I need to complete for the day.
I have made each of these sheets in a free printable for you to use. If you would like to make a few changes,I can customize a blog planner for you. Contact me about the details and I can give you a fee for the changes.
What about you, are you an online planner or the old-fashion planner?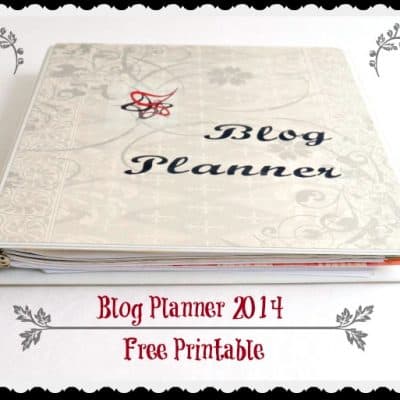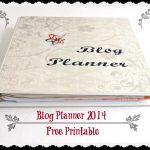 Join the DD Community!
Join the Designed Decor Community and receive weekly free tips on DIY home projects, painted furniture, decorating, and much more.