Are you wanting to distress your next painted furniture piece? Are you wanting to have a lot of distressing but don't want to do ALL of that sanding to achieve the distressed look? Today I am sharing my best practices for Vaseline Distressed Furniture.
This post contains some affiliate links. Click here for my full disclosure policy.
When I know I want a highly distressed look, I use vaseline to help me achieve the desired distressed look.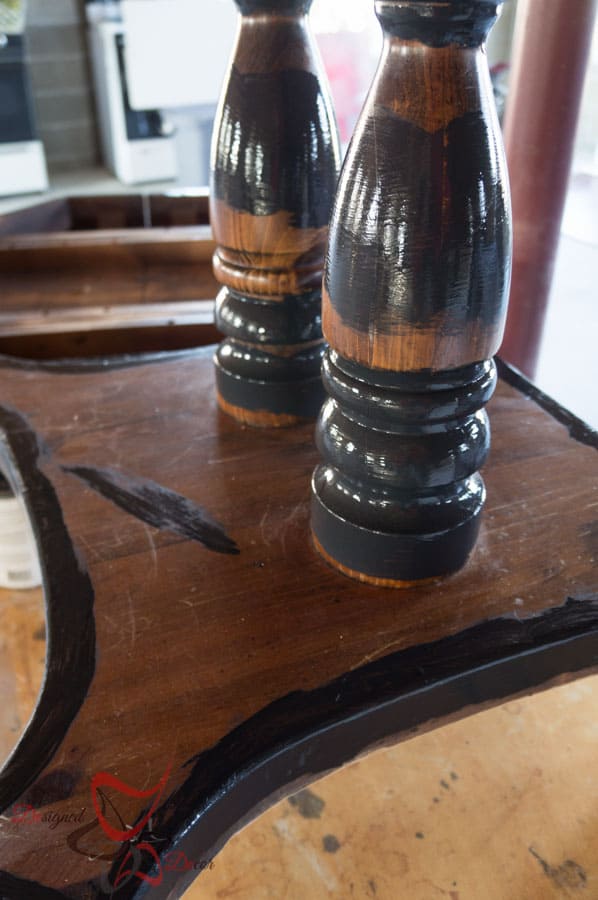 I start by randomly applying a base color paint. Notice that I do not cover the entire piece in the base coat. I want to achieve a very random distressed look and applying the base paint randomly allows some areas to have wood showing through and not just the black base paint. Once the black paint dried, I applied a dark gray paint randomly as well.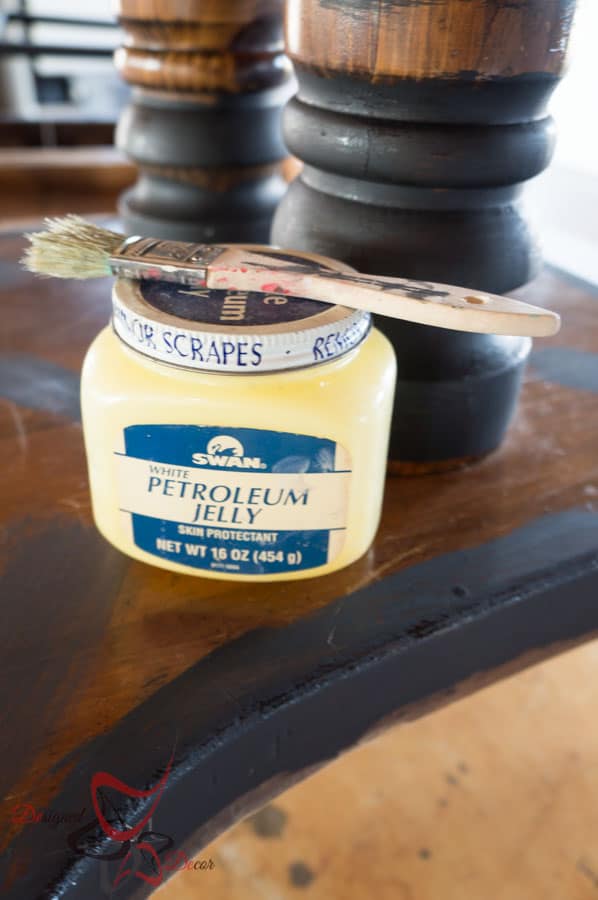 I use a cheap chip brush and my fingers when applying vaseline to my furniture piece. I like to use a dry brush method, applying very little vaseline. Using the dry brush method allows you to spread the vaseline out instead of being concentrated in one space. I use my fingers to apply the vaseline where I want a heavier distressed area.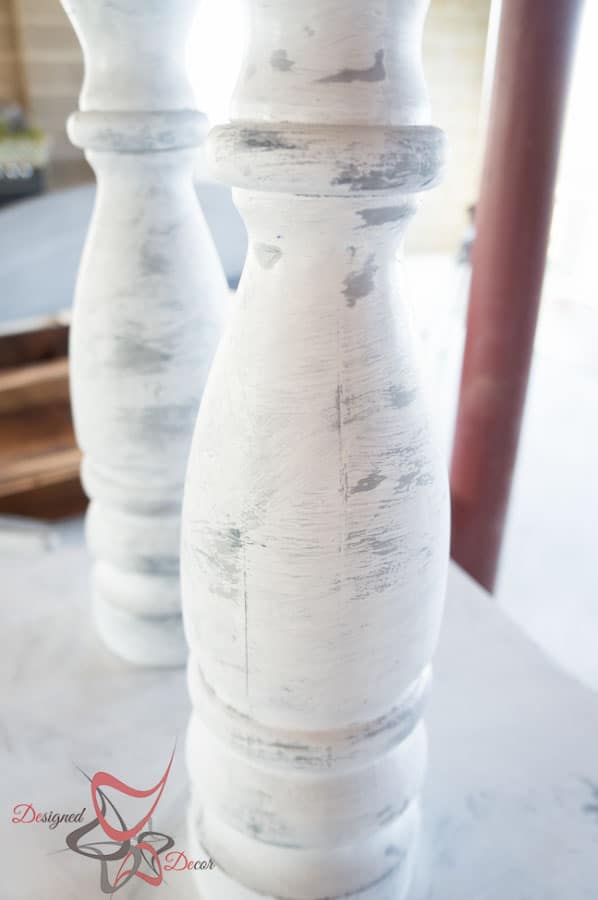 After I have applied all the vaseline, I apply a light top coat of chalk paint or milk paint. I usually only apply one coat so it is easier to wipe away the paint and finish distressing.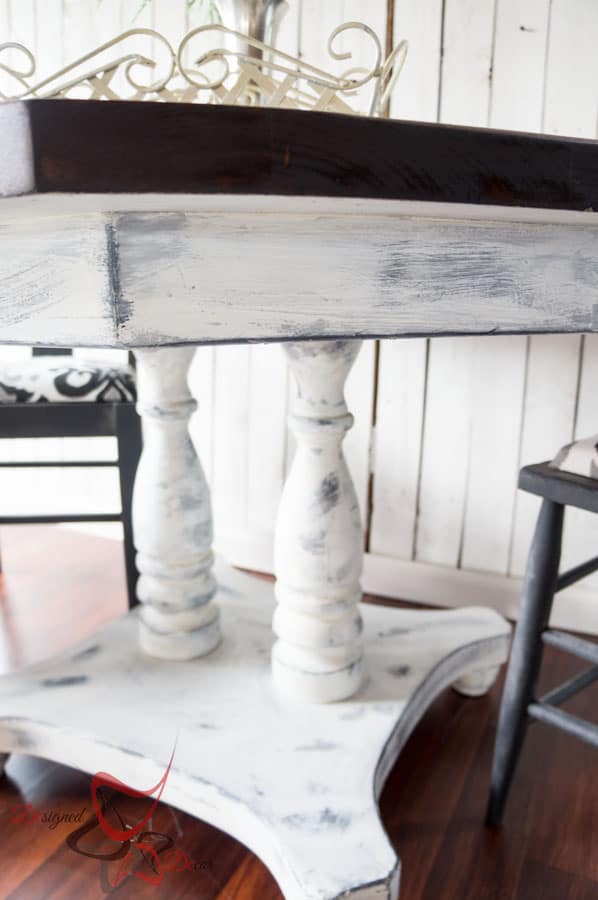 After the top coat has dried, I wipe down the entire piece with a lint free cloth. Where the vaseline was placed, the paint wipes away easily. Once the piece is wiped down, I lightly sand the entire piece creating some more distressing. You can see the gray, black and wood showing through. After all the distressing is complete, wipe down to remove any sanding dust and seal with a top coat or wax.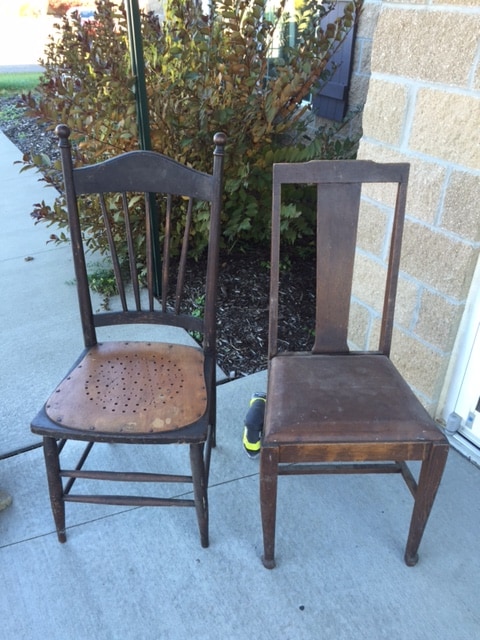 I had 2 different sets of chairs that worked perfectly with the round farmhouse style table. For the chair on the left, I needed to cut out a seat base. I use a piece of cardboard to trace out my pattern and use that as my template to trace on my wood. I typically use 1/2 inch plywood for my seat bases.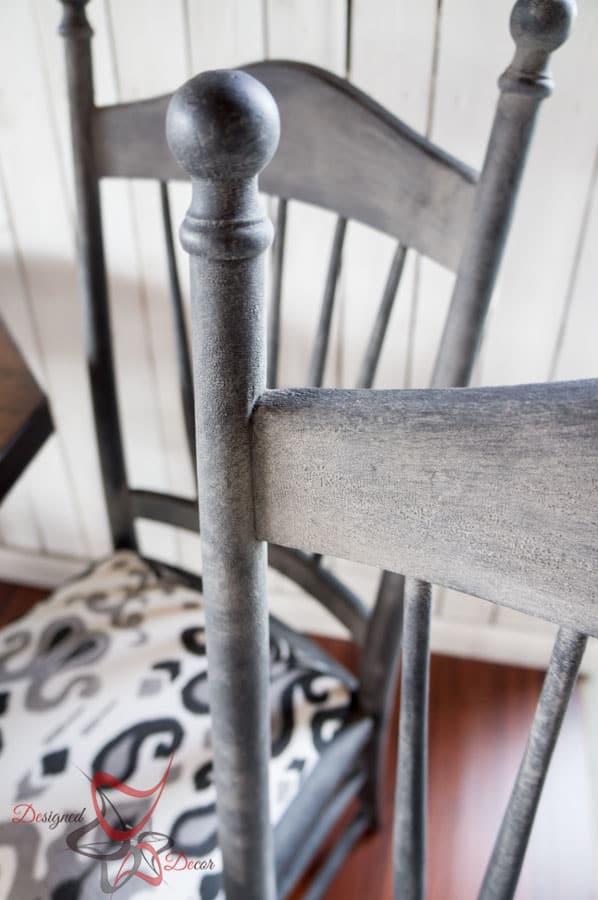 I painted all of the chairs in a basic black, sealed with clear wax and while the wax is in the drying stage, I apply a coat of aging dust to achieve the aged look. I work in small sections when using the aging dust. If the wax dries too quickly, the dust will not stick. Also if you apply the dust while the wax is really wet, it just absorbs and does not give the proper look of dust sitting on top. Once you apply a generous amount of dust on top, let sit and brush off. I like to work over a clean surface and I reuse the dust that does not stick. After I complete the entire piece with dust, I use a lint free cloth and buff the entire piece.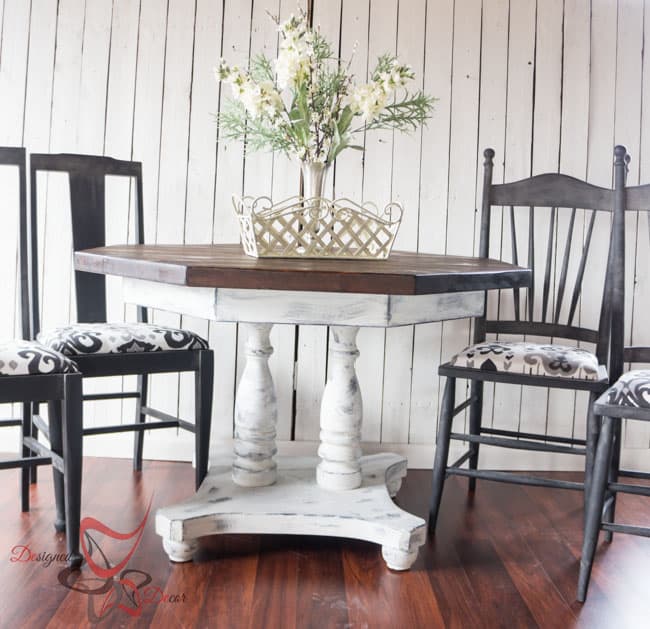 The entire dining set pulled together nicely and the mismatched chairs complement the table perfectly. The fabric was purchased from Joann Fabrics. It has since been discontinued, but I found this one from fabric.com that is very close to the pattern.
Achieve this look with these products:
Ballet White One Step Paint or
Strasbourg White Toscana Milk Paint
Stop over to my YouTube channel to see all my painting videos and more.

Join the DD Community!
Join the Designed Decor Community and receive weekly free tips on DIY home projects, painted furniture, decorating, and much more.