Tantalizing Thursday – Pretzel and Parmesan Crusted Chicken with Daregal Gourmet!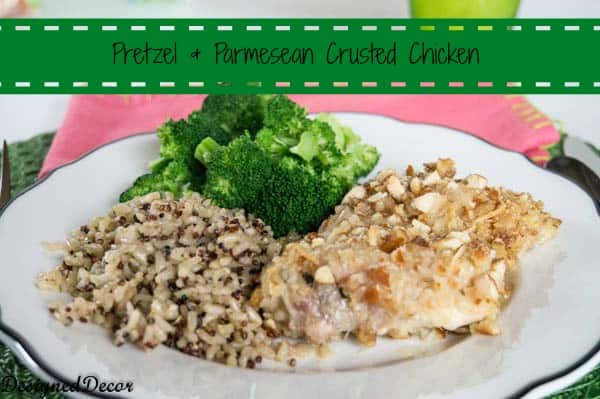 Chicken is a staple in our house for dinner, we have chicken at least once a week if not twice.  I am forever looking for new recipes to share with my family.  I hate the "same old- same old" for dinner.  I found this recipe from allrecipes.com and I knew this would be a great recipe to use my Fresh Frozen Herbs by Daregal Gourmet.  Have you heard about these fresh frozen herbs?  This is my answer to all those times I have purchased fresh herbs and used them once and they spoil before I can use them again.  The best part about these herbs is they will keep for 3 years in the freezer.  No more of me throwing my money down the drain on the fresh stuff that goes bad in a week.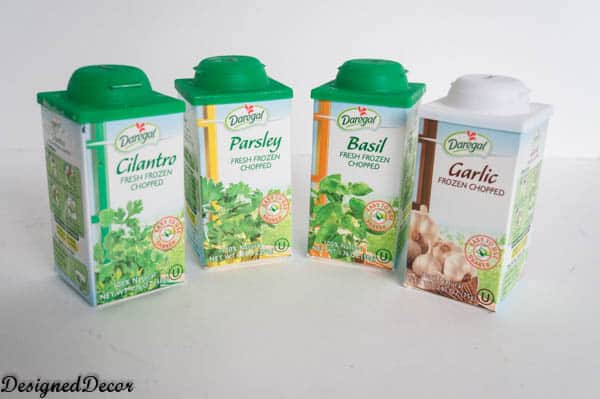 It was so cool to open my package.  They ship them in a styrofoam cooler with ice to keep them frozen.  I took them directly from the container and placed them in my freezer.
I started by marinating the chicken overnight in olive oil and the Fresh Frozen Herbs. I used all four of the above in my marinate. I opened these and was very surprised by the fresh smell right from the container.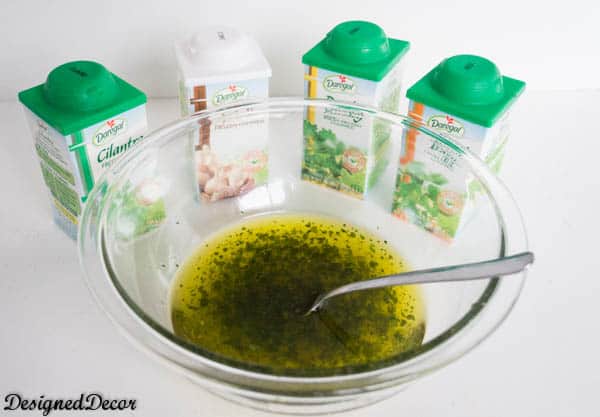 I placed the place the chicken, oil, and herbs into a plastic gallon-sized storage baggie;  seal completely, shake around to coat the chicken fully, and place it in the refrigerator.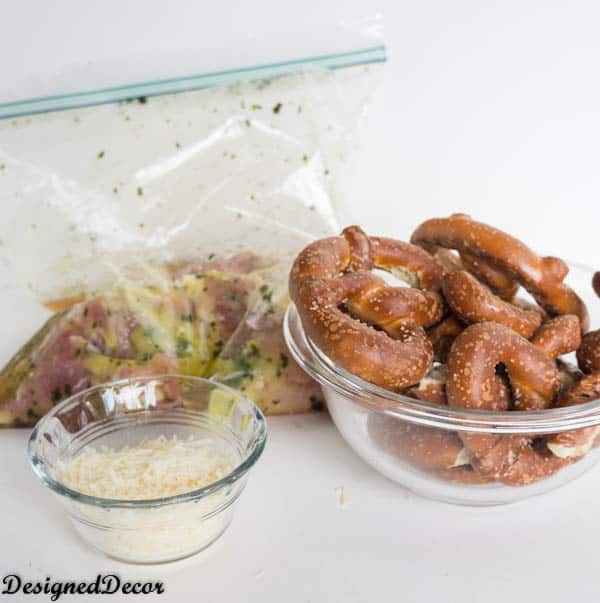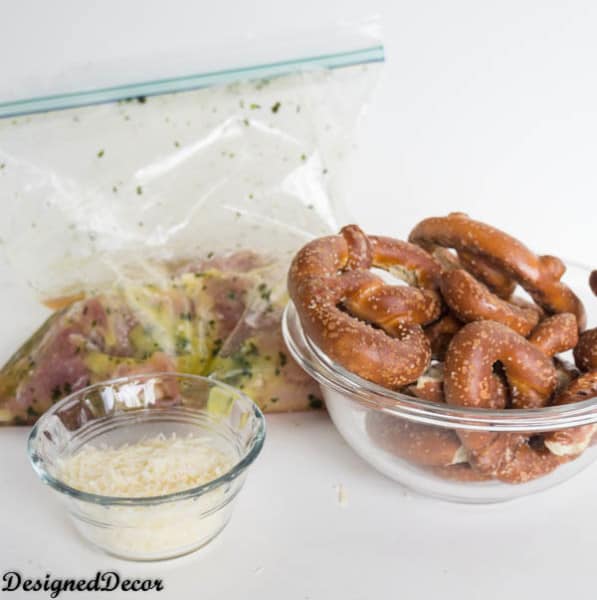 Pretzel and Parmesan Crusted Chicken with Daregal Gourmet!
Ingredients
1 cup light olive oil
1 1/2 teaspoon garlic, minced
1 tablespoon chopped fresh basil
1 1/2 teaspoons parsley
1 teaspoon cilantro
ground black pepper to taste
4 skinless, boneless chicken breast halves
7 ounces hard sourdough pretzels
2/3 cup freshly shredded Parmesan cheese
1 1/2 teaspoons dried parsley
1/2 teaspoon garlic powder
Instructions
Whisk together olive oil, minced garlic, basil, parsley, cilantro, and black pepper in a bowl. Place chicken breasts between two sheets of heavy plastic (resealable freezer bags work well) on a solid, level surface. Firmly pound the chicken with the smooth side of a meat mallet to a thickness of about 1 inch.
Transfer chicken breasts and oil mixture into a gallon-sized storage bag. Marinate in the refrigerate overnight.
Preheat oven to 350 degrees F (175 degrees C).
Place pretzels and Parmesan cheese into a food processor; pulse until the pretzels are finely crushed and combined with cheese.
Mix in parsley and garlic powder by pulsing once or twice. Transfer the mixture to a shallow dish. Remove chicken from the marinade, and shake off excess. Discard the remaining marinade.
Press chicken into pretzel mixture, coating both sides.
Arrange coated chicken in a baking dish. Sprinkle about 1 tablespoon additional pretzel mixture on top.
Bake chicken breasts in the preheated oven until no longer pink in the center and the juices run clear for about 30 minutes.
Cover chicken with a foil tent and allow to rest for 10 to 15 minutes before slicing and serving.
When I opened up the storage baggie after marinating all night long, the fresh smell was so amazing.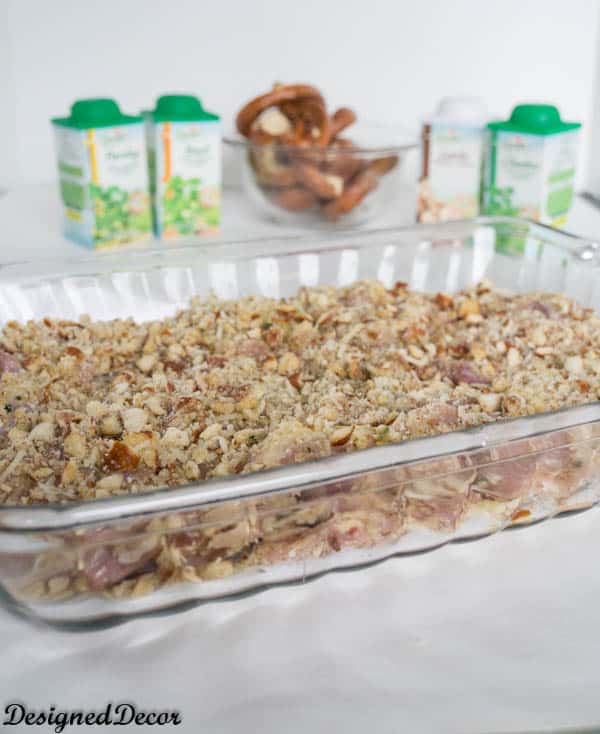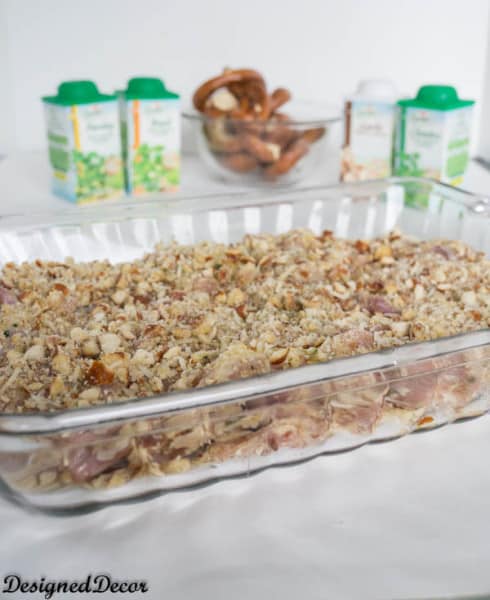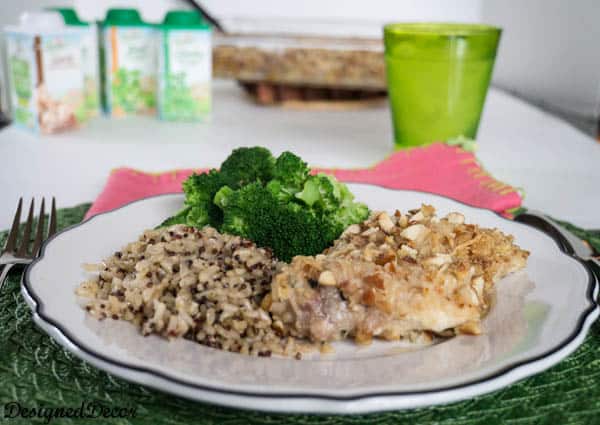 This is a keeper and we will be making this recipe again.  I am also sold on the fact of buying my fresh frozen herbs from Daregal Gourmet.  
Join the DD Community!
Join the Designed Decor Community and receive weekly free tips on DIY home projects, painted furniture, decorating, and much more.