We have worked like crazy on the outside of our home this year.  One of the last finishing touches was to change the color of my front steps.  We added a new colored stamped concrete walkway and I wanted my steps to blend better with the new walkway.  I was shopping at my local hardware store and came across this new product, called Rust-Oleum Restore Deck and Concrete.  Wow, this stuff is magic in a 4 pound container.  This post contains some affiliate links. Click here for my full disclosure policy  I will give you a source list at the end of the post for all the products I used.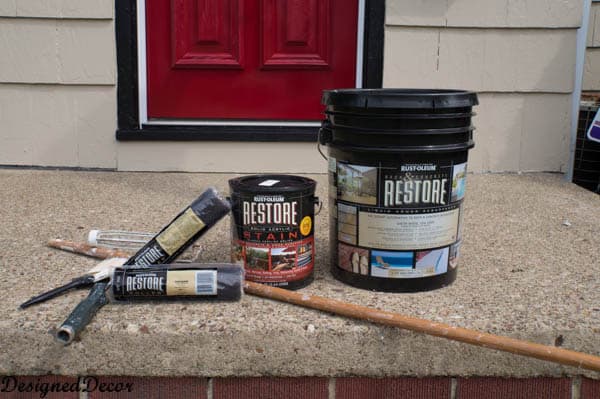 The first thing I did was to power wash my front steps and remove the dirt and paint drips from painting the house.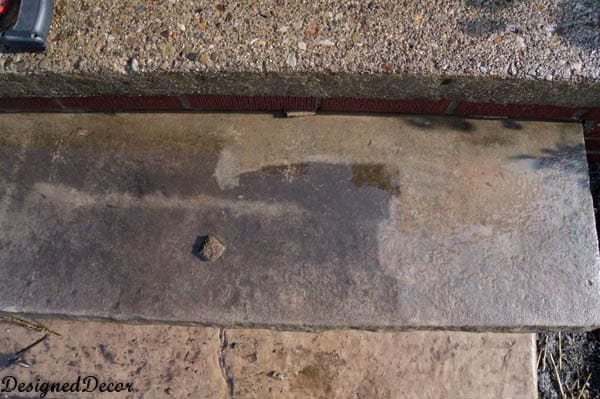 You can see how dirty the steps are by this picture.  The small section on the right is power washed.  I love power washing concrete, my husband thinks it's a huge waste of time and water.  I love how new the concrete looks after being washed.  I did my entire driveway, and it is a pretty big job!  Let me show you!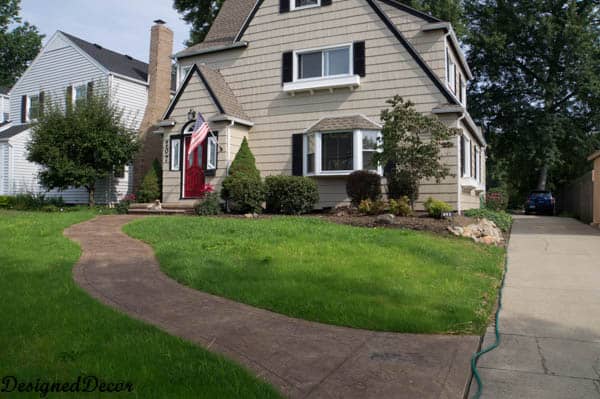 See how long that thing is!  There is also a large apron since our garage sits directly behind the house!  Ok, back to the front steps!  I had to mix the Restore product so I used my husbands handy paint stick, it attaches to your power drill.  I love this thing!   Be very careful not to pull the stick up to high as you could splatter the paint.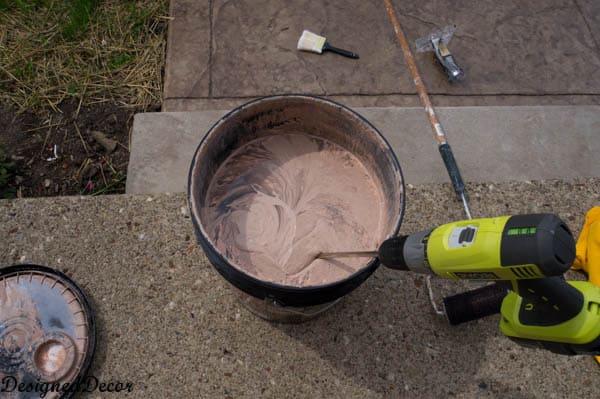 This stuff was like mixing concrete or grout.  Once I had it mixed thoroughly, I started to apply using their special roller.  The application process was very easy.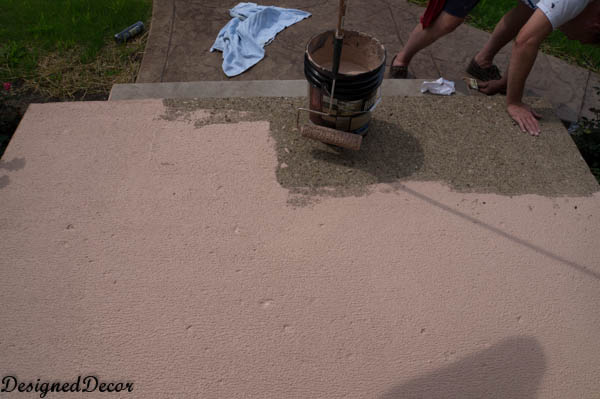 It is very thick, so you do use a bit of the product for a small area.  The part that I hate is cleaning up the paint brushes and rollers.  I must confess that anytime I roll on paint I throw away the roller.  I know, some of you are cringing, but I hate cleaning out the paint.  I have to tell you, this was an easier clean up than latex paint, and no I did not throw away the roller.  Since the roller had an open texture to it, the product rinsed out so easy.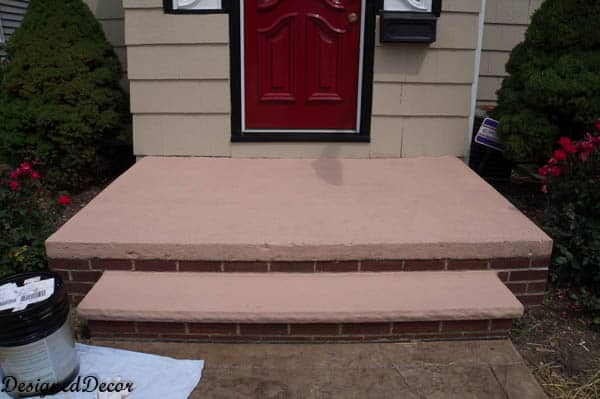 I have to say that I am not crazy about the color that we selected.  It did come out slightly lighter than the sample, but that is expected.  I let my husband talk me into this color and I should know just to go with my gut and not ask his opinion(sorry Mr. DD.)  I am going to let it go for now and maybe in the spring have the color deepened at the paint counter.  Since I live in Ohio, our days are getting shorter and cooler.
This Rust-Oleum Restore product is everything they claim it to be.  They have a different type of formula for different applications.  It was created to cover cracks in concrete and decks in need of repair.  I used it simply for a color change and I am glad I discovered this product.  You can also stop over to One Project Closer to see how they used it to seal their deck.  Jocie is my blogging buddy and her and her husband used it on their deck that was in pretty bad shape.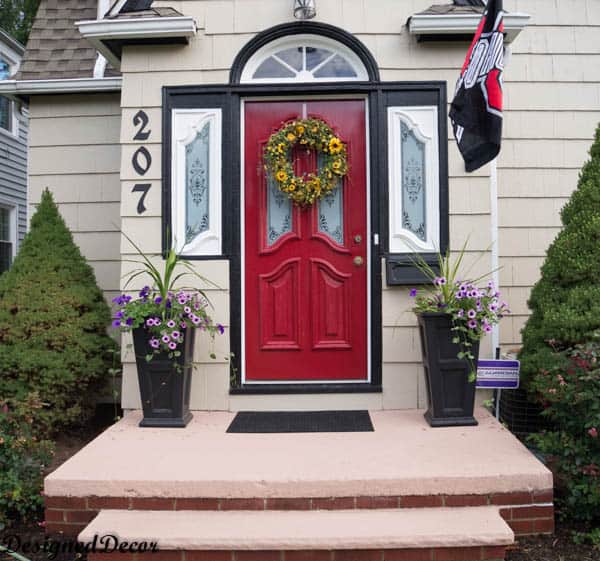 Source List:
You can read all about the changes we made to the front of our house here and  here.  Make sure you read about my new wreath on the front door too.  UPDATE:  It has been 3 years since we have applied the Rustoluem Restore Product, it is holding up well and still looks great.  I am very happy with the performance of this product.

Join the DD Community!
Join the Designed Decor Community and receive weekly free tips on DIY home projects, painted furniture, decorating, and much more.