I am excited to be sharing a few things with you today.  The first is a fabulous recipe I created using some of my favorite Italian food and drink items from World Market.  The second is some great information on how to enter the Gourmet Getaway Sweepstakes present by World Market.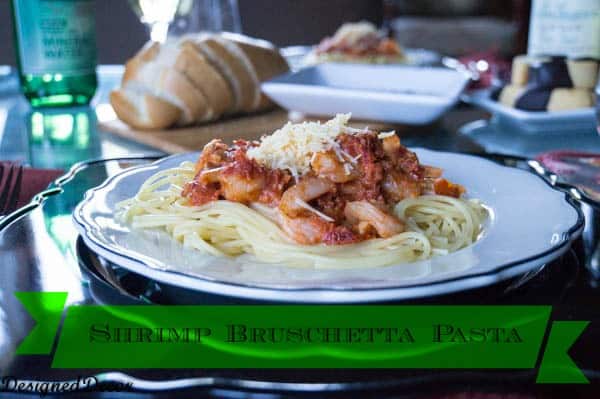 I loaded up my shopping cart, purchased my items, and came home to cook up this fabulous meal.
I started by making a simple and easy dessert, chocolate-dipped biscotti.  I used Perugina Bittersweet Chocolate and melted it in a double boiler. Once the chocolate was melted I dipped the Coffaro's Biscotti into the chocolate and set it on parchment paper to cool and harden.
Now for my main course of Shrimp Bruschetta Pasta.  Remember, when I share a dinner recipe it will always be about the simple and easy.  I am no gourmet chef, but this recipe tastes like I am.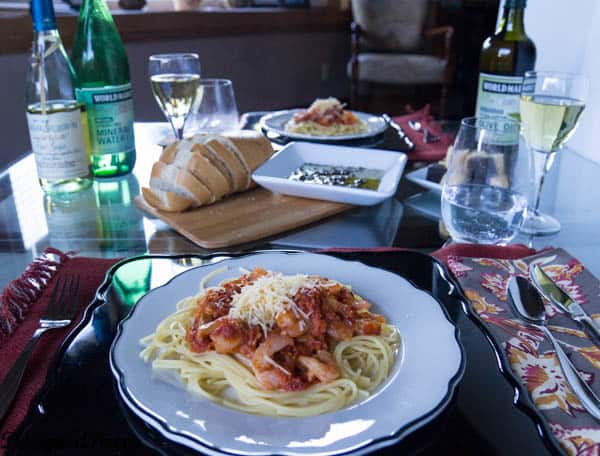 Shrimp Bruschetta Pasta
Author:
Prep time:
Cook time:
Total time:
Ingredients
1 lb. raw shrimp
2 tablespoons olive oil
1 clove garlic (chopped)
1 teaspoon basil
1 teaspoon parsley
1/4 cup sun-dried tomatoes (chopped)
1/2 teaspoon seafood seasoning
1/4 cup chicken broth
1/4 cup white wine (or substitute 1/2 cup broth)
1 10 oz. jar of Tomato & Garlic Bruschetta
1/2 lb. pasta
Fresh grated Parmesan cheese
Instructions
Using a large saute pan, heat olive oil over medium heat. Add garlic, basil, parsley, sun-dried tomatoes, seasoning, and shrimp. Cook shrimp for 10 minutes or until pink. In another pan, cook pasta according to the directions on the package. Once the shrimp is fully cooked, add broth, white wine, and a jar of bruschetta, cooking until heated thoroughly. Serve over pasta. Top with fresh Parmesan cheese.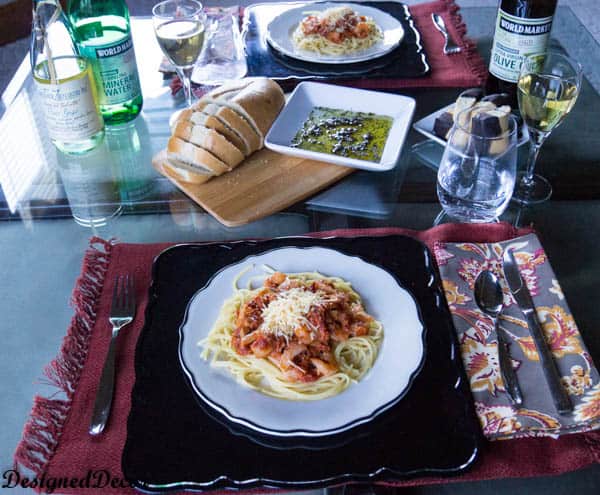 Join the DD Community!
Join the Designed Decor Community and receive weekly free tips on DIY home projects, painted furniture, decorating, and much more.