I love an easy tasty fruit recipe. This strawberry crumb dessert qualifies for easy and tasty.
I like mine served warm and a few scoops of vanilla bean ice cream.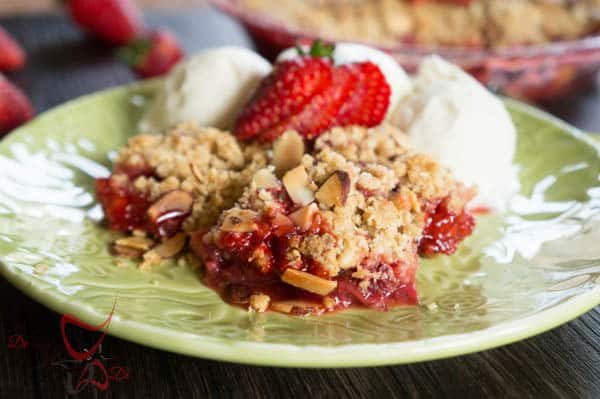 Summer is my favorite season due to all the fresh fruits and vegetables and all the warm weather. I would be happy with just eating fruits and vegetables all day long as long as I can have a yummy dessert like this one.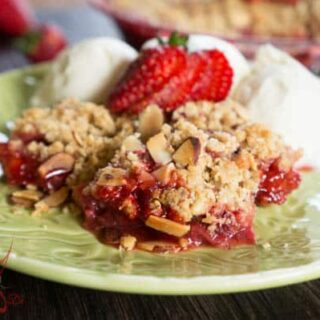 Strawberry Crumb Dessert!
Additional Time:
10 minutes
Ingredients
2 pints chopped strawberries
1/2 cup granulated sugar
1 tablespoon cornstarch
1/2 cup all-purpose flour
1 cup oats
1/2 cup sliced almonds
1/2 cup brown sugar
1/2 cup melted butter
Instructions
Pre-heat oven to 375.
In a bowl mix together strawberries with white sugar and cornstarch.
Stir until sugar is dissolved and strawberries look glossy.
Transfer to a baking dish.
In another bowl combine all-purpose flour, oats, brown sugar, almonds and melted butter.
Stir until the mixture is crumbly and fluffy.
Sprinkle crumb mixture over the strawberries.
Bake 30-35 min or until strawberries become bubbly.
Serve with a scoop or two of vanilla ice cream.
You could substitute any type of fresh fruit into this recipe, or mix a few of your favorite fresh berry fruits together in one recipe.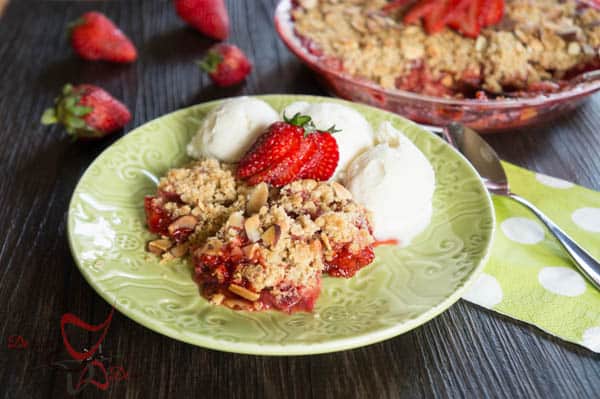 When blueberries, strawberries, and raspberries are in season, I usually buy a few extra pints and freeze them to use later in desserts or smoothies.  
My freezing tip:  Rinse fruit and let air dry.  Place on a cookie sheet and spread out as the fruit is not touching.  Place cookie sheet in the freezer for a few hours until the fruit is individually frozen.   Once completely frozen, place fruit into a freezer-safe bag.  This allows your fruit to be separate and not frozen in a large clump.  This allows me to use small portions of the fruit and not the entire bag.