I am a HUGE fan of all things pumpkin, it's one of the reasons that I like the Fall season so much! Pumpkin displays, pumpkin latte, and pumpkin desserts! I made this Pumpkin Coffee Cake with Brown Sugar glaze and it has moved to the top of my favorites. I will be making it again for Thanksgiving, because it was a hit for the OSU football gathering.
This pumpkin coffee cake was a fast and easy recipe. You know that is one of my requirements when it comes to baking. I love to bake and I don't like complicated recipes that take a lot of my time.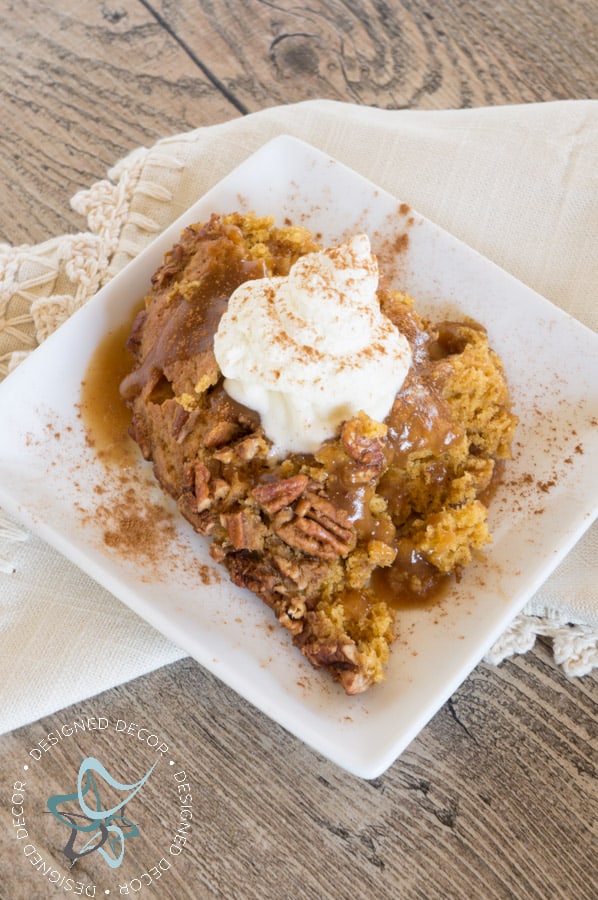 I even had heavy whipping cream in the refrigerator, so I made my own whipping cream.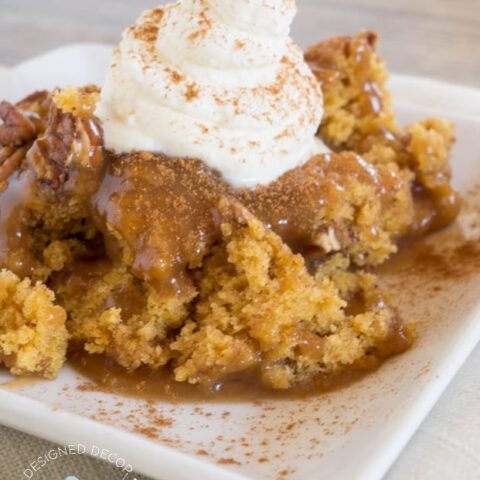 Pumpkin Coffee Cake ~ Brown Sugar Glaze
Ingredients
1 cup + 3 tablespoons all purpose flour
2 teaspoons baking powder
1/2 teaspoon salt
3/4 cup granulated sugar
1 teaspoon cinnamon
1/2 teaspoon nutmeg
1/2 teaspoon cloves
1/2 cup pumpkin puree
1/4 cup milk
1/4 cup melted butter or vegetable oil
1 1/2 teaspoons vanilla
topping
1/2 cup granulated sugar
1/2 cup brown sugar
1/4 cup chopped pecans
1 1/2 cups very hot water
Instructions
Preheat oven to 350 degrees.
In a medium bowl, stir together flour, baking powder, salt, sugar, and spices. Set aside.
In a large bowl, stir pumpkin, milk, melted butter, and vanilla together to combine.
Slowly add the dry ingredients into the wet ingredients and mix to create a thick batter.
Pour into a small 8-inch casserole dish with high sides.
Topping
In a separate bowl, stir sugar, brown sugar, and pecans together.
Spread over the top of the batter evenly.
Slowly pour hot water over the entire thing - DO NOT STIR
Bake for 40 to 50 minutes or once the middle is set.
Cool 5-10 minutes before serving.
Serve with more pecans, whipped topping, or vanilla ice cream.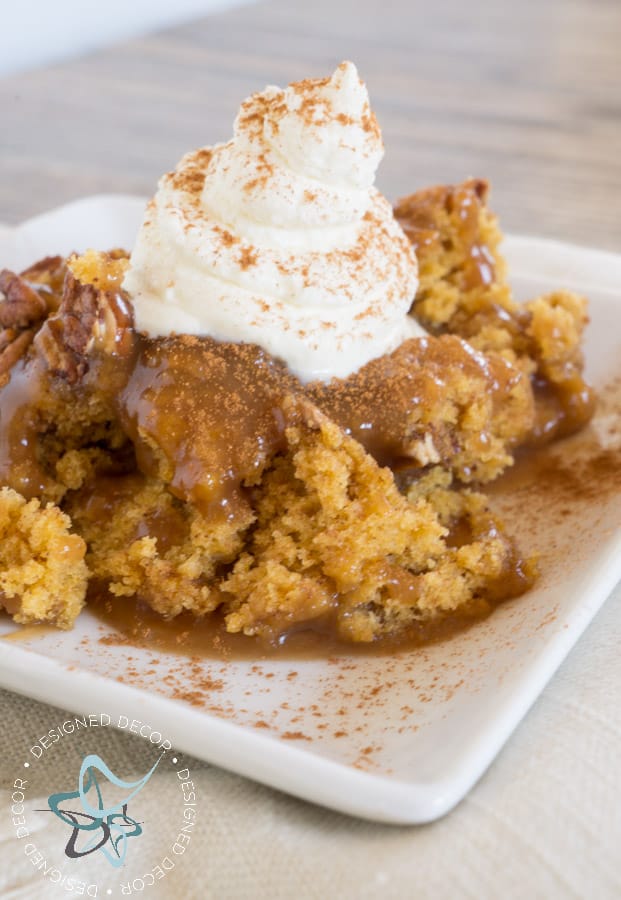 The whipped topping was simple to make as well. Ingredients: 2 tablespoons sugar ~ 1 cup heavy whipping cream
Place a metal mixing bowl and metal whisk into the freezer for 10 to 15 minutes. Place the sugar into the mixing bowl and add the whipping cream. Whisk just until the cream reaches stiff peaks. Store any unused part in an airtight container for up to 10 hours. When ready to use, re-whisk for 10 to 15 seconds.
Recipe courtesy of Alton Brown, 2009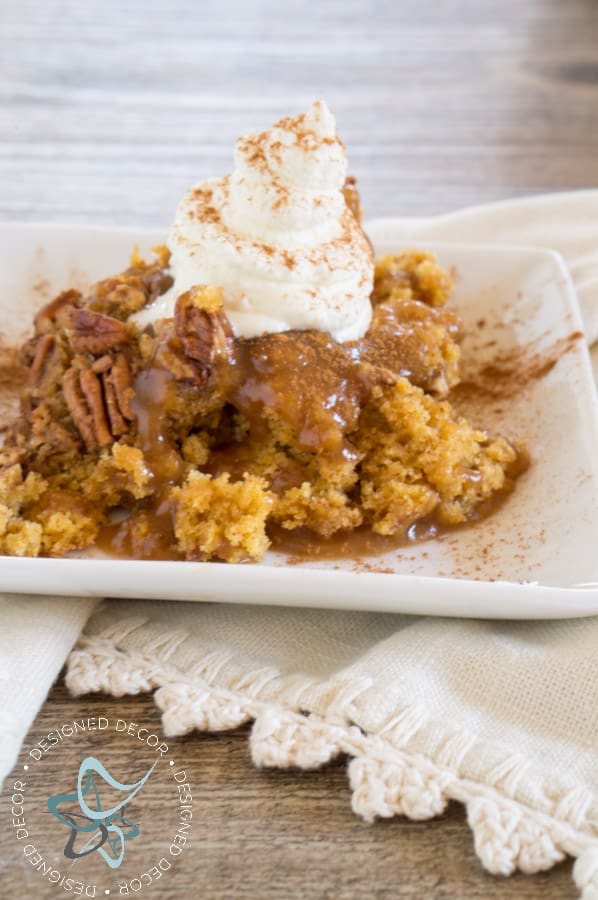 If you need to make a dessert for Thanksgiving, I encourage you to make this one. So simple and yes, there are NO eggs in the recipe. That was not a typo!
I hope you enjoy this pumpkin coffee cake with brown sugar glaze as much as we did.

Join the DD Community!
Join the Designed Decor Community and receive weekly free tips on DIY home projects, painted furniture, decorating, and much more.