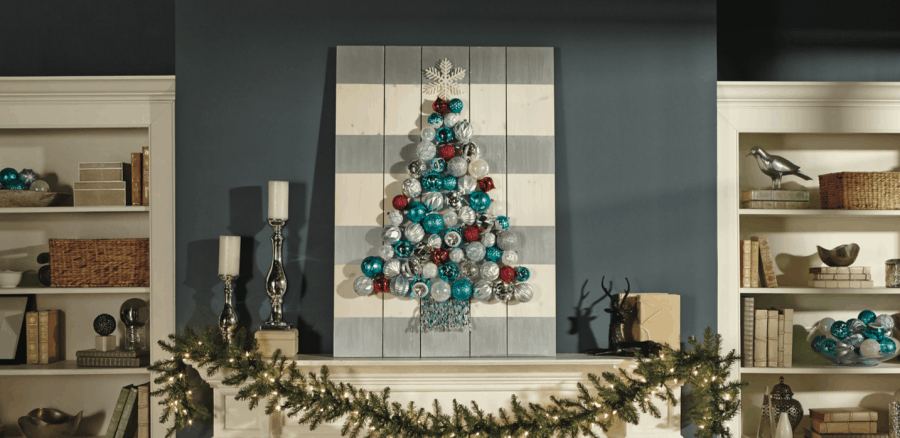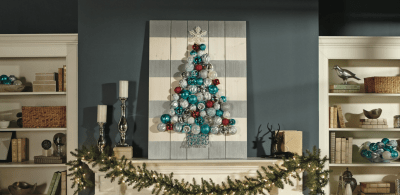 Do you know that Home Depot offers DIH Workshops just for gals? Yes, you can register to learn how to build your very own Holiday Ornament Display and hang out with other ladies just like you. How fun is it to finally conquer the fear of using those power tools with a bunch of other ladies. Now that sounds like a great excuse to schedule that overdue Girls Night Out.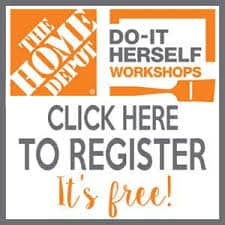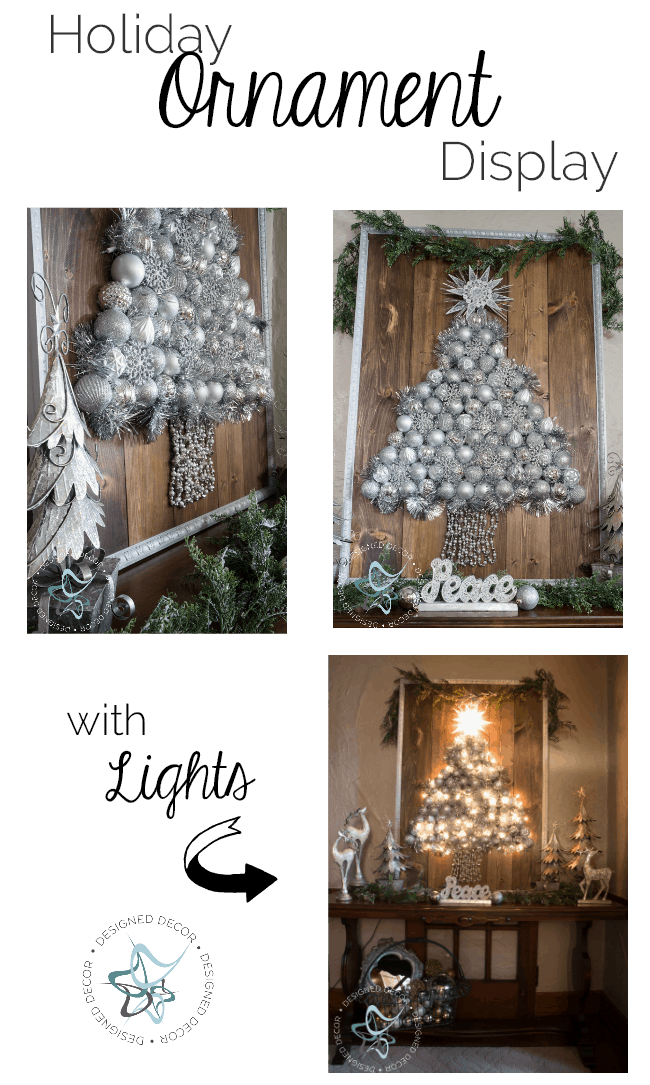 Here is my version of the Holiday Ornament Display with a few added additions.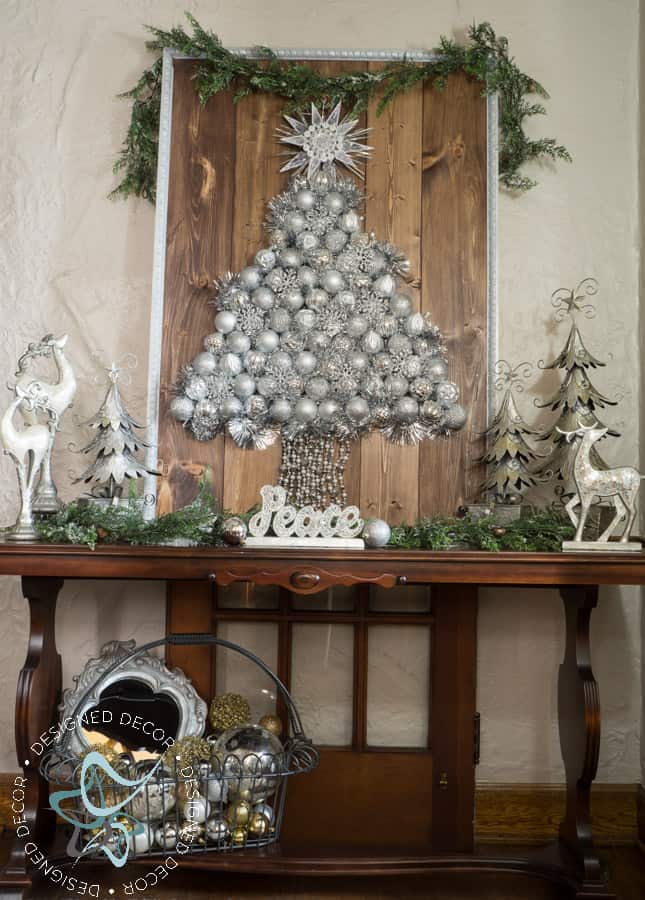 Home Depot has made this project so easy by using a common board in a few different widths and all you need is 6 cuts with a table saw or a circular saw. You can even have Home Depot cut the boards for you if you don't own a power saw. It also makes it easier to take home instead of a 12-foot board sticking out of your car.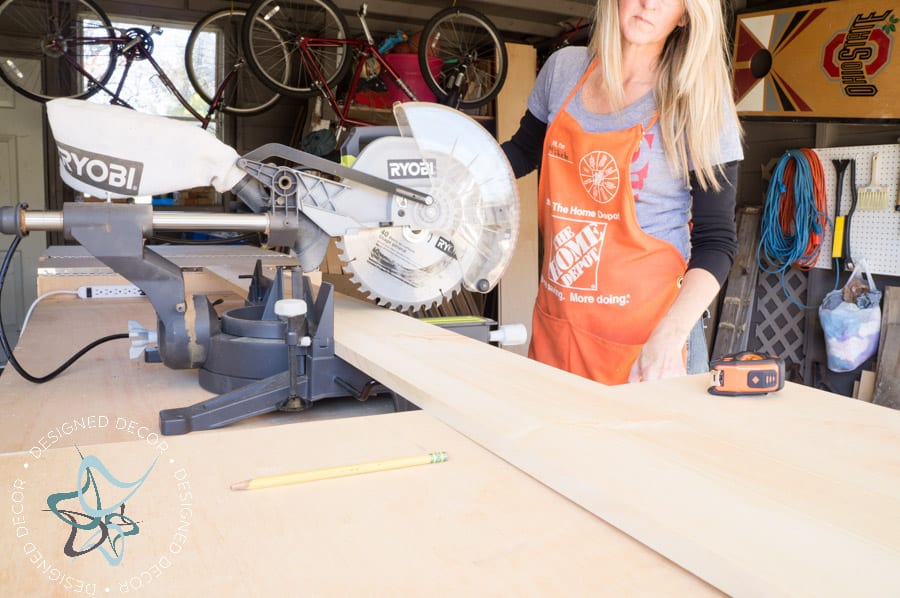 I was able to get in the DIH groove by putting on my son's Home Depot apron while I completed this project. My youngest has been working at Home Depot part-time while going to school. You know this mama was proud when he came home and said he had the job at HD.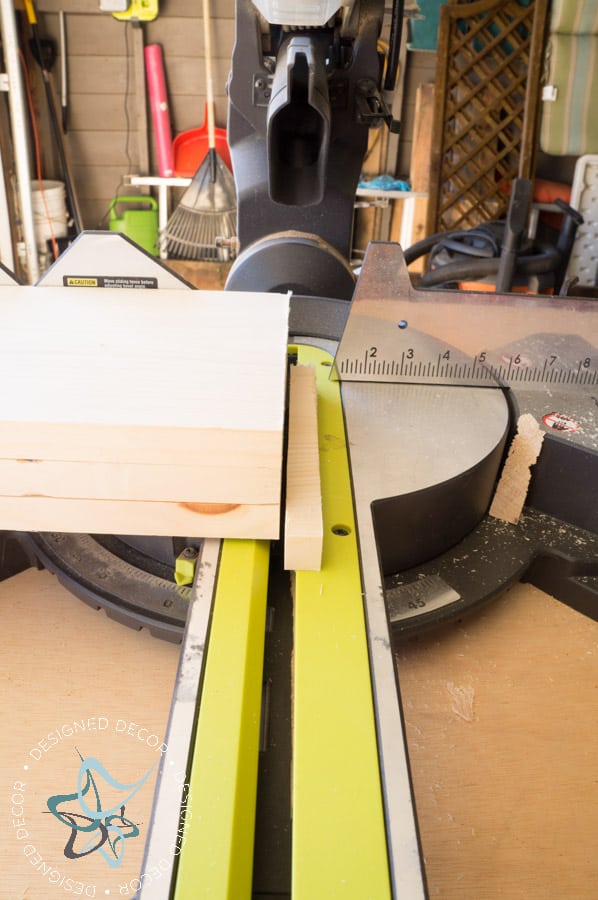 After I made my initial cuts, I placed the boards on top of each other and made sure they were the exact sizes. This is a great habit to get into instead of discovering your boards are uneven after all the cutting is done and the tools are put away. I sand my boards completely before putting them together, I find it easier to sand the edges and it is easier to handle the smaller boards.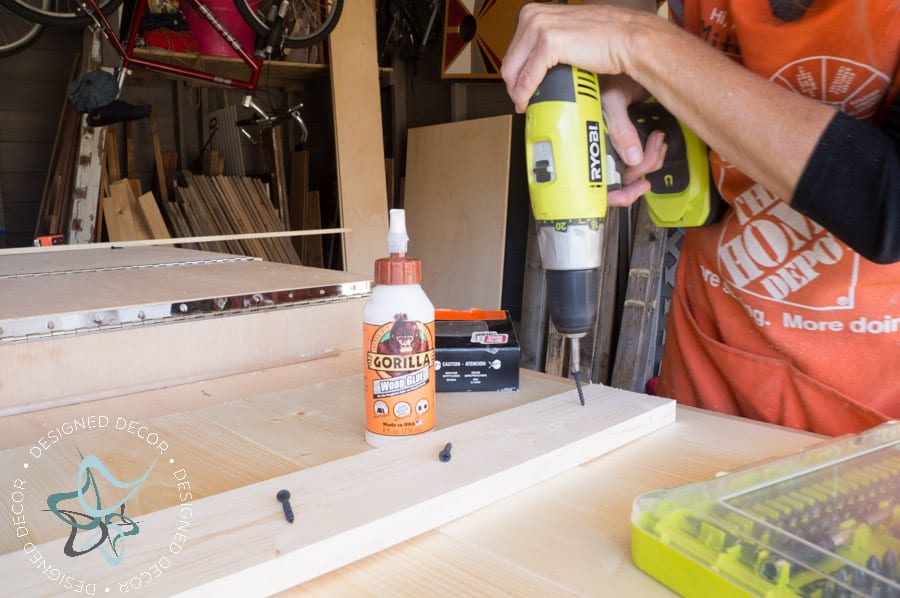 Once the boards are placed together, I secured the back brace boards using Gorilla Wood Glue and 1 1/1 inch wood screws.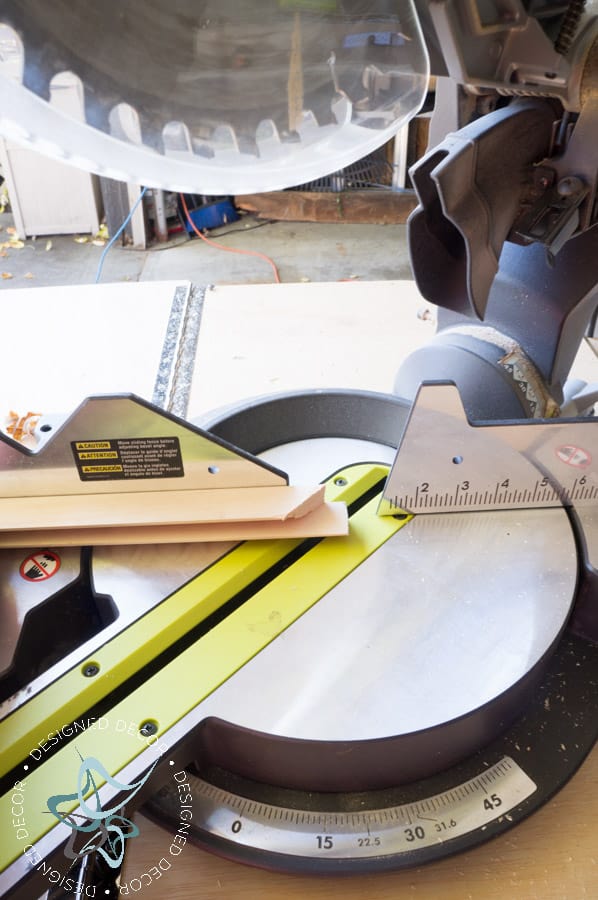 I decided I wanted to add some molding to my display to give it some added detail. I measured and cut the molding at a 45-degree angle. Making 45-degree cuts can get confusing if you are flipping the piece over. I find my miter saw makes it so much easier since I can just swing the saw in the other direction.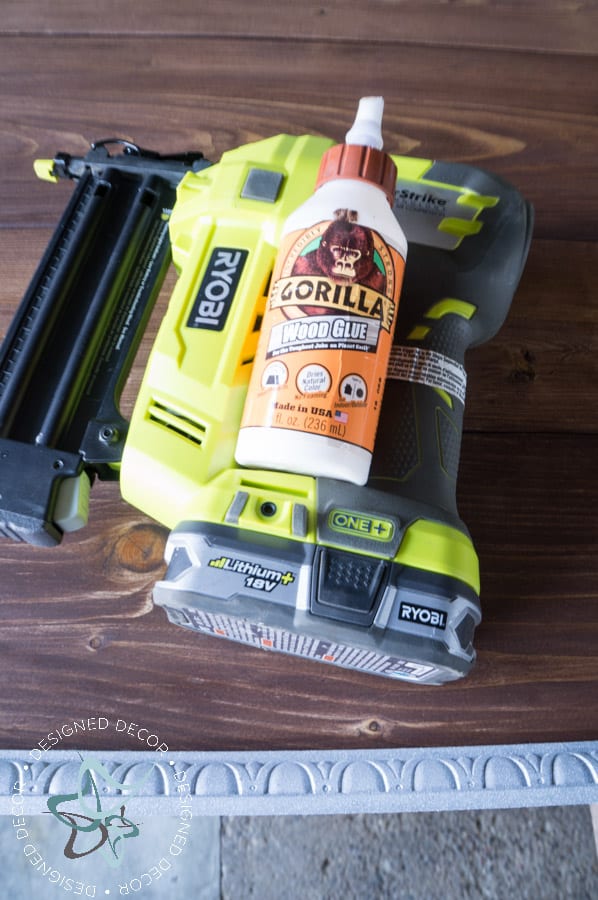 I stained the boards using Minwax gel stain in dark walnut and sealed them using Minwax wipe-on polyurethane. I spray painted the molding using Rustoleum Textured spray paint in silver. I used the Gorilla Wood Glue and my Ryobi air nailer to attach the molding to the boards.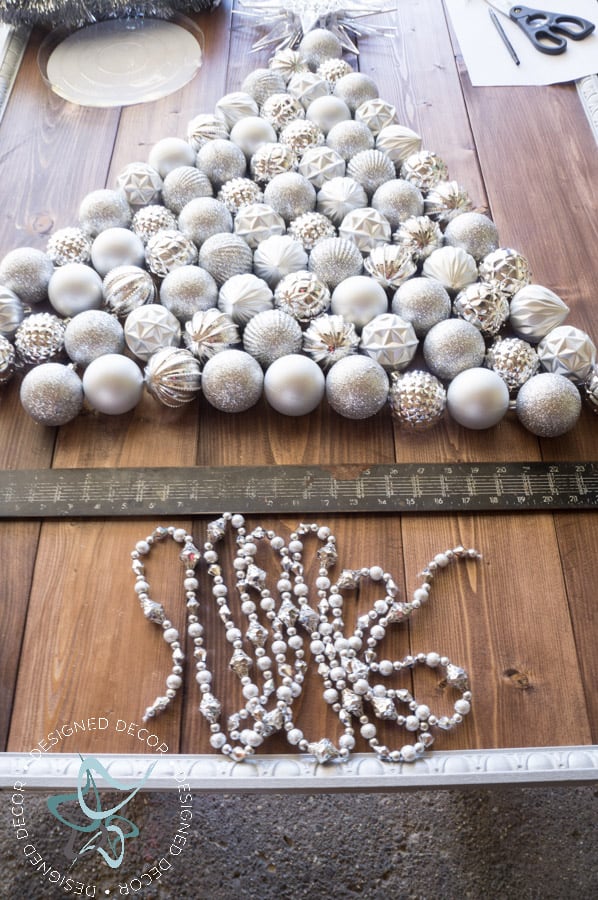 Now the fun begins! I started by laying out my pattern for the Christmas tree design. I needed 12 ornaments for the bottom row and I subtracted one off of each row until I reached just 1 ornament. It makes the perfect size tree to fill the space on the board and still has plenty of room for my tree topper and the base. TIP: I used a straight edge as my guide for the bottom row to make sure I was level. Since I was using a light string in my design, I needed a way to hide the female plug.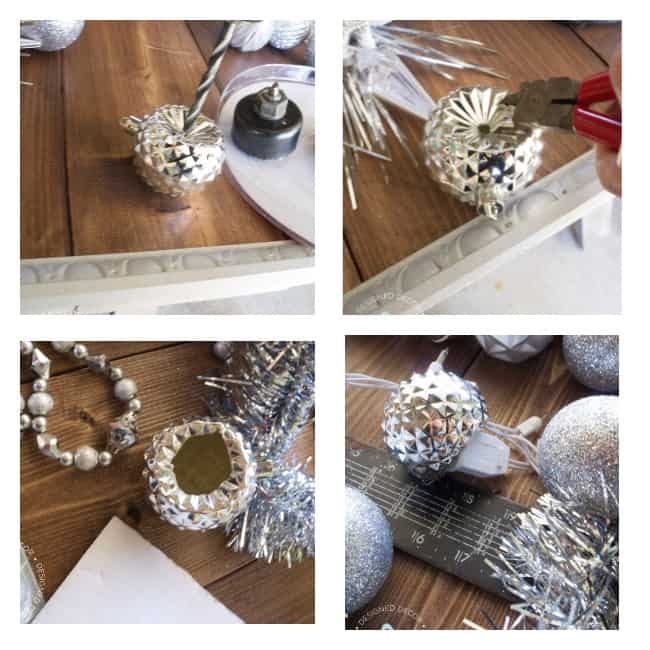 One of the ornaments was perfect for the job. It was flat on one side, so I cut out the concave middle and used that to cover the plug end. I love when a good plan works out perfectly. I began by hot gluing on the bottom row weaving the garland and the lights around the ornaments and making sure to glue the ornaments to the board as well as the ornaments on each side.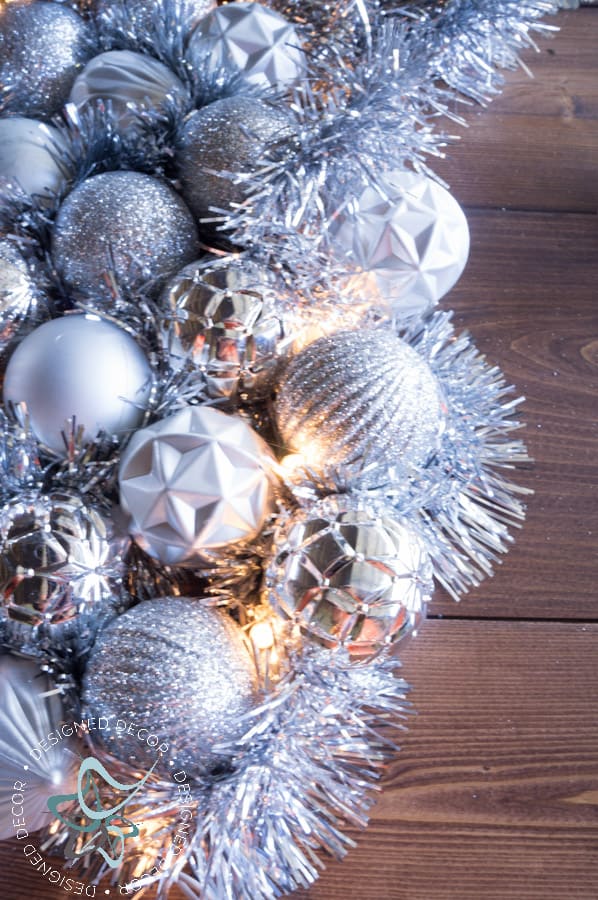 The weaving of the garland and the lights took a bit of time to make sure they were all in place and that the lights would be spread around the entire tree. I had to work one row at a time and would alternate the garland on every other row as well as the lights. I made this quick video to show you how I did it.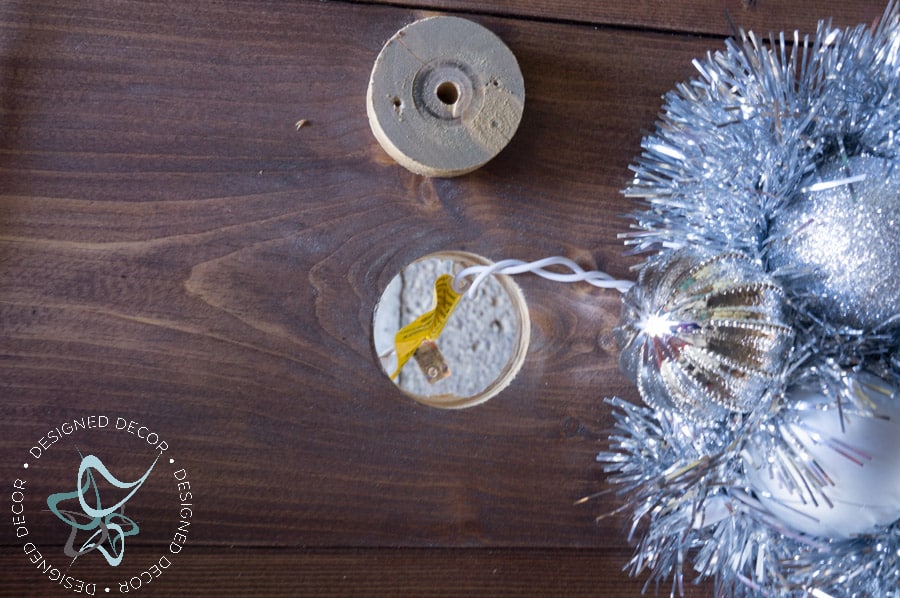 I used a hole saw to cut through the board so the light and tree topper plugs would be hidden and I hot glued the tree topper over the hole.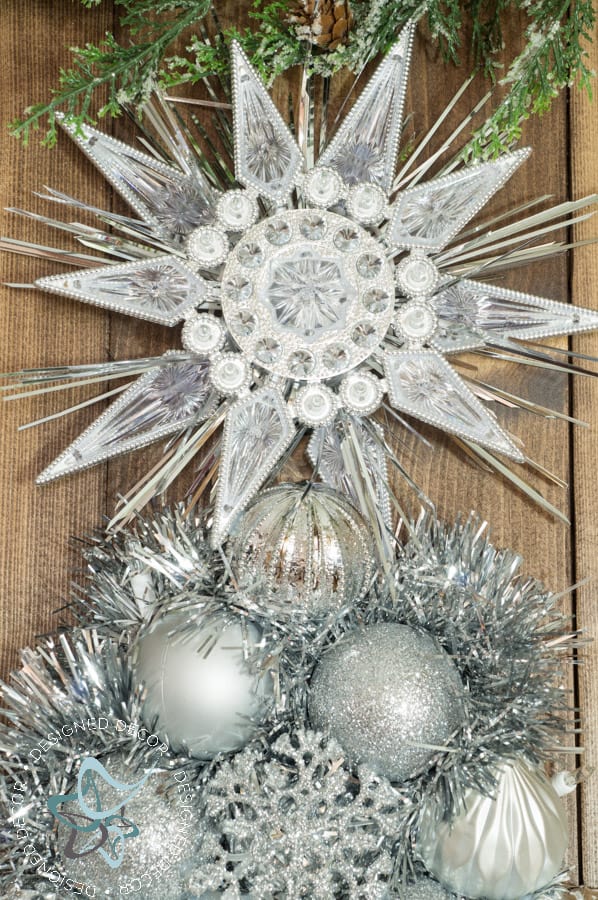 I love how my Holiday Ornament Display turned out by adding the extra elements.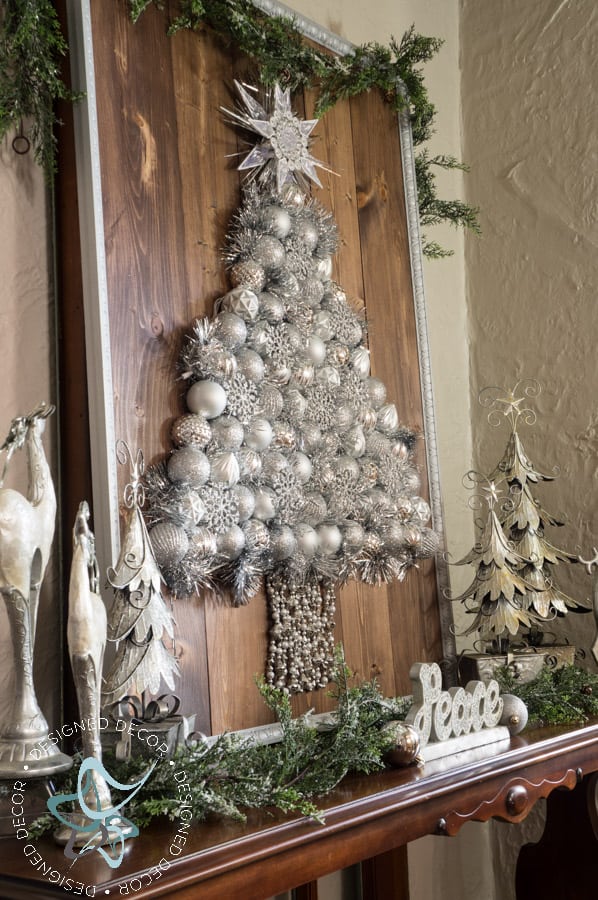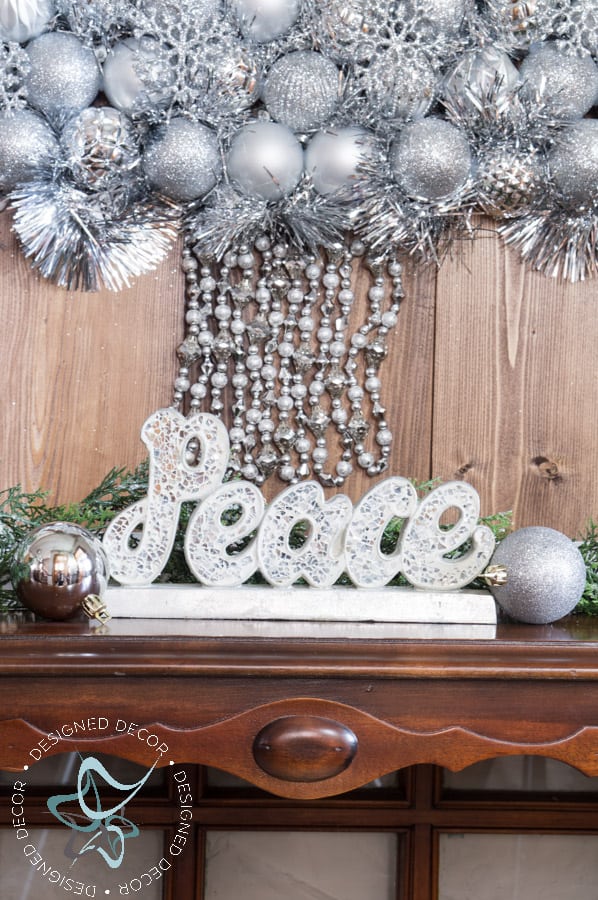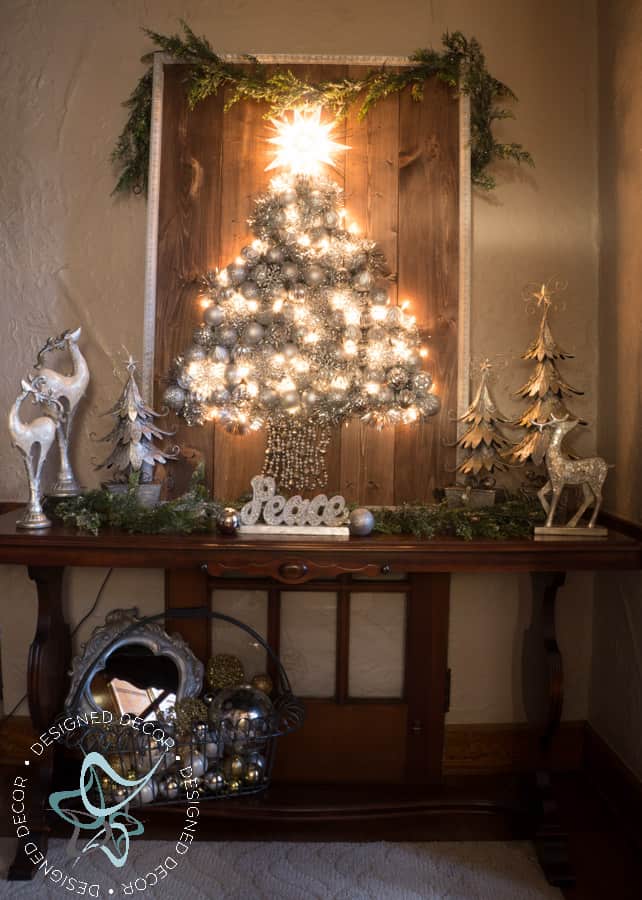 The best part is how pretty it looks when it is lit up.
Supplies Needed: All from your local Home Depot
This post contains affiliate links. Click here to see my full disclosure policy.
Common Board ~ Walnut Stain ~ Moulding ~ Spray Paint ~ Light String ~ Garland ~ Ornaments ~ Tree Topper
Sign-up now, so you can make your own Holiday Ornament Display and have a fun Girls Night Out using power tools.

Make sure you stick around to see what these other creative ladies made with their DIH Workshop HolidayProject.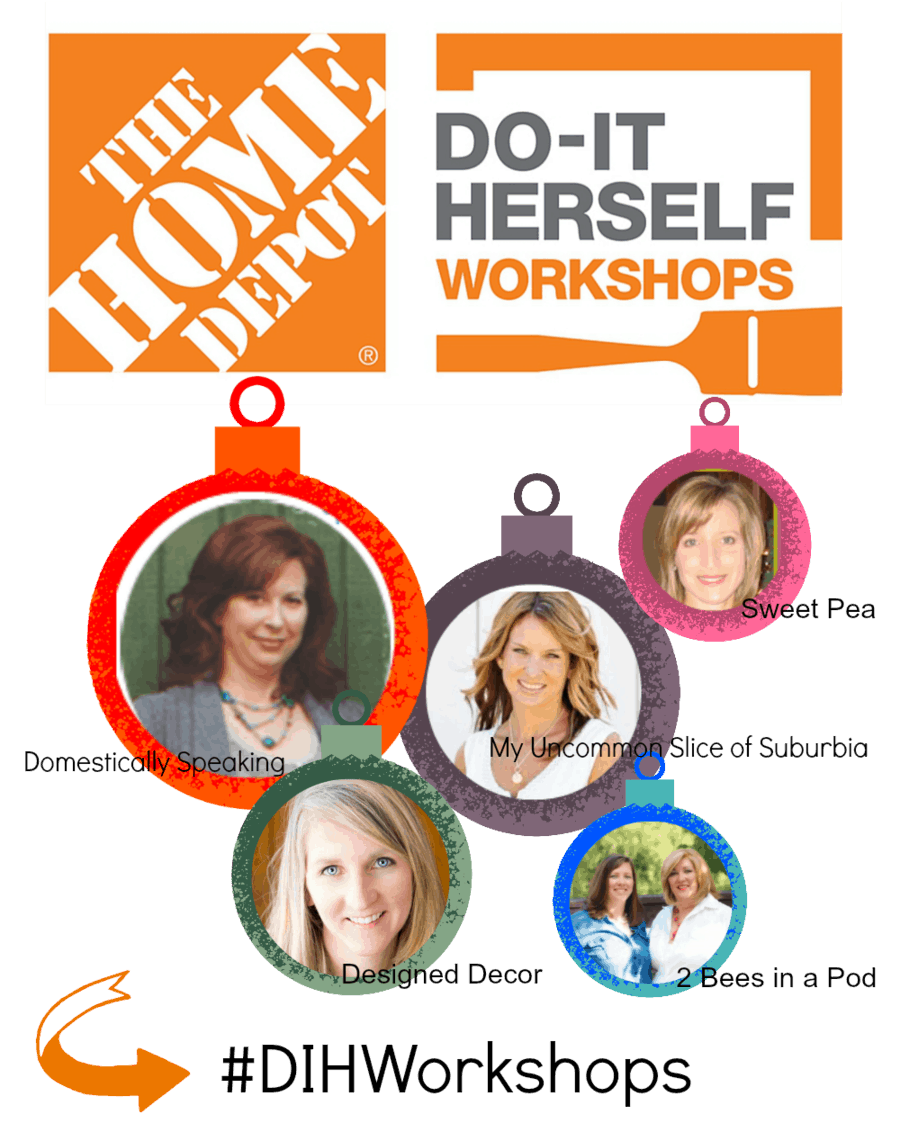 Join the DD Community!
Join the Designed Decor Community and receive weekly free tips on DIY home projects, painted furniture, decorating, and much more.